I Asked ChatGPT To Design A Living Room
Last Updated on September 27, 2023
Unless you've been living under a rock, you've heard all the noise that is ChatGPT. I've been playing around with it since early December, right before it went crazy viral. In fact, one night, I was up until 3 AM asking it to do everything from outlining a website to writing a poem about Nicholas Cage designing a living room in the voice of his character, Memphis Raines, from Gone In 60 Seconds. That little nugget at the bottom of this post because, ya, it was on point. Anyhoo, delirious and sleep deprived, I asked it to design a living room. Here's what happened next.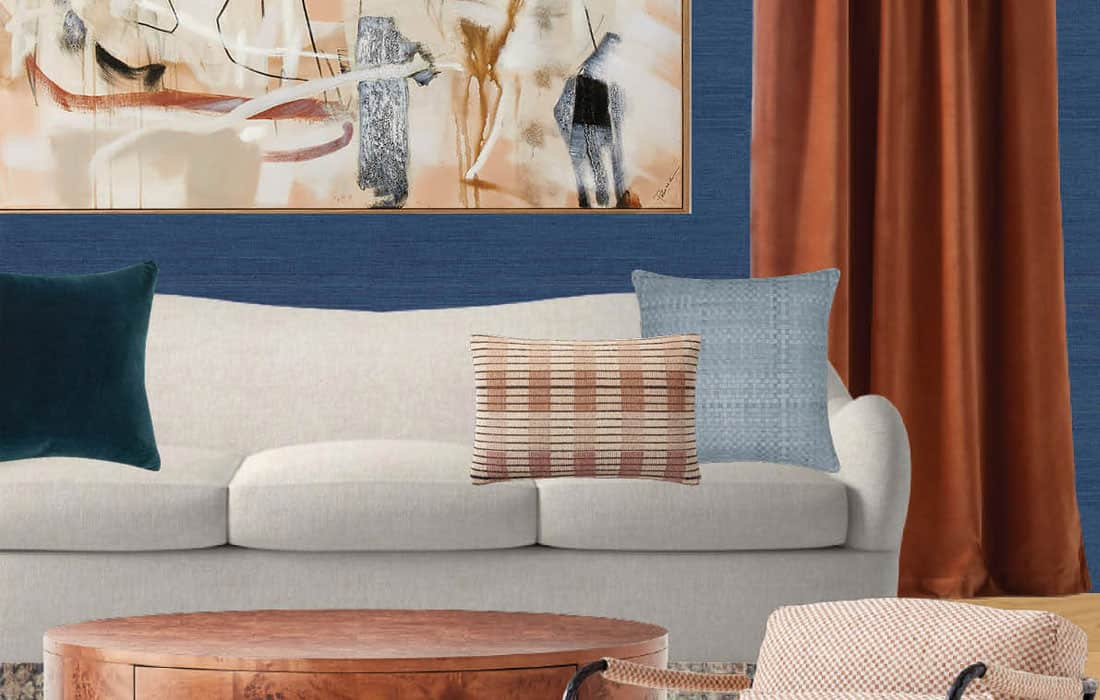 ChatGPT, Can You Design A Living Room?
My exact prompt in ChatGPT was, "Can you design an eclectic living room including color, patterns, decor styles, and furniture?" In under 15 seconds, this is what ChatGPT spit out: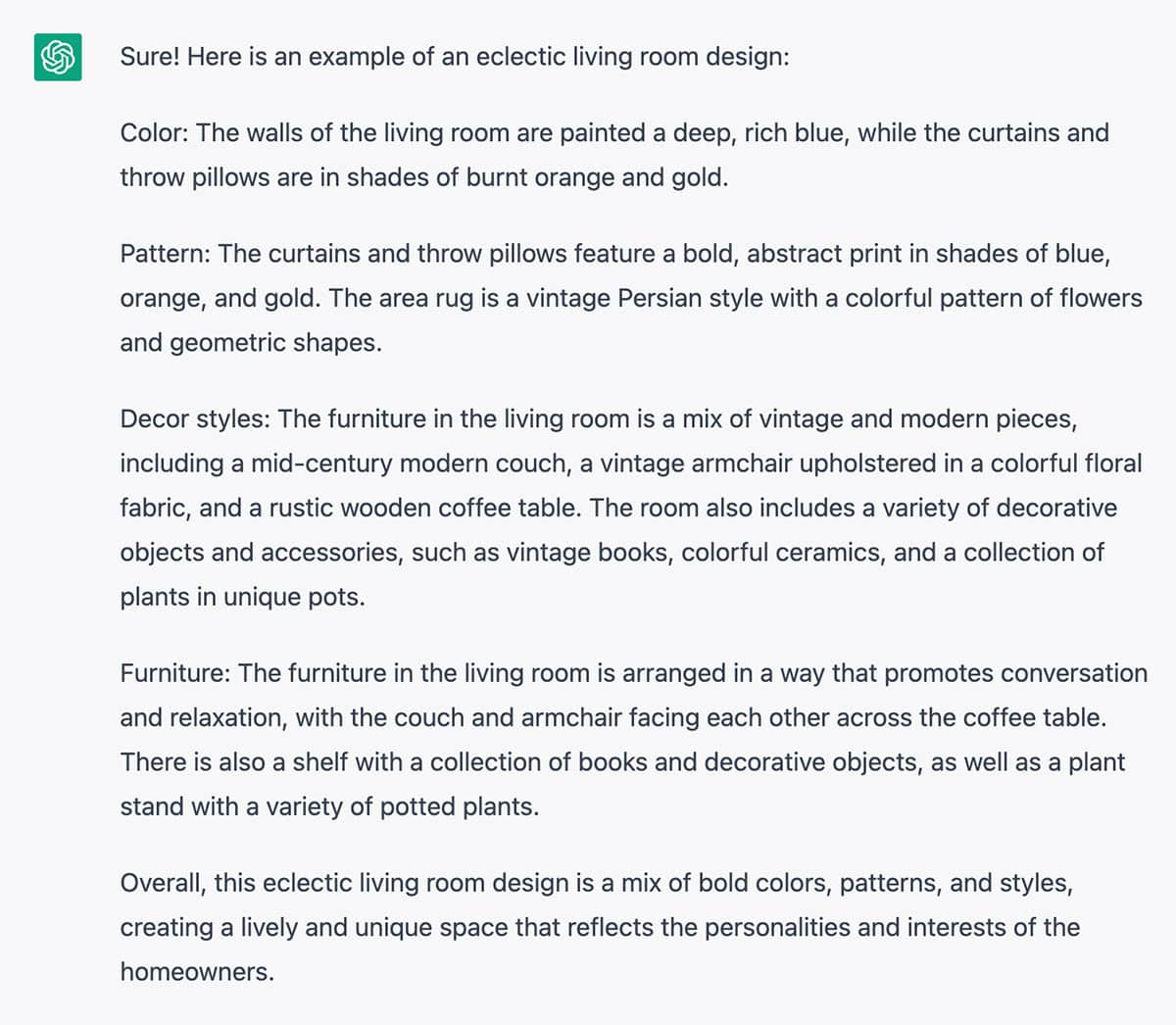 Let's Give This AI Living Room Some Visuals
Now, of course, this was WAY back in December 2022—time is in warp speed with it comes to AI, technology, and advancement—so this did not include graphics. I had to figure that out on my own, But let's take ChatGPT's answers above and mix them with my human touch to create a living room mood board, shall we?

First things first, as we all know from the DeNimes living room debacle, color and I don't play well together. I'm a neutrals gal. That being said, I embraced the deep rich blue, but instead of paint, I chose a grasscloth by Phillip Jeffries to add a bit of texture to the room that almost looks like denim and will really elevate the design. This is Abaca Harbor in Deep Zircon.
If you've read my affordable velvet curtains round-up, you are probably familiar with these copper curtains. I'm taking a more subdued approach with the color palette ChatGPT gave me because navy blue and gold are my high school colors, and even though I still have Thunderbird pride, I can't design a room in those colors. I'm also sticking with a solid here rather than ChatGPT's suggestion of a colorful pattern or abstract shapes.
I chose these pillows: Onofre Pillow /// Dusty Blue Woven Leather Pillow /// Navy Velvet Pillow
The Persian-style rug is incredibly affordable as far as area rugs go (it was recently featured in my Amazon Prime Day top picks post) and is available in multiple colors—this is the ink and salmon. This is a Loloi II rug that is printed rather than woven, and that keeps the price point down. If you have kids or pets, you can't beat the $270 price sticker for a 9′ x 12′ area rug. Side note, at this moment in time, ChatGPT cannot choose visuals, nor can it keep you within a budget with specific products like I just did here.
Shop This Living Room Design


The vintage-style chair is from the new Jake Arnold furniture collection. You probably saw it in last week's Beautiful Distractions.
I tried a lot of different wood coffee table options, and this is definitely where the human touch came in handy. The honey-tone woods were too light, and the color clashed with the palette, while the darker woods got lost in the rug. Ultimately, I landed on this burl wood coffee table. The wood tones played with the copper curtains perfectly. However, it's not rustic; rather, it has a vintage Mid-Century Modern vibe. This coffee table is presently out of stock, but you can sign up to be notified when it's been restocked.
ChatGPT did not state a color or decor style for the sofa, so I took matters into my own hands and chose this modern sofa with a wavy back. The main fabric choice is bouclé, but I personally think bouclé has been overdone and is on its way out, so I opted for a classic creamy linen upholstery.
Okay, I'm putting this together as I type this post, and OMG, I'm loving this room! ChatGPT might just be an interior designer!
To compensate for the rustic to MCM change in the coffee table decor style, I chose a more traditional bookshelf. I thought about substituting a brass and glass 80s style etagere because, yes, this room REALLY needs some metallics to keep the eye moving, but this is ChatGPT's living room design, not mine. For that reason, I chose this one over brass. It's definitely giving a moody vibe.

If you've seen my round-ups of unique modern vases and decorative boxes, then the accessories are a bit familiar.
Ginko Leaf Vase (shown in bookshelf)
Chandra Metal Vase (on coffee table)
Modern Brass Vase (on coffee table)
And, of course, I'd add some of my favorite interior design books and coffee table books.
For wall decor, I'd either paint my own art for this space or purchase original artwork, but to make this living room shoppable for all my readers, I added this large abstract print. You could also substitute it with a mirror if the room felt too dark.
Shop This Living Room Design


The room design obviously needs lighting in a major way, but looking back at my original prompt, I did not ask ChatGPT to include lamps in the living room design. It also needs faux plants like a faux olive tree or a faux fiddle leaf fig tree. I can't keep mine alive, so more power to you if you can decorate real plants.
What do you think?
Would You Use ChatGPT As An Interior Designer?
Overall, I think the living room designed by ChatGPT is pretty damn mind-blowing! For me personally, all this color would drive me bananas, but if you love blue, copper, and moody vibes, this virtual living room design is pretty stinkin' gorgeous. I wasn't expecting AI to spit out a room design and nail it in 15 seconds flat.
So what does that mean for the interior design industry? That's a great question, and I'd love to weigh in. AI is getting smarter by the minute, but I highly doubt it will replace artists, designers, and makers with real artistic talent. Nor will it replace lawyers, coders, and copywriters, which is the panic button the media and some Reddit folks seem to be pressing. Side note, the sub ChatGPTGoneWild is a hoot, but some of it is NSFW.
In a recent Facebook discussion, someone said, "lawyers who do not use ChatGPT will be replaced by lawyers who do use ChatGPT." I 100% agree with this statement. ChatGPT is a really slick tool that, when used properly, can take whatever your career is up a notch. Think of it as that extra advantage.
Now, if you used it to cheat your way through school and your job, eventually, you're gonna get busted just like Stan and the boys of South Park did. You can watch the full episode here. It's been years since I watched South Park, but this was so relevant I couldn't help myself.
One thing's for sure, ChatGPT is here to stay, and AI is getting smarter by the millisecond. Just ask Cartman.
Will I Be Using ChatGPT To Write This Home Decor Blog?
Nope. Hard pass. I use ChatGPT to help me organize my thoughts because ADHD can send me off on weird tangents. But rest assured, what you read here has been written by me. Always has been. Always will be.
Will I ask ChatGPT to design a living room again? Maybe if I'm looking to spark some creativity, but probably not for real. I like designing rooms as much as I love blogging about home decor. If ChatGPT can improve my artistic ability, then heck yes, I'll use it. But I will never use it to chug out posts because I don't want to put in the effort. That's not cool.
ChatGPT Writes A Poem About Nicholas Cage Designing A Living Room
As promised at the beginning of this post, here is the poem ChatGPT wrote about Nicholas Cage designing a living room in the voice of Memphis Raines from Gone In 60 Seconds.
I'm Nicholas Cage, the man, the myth, the legend,
And I'm about to design a living room that's totally transcendent.
I'm using all the finest materials, from leather to chrome,
And I'm adding all the coolest gadgets, like a home theater and a drone.
I've got a pool table and a wet bar, it's so sick,
And I've even added a racing simulator, it's all so quick.
But the best part is the car I'm using as a coffee table,
It's a classic Mustang, and it's totally able.
To hold all my snacks and drinks, it's so fly,
And it adds a touch of cool to the room, you can't deny.
So if you want a living room that's totally bad to the bone,
Just call me up and I'll make it all known.

BTDubs, I also asked ChatGPT to write the same poem but in the voice of Nicholas Cage's character in Valley Girls. Seriously, my mind was blown.



Discover More Eclectic Home Decor Ideas And DIY Interior Design Tips
If you want to make your home a bit smarter, check out the best smart home devices I've tested and my post about smart lighting for your home.
Looking to spruce up your backyard for summer? Check out these comfortable outdoor patio furniture top picks.
Ever second guess yourself on what rug size to buy for a living room? Here lie the answers you desire.
Affordable Modern Home Decor – if you're on a budget but want to refresh your space. Try these tips!
Love the Primrose mirror but hate the price tag? I got you! Here's a full round-up of affordable Anthropologie mirror dupes.
If you're looking for Favorite Things gift ideas, I've got a full round-up of goodies under $25.
I recently gave my 80s brick fireplace a makeover, and now that we've finished the renovation, I've whipped up a few mantel decor ideas you can try.
Looking for something out of the ordinary? Check out these unique modern vases that add a touch of artistry and elegance to your home decor.