Is Mercury In Retrograde?
Last Updated on September 27, 2023
I don't know about you, but this week was kinda wacky. Anything that could go wrong did go wrong, and today, I'm ready to hide under the covers. Kids are sick. The Boy is traveling for work, it's threatening to snow again, and I'm over here treading water but, of course, finding time to peruse the interwebs for entertainment (and save my sanity). Let's jump into a new Beautiful Distractions (Wow, this is No. 45!)
Veranda Shared A Sneak Peek Of Kips Bay 2023
If you're interior design obsessed like me, you'll want to hop over to Veranda for a looksy at this year's Kips Bay Decorator Show House in West Palm Beach, FL. If you live in the area or visiting West Palm between now and March 19, I highly suggest grabbing tickets. They're $40 and benefit the Kips Bay Boys and Girls Club and Boys & Girls Club Of Palm Beach County. Hurry, there are only a few days left. Here are a couple of rooms that blew me away.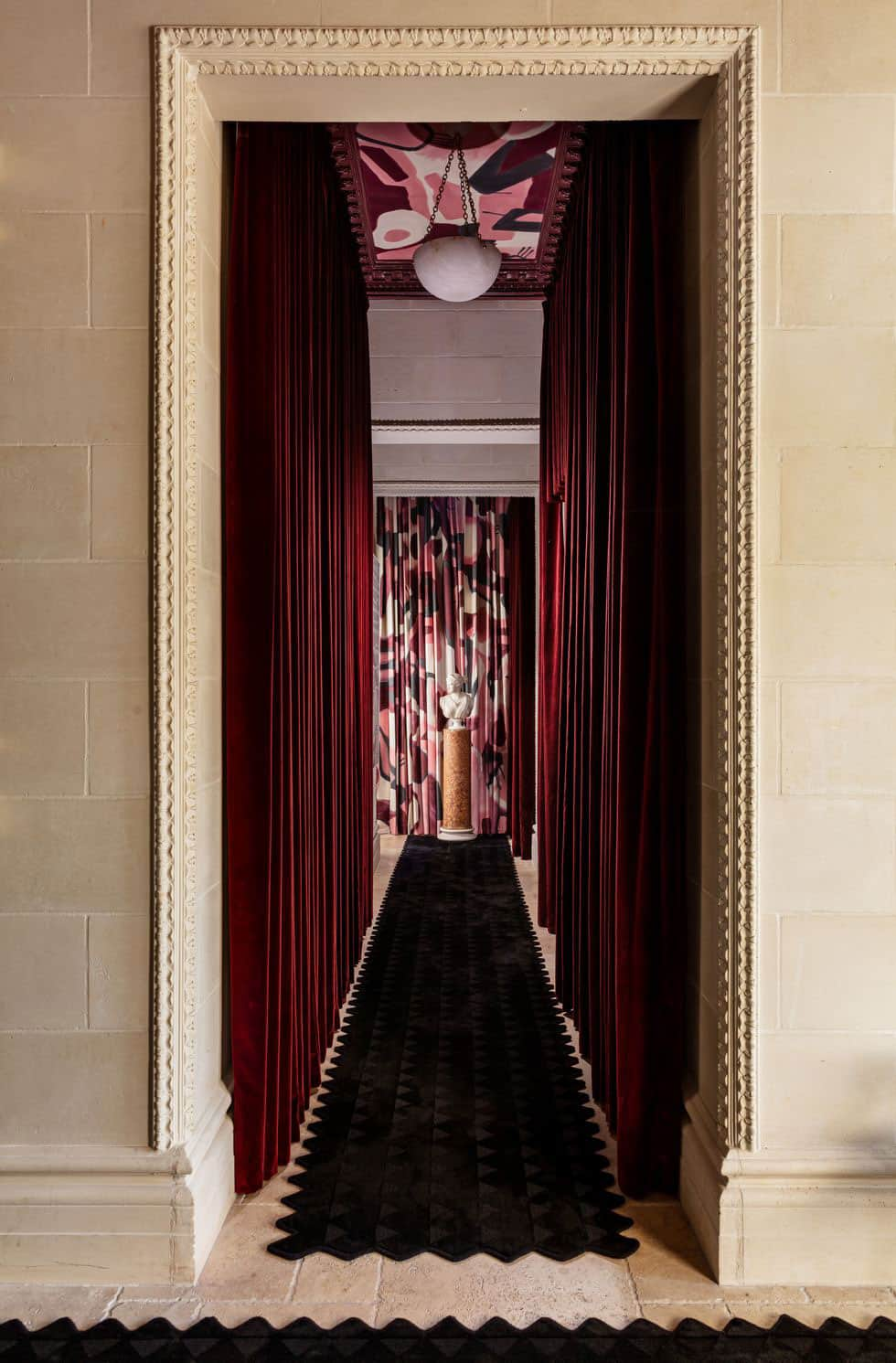 Porter Teleo is one of my favorite wallcovering and textile brands. My heart leaped when I saw this foyer designed by Studio Thomas James.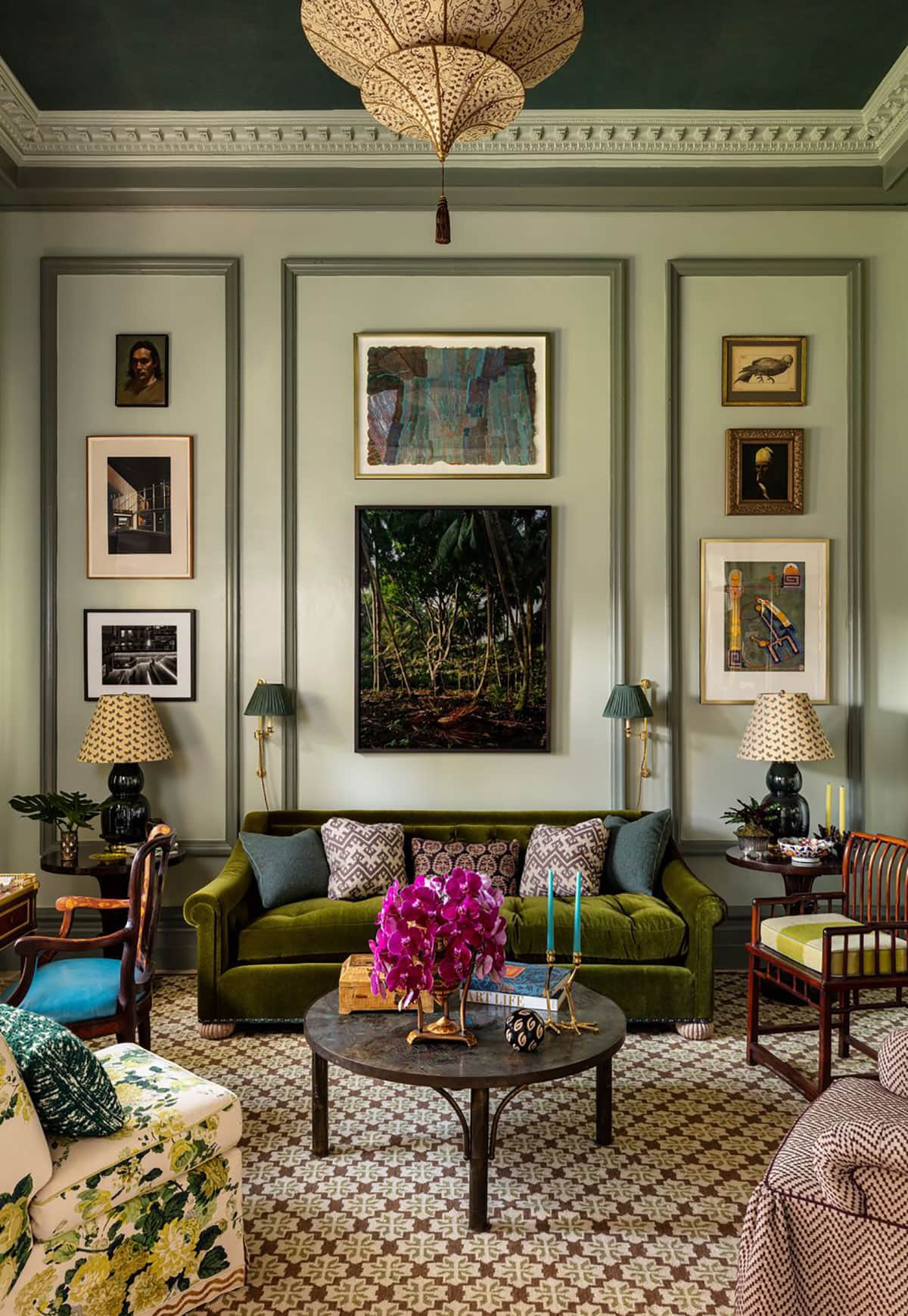 I adore the monochromatic moulding and wall paint in lis living room designed by Lucy Doswell.
RELATED: If you're looking for more showhouse decor, check out this home tour of the Seattle Showhouse.
New Music On Heavy Rotation
Two former high school classmates and I were chatting about our favorite music and lamenting over the boringness of Facebook. To jazz things up, we've been sharing music videos and tagging each other. It's been fun and interesting to see others comment on the posts. Here are a few new to me favorites from Teresa and Emily.
RELATED: If you want more new (and old) music playlists, click on that link. Don't miss Friday Night Roller Rink Vibes; it's full of 70s disco hits.
Are You Hating On Social?
USA Today wrote an article about the social media app most Americans want to delete. Can you guess which one? Do you agree? Personally, I'd love to delete them all, but if I had to pick just one, this would be it. 100% agree.
The Inspired Home Show Quick Recap
I popped into The Inspired Home Show the other weekend and found some fun new home gadgets that will be coming to market. This gorgeous professional-grade outdoor pizza oven has me rethinking my Ooni pizza oven purchase (it was also named Time's best inventions). Chose from the colors ivory or sage green, and it's not just for pizzas! The steam injector feature will help you level up your sourdough bread game; plus, you can slow roast and pork butt. It's like a mini Traeger slash Ooni slash oven in one!

I was drawn to bobbling Hopitimist toy and stayed for the modern, clean lines of Zone bathroom accessories. Zone Denmark is a Scandi brand with minimalist vibes, and while standing in the booth,

I overheard that they are working on a store in New York. My favorite thing is that the color palette is to die for, and the towels match the soap dispenser, which matches the trash bin, which matches the toilet brush holder. GENIUS!

Architectural Digest Featured The Wet Bar!
Holy moly, did I get the surprise of all surprises when I opened my email this morning! The floating stone shelf over the wet bar was featured in AD's Stone Slab Ideas That Go Beyond Countertops post.

There were quite a few inspiring ideas featured in the article above, and I personally want to try the cut shower walls idea if I ever renovate the primary bathroom. Click the button above to see.
RELATED: Go behind the scenes to see how we made this floating shelf happen and how it's really secured to the wall.

The Silicon Valley Bank Collapse Story Is Fascinating
I know this has nothing to do with home decor, but The Boy works in fraud — not doing the fraud but preventing it — and he is also in the Tech field, so the whole Silicon Valley Bank collapse has been all the chatter around the dinner table. That link will take you to a podcast on the NY Times that breaks down all the components of the implosion. If you remember the financial collapse of 2008, this 30-minute discussion is an interesting listen.
Kelly Wearstler Designed A Fridge & It's Gorgeous
Interior designer extraordinaire has teamed up with Jenn Air to create what might possibly be the most beautiful fridge on the planet…also, this thing is too exquisite to be called a fridge. Jenn Air referred to it as a statement piece with an intoxicating design…avant-garde meets ultra-modern. Ya, this ain't your momma's fridge; therefore, it needs a fancier name. Refrigeration system? Anyhoo, check this thing out here.

Have You Been Looking For A Giant Corn Stool?
If you've been searching the interwebs high and low for a giant corn stool, I have you covered!

Closed Jeans Are Giving Girbeau Vibes
A friend on TikTok was wearing a pair of Closed denim wide-leg jeans, and if you're a Gen Xer like me, when you see the tag on the front, do you immediately think of Girbeau jeans? Now that skinny jeans are out of style; I need a couple of new pairs for spring. I"ve got my eye on these.

Spring Break, 80s Style In Dallas
Speaking of nostalgia, I just ran across an AirBNB in Dallas called The McFly, and this place is bitchin' — don't even tell me to take a chill pill with the language. I mean, look at this place!

BTDubs, across the street, you'll find The Topanga — the same owner as The McFly but with a more 90s Saved By The Bell vibe.

Wrap It Up!
In honor of Topanga and Boy Meets World, Imma wrap up with a bit of nostalgia. Remember Dance Party USA? I watched this show every Saturday and wanted to be a dancer on this show so badly. This was literally the TikTok of my childhood, LOL—my, how things have changed. If you've made it this far, enjoy this little gem of a reward.
VIDEO NO LONGER AVAILABLE



Discover More Eclectic Home Decor Ideas And DIY Interior Design Tips
Ever wonder how we made the floating stone shelf? Since it was recently featured on Architectural Digest, I figured I'd shared all the deets.
Affordable Modern Home Decor – if you're on a budget but want to refresh your space. Try these tips!
Decorating With Neutrals, it's a beautiful beige world. Discover my favorite black, white, tan, taupe, and brown home decor. But if you want a splash of color, check out this purple decor and this green decor!
Ever second guess yourself on what rug size to buy for a living room? Here lie the answers you desire.
I recently gave my 80s brick fireplace a makeover, and now that we've finished the renovation, I've whipped up a few mantel decor ideas you can try.
While perusing Reddit, I found a sub called TVTooHigh. If you've ever wondered how high to hang a TV, I'm here to help you hang yours perfectly!
Check out my post on how to hang art like a pro and nail the right height every single time. Plus, 7 genius picture hanging hacks.
Did you know I was rejected by the Biltmore Country Club? Ya, I'm apparently not bougie enough, LOL. Check the full review.