Mantel Decor Ideas And Styling Tips
Last Updated on August 25, 2023
There has been a design tips request for mantel decor ideas. Ask, and you shall receive! And perfect timing since I've packed away the Christmas decor and have been transitioning into a new season. Making it weird is the name of the game over here, so modify the decor as you see fit. The design principles remain the same even though your decor style may differ.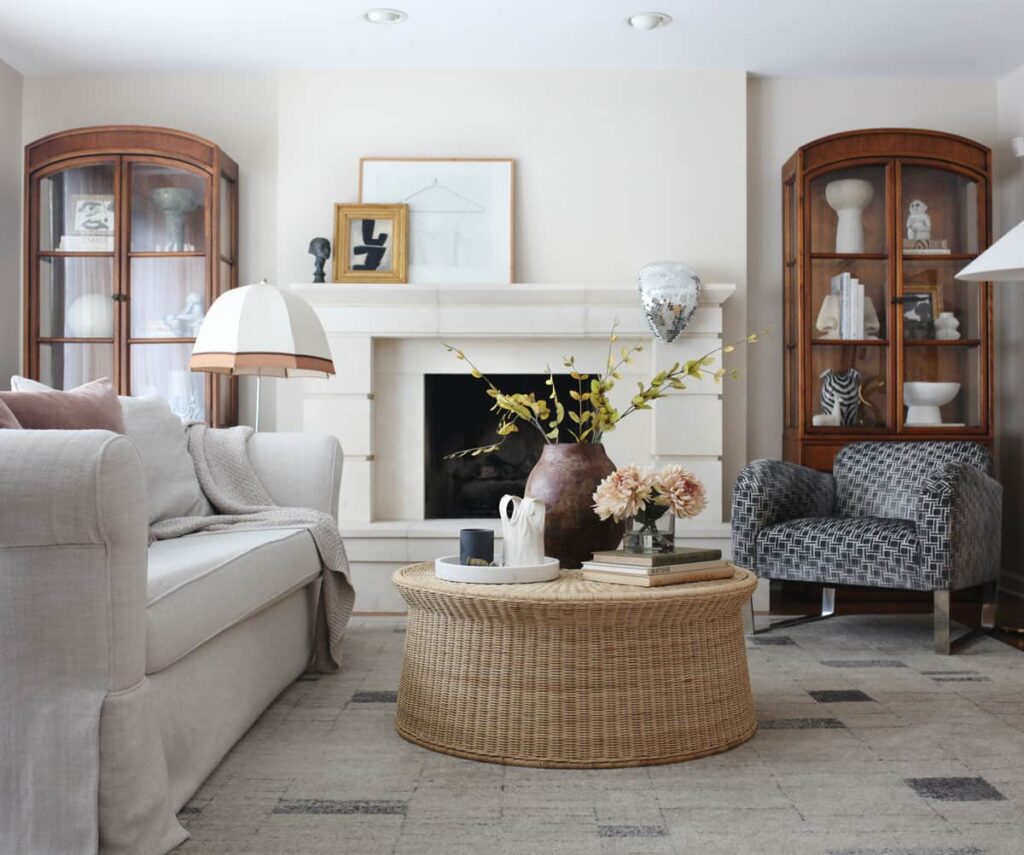 RELATED: See the custom fireplace design post for more details on how it was designed.
Design Ideas For Your Mantel Decor
Before renovating the brick fireplace, I focused my styling efforts elsewhere. But ever since the custom stone fireplace project wrapped, I've been tinkering with new mantel decor ideas on a weekly basis. Even though I'm constantly moving a vase here and a piece of art there, the design ingredients remain the same.
1. Begin With Something Large
Vague, I know, but allow me to guide you here. A large piece of art or a statement mirror will ground your mantel and give you a focal point. If you're using art, stay within the color palette of the room. Speaking of which…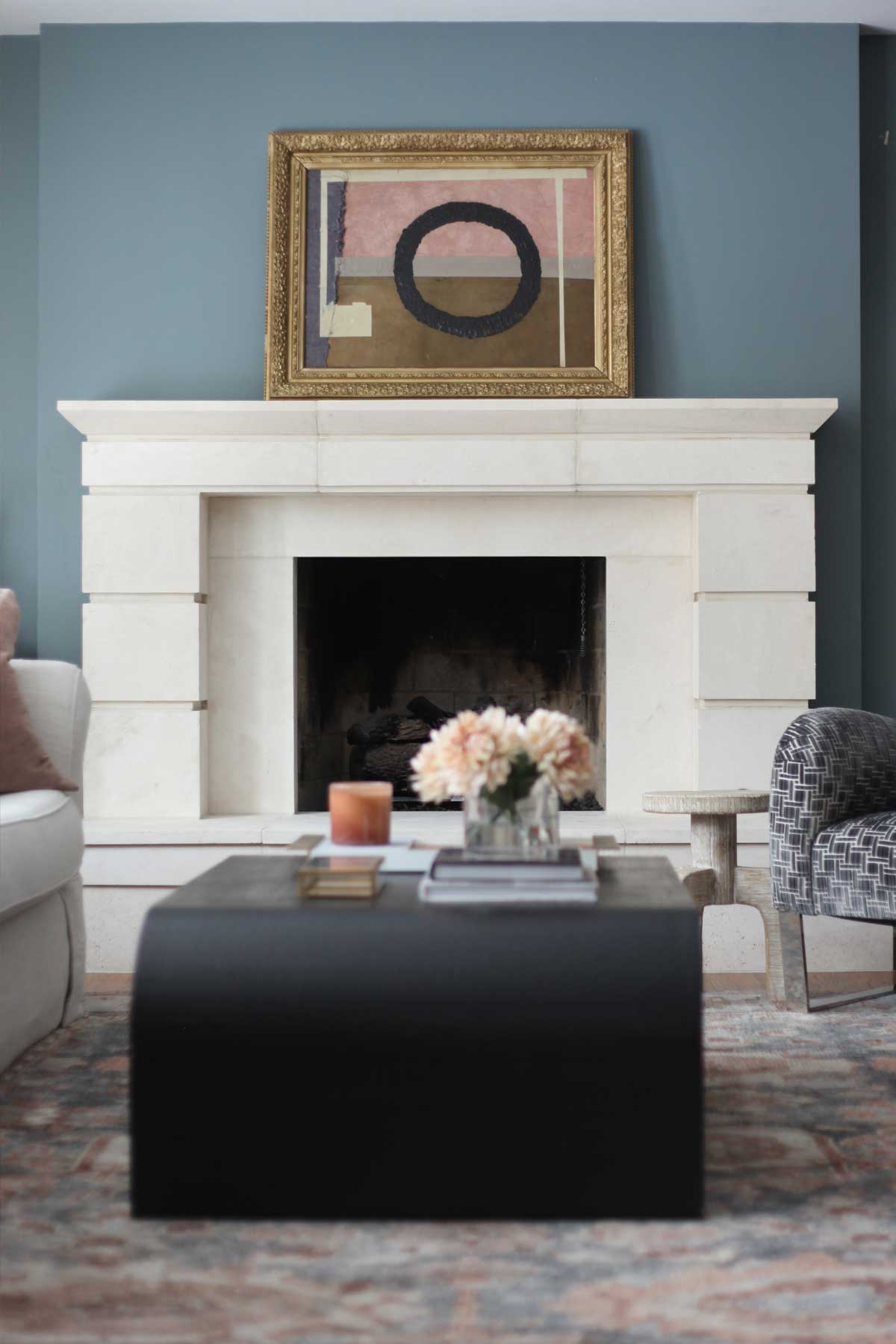 2. Use A Consistent Color Palette
Once I learned this design rule, my vignettes were suddenly more cohesive, and it's meant to be followed in everything you decorate and style. Examine the color palette of your room and stick to it. If your room is a work in progress, and your "something large" is art, pull your color palette from there.
3. Accessories With Different Heights
Objects with different heights add movement and give interest to your mantel styling. Look at candlesticks, vases, and a plant in a bowl. You may not need all the things – I personally like a minimal look, but you may want a maximalist look. Whichever your style, the key here is tall, medium, and short, and be sure to layer.
4. Something Shiny
So I took this rule to an extreme and placed a giant melted disco ball on my mantel. Told ya I like it weird. Something metallic will work just fine – a chrome decorative box or gold candlestick holders will also do the trick. This is not a must-have, but it does add a little sparkle and added movement.

5. Styling In Odd Numbers
Styling in threes is usually the magic number, but if you have four objects, trust me, add a 5th. Even numbers create symmetry. Odd numbers create interest making your vignette instantly more memorable. Even though you have created eye movement with different heights, you can level up your styling skills by incorporating odd numbers. It's guaranteed to add more visual interest to your mantel decor.

RELATED: Check out the disco ball decor post for some fun ideas to add sparkle to a room.
What Looks Good On A Fireplace Mantel?
Anything really – as long as it brings you joy – but a focal point is a must. If you don't have statement art, definitely try the large mirror. Below you'll find a few virtual designs that you can shop and recreate in your own home. I've tried to incorporate high and low decor items to fit everyone's budget.

Shop This Virtual Design
Vintage Gold Framed Abstract Painting – similar
Ideas For Layering Mantel Decor
With your "something large" focal point, you may want to consider layering a smaller piece of art in front to add depth. Mirror layered over art, small art layered over larger art, or art layered over a mirror – I would not suggest a mirror layered over a mirror, though. Remember the something shiny rule – a little goes a long way.

Shop This Virtual Design
Vintage Gold Framed Abstract Painting – similar
You may have noticed that I don't use a mirror in my mantel decor, and it's not because I don't love the look. The recessed lighting in my ceiling reflects off the surface of the mirror and blinds you while sitting on the sofa (you can see them in the first photo of this post). Before you hang a large mirror, always test and look for those things.
RELATED: If you're looking for unique art, don't miss my secret sources for affordable original artwork. It's a hidden gem of a post.
Add A Touch Of Greenery
We all know I'm not a plant mom, but I do love a touch of greenery in my vignettes. When you add a pinch of something organic to your mantel decor, it breaks up a solid structure, softens the stone, and adds life to the space. Since I have a black thumb, I prefer the look of faux plants, and my go-to right now is this maiden hair fern. BTDubs, it's also one of the most clicked artificial plants in the round-up.
Because I'm a bit more minimal, I chose not to add greenery, but I've been playing with it on the hearth of my fireplace.

Styling A TV Over A Fireplace Mantel
An interior designer's worst nightmare is hanging a big rectangular box over a beautiful fireplace, but living with a television in the living room is a necessary evil. The easiest way to mask the big black box is by investing in an art tv like the Samsung Frame TV. You can upload a family photo, digital art, or even download this free art for your tv. Other ways to conceal a TV – install a TV cabinet, paint the wall behind it black, or hang art over the top of it. Honestly, camouflaging is a lot of work. My advice is to just style around it and let the black box be a black box.

Shop This Virtual Design
Digital Floral TV Art (it's a steal at $1.65)
RELATED: A round-up of beautiful tv art for the Frame — most downloads are under $2.
Display A Collection On Your Mantel Decor
If you've started a collection of favorite treasures, you can totally display it in a maximalist way on your mantel, but I'd caution you to curate it. In my best interior design books round-up, I shared the book Kabinett & Kammer – Creating Authentic Interiors. The author is a genius when it comes to displaying vintage collections. If curating is too tricky, rotate the display pieces on a weekly or monthly basis.



More Eclectic Home Decor Ideas and Interior Design Tips
Wanna make your home look expensive when you don't have the luxury of a high budget? Try this!
Bobby Berk told me he has always invested in quality bedding. Here's the ultimate guide to the best sheets and bedding.
The Primrose mirror is still trending hard, but the price tag crushes my soul. If you're looking for an Anthropologie mirror dupe that doesn't break the break. This one is for you.
Find affordable velvet curtains to cozy up your space and soften your windows.
If you're looking to replace your ceiling lights, here are a few boob light alternatives.
Looking to decorate on a budget? Check out these clever ideas.
If you want to spruce your backyard, check out this round-up of the best outdoor patio furniture.
Ever second guess yourself on what rug size to buy for a living room? Here lie the answers you desire.
Love plants as decor but have a black thumb? No worries! I have a rounds ups of the best faux olive trees and my favorite faux fiddle leaf fig trees.
If you want to make your home a bit smarter, check out the best smart home devices I've tested and my post about smart lighting for your home.
Here are seven genius ways to hang a picture, including hanging art with two hooks, hanging a gallery wall with no tools, and hanging a picture without damaging wallpaper.
Love shopping for vintage decor? Get my 9 expert tips on how to shop a flea market like a pro.