7 Tips – How To Start A Collection
Last Updated on July 7, 2023
Happy Thursday! Erica Reitman, The Design Ninja Extraordinaire, is stopping over today to talk about how to start a collection. I don't know about you, but I've got a ton…trophies, indigo, navy books, vintage barware…errrrmmmm *cough* chairs…ya let's not go there. But sometimes it all goes in a box, and I never know what to do with it all. Anyhoo, no matter what it is that you're drawn to, Erica's here to tell you to snap that shiz up and put it on display in your home. Now excuse me while I go start my "Buy Me This" Pinterest board.
Needlepoints with exotic animal imagery, baskets of all shapes and sizes, large ashtrays, iced tea spoons, rocks glasses, vintage matchbooks…these are just a few of the bizarro things I've decided to collect over the years.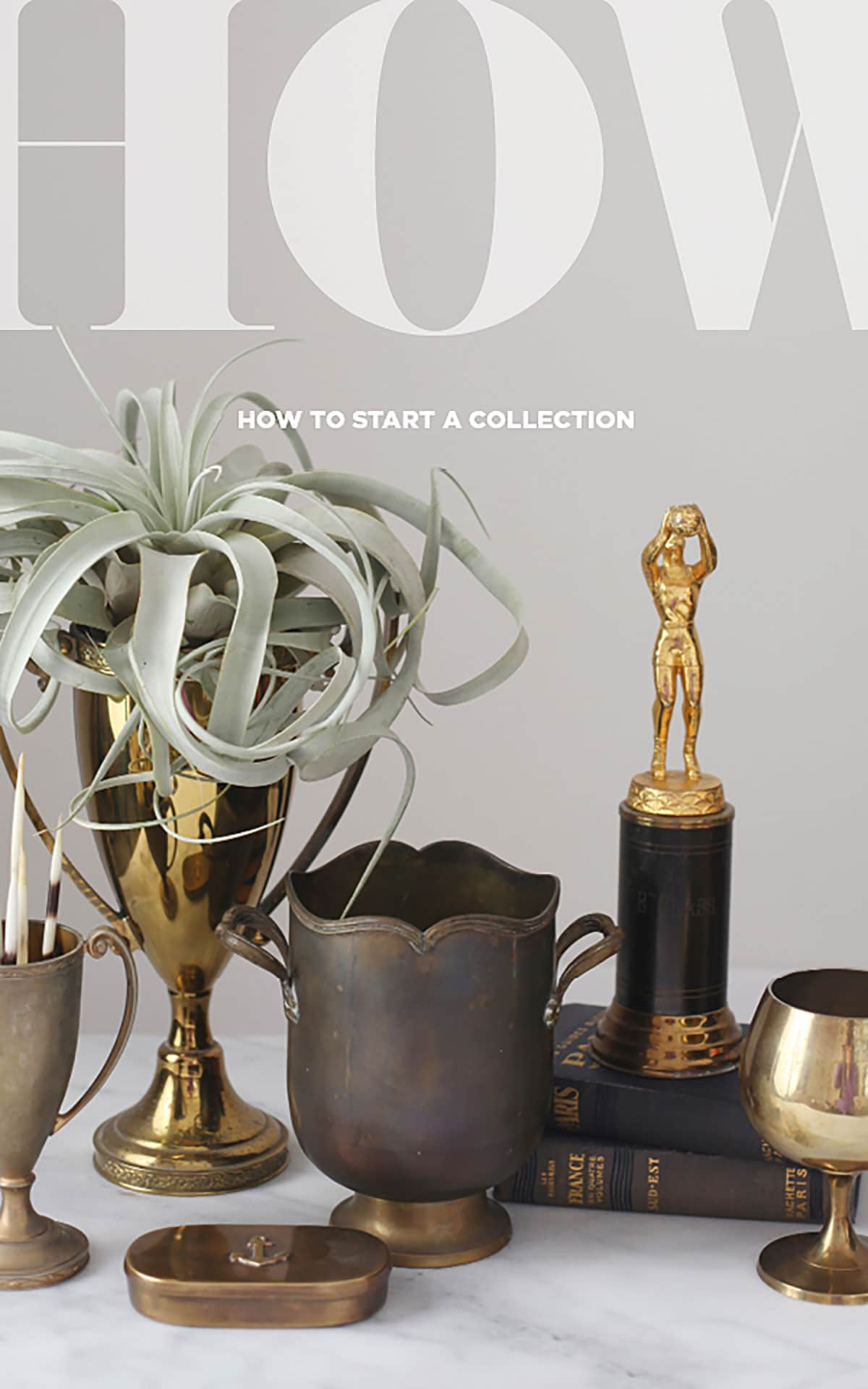 Collections are crazy fun. And once you have your first, it's way easier to start new ones or add to the collections you've already begun building. But I often hear from people who are more confused about the idea of how to start a collection than they are about how to pronounce "Nevada" (Nuh-VAAAAH-dah, not Nuh-VAH-dah, FYI).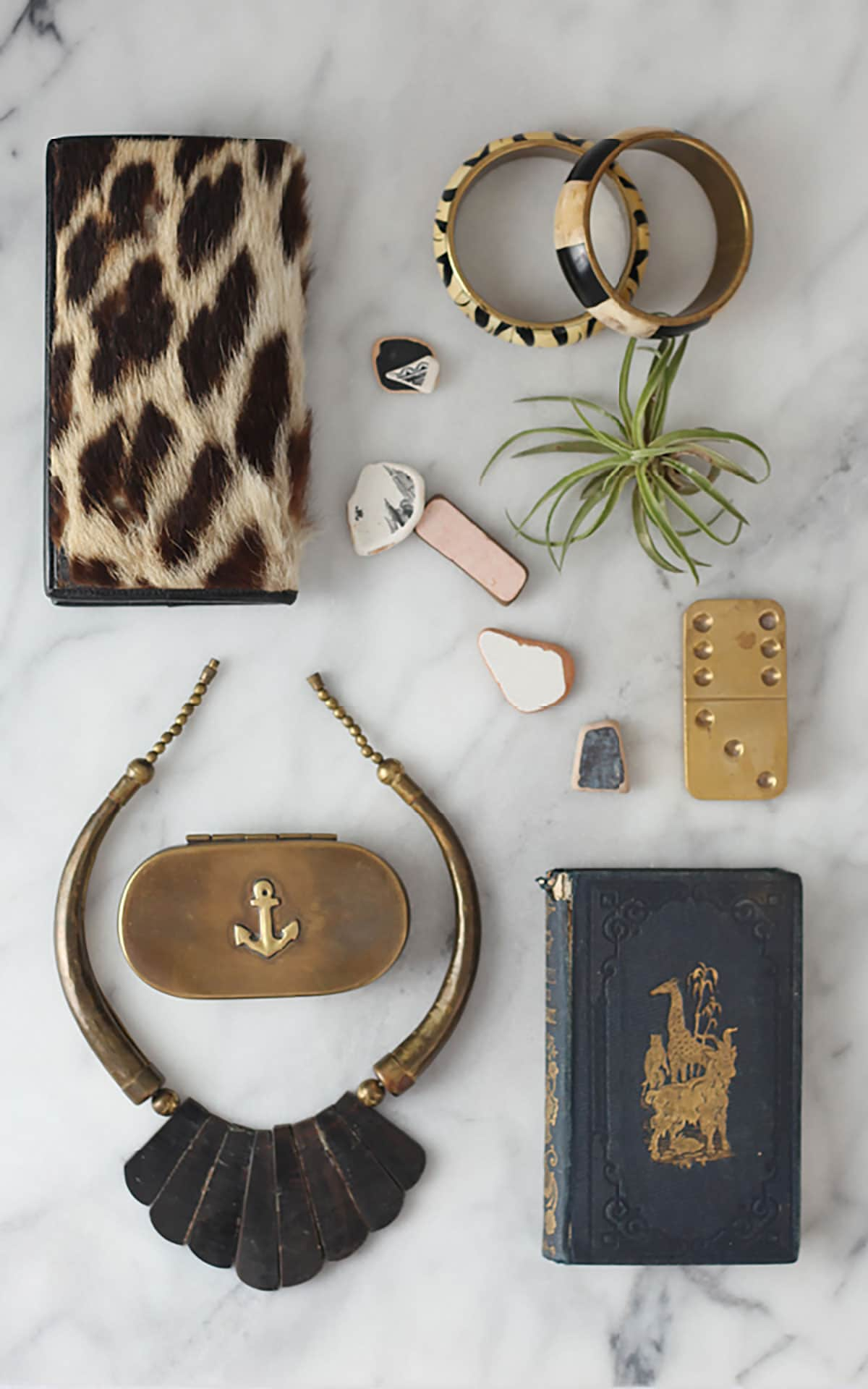 As a card-carrying vintage addict, I've learned a thing or two about how to start a collection. And now I want to let you on all my secrets, so you too can needlessly spend your money on all sorts of random stuff you totally don't need.
My Best Tips For Starting A Collection & What The Hayl You Should Buy
1. Be Okay With Liking Weird Stuff
This sounds like a silly one, but I swear I see people get tripped up by this ALL. THE. TIME. The best part of starting a collection is that you can just let your freak flag fly! "But I can't collect antique butter dishes with farm animals on them, Erica." Uhm, yes you can. "Isn't it weird if I want to start collecting mugs with Northeastern college mascots on them?" Nope, not at all.
In fact, I would say the weirder your collection, the better! This way you won't be in competition with lots of people when you need to throw down on eBay for that wild hyena butter dish. A weird collection will gain a lot of attention, it's memorable, and shopping for your collection will become an enjoyable hobby.

2. Scour Your Pinterest Boards for Clues
Chances are, you probably have some major clues about what you'd like to collect buried in all of your Pinterest pins. Now, it's time to put your Scooby-Doo hat on and figure out what they are:
• Look through your pins and see if you start noticing any patterns in the rooms you tend to like.
• Is there anything in your pins that you seem to gravitate towards a lot (even if it's not necessarily objects, you can still find some clues in room types)? For example, if you pin pics of lots of etageres and shelves, chances are you are a perfect candidate for starting a collection.
• Do you have a "buy me this!" board? If so, look at the patterns amongst the things you like to pin. Do you tend to always pin jewelry? If so, perhaps vintage bangles would be a fun thing for you to collect. Are you always pinning baking items? Then maybe we need to start you up with a vintage rolling pin collection or vintage cookie cutters.
• And if you're not on Pinterest at all, no problem! Go look at some other kickass Pinterest accounts and see if you can find some good stuff there that tips you off. Oh snap!: both House of Hipsters and my Pinterest feeds are a great place to start.

RELATED: If you're looking for affordable original art, this is where I'd start looking.
3. Search Hashtags On Instagram
Instagram is quickly becoming my new fave search engine. And if you're looking for some hardcore inspiration, you need to get on this bandwagon too.
Go to your search tab on the bottom of your screen (look for the magnifying glass)
Then type in your hashtag in the search box and click on the "tags" option right under the box
You should then see your hashtag at the top of the list. Click on it and peep your eyes on some real good-ish.
If you're finding REALLY good stuff, look right underneath the hashtag once you click on it, and look at the "related hashtags" list. You can try clicking on those as well for even more great ideas.
Here are some hashtags that I love to search on Insta when I'm looking for vintage or collection inspo: #shelfie (to check out the décor on people's shelves), #thriftscorethursday, #vintagedecor, #vintagehome, #thisiswhyihavetothriftshopeveryday, #colddeadfingers, #finditstyleit, #foundforaged

4. Hit Up The Thrift Store With A Timer
I get that going to the thrift store can sometimes feel crazy overwhelming for a newbie. So this exercise will ease you into things without much of a big commitment.
Find a local Goodwill, Salvation Army, or another thrift store in your nabe (check reviews on Yelp first if you want to make sure it's a good one). Then drive yo self on over, park your car, and set the timer on your phone for 10 minutes when you walk in. That's all you're committing to here.
While the time is ticking away, I want you to just start walking around and see what catches your eye. Again, this might feel weird at first, but I just want you to start practicing figuring out what your style is. I want you to pretend that you're on a TV show, and you HAVE to find the one or two things in there that you love the most in order to win the grand prize to Fiji. You need to figure this out by the time your timer goes off.
Now, remember: there is no right or wrong answer here. You may be surprised by what you decide you like, or it might feel super obvious. But I'm hoping this exercise will give you some ideas of what you might like to collect based on the sorts of things that caught your eye. If you try this and NOTHING catches your eye, then either you're a crazy person, OR, you should just go home and try this all again in a few days.

5. Look Around Your House For Clues
NEWSFLASH: you might actually already *have * a collection in your own damn house! It's possible that you've accidentally learned how to start a collection over the years, and you didn't even know it.
So take a look around and see if you've already got something brewing. Maybe you didn't realize that you've accumulated 19 antique linen napkins over the years. Surprise! Or that you happen to have an owl in your kitchen, on your coffee table, AND on a set of dessert plates. BREAKING: YOU LOVE OWLS!
So yeah: just take a look around your joint and see if you already have any collections brewing.

6. Phone A Friend
If you've tried everything and you still don't know what the heck you should be collecting, start polling your friends. Often times our friends are more observant about the stuff that we dig than we are. Ask a few of your good friends: "if you heard that I was starting a collection, what would you guess I'd be collecting?"
I bet you'll get some kickass answers like: "well since you're obsessed with champagne, I would guess you're going to collect vintage champagne glasses." So yeah, bug your friends and make them figure it all out.
7. Steal One Of These Ideas
Ok, if you're still stumped after all of this, don't get discouraged. Cause you can steal one of my ideas! I've been building my own collections for so long now, I've got ideas comin' outta my eyeballs. Here are some of my fave:
• art deco glassware
• embroidered napkins
• matchbooks
• wooden 60/70's serving pieces
• wicker animals
• bottle openers
• macrame or wall hangings
• flower pots
• signs (transportation, bathroom, office door, whatever!)
• coins from the year you were born
• photos of strange families on the beach
• portraits of random people
• old postcards
• butter dishes
• quilts or blankets
• brass animal figurines
• woman head vases
• flower frogs
• hotel keys
• vintage items of your fave dog breed
• maps
• baking tools
• iced teaspoons
• ashtrays
• rhinestone brooches
• old buttons
• resin bangles
Erica is sharing all of her best insider-y tricks about how you can find the perfect vintage decor for your home and turn it into a crazy fab, baller pad.


If you loved this post and want more Erica in your life, read how she's obsessed with 70's interior design or all the rules you should break if you're part of the small space squad. She's also killing it on HGTV.



More Eclectic Home Decor Ideas and Interior Design Tips
Wanna make your home look expensive when you don't have the luxury of a high budget? Try this!
Bobby Berk told me he has always invested in quality bedding. Here's the ultimate guide to the best sheets and bedding.
The Primrose mirror is still trending hard, but the price tag crushes my soul. If you're looking for an Anthropologie mirror dupe that doesn't break the break. This one is for you.
Find affordable velvet curtains to cozy up your space and soften your windows.
If you're looking to replace your ceiling lights, here are a few boob light alternatives.
Looking to decorate on a budget? Check out these clever ideas.
If you want to spruce your backyard, check out this round-up of the best outdoor patio furniture.
Ever second guess yourself on what rug size to buy for a living room? Here lie the answers you desire.
Love plants as decor but have a black thumb? No worries! I have a rounds ups of the best faux olive trees and my favorite faux fiddle leaf fig trees.
If you want to make your home a bit smarter, check out the best smart home devices I've tested and my post about smart lighting for your home.
Here are seven genius ways to hang a picture, including hanging art with two hooks, hanging a gallery wall with no tools, and hanging a picture without damaging wallpaper.
Love shopping for vintage decor? Get my 9 expert tips on how to shop a flea market like a pro.