When it comes to vintage shopping in Chicago, you can shop til you drop, take a disco nap, rally and shop some more. It's also safe to say I shop for vintage…a lot, and therefore I receive quite a few emails that go something like this: "Hey Kyla, I'm visiting Chicago, and I was hoping you'd share some of you favorite places to shop vintage." Of course I oblige. Shopping for vintage is my jam.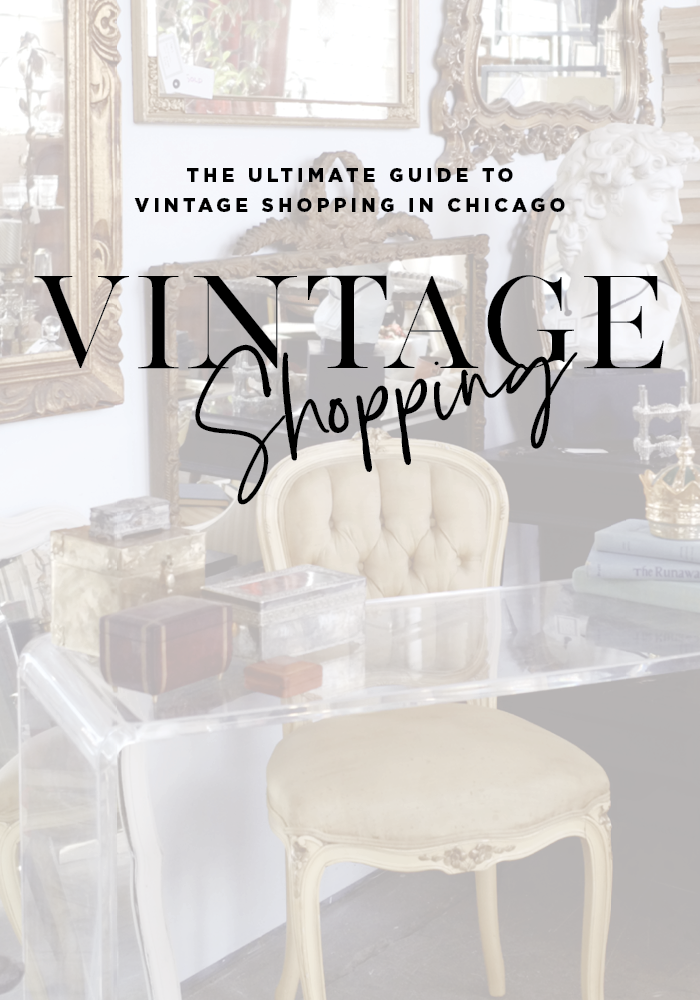 Now, before you bombard my inbox asking to be sent the coveted, super secret list, keep on reading this post, then promptly bookmark, save  to Pinterest, and engrain it in your brain because today I'm sharing the mother of all lists…House Of Hipsters ultimate guide to vintage shopping in Chicago and surrounding suburbs!
MORE AFTER THE JUMP…
Some people like to keep their vintage sources on the DL, but e-ghads! What fun is that? As my ride or die gal Marianne says, "there will always be more vintage". I guess that is what makes her such a great thrifting buddy. Back in 2014, (lawdy how has it been that long ago?), I wrote a post about vintage shopping in Chicago, but after looking back on it, realized just how out of date the information was.
Let's get started with my favorite vintage shops in Chicago and then we can move our way out to the burbs. Yup, told ya this is the mutha load, trash to treasure list. Buckle down the chin strap and hold on. Here we go!
BROWNSTONE
5234 N Clark St, Chicago
Blink and you'll miss it. Brownstone is located in Andersonville, right next to Tilly's…one of my favorite places to shop for vintage jewelry (more on Tilly's below). This place is a pickers dream and and OCD clean freak's nightmare. Piles of vintage precariously stacked on top of piles of antique furniture. If you have time to wander and don't mind a dig, you'll surely find a few treasures.
One thing to beware of, every time I go in, I don't get all the feels. What does that mean? No one is super friendly, but walking in knowing that, you might be pleasantly surprised if you actually receive a hello LOL. So why do I shop here when I don't feel all that welcomed? The prices keep me coming back for more.
BROWN ELEPHANT RESALE SHOP
5404 N Clark St, Chicago
Although I don't shop here as much as I'd like, every time I stop in there's something different. You walk in through a large hallway and round the corner to vintage heaven. You'll find some Mid-Century Modern furniture, killer vintage clothing (look closely and you'll find some high end designer pieces), home decor, and art. What's even more amazing is that all the proceeds benefit the LGBTQ health and fund care for the uninsured at Howard Brown Health in Chicago. FYI, if you're looking to donate gently used items, this is a great place to do so.
BEEHIVE CHICAGO
2501 W Chicago Ave, Chicago
A great little gem of a shop with treasures galore! This space is a shared showroom and workspace for many local Chicago vintage dealers. With home decor a plenty, you won't leave empty handed, and I guarantee you'll be back for more. You'll also find some great vintage fashion and jewelry. Last time I visited, I was greeted by a pair of stunning Maitland Smith tessellated stone side tables and MCM loungers.
DIAL M FOR MODERN
1136 N. Milwaukee Ave, Chicago
If you love Mid-Century Modern decor, this Chicago vintage shop is for you! Find classic Milo Baughman chairs mixed in with quirky and fun 70s funk. Tim (the owner – and also one of the nicest people on the planet) just moved the shop to a new space…which I have yet to see…but I've heard it's killer cool. He has a great eye for incredible furniture and if you live near by and ask pretty please, Tim will usually help get that chair delivered to your home. One thing to beware of though, if something catches your eye, jump on it. Superb quality and fair prices has furniture flying out the door.
LAZY DOG ANTIQUE STORE
1903 W Belmont Ave, Chicago
This vintage shop has been on my hot list for a few months. New to me, I stumbled upon Lazy Dog via Instagram and have yet to shop this place in person, but because I've purchased from here online, I still  wanted to include it. Loads of drool worthy MCM furniture, killer barware and home decor…plus vintage jewelry. If you get there before me, please report back and tell me what you think.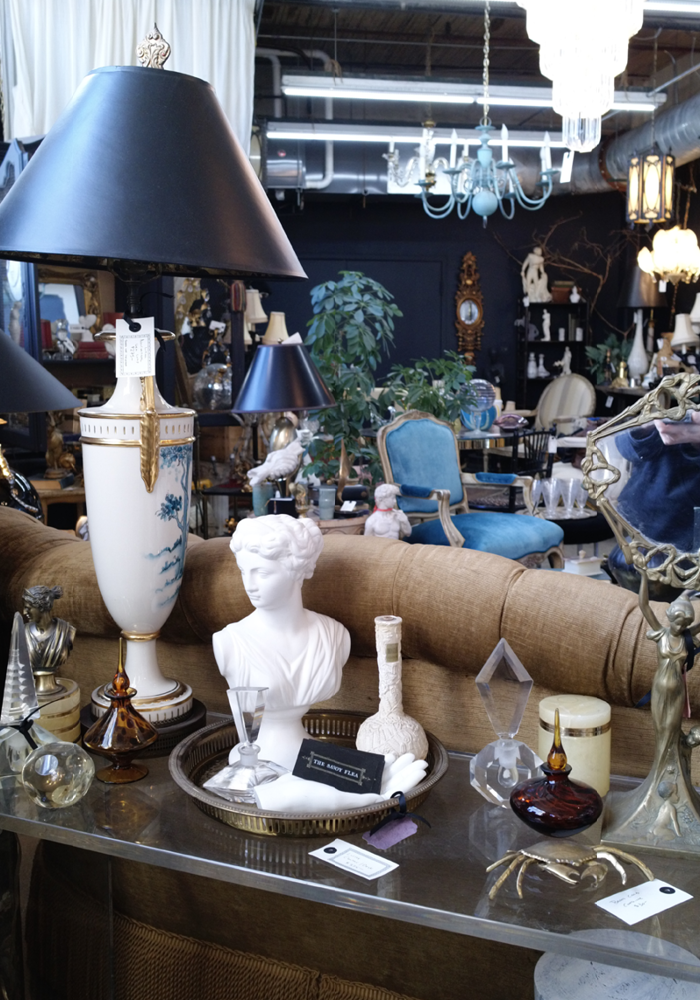 THE SAVOY FLEA
2621 W Grand Ave, Chicago
Like I said above, Marianne (the owner of The Savoy Flea) is my ride or die BVB – Best Vintage Buddy. Her shop is open by appointment only, but don't be intimidated by that. When I first visited this studio, I thought "open by appointment only" meant this shop will be way too damn expensive. Quite the contrary. Marianne is out and about scouring the universe for new vintage treasure for the studio.
When arriving, be on the look out for a plain white warehouse with zero signage. Told ya it was a hidden treasure. Park in the driveway and if the main door is locked, text, call, or ring the doorbell. After making your way passed pallets of movie props, you'll see a set of double doors. Prepare yourself for an eclectic mix of Parisian Chic, Art Deco and Hollywood Regency glam.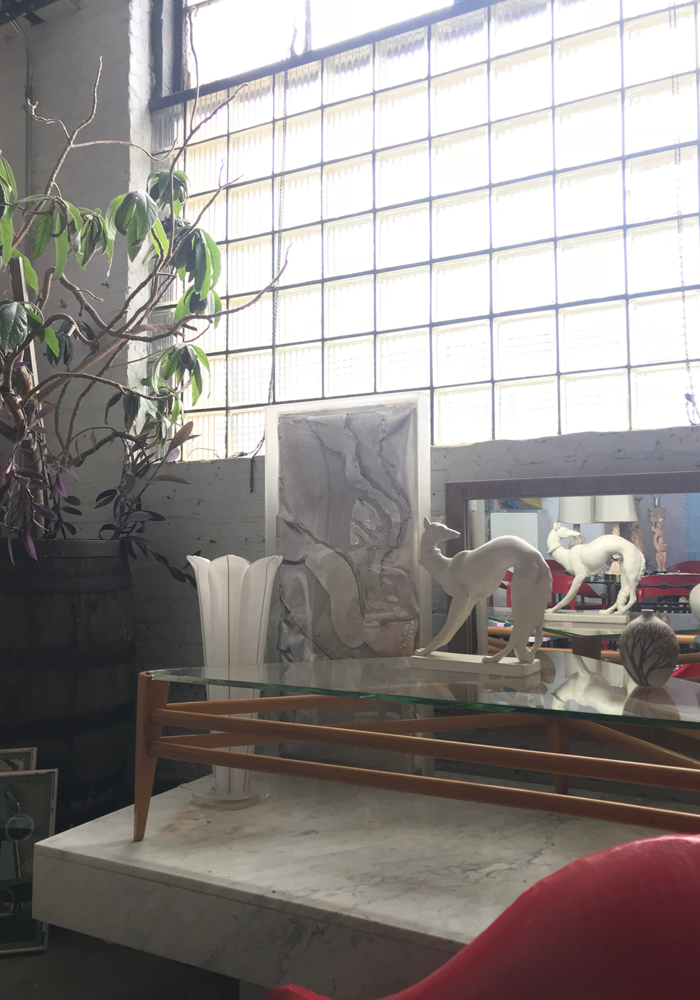 STEPHANIE SCHOFIELD
2621 W Grand Ave, Chicago
Walk towards the back of the studio at The Savoy Flea, and you'll find Steph Schofield's Chicago location. Steph has this  is a secret source to some seriously famous designers which is probably why her other showroom is in High Point, NC. Yes, I spotted Carson Kressley shopping at the HP location last Spring.
Steph has an eye for unique, one-of-a-kind, unexpected finds you may never see again. Her pieces are 1st Dibs level yet completely obtainable, and most of the time, surprisingly affordable. She was recently featured in Domino magazine and gave a pro tip to vintage shopping, "When I'm trying to decide whether or not to buy something, I visualize the piece in a space. Almost anything can be cool in the right context."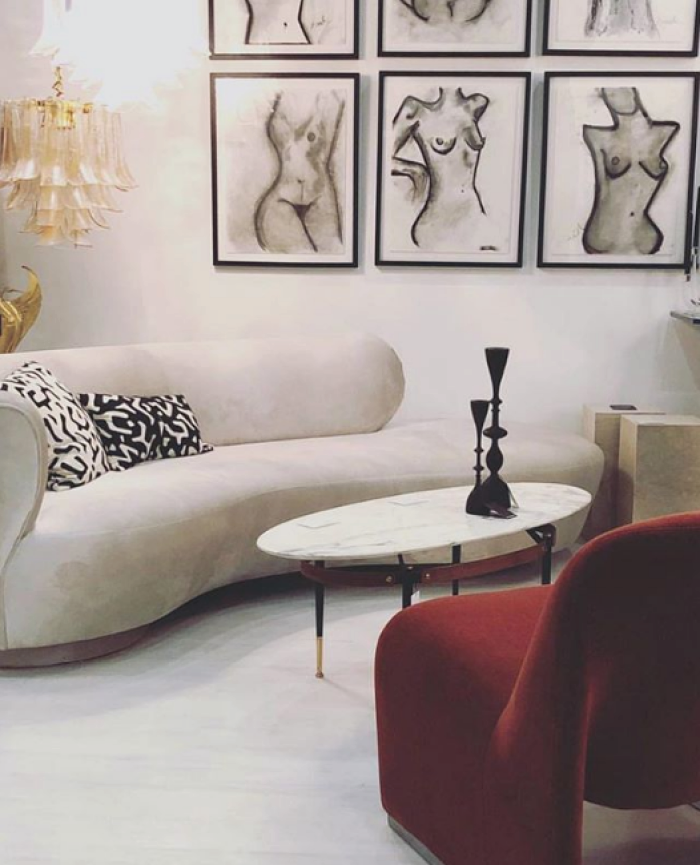 SOUTH LOOP LOFT
685 N Milwaukee Ave, Chicago
This is the place for one-of-a-kind vintage statement pieces for your home. South Loop Loft recently moved, and the new space is a showstopper. Cheap? Absolutely not. This is not a store for pickers. However, if you're design obsessed and looking to add some wow factor, South Loop Loft is the place to go. Just be prepared to covet everything. The space is so inspirational and the lighting is on fleek.  There's a reason South Loop Loft was featured in Elle Decor.

STRANGELOVELY
2511 W North Ave, Chicago
Keep your eyes peeled for a shop window that reads, North Avenue Collective. This is where you'll find Strangelovely. I'm not quite sure how to describe Kim's style…maybe funky, glam granny? Is that a style? First and foremost, if you're looking for a killer Chesterfield sofa or wingback chair, Strangelovely is the place to find it. While wandering around this gorgeous shop, be sure to look down. The rugs are on fleek! Because Kim shares this space with Hopscotch & Soda (vintage clothing), the place feels more like what you want Anthropologie to be. Carefully curated real vintage.
TILLY'S
5232 N Clark St, Chicago
Tilly's might me the smallest shop on this list, but the amount of merchandise is overwhelming! If you're into vintage jewelry, handbags and clothing, you must stop in. It's packed to the gills with haute vintage couture and beautifully curated jewelry. Side note, the earrings I wore to meet the creators of Consort Furniture…the guys want to make sconces out of my earrings from Tilly's…ya, incredible finds. Not quite sure where to start, ask the shop's owner Susan Lynch. She basically gives you a once over and starts pulling pieces she knows will fit.
VINTAGE QUEST
1105 N California Ave, Chicago
This tiny shop sits in between Strangelovely and the Savoy Flea, so if you're going to either shop, make sure to stop into Vintage Quest. It's a small shop that packs a serious punch. Upon arrival, you're going to think to yourself, Kyla, you sent me to a cross between a man cave and Wisconsin bar. But humor me and have a looksy…yes, that IS a Milo Baughman chair…yes, that IS a DIA swivel table…yes, that is a Togo sectional…and yes, that IS the price.
WOOLLY MAMMOTH
1513 W Foster Ave, Chicago
Are you looking for something ultra weird? Victorian hair jewelry? A painting by serial killer John Wayne Gacy? How about a shrunken head…ummm, yes, it's real. I've only stopped into Woolly Mammoth a few times, but if I'm looking for oddities, this is THE place. It's right down the street from Brownstone, The Brown Elephant , and Scout, and it definitely marches to its own beat when it comes to vintage shopping. Word to the wise, you might want to sage yourself on the way out. LOL.
Phew! You still with me? If you are, then you shall be rewarded with a few antique malls, favorite flea markets AND a couple super secret burb locations I only share with nearest and dearest…yup, you're that special.
EDGEWATER ANTIQUE MALL
6314 N Broadway St, Chicago
If you're into Mid-Century Modern and Industrial, this is the place to be. Lots of small booths made up of about 40 local vintage dealers. You'll find everything from chairs to doll arms here. As with any antique mall, the prices aren't picker prices, but everything is still quite affordable.
BROADWAY ANTIQUE MALL
6130 N Broadway St, Chicago
If you're a vintage shopping local, you probably refer to Broadway Antique Mall as BAM. It's larger than Edgewater, and right down the street, so I usually stop into both when I'm in the area. The front area is mostly glass cases…I cruise through there fairly quick and wander to the left. There's where you'll find booths and nooks where individual sellers can set up vignettes. You'll find vintage cameras, globes, vases, ashtrays, old photos, maybe a pinball machine or two…I also tend to giggle in the aisle of "old porn". Don't forget to go upstairs. They have a nice selection of MCM furniture.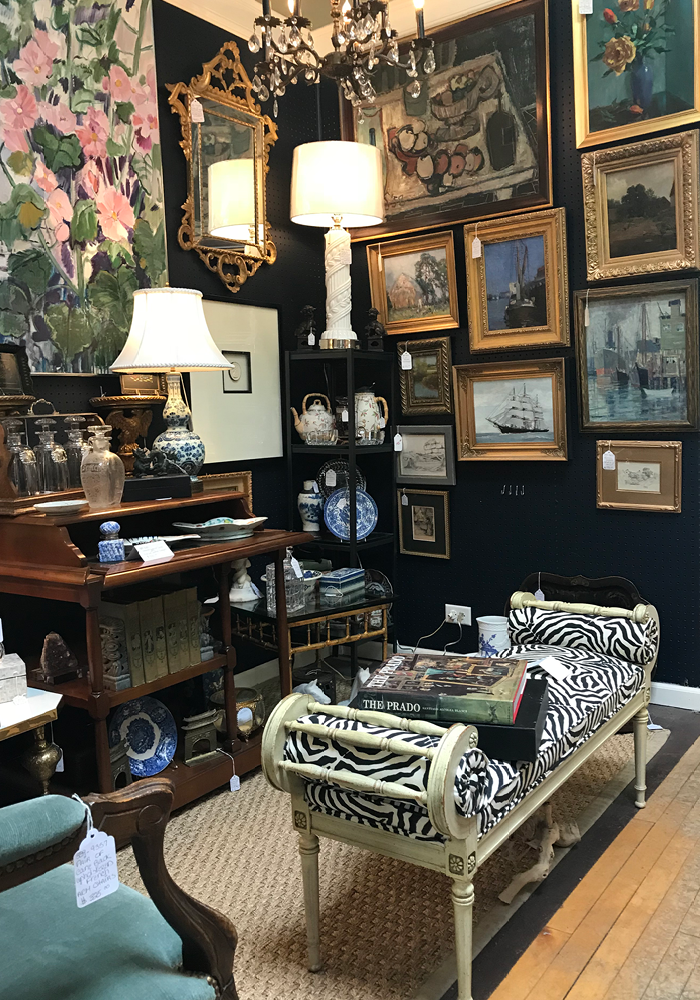 HERITAGE TRAIL ANTIQUE MALL
410 Ridge Rd, Wilmette, IL
See, I told you we'd hit the burbs! Over on Chicago's North Shore, there's a great antique mall in Wilmette. Again, this is a mall, so you will not find picker prices. But what you will find are tons of bonkers good vintage that is highly curated. No doll parts here. Be sure to head upstairs where you'll find even more awesome. A couple of my other favorite booths belong to PeAk Stuff Vintage and Scene Vintage. I'm constantly watching these Instagram accounts for new arrivals.
VOLO ANTIQUE MALL
27640 Volo Village Rd., Volo, IL
If you want to kill a day antiquing, this is your one stop shop. Just a few miles away from the Wisconsin border sits 4 large buildings chucked full of pretty much everything and anything you can image. Over 400 local dealers in multi level barns. Volo is not highly curated, but you will find anything from formal antiques to Mid-Century retro to mantiques to industrial to primitives to collectibles.
Because this place is so vast, you have to checkout in each building…meaning don't carry items from mall 1 into mall 2. I tend to find quite a lot here, so I start piles at each checkout counter. The very last building sits over a garage filled with vintage cars and tends to have a strong odor of gasoline which gives me a headache…so I tend to skip that particular building. Oh, and one other thing to mention, if you get hungry, head over to Fratellos for lunch and a lemonade.
Ready for some fleas?
KANE COUNTY FLEA MARKET
The first weekend of every month is the Kane County Flea Market. You'll walk through barns and buildings full of primitives and mostly traditional antiques. It's massive. You'll also find shabby chic crafts and handmade items…along with some tube socks. Because I'm more of a Mid-Century glam gal, this is not my favorite flea, but I do tend to walk away with some vintage items. Be sure to dress for dust and dirt…this flea is held at a traditional fairgrounds.

GRAYSLAKE FLEA MARKET
The Grayslake flea is held the second weekend of every month, and many times it is themed. I just happened to go to the MCM themed weekend and can I just say that flea was on fire! This happens to be one of my favorite fleas…mainly because it's small and low key. It also helps that it's minutes away from my house. So what do I mean by low key? When I go to a a flea in the city, almost everyone is dressed to impress. Grayslake I could walk in my jammies and no one would bat an eye. Also, every once is so nice. No one is pushing past you trying to get to something first…it's just very chill.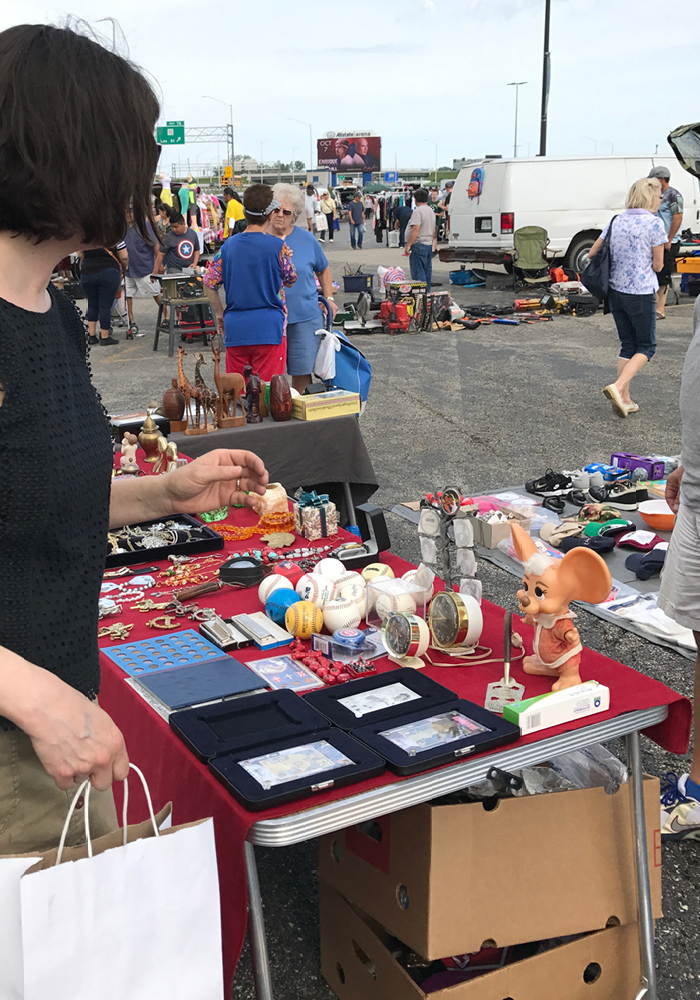 WOLFF'S FLEA – ROSEMONT
If you've ever driven down the Kennedy Expressway on a Sunday during the summer, you've probably seen the flea in Rosemont at All State Arena. Because this flea is held in a parking lot on blacktop in summer heat, it can be absolutely brutal. The vintage shopping can be very hit or miss depending on the weather, so I usually keep my eye on their Facebook page. Don't miss the farmer's market section of this flea. The plants and produce do not disappoint.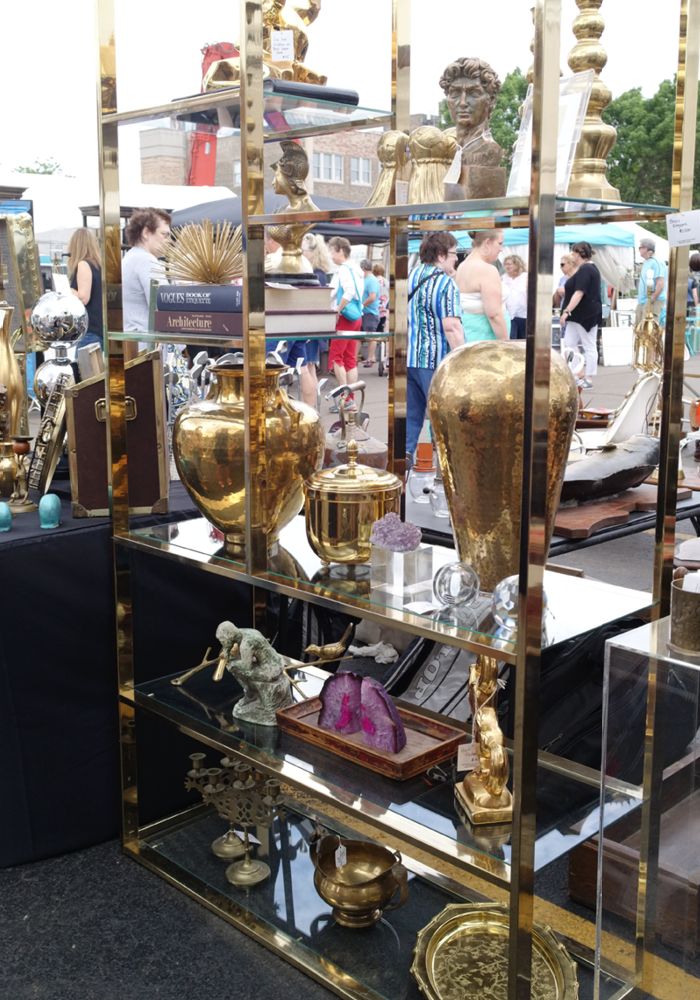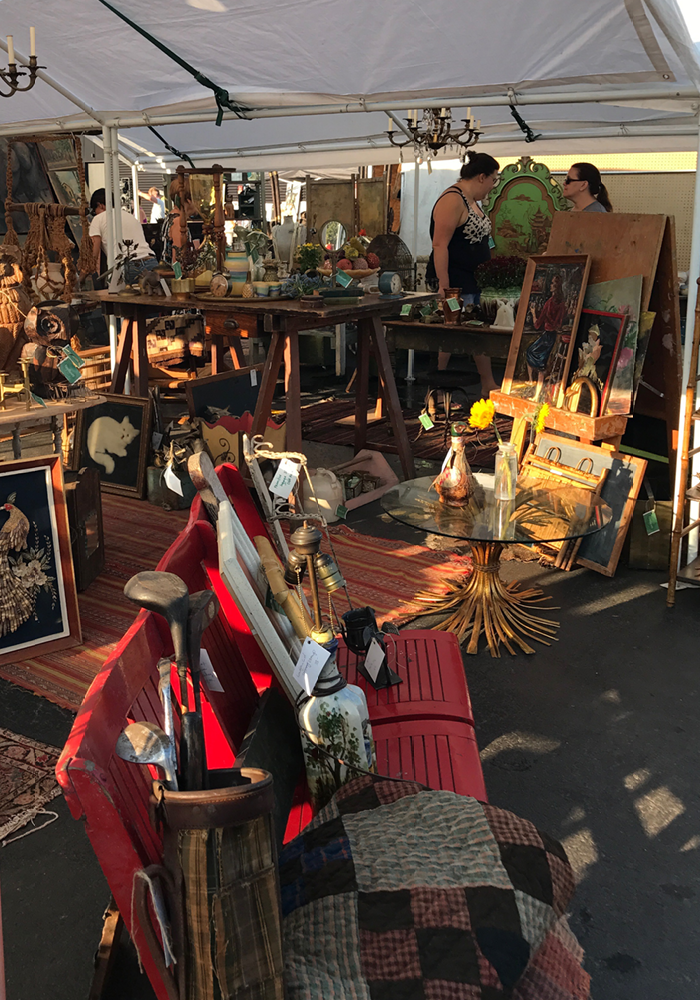 RANDOLPH STREET MARKET
There's nothing more unique than antiquing in an open air market in downtown Chicago, and Randolph Street Market takes party to another level. This flea is one of my favorite haunts for vintage shopping in Chicago. Every time I leave, my car is packed to the gills with treasures and I venture home with a smile on my face. In fact, I would say it's a bucket list flea.  You're going to find a highly curated group of vendors selling quality over quantity.
It's also one of my favorite fleas to attend especially during the summer months. Why? Well, the parking lot of course…and no, I don't mean for my car (they have a valet service for that). During the months of May – September Randolph shows shows off some srsly jazzy furniture in the parking lot and pack it full of food trucks, live music, fresh roast coffee and my favorite part…booze. Yes, the mimosas are flowing at this vintage bonanza. This flea is held every 4th Saturday and Sunday of the month and is not to be missed.
Now, for my super secret local shops. The antique shops in Barrington where I live and are near and dear to my heart. This quiet little town is becoming more and more a hub for antiquing. In fact, I'm marking my calendar for this event in September.
PINK GERANIUM
829 W Northwest Hwy, Barrington
While driving down Northwest Hwy, on the other side of the Metra tracks is is Marble and Granite warehouse…and on Thursday – Saturday, you'll see a tiny hot pink sign. Crank that wheel, cross the tracks and turn right. You've arrived at Pink Geranium.
Treasures upon treasures, nicely curated. You won't find piles of furniture, but there's still plenty to look at. The owner Katie and her staff are sooooooo incredibly nice, and they usually have a treat or tiny snack at the checkout counter. I usually pop in once a month, and never leave disappointed. This place is a gem.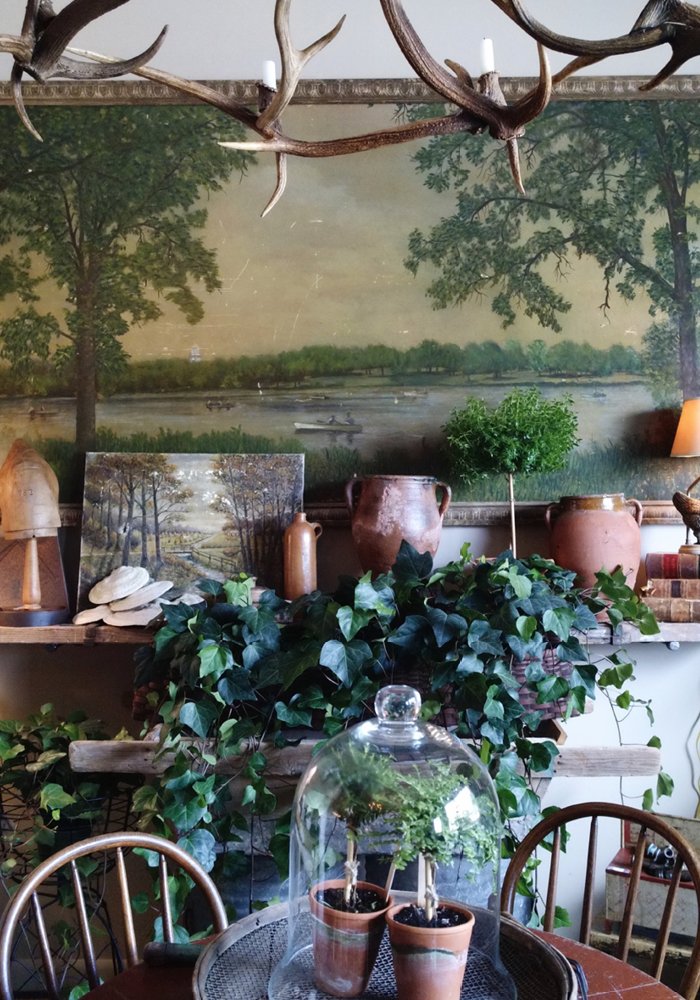 STEEPLECHASE ANTIQUES
When we were looking for a home I spied with my little eye a sign that said "antiques". MY PEOPLE!!!!! Steeplechase was the first local antique store I visited after the move, and I've made quite a few purchases since that day. In fact, the owner Karrin took me under her wing a bit after I lost my job. For a few months, I helped her style the shop…I don't think she will ever know how much she helped me mentally. I cherish her friendship.
Okay, enough with the mushy stuff…Karrin curates antiques…no MCM here. Lots of wood and brown tones. When I was styling, it felt like all these beautiful pieces were growing up, and out of a beautiful garden of ivy and topiaries. Beautifully patinated wood tables, oversized urns, trophies, trunks, books, and old leather furniture. Her store has this look that's stunning and ever changing. Yep, she's one popular lady and flips that store pretty much every week. So if you see something you like, you better snap it up, or it'll be gone in a flash.
FRIENDS OF PEPPER ROAD
The 10 major antique shops (including Steeplechase and Pink Geranium) in Barrington teamed up, and they host open house events. Every 4-6 weeks, they stay open late, and vintage shoppers can make the rounds, store to store. It's so much fun. A couple that I like to pop my head into are The English Daisy and Winterberry.
PARIS MARKET ANTIQUES
Last one…and this shop I have to thank Karrin for or I'd never know it was here. Back behind Jewel is the Icehouse Mall…this is also where we had our first Thanksgiving in Barrington…cuz I know you really needed to know that. Anyhoo, wander down the hall of this building and you'll stumble upon Paris Market Antiques…and it's huge…and packed. I've only been there once, but I think the people who own it, also own a local estate sale company. Which makes sense with the inventory size…but don't quote me on it. It's hidden, quiet, and a total and complete gem of a find.