Mid-Century Modern Bedroom Makeover
Last Updated on August 25, 2023
There's been some chatter of a super-secret, amazingly stupendous, Mid-Century Modern bedroom makeover project. Yep, I was on track for a very cool feature in a very cool magazine, but, weird shit happens sometimes and whomp, whomp. I think that game is over. It's okay though, I'm over it…not really. Insert laughing so hard I'm crying emojis here. I still have a dreamy little bedroom makeover to rest my tired eyes. That is, pending a gorgeous colorful rug's arrival from India, a painter who has been perpetually busy and a DIY. Note to self, stop slamming the painter get on that DIY already. Oh, and some wall art above my bed.
Because the bedroom is not finalized (the main feature is the rug), this post is not a final reveal, but I promise to share more than just a one-picture sneak peek. I'll also be sharing with you how everything came together, and who helped me make my Mid-Century Modern bedroom makeover happen.
Mid-Century Modern Bedroom Makeover Mood Board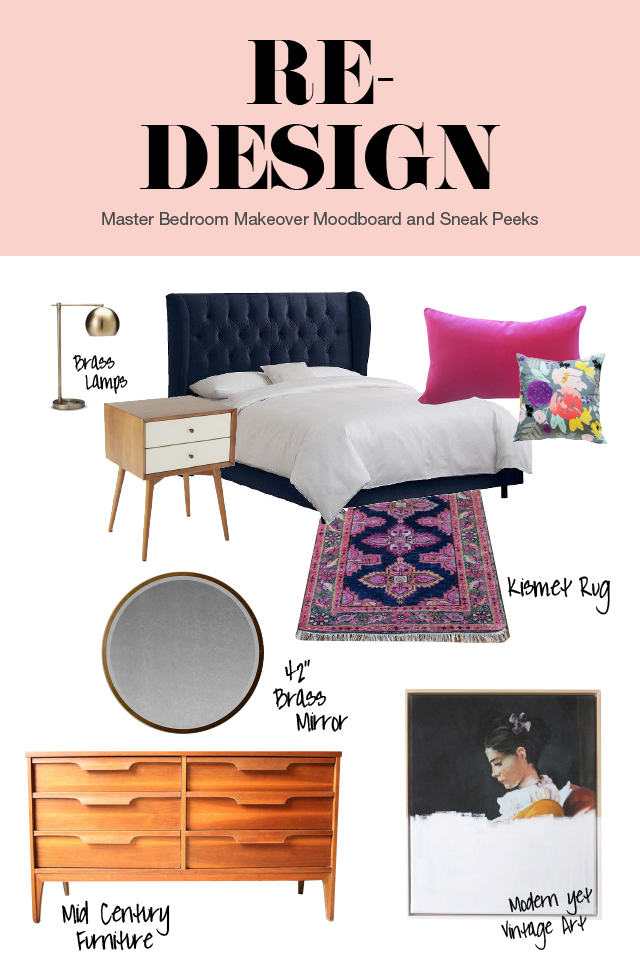 When I first started to write House Of Hipsters and had about 7 clicks a day if I was lucky…my mom, Brandy who I went to high school with, Laura, and my friend Grace (the other 3 clicks were me making sure the site was working, wondering why no one was reading my blog. )…I wrote I Make Emily Henderson Cry. It was what would become one in a series.
I jokingly photographed and shared with my 4 readers the disastrous space known as my bedroom. After we moved into the house 4 years ago, my focus was on the main floor. I tried to dress the master bedroom up with some lipstick also known as fancy Dwell Studio bedding and some white animal heads. But for the most part, this was not a bedroom that dreams were made of. There was no magic happening here.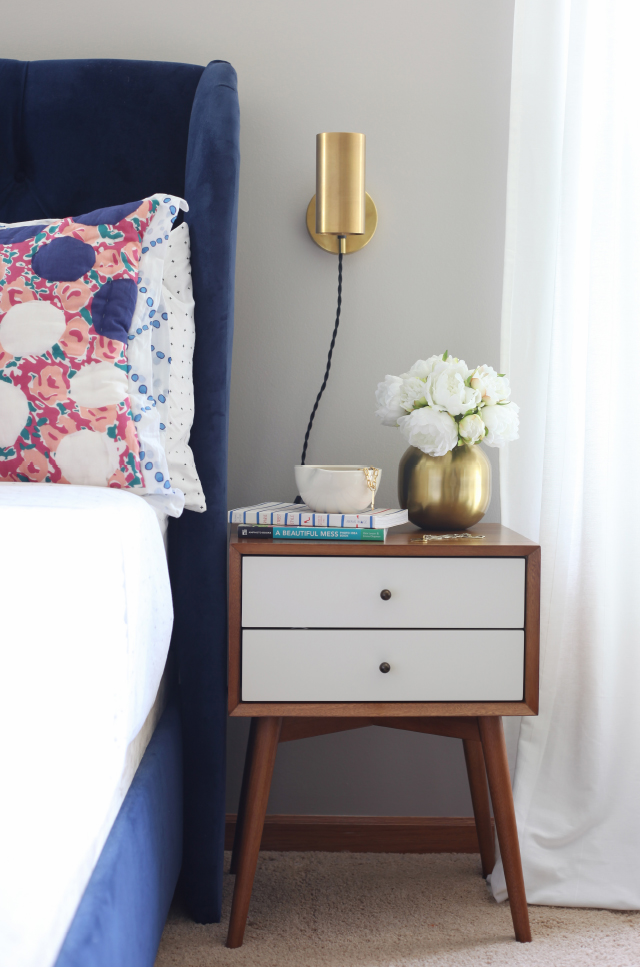 When the magazine approached me, they asked to see redesigned photos of the non-existent bedroom makeover. No rush, they just wanted to be first in line before any other national magazines came knocking on my door. Ummm, seriously? Woah. Yes, this master bedroom makeover immediately became priority numero uno. I threw together the mood board above and put together a great foundation for the room but started to freak out about styling. This had to be, "knock it out of the park", no swing, batta, batta, swing hit, and a miss. So I reached out to a talented stylist who I admired and asked for a little help with my vignettes…Jennifer Harrison aka @fleamarketfab. If you don't know her, go…now…I'll wait here. And be sure to follow her while you're over there. Her feed is A-MAZING.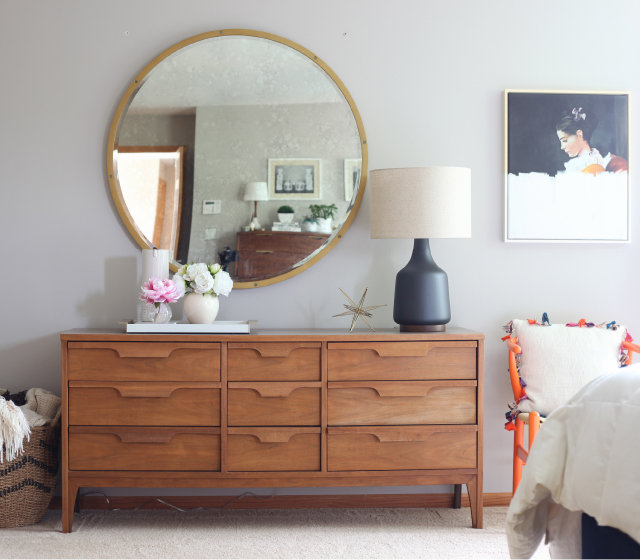 Hey! You actually came back! Alrighty, well, back to my story. I can pick out amazing furniture and home decor pieces, but it's putting together curated vignettes that tend to stump me. Much to my surprise, she offered to drive 7 hours to help me style this room. SO nice! I continued to shop online like a madwoman, trying to get all the big stuff delivered before her arrival. I added each piece I picked out to a mood board on Pinterest, so she could virtually see what I was doing with the room. More styling, less shlepping was the motto. I wanted to use her time with me wisely.
Before she left her house, she sent me this text…apparently clubbing was not in the cards for us gals. Do I come off as a clubbing girl? If I do, swwwweeeet! But heck, I can hardly stay awake past 9:30 PM; however, we did party hard every night with wine, Craigslist, and iPads. Ain't no party like a House 'a Hipsters party, cuz a House 'a Hipsters party likes to thrift…just sayin'.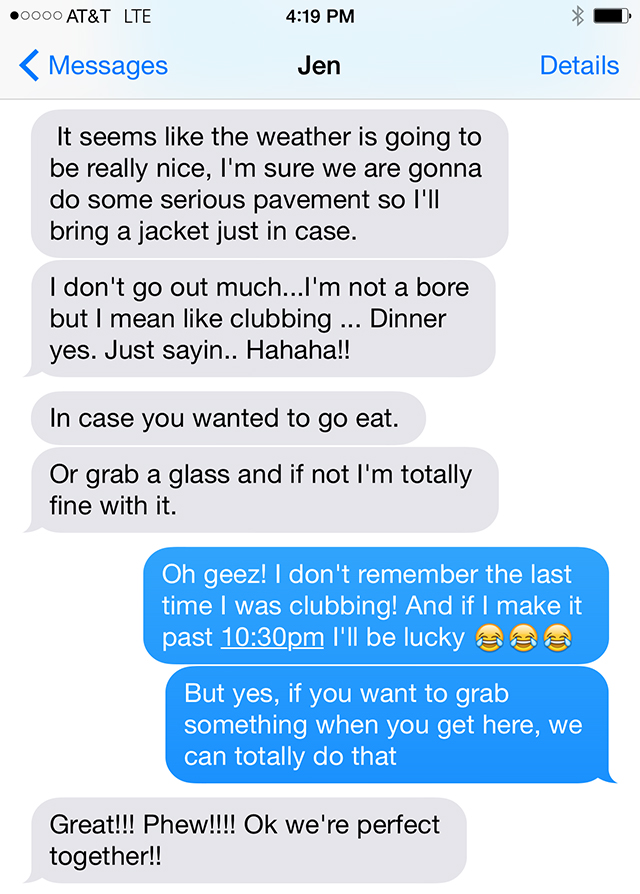 When her crazy huge red van pulled into my driveway that Thursday night I was stoked. This room thing was going to happen. After noshing on delicious Lou Malnati sausage pizza, Jen and I went up to the room and took inventory of what might be still needed. The next morning we moved around some dressers and got the mirror in place. Thankfully the bed and nightstands were already set up. She suggested a tray, large plant, lamp, and small wishbone chair. We shopped the house first.
Since I already had most everything, the bedroom took shape right before our eyes. But she suggested a few items to be purchased, so we made a list. Time to hit that pavement. We talked about heading downtown to my favorite haunts but instead chose to go a more productive path. Rather than treasure hunting the city and risking a huge bust, we hit West Elm, IKEA, and Anthropologie. Yep, these thrifting queens were on their way to the mall. But first, we had a few Craigslist finds to stuff in the trunk of my car. I get 'chu good deal.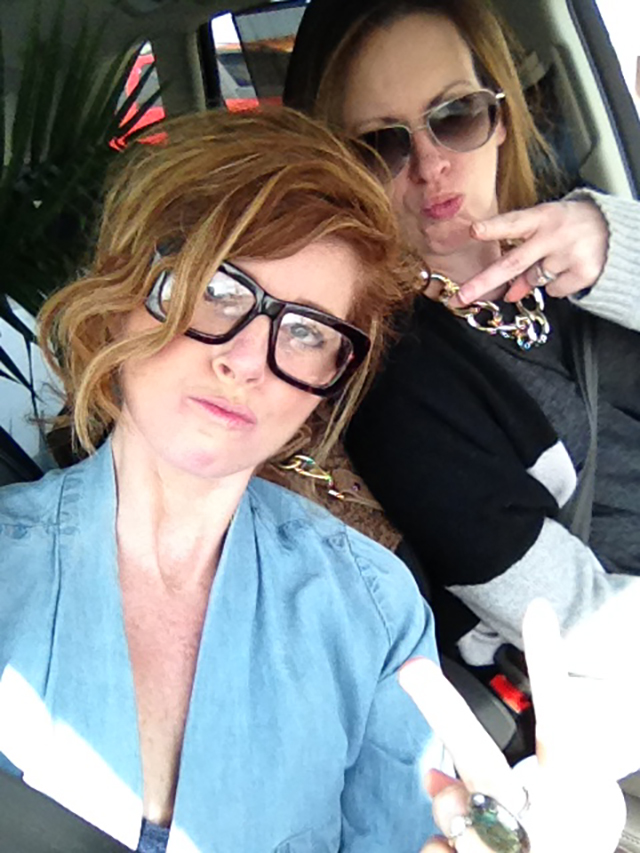 We shopped 'til we dropped. Literally! Jen can shop you guys! We stopped at a Starbucks, but besides that, we didn't eat until 8 PM. I'd bet I put 8 miles on my new Birkenstocks. We raced to the nearest Chipotle, and I tried not to lick the walls. When we finally got home, my eyes were glazed over, both of us exhausted. I offered wine secretly hoping Jen was just as tired. She was…thank gawd. Also, my SUV was packed to the gills. I threatened to bungee cord her to the roof if we tried to stuff another lamp in it.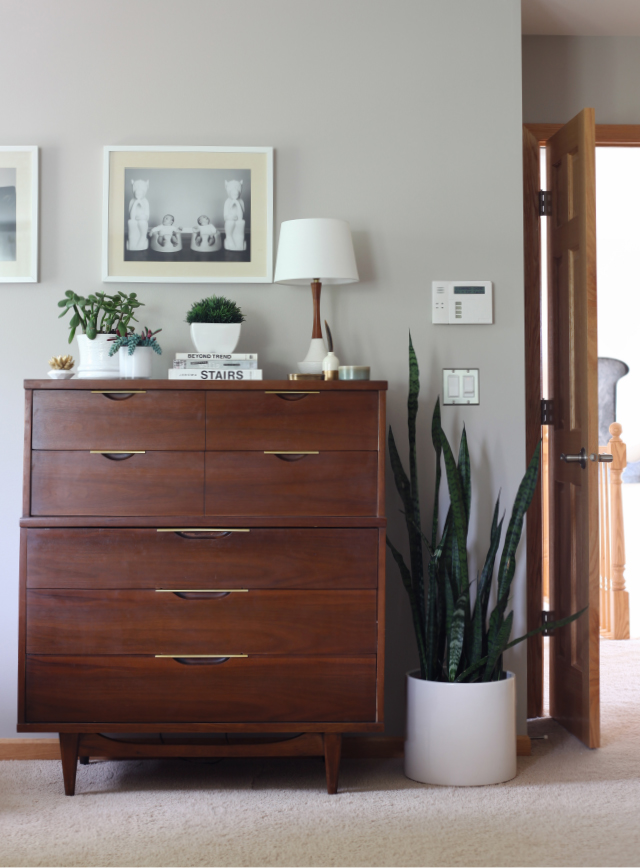 Saturday morning was go time again. Pretty little thing after pretty little thing was unboxed and styled. Pillows were fluffed. Plants were potted. Flowers in vases. Books stacked. Oh and an IKEA desk that I kept screwing up the IKEA build. Sorry about that Jen. She learned quickly to dread the words, "uh-oh", but handled my errors in stride. Many laughs later, we went from this:
Before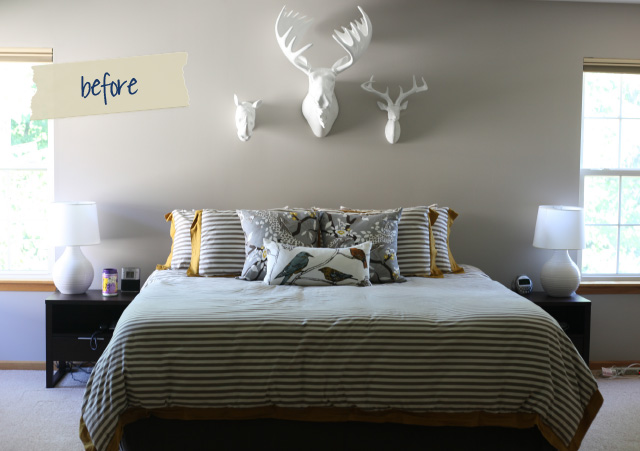 (How's that for a little trip down memory lane?) To a proper Mid-Century Modern bedroom makeover with HUGE style. I feel like I've got my funk back.
After Makeover Photos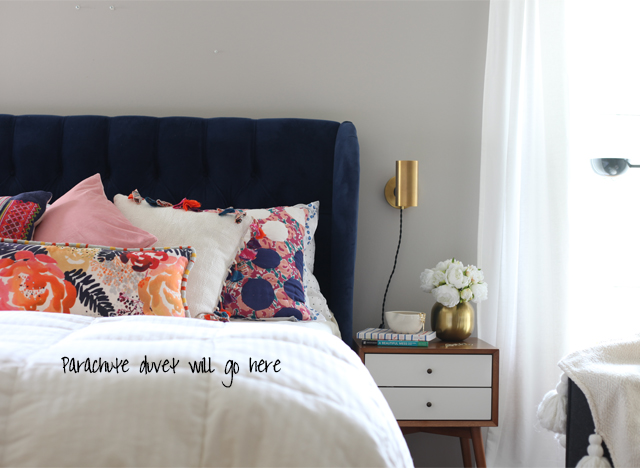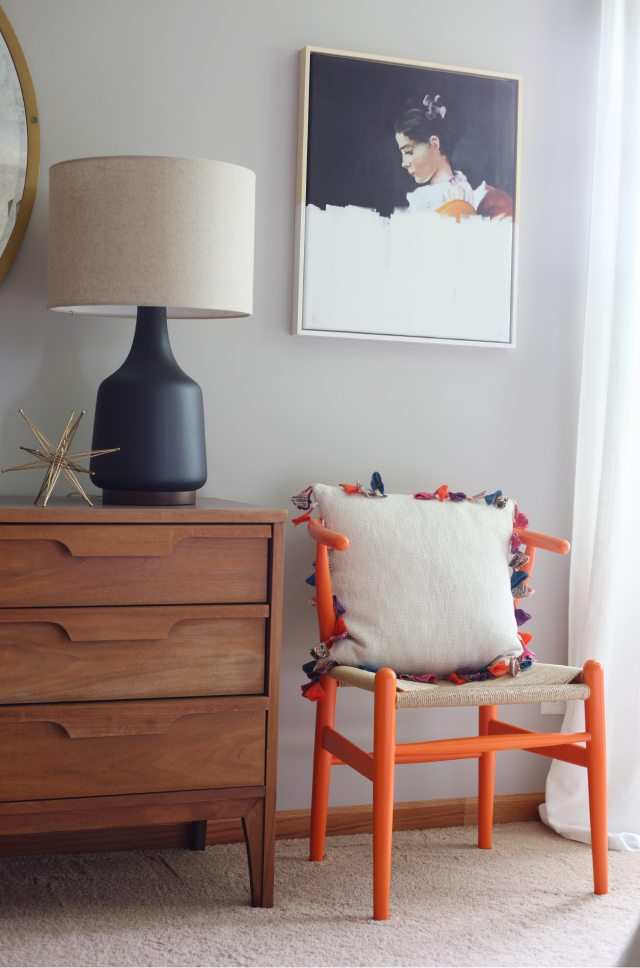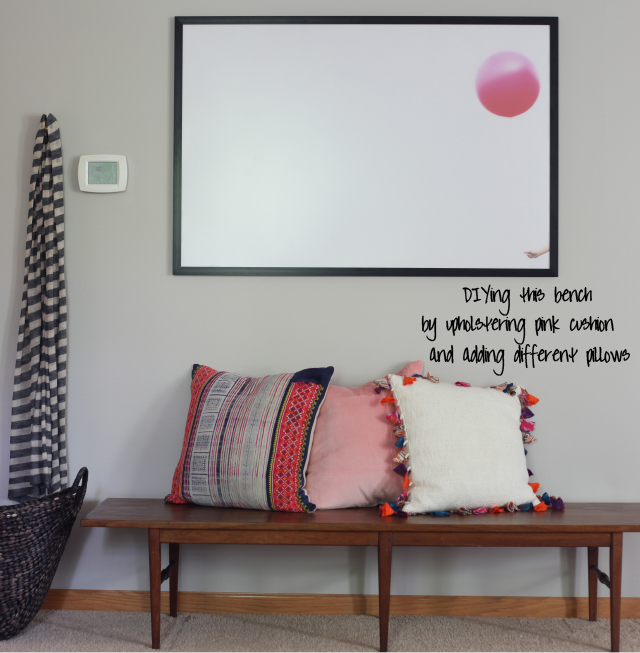 Yep, that bench right there is my DIY. I need to make a cushion for this Craigslist score and add some new pillows because I swiped these from the bed. And that you guys are all I'm giving you until the final reveal. What do you think of my master bedroom makeover? Any suggestions for artwork over the bed? How about paint color on the walls? Right now it is Sharkey Gray by Martha Stewart Paint from Home Depot. Originally we thought of a light blush or maybe white. Once I took the pictures, both Jen and I started liking the gray. She suggested going a shade lighter, but I've been dragging my feet until that glorious rug arrives. Since it is 9′ X 12′, that sucka is going to pop this room.