I Make Emily Henderson Cry
Last Updated on January 23, 2022
So, I've decided to start a series called, "How I Make Emily Henderson Cry". If that name is completely irrelevant to you, just know she is my girl crush an HGTV star who I idolize. If you read my to-do list, you know that there are many areas in my home that aren't perfect. Yes, there are nooks of perfection, but there are also nooks of complete and utter disaster. It's real and it's normal and for some reason photographing it and making it public gives me purpose to give it a makeover.
But, until these poor unfortunate spaces get redesigned, I know somewhere in Los Angeles, Emily Henderson is crying. She may not know why. Maybe she's chalking it up to a mood swing…leftover hormones from her pregnancy. Maybe she thinks she is sad because she didn't buy that perfect MCM lamp at the Rose Bowl flea, or she forgot the booth number where she purchased that white vessel for her oh-so-perfect florals. Oh no sweet kitten, you cry because of my nooks of disaster.
The first in this new series that I'd like to share with you is my bedroom…not really a nook per-say. Ya, the entire room is sad, but today I'd like to focus on the bed nook, the non-existent headboard, and nightstands. And let me tell you that nightstand is prolly her biggest disappointment. See, I was actually in her top 15 of Nightstand Styling Contest winners! If you clicked on that link, I was #13. Well, that nightstand stayed like that for approximately 2.5 seconds, and then it became real again. So here it is in all its glory..the bed that makes Emily Henderson cry sweet salty tears of sadness.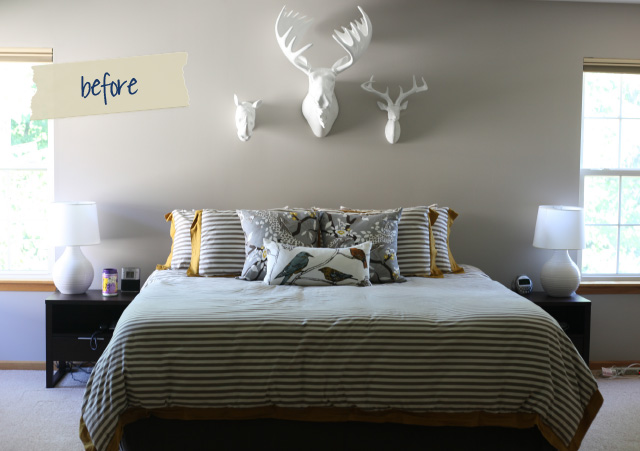 Don't get me wrong. The potential is there. We have new bedding from Dwell, a small herd of antlered animals (that the boy insists he will impale himself on someday) from Z.Gallerie and pretty white lamps. But that's where the fun stops. Not really an inviting place to sleep if you ask me.
So what am I going to do about this? Well, my friend, THAT is a very good question. Buying all new furniture is not really in the cards right now, so I think I have to attack this the same way I attacked the mantle restyle. I need to think small on this project which is oooooooohhhh so hard for me to do. I have existing blinds but need some affordable curtains to soften the space. Maybe I can find some MCM nightstands at the flea market or estate sale them? I'd like to find some small artwork to hang above each nightstand (or at least casually prop against the wall). Maybe add a plant? A couple of brass objects? A peony or two?
Well, now you've seen my challenge. My goal is to make Emily smile again. She's such a perky little cutie patootie; I hate to bring her down like this. So Emily, my sweet girl crush, challenge accepted!
Check back for my bedroom mood board and thoughts on how to fix this monstrosity (hopefully I will have something together in a week or less). And if you have any ideas, please write them in the comments below! Plus, comments make me smile!
Discover More Home Decor Inspiration and Makeovers