The To-Do List
Last Updated on December 2, 2022
Well, they probably don't have better stuff, but their homes are probably more put together than mine. I think I have ADHD…I start a project with good intentions…completely focused and then oh look, a chicken, something shiny and I'm on to the next project when ooooh look shinier, I wander around a bit, move something around and then my kiddos wake up from their rest time or it's 9 PM, I'm completely tired and I open Pinterest…I swear that app can be such a time suck, an amazing pretty time suck, but a time suck all the same.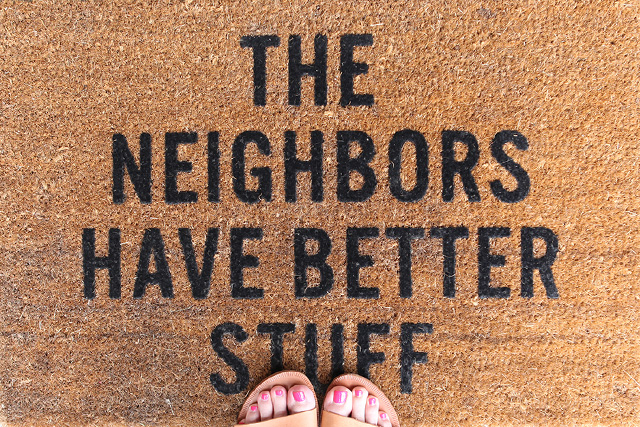 At the beginning of the year, I said yes to The January Cure…Apartment Therapy sends you assignments via email, and if you put in the effort you will hopefully see a big, positive difference in your overall life. I didn't even make it through the first step. The Boy is very organized and neat…he balances out my chaos. we don't have blown-out light bulbs, overcrowded bookshelves or wiggly doorknobs, or stacks of loose DVDs and games by the TV…those things would drive him to the brink of insanity.
To make a difference in MY overall life, I need to style and clutter (well, that is what the boy calls it… I call it adding knick-knacks and making a table pretty) I need to buy window treatments, I need to make a commitment to a rug, with color, I need to style my mantle (or rip it out and build a new one because I have no idea where to begin and I think it's super ugly), I need to buy pillows from different stores that have a cohesive look and add jazziness to a room with color and patterns
Since I've started blogging more and more about my house and posting pictures, I've decided to put it all out there…today…my to-do list, my REAL to-do list…the things I don't want to show you…I want to keep this blog real, so I decided to type up my list and post it with pictures [YIKES] for all the world to see, flaws and all…oh dear lord help me. I read a lot of blogs that usually contain before and afters, but they rarely just post a before, and maybe there won't be an after picture…so here's to hoping there's an after eventually…I present to you my overwhelming to-do list:
1. You bought curtains for the front room and the playroom, but they "just" fit width-wise…you need to buy an extra set for each window…and while you're at it, just buy the rods you should have bought in the first place since the cheap $3 version sags and much to your dismay, you really can tell the difference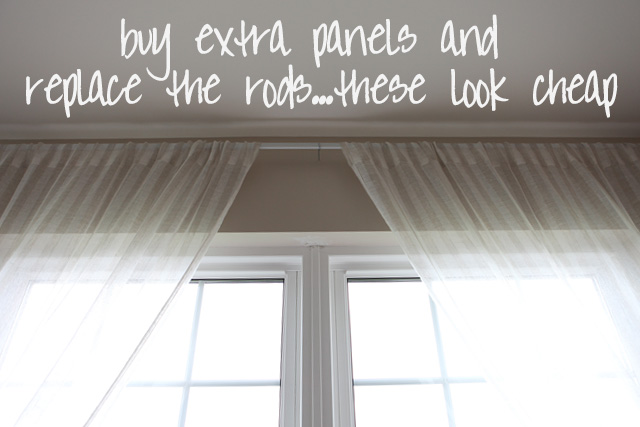 2. Buy a rug for the foyer already…make a decision…commit to color…BTdubs, I'm thinking it will be the turquoise rug since that is more in my price range even though the Persians are too pretty.
3. Style credenza under the TVs…right now you have a bunch of random stuff, and it looks quite half-assed pardon my language…but it's ok, you can say that because it's your home, and BTdubs, that orange tray really has to go to Goodwill.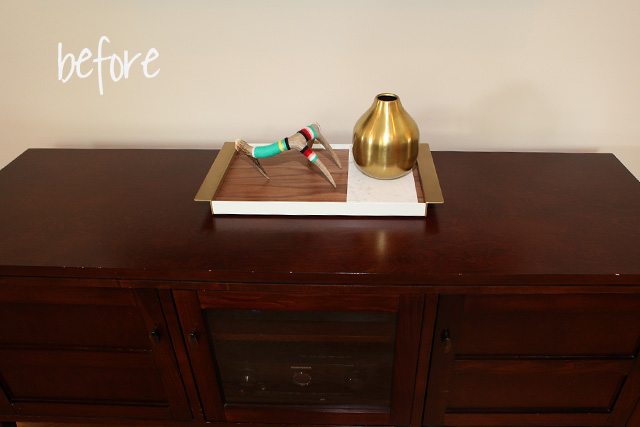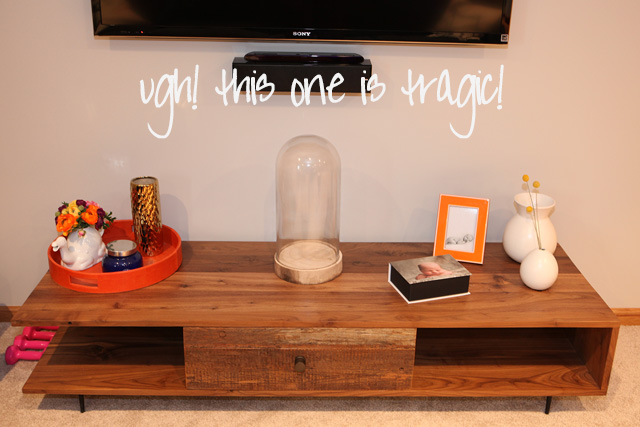 4. Buy new sheets for your bed…the sheets you sleep on every night have a large rip in the corner and you stole those from the guest bedroom because the original stripped sheets ripped…I know you can't decide, but let's get on this already…decide if you are going to buy the same sheets you had before or go with something completely different.
5. Zoe will be going into a toddler bed in 5 months…you might want to start a mood board to switch the nursery from baby to little lady.
6. Style the dresser in the guest room.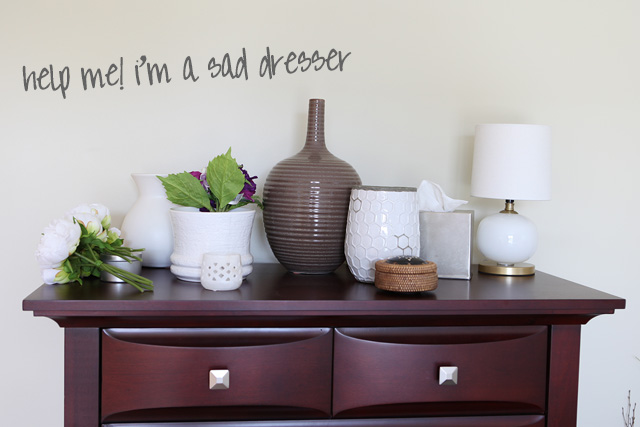 7. Spray the Max Wanger frames white…you thought black would look amazing…you chose poorly…you have made Emily Henderson cry…now go spray those puppies white and since I'm showing this picture, let's also make a note to buy larger euro pillow inserts…this are too small and it makes the guest bed look sloppy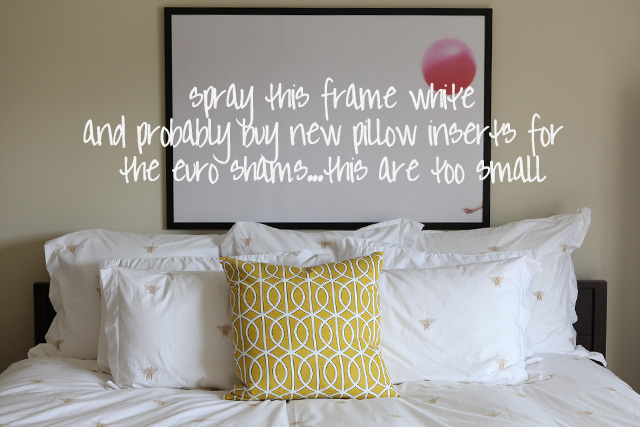 8. Decide if you want to paint the chair from three potato four black and if you choose to paint it please note, you will have to reupholsterhttps://houseofhipsters.com/how-to-choose-the-best-upholstery-fabric-2/ the seat…you keep stashing it away in the storage room…you shipped it from Philly, let's display it.
9. Dust behind the hairpin table…it's just gross back there…I refuse to show a picture of this.
10. Caulk both showers (while I was typing, the boy said we have a nice gentleman coming to the house to take care of this project…woohoo, check one off the list!).
11. Find pillows for the upstairs and downstairs sofas that you are happy with…challenge yourself to find them from different stores and don't forget, you have 2 vintage kilim pillow covers that are pretty and full of color upstairs in the closet you need to purge…see #24 on the list.
12. Find a new coffee table for the TV room, but if you do that, beware that you may need to buy a new credenza under the TV…this could get expensive, this may have to wait, you have spent a lot of money in your head with this list already…maybe if you actually style it, you won't see all the chips in it.
13. Style the mantle…I know you hate how it looks, but just style the damn thing…maybe you will end up liking it a bit more (ya, probably not), and again, let's spray paint that frame white so you don't make Emily Henderson cry.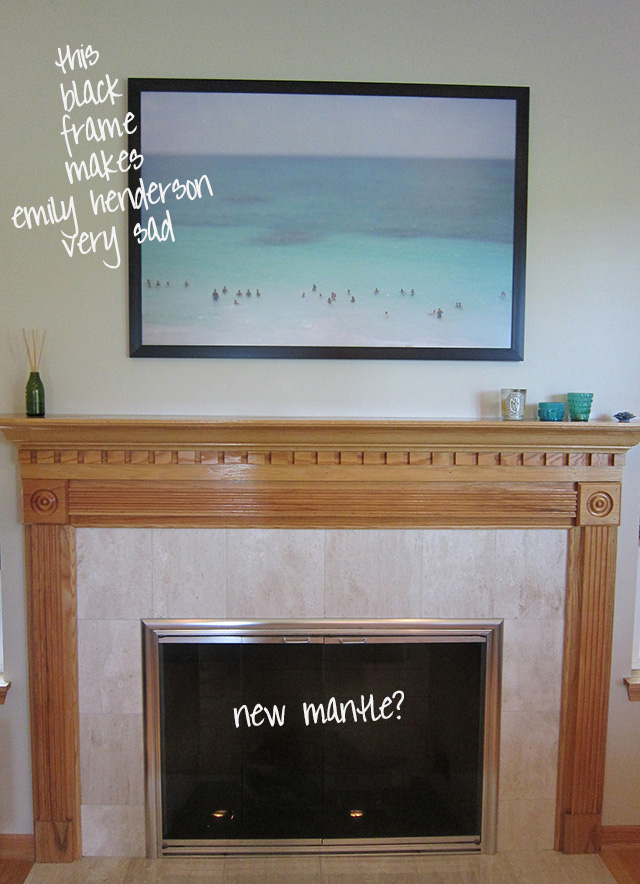 14. Buy window treatments for the TV room, you have them picked out, pony up the dough, and buy them already.
15. The patio out back is almost complete, buy a couple of nice plants from home depot to pot in the new planters.
16. Speaking of plants, you have a large empty pot that has been sitting in the front room for almost a year…put a plant in it already and revisit the article Indoor Plants You Cannot Kill.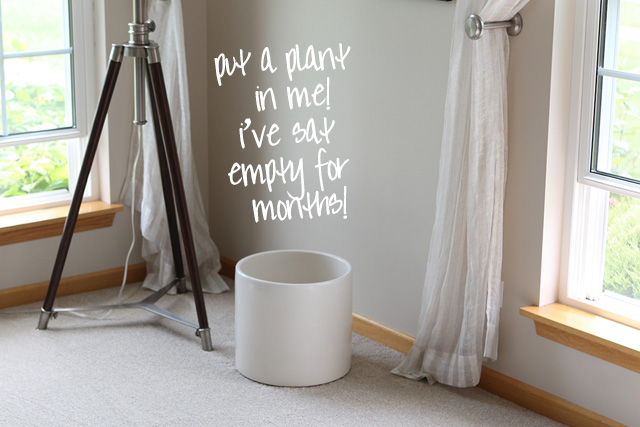 17. Zoe needs a step stool for her bathroom since she claims she is a big girl now and is no longer a baby…she wants to stand at the sink and brush her teeth and spit, just like Cooper.
18. You pick a day planner you want to use and commit to it…save the other one for next year.
19. I'm seeing a commitment problem here…don't tell the boy…I'm also watching my bank account slowly dwindle…this list is going to take a long time to complete.
20. Decide if you want to tackle reupholstering the chair in the guest room, I know you've never done this before, but hey, it might make for a hilarious blog post…or just post it on craigslist and find a new one, this one is really comfy but you just aren't sold on this chair for this room…gasp, do I move it again? and if so, where?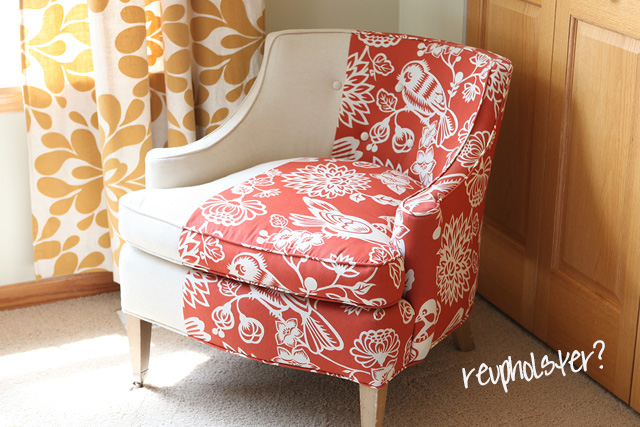 21. The Boy keeps promising to clean the garage…if you finish all of the above projects, clean the garage…and I know he reads this on occasion. Maybe this threat is the added push I needed for it to become clean.
22. Find and hang artwork for the TV room…this may entail rehanging the brass horns, that's ok, the boy will live even though he said the brass horns will never move again
23. Clean the work from home office…it has become the catch-all for discarded flea market finds…this includes the shelving behind the closet doors…omg, I cannot believe I'm actually showing you this!!!!!! and yes, that is a giant space heater…my office is always cold.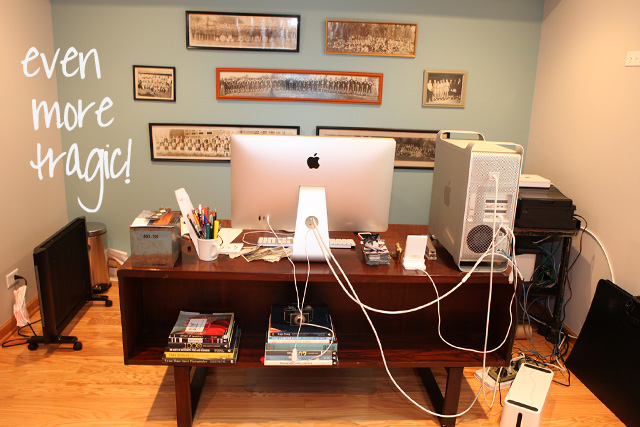 24. Purge your closet…it's atrocious.
25. Style the basement bathroom…it's so sad that a room so cool is so sad and lifeless…any suggestions here? what do you put over the toilet? artwork? or should that go on the opposite wall?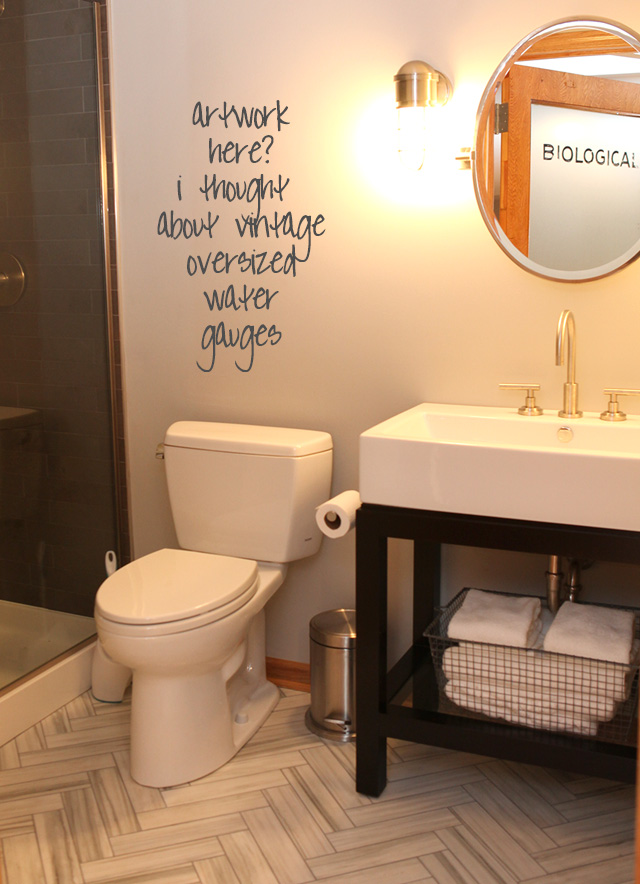 26. You bought a pretty vintage bentwood shelf…find a home for it…maybe in the TV room?
27. You bought a cool brass horse head hook, find a home for it as well
28. Remember that lamp that you were married to during the desk restyle, find a home for that too because it's really cute
29. Style nightstand…maybe watch this video once as a refresher
30. Remember how you were number 13…ya, make both of those pretty again…and keep them that way, but make them functional as well…is that even possible? pretty and functional?
31. The hallway upstairs looks pretty bare…you might want to ponder what to do here.
Before I get too overwhelmed by a list of 30+ fairly significant projects, I'm gonna stop. do you guys have a list like this? just even looking at this makes my head spin, and I have no idea what to start on first…maybe I should take requests! there's an idea! Does anyone have a project listed above they'd like to see the after? maybe I need to hit up laura again for a collaboration? that desk restyle turned out nicely…can you believe I have not futzed with anything on that desk?