a stylin' nightstand you say?
Last Updated on January 11, 2023
About 3 years ago I fell in love with Emily Henderson…like a huge girl crush people. we had just bought our home and I was watching HGTV for some inspiration. I caught a few episodes of Secrets From A Stylist and thought to myself, yes! She gets it! I recorded every single one. I paused the television and took pictures of the screen to remember exactly how a table was dressed. I googled every store and spent way too much money. the UPS man was not crushing on me, that's for sure.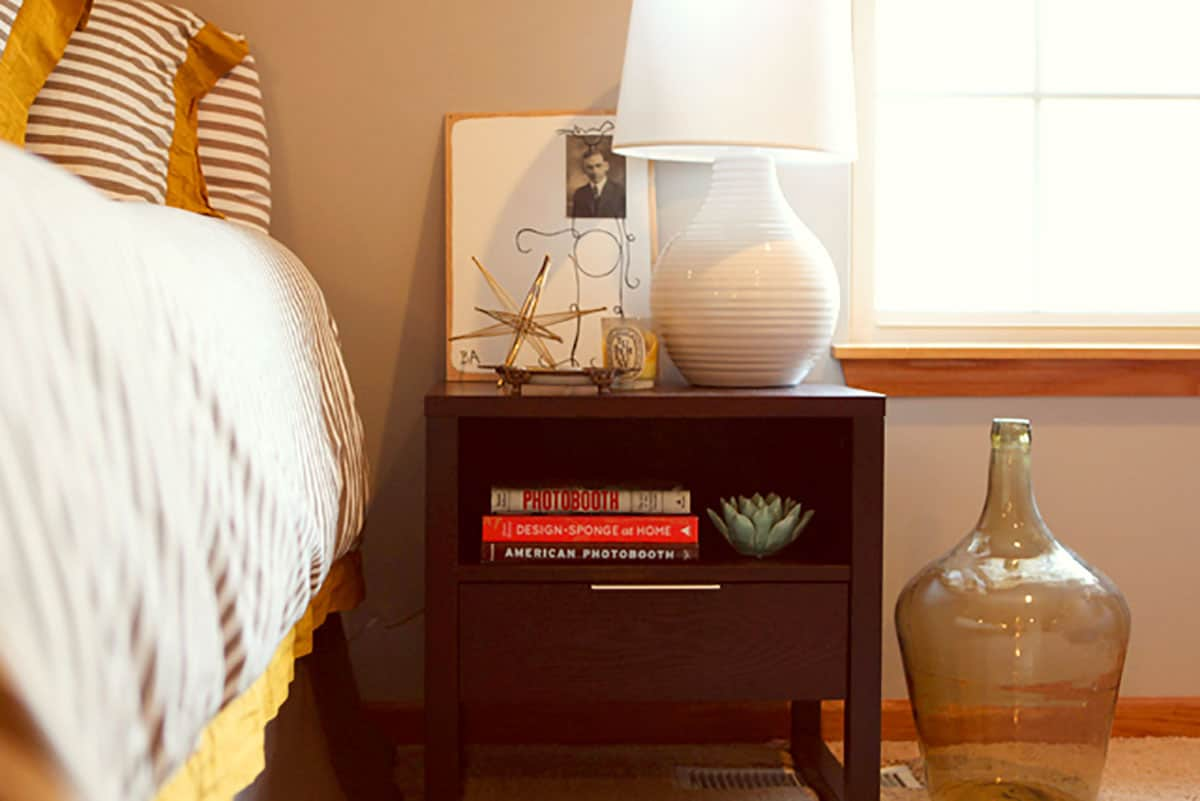 Her blog became one of my daily ritual reads. You really should check it out. She posts these great how to videos. Not too long ago she posted a how to style a nightstand video and held a contest. Her fans were to style their nightstand, photograph it and promote it on Facebook. Facebook friends would vote and the winner would receive these fabu Serena and Lily nightstands. My nightstand was one of the lucky chosen ones, and although I did not win, I was seriously excited. Like jumping up and down and squealing like a little girl excited.
I think my favorite part of it is my Butch Anthony artwork. Of course, practicality set in and my brain said, "Hey lady, this nightstand is not conducive to small children." so for only 20 minutes did my nightstand looked like this, but I took a picture, and every time I look at it I think, ha, I made it to Emily Henderson's top 15! By the way, if you want to master your own nightstand, be sure to watcher her how to video.

More Home Decor Ideas and Round Ups
Rounding up the best interior design books – if you're looking for gift idea inspiration for a home decor obsessed loved one, this post is for you!
Love plants as decor but have a black thumb? No worries! I have a rounds ups of the best faux olive trees, my favorite faux fiddle leaf fig trees, and a huge round-up of faux plants that look real.
Love the Primrose mirror but hate the price tag? I got you! Here's a full round-up of affordable Anthropologie mirror dupes.
Do you have a rug that is too small or too big? Not sure? Here's how to choose the best size rug for a living room.
Cozy up your windows with these affordable velvet curtains – oh, and they're all available online.
If you love wallpaper, but have a fear of commitment, check out this round-up of best peel and stick wallpaper – it even includes a couple of wall murals.
Cane furniture is trending, and so is rattan and cane lighting. If cane isn't your jam but you want more lighting ideas, check out this round-up of boob lighting alternatives.
Thinking about joining a country club? Before doing so, read my review of the Biltmore Country Club. You may rethink that decision.