anthology magazine | issue 12
Oh, happy day! issue 12 of anthology just arrived. I cherish the time on the train when I get to sit down and quietly read this magazine. no screaming children, no husband interrupting, no phone calls, no work…this time only happens 4 times a year people. All I would need to make my life complete would be a cup of coffee and a cozy blanket, and my life would be complete…although fellow metra commuters tend to frown when one pulls out their favorite blankie, so I refrain. I guess a cramped seat in the quiet car will have to do. Beggars can't be choosers.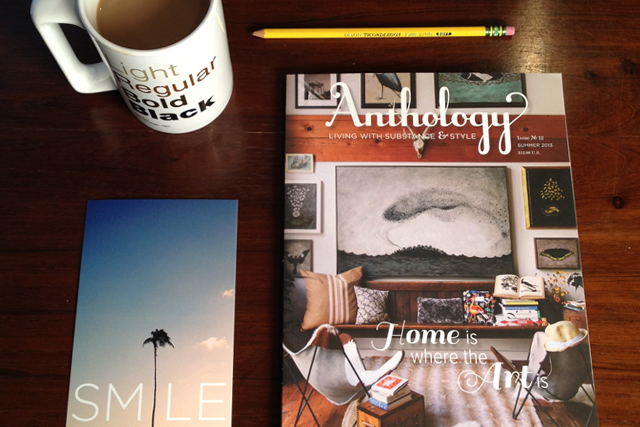 Anthology magazine is a new quarterly lifestyle print magazine covering home décor, travel, design, entertaining, and culture…yes, everything I love. Each issue explores a theme; this quarter's theme is art and artists. Before an issue is mailed a visual tease is released and a video is made. I don't exactly remember how I discovered it, but it has inspired so many rooms in my home.
After its arrival, I have a very particular way that I read Anthology. first, I tear open the cellophane wrapper and run my hands over the front cover; a nice heavy satin stock that only a graphic designer can truly appreciate. The weave is tight and almost has a plastic-y type of feel. I carefully open the piece to the editor's letter page to read about the theme and key features. I then leaf through and slowly scan the pages taking in gorgeous image after gorgeous image. Most of the time there are pages that stop me in my tracks and I have to take in every detail. at that point, I go back to the beginning of the article and start my first read. this will continue until I reach the end. Flipping back and forth, kind of like a choose your own adventure, until I reach the end. At that point, I go back to my favorite article or image and absorb each detail yet again…only this time, I'm shopping, iPad in hand, wallet nearby. In the back of each issue is a reference guide detailing where items were purchased. Once my shopping needs are satisfied, I usually remember an interesting person that was featured; commenced blog reading…because everyone has a blog these days, am I right?
The issue will travel in my tote bag for the next week or so until I truly feel I've seen every detail there needs to be seen. I never throw my issues away; that would be a travesty. They usually make their way to my nightstand or end table in my studio. Until the next issue arrives, I will still go back, looking for inspiration, rereading each thoughtful feature, and absorbing its stunning photography over and over again.
More Home Decor Reading