Anthology Magazine
Last Updated on May 23, 2023
Oh, happy day! Issue 12 of Anthology just arrived. I cherish the time on the train when I sit down and quietly read this magazine. No, screaming children, no husband interrupting, no phone calls, no work…this time only happens four times a year, people. All I would need to make my life complete would be a cup of coffee and a cozy blanket, and my life would be complete. Although fellow metra commuters tend to frown when one pulls out their favorite blankie, I refrain. I guess a cramped seat in the quiet car will have to do. Beggars can't be choosers.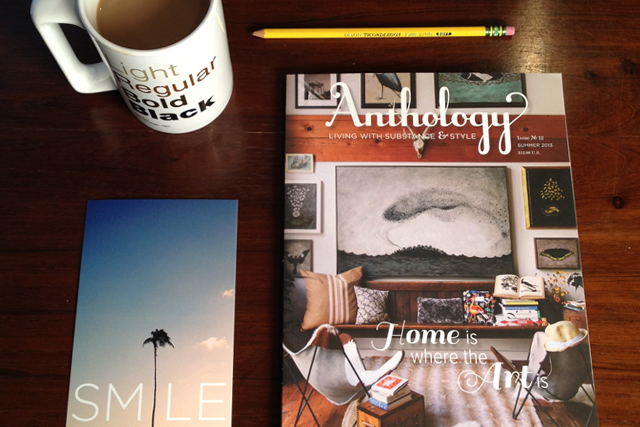 Anthology magazine is a new quarterly lifestyle print magazine covering home décor, travel, design, entertaining, and culture…yes, everything I love. Each issue explores a theme; this quarter's theme is art and artists. Before an issue is mailed a visual tease is released and a video is made. I don't exactly remember how I discovered it, but it has inspired so many rooms in my home.
After its arrival, I have a very particular way that I read Anthology. first, I tear open the cellophane wrapper and run my hands over the front cover; a nice heavy satin stock that only a graphic designer can truly appreciate. The weave is tight and almost has a plastic-y type of feel. I carefully open the piece to the editor's letter page to read about the theme and key features. I then leaf through and slowly scan the pages taking in gorgeous image after gorgeous image. Most of the time there are pages that stop me in my tracks, and I have to take in every detail. At that point, I go back to the beginning of the article and start my first read. This will continue until I reach the end. I'm flipping back and forth, like a choose-your-own adventure, until I reach the end. At that point, I go back to my favorite article or image and absorb each detail yet again…only this time, I'm shopping, iPad in hand, wallet nearby. At the back of each issue is a reference guide detailing where items were purchased. Once my shopping needs are satisfied, I usually remember an interesting person that was featured; commenced blog reading…because everyone has a blog these days, am I right?
The issue will travel in my tote bag for the next week or so until I truly feel I've seen every detail there needs to be seen. I never throw my issues away; that would be a travesty. They usually make their way to my nightstand or end table in my studio. Until the next issue arrives, I will still go back, looking for inspiration, rereading each thoughtful feature, and absorbing its stunning photography.
Discover More Interior Design Inspiration
Want to add a little magic to your room? Try adding some disco ball decor with these sparkly ideas.
Find affordable velvet curtains to cozy up your space and soften your windows.
If you want to spruce your backyard, check out this round-up of comfortable outdoor patio furniture.
Cane furniture is trending, and so are rattan light fixtures. If cane isn't your jam, but you want more lighting ideas, check out this round-up of boob lighting replacement ideas.
One thing I do spend money on is bedding. Here are the best affordable sheets that will help give you a better night's sleep.
Love plants as decor but have a black thumb? No worries! I have a rounds ups of the best faux olive trees, my favorite faux fiddle leaf fig trees, and an epic guide to faux plants that look real.
Do you have a rug that is too small or too big? Not sure? Here get my expert tips what size rug for living room.
Organizational ideas and affordable storage bins to keep your home clutter-free. I've got you covered from the pantry to the kitchen to the bathroom to the drawers! And check out the decorative boxes post if you're looking for ways to corral your remotes for beautiful coffee table decor.
If you love wallpaper, but have a fear of commitment, check out this round-up of affordable peel and stick wallpaper – it even includes a couple of wall murals.
Learn to layer lighting like a pro with this guide to bedroom ceiling lighting.
I've been playing around with some living room design concepts. Check out the latest mood board I came up with.