5 Ways To Cut The Cost Of Wallpaper
Yes, I know. Wallpaper can be super pricy, but man does it transform a room. If you want the look but don't want to shell out thousands of dollars, here are 5 ways to cut the cost of wallpaper.
Save On Wallpaper by Covering Half The Wall
If you have a tight repeat, consider wallpapering a half wall with a chair rail and paint on the bottom portion. By only covering half the wall, you'll cut the cost of wallpaper in half. Wait, Kyla, what do you mean by repeat?
Good question! Wallpaper has what they call a pattern repeat which is the vertical distance between where the pattern is duplicated. Sometimes it's a few inches. Other times it's the entire panel. I made this crucial mistake in Potty Paradise. The repeat was the full panel, and I thought I was being clever by only covering the top portion of the wall in this teeny tiny powder room. I wound up using all 3 rolls. We thought we didn't have enough to cover the room, yet had soooooooo much waste (the entire bottom portion). This bathroom was my first time playing with this wallpaper and it cost me greatly.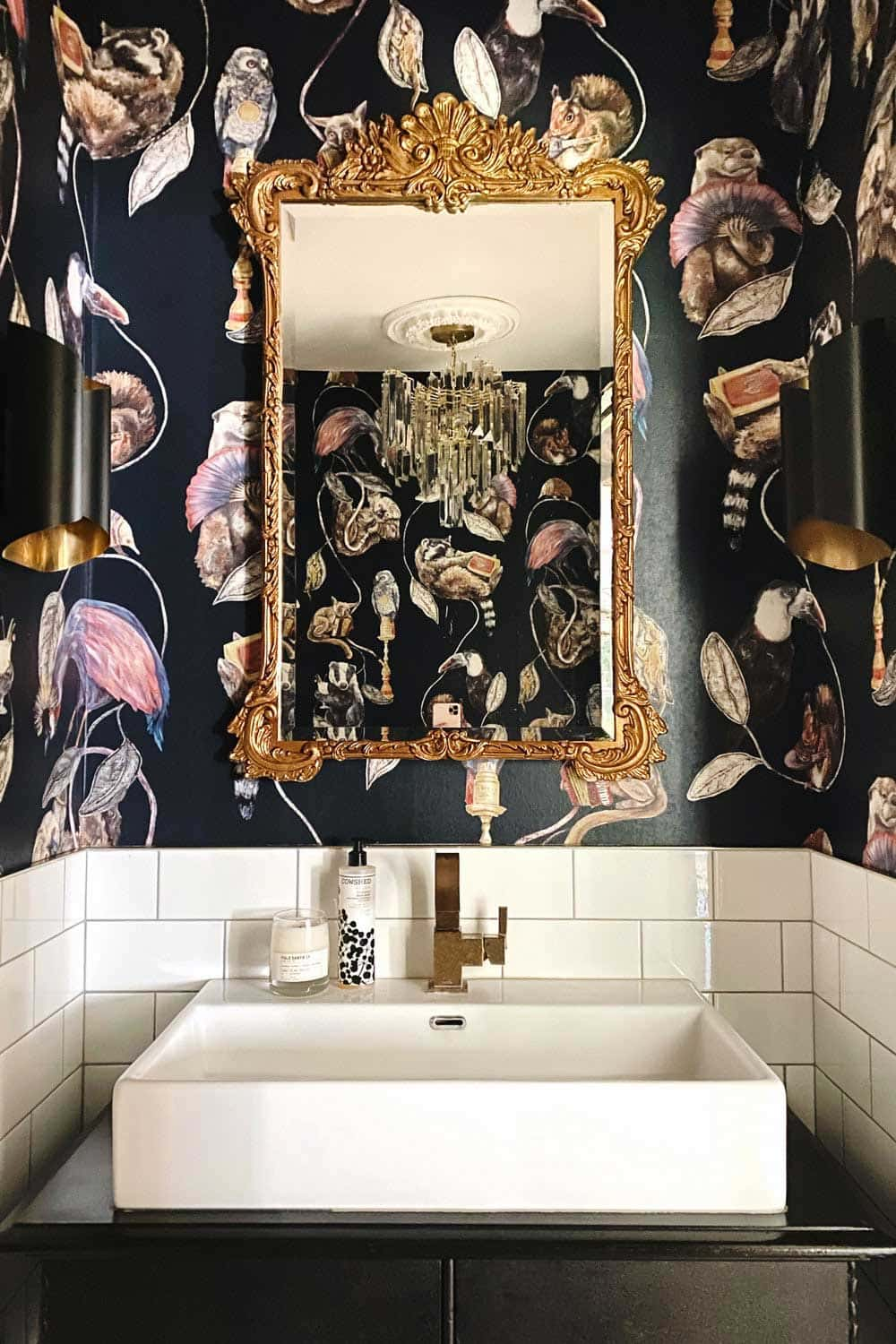 Create A Feature Wall
Let's say the wallcovering your heart is set on would cost thousands of dollars to paper the entire room. Here's a solution. Remember back in the day when everyone needed that red accent wall? Take a nod from the 90's and wallpaper just one wall. This should cut that cost at least in half, if not more. You could also cover only the ceiling. That may sound strange but lemme tell you, it's a showstopper!
Use Just A Pop Of Pattern
I did hold onto that wasted paper though because a great way to cut the cost of wallpaper is to use it as an accent on furniture. Wallpaper the inside of a cabinet. Frame a few panels and hang them on the wall. Make a room divider screen. This is also a fun idea if you're a renter but really love a pattern. I'm presently toying with the idea of buying the pattern in fabric and sewing drapes with it. Most wallpaper companies carry their designs in linen, cotton, or velvet. Here I wallpapered the closet in my foyer and used just a smidge over 1 roll!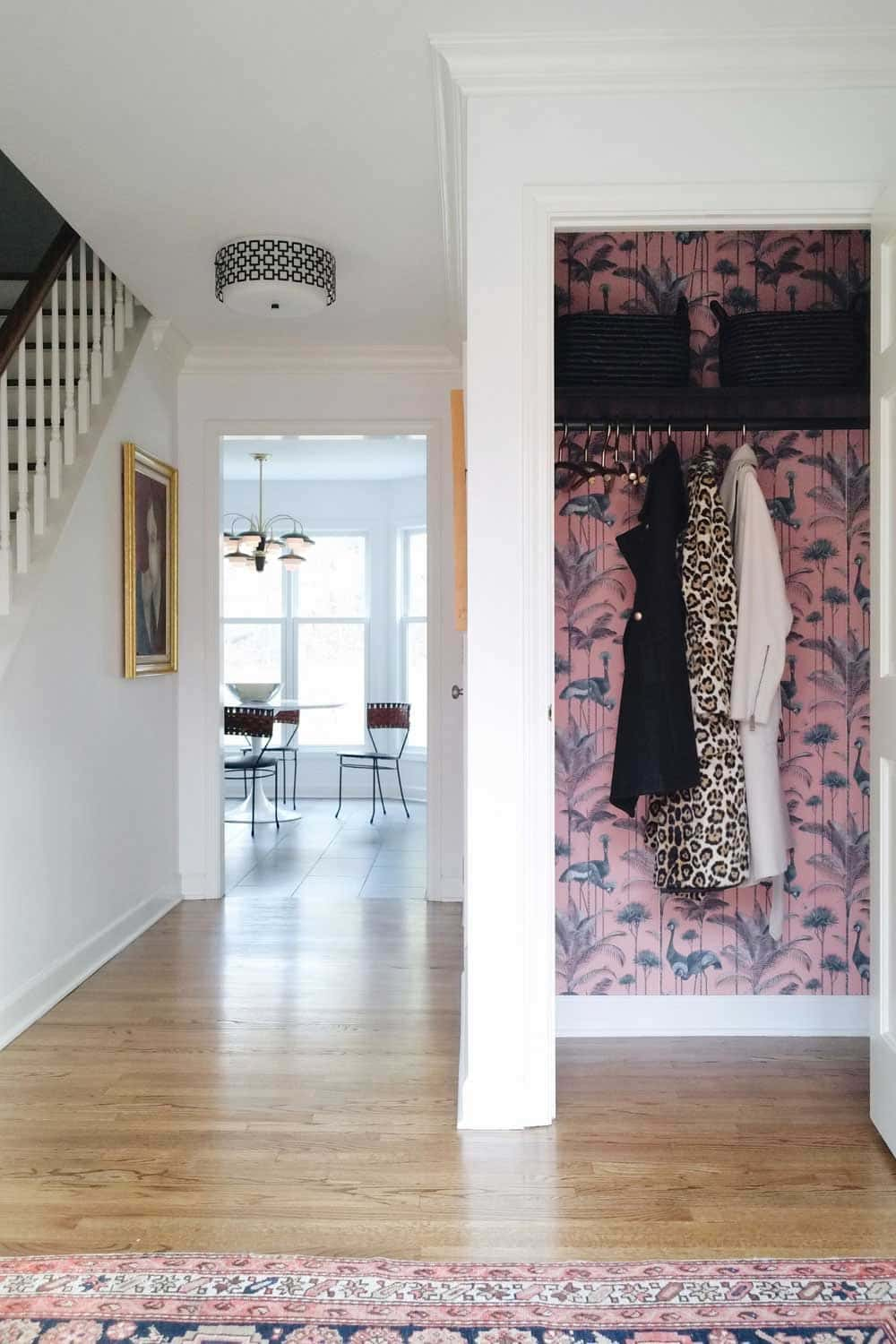 Think Outside the Box
Sometimes the cost of wallpaper is just too great of an expense to justify. There are always alternatives to adding pattern or texture to your walls. Grab some paint and stencils. Maybe you paint a mural? Get super creative and look around for vintage paper. I found a roll of blueprints at an estate sale and think it would be so rad to stick it to a wall or ceiling. The patina on the paper looks insanely gorgeous. Vintage clothing patterns from the brown tissue are also very interesting and can be purchased at a low cost.
Watch Instagram For Flash Sales
Watch your favorite interior designers' Instagram for steals and deals. I have a special account dedicated to flash sales. Think of how many times a client might order an extra roll and not need it. I bought 2 rolls of this House of Hackney wallpaper from my girl FleaMarketFAB during her Instagram home sale. I bought it without a plan and am saving it for a rainy day project. Also, be on the lookout for wallpaper deals at thrift stores, estate sales, and garage sales. Clearance sales and holidays sales like Black Friday are great times to pick up wallpaper at a lower cost.

Discover More Inspiration with Wallpaper and Home Decor
The Best Peel and Stick Removable Wallpaper
Textured Wallpaper In My Work From Home Office Makeover
Black Textured Wallpaper In The Bedroom
Basement Bathroom Design Update – Wallpaper
Wallpaper — Are You Brave Enough?
Last Updated on November 29, 2022 by Kyla Herbes