One Room Challenge – Half Way Finished?
Last Updated on September 19, 2023
Oh boy, the halfway point is where the One Room Challenge can get sketchy. You think, damn son, I'm rockin' this ORC! All I have to do is zhush it up, right? Wrong! This is when time starts to slip outta your hands because you get cocky. Case in point, instead of painting the French doors last weekend, I decided to sit in the driveway and watch the kiddos ride bikes and run around in the sprinkler…I also might have indulged in a cocktail or two while social distancing with the neighbors. In retrospect, I probably should have painted those doors…and finished a lot of other chores around the house.
Shoulda, coulda, woulda I guess. Warning, last week was a big week…you may want to grab a cup of coffee and settle in for this one. We wrapped the install on the floor tile with Gerry, unrolled the rug, and finalized the wallpaper. Pacific Designs didn't make it an easy choice. My love of grasscloth runneth deep, but when I stumbled upon their European Prints and Textures, my jaw hit the floor, and the Delightful collection really got my motor going. Hummena, hummena, hummena. After looking at all the colorways of the funky almost zebra print, I chose DEL30-035 (bottom sample of this photo).
For my new friends visiting me today, hi, my name is Kyla, and I'm a home decor blogger based out of Chicago, IL. This is my 3rd One Room Challenge…but my 1st time ever as a Featured Designer. If you want the daily behind-the-scenes updates, check out my Instagram or TikTok.
Before we jump into wallpaper, I finally peek inside the Hudson Valley Lighting Lotus chandelier box! Believe me, y'all, this ceiling light glorious!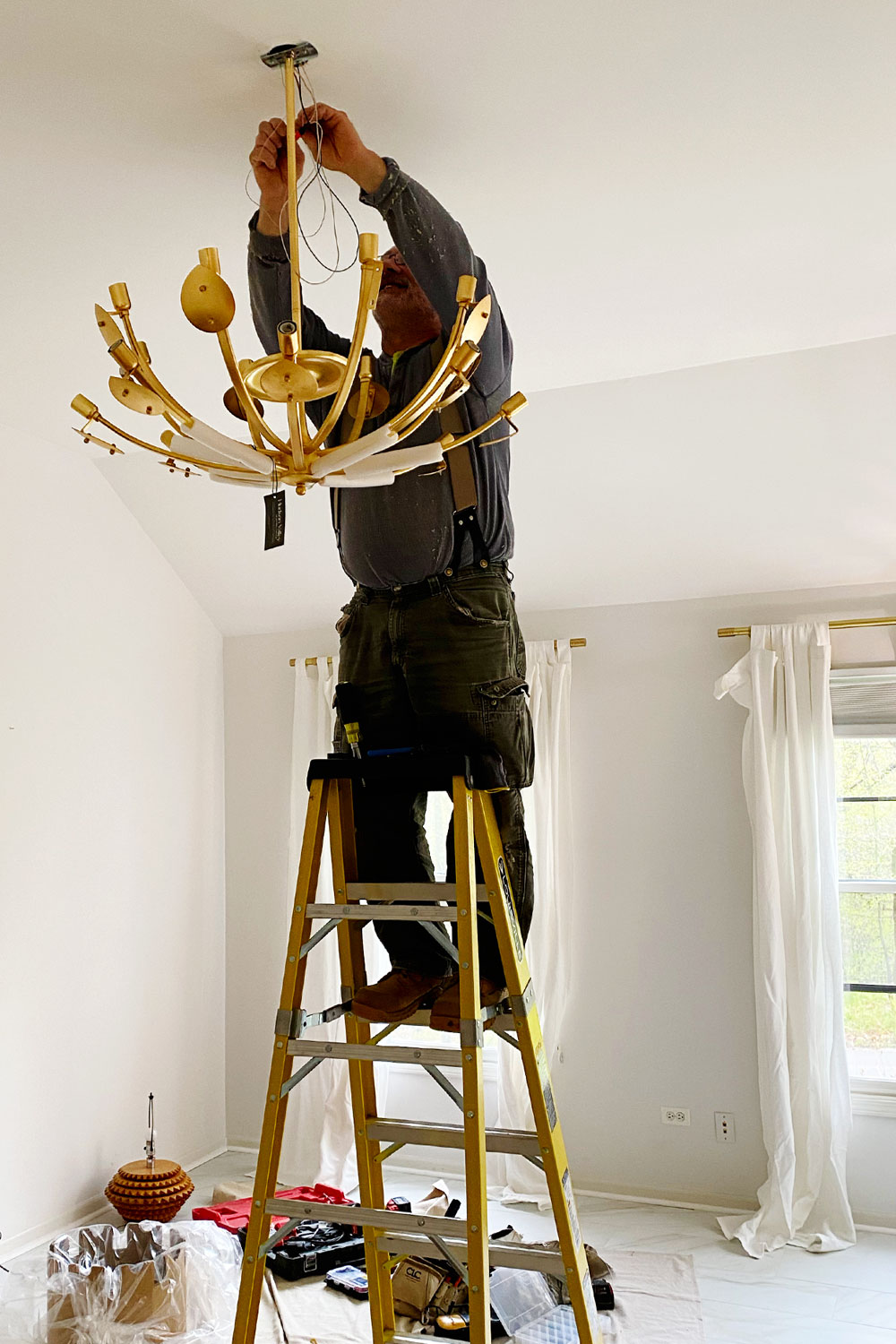 The electrician had to go up in the attic with the family of squirrels we're trying to eradicate (all ears to eviction suggestions) and was not a fan of being filmed. Hence, I didn't get many shots of the install of this beauty, but here's the end result…makes chef kissing gesture. Yes, I want to lower it a bit, more, but I may have to save that project for later.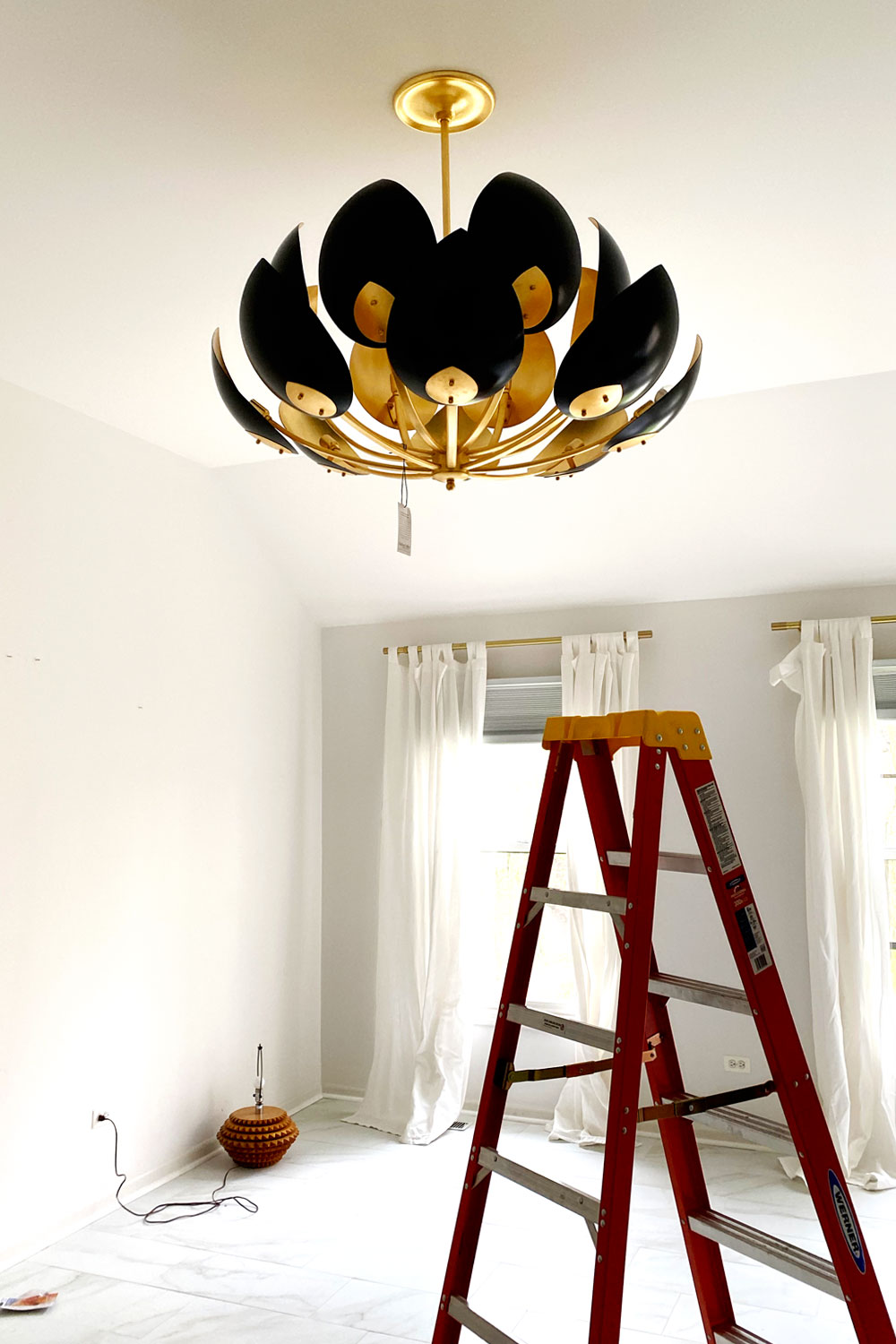 Before the wallpaper install, there was one more to-do on the punch list, and that was to move the antique cupboard from the bathroom to the office. Sounds like an easy task, but this sucka weighs at least 200 lbs and had a couple of tight corners to maneuver. I seem to be a perpetual fan of all things difficult, but the addition of this beast was totally worth the pain in the hiney.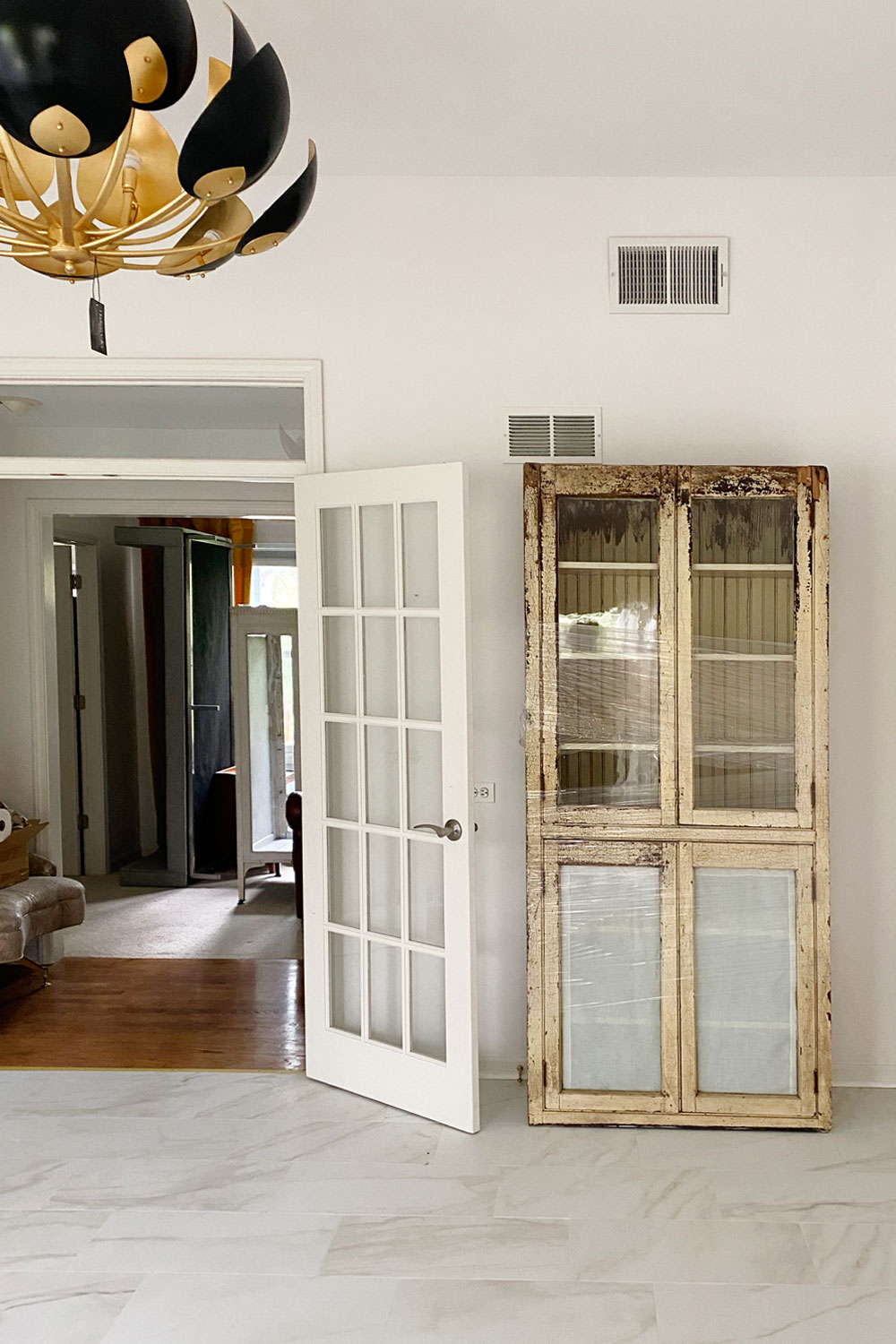 Okay, let's talk wallpaper. The Boy and I went back and forth on whether or not we should install the wallpaper ourselves. After much debate, we decided to hire someone for the job. Our neighbor suggested we use Paper Craft Interiors, so we gave them a call, and Steven stopped by the house later that day to take a looksy.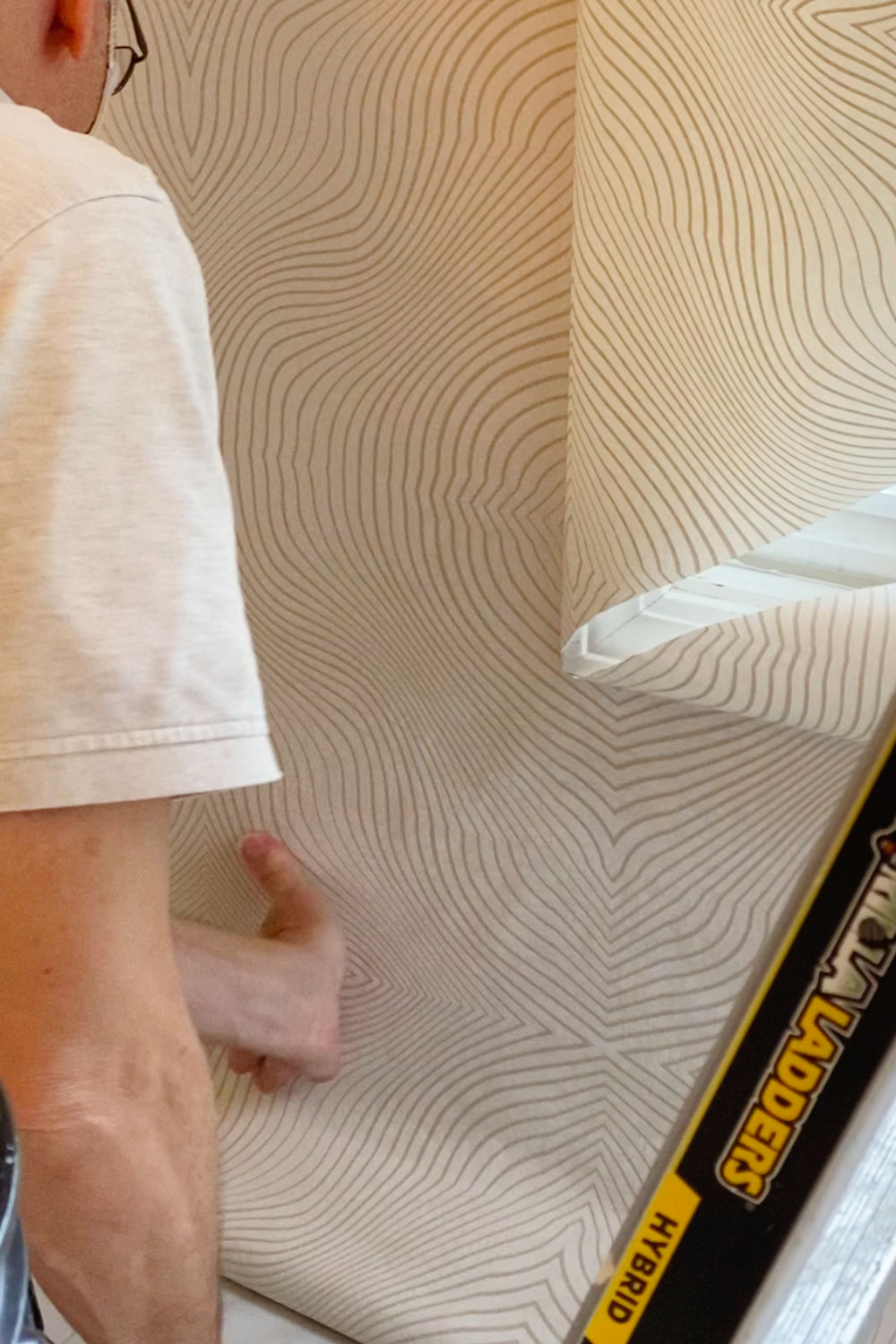 Holy Hannah, this dude is the wallpaper king! Like literally he is the Director of the National Guild of Professional Paperhangers. Not sure how we got so lucky, but this man is a master of his craft. The man even took the time to teach me about balancing the room…meaning, when you walk in, you want one full panel to be the focal point of the room. He suggested in between the windows, which made perfect sense.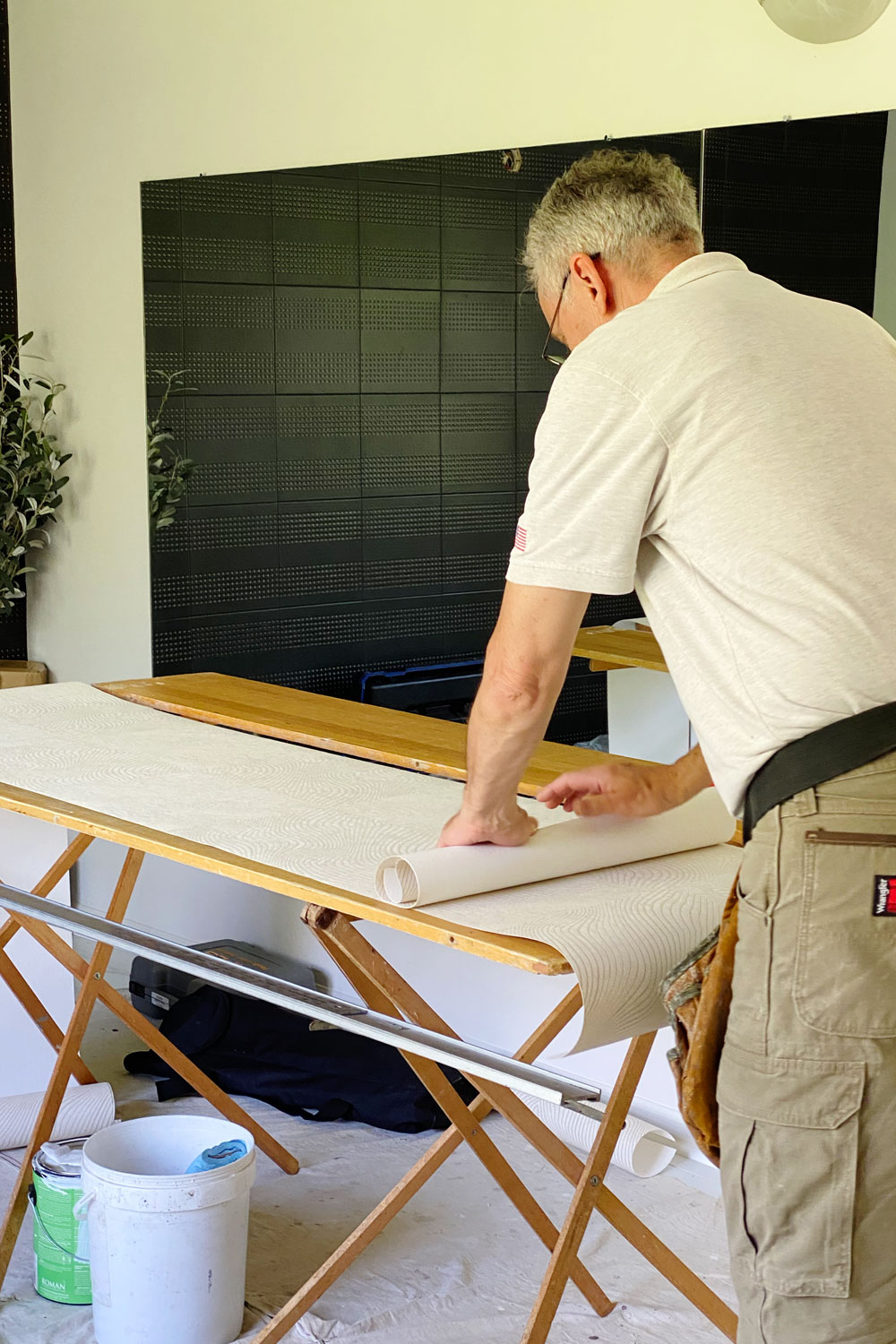 The office has an angled ceiling, and Steven suggested installing the wall covering on the angle. I'm thrilled with the results. The space looks absolutely incredible.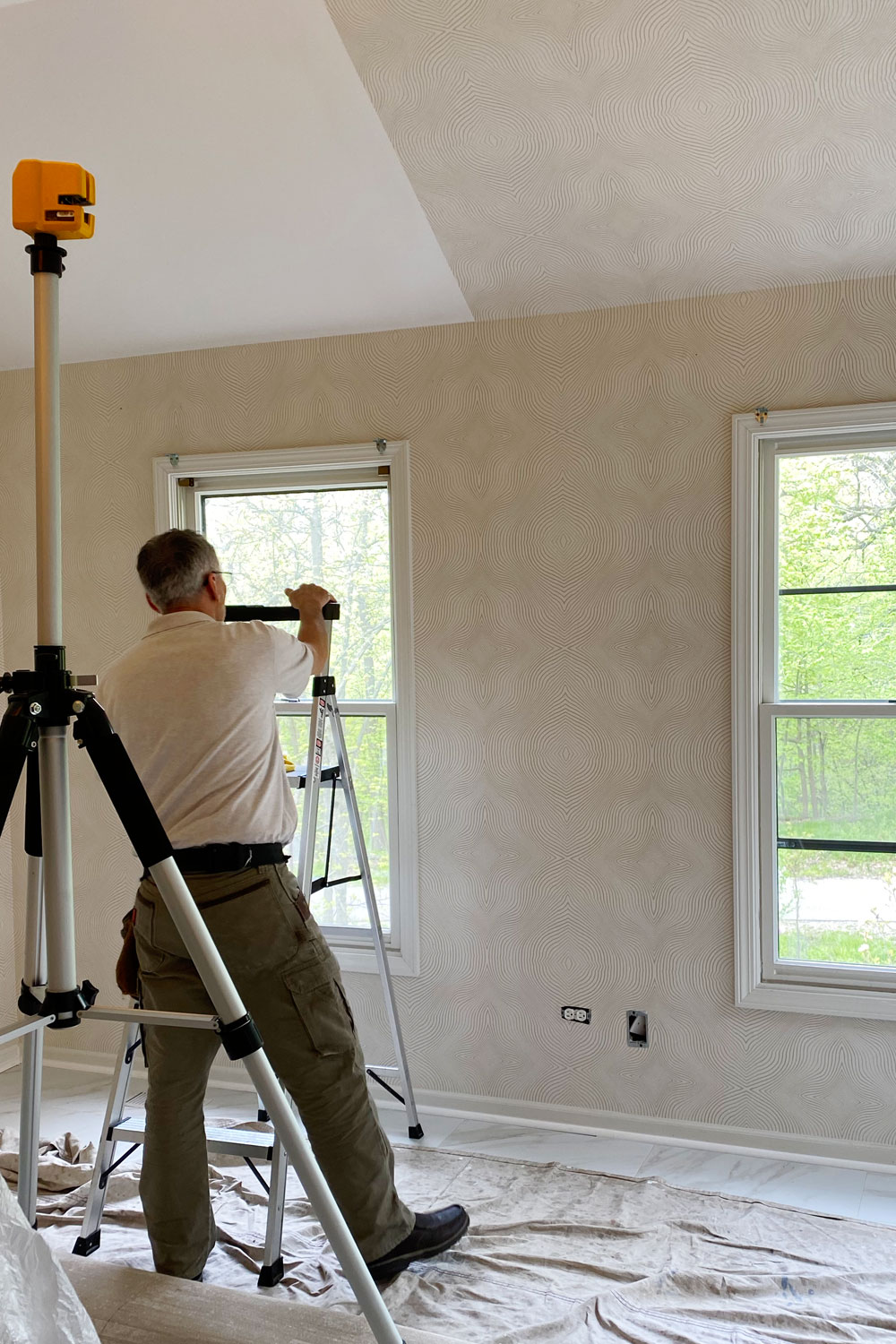 He also taught me what a kill corner is…and no, it has nothing to do with serial killers or Dexter. A kill corner is where the two ends meet and probably will not match up perfectly. He suggested the corner by the french doors since it was not a focal point of the room.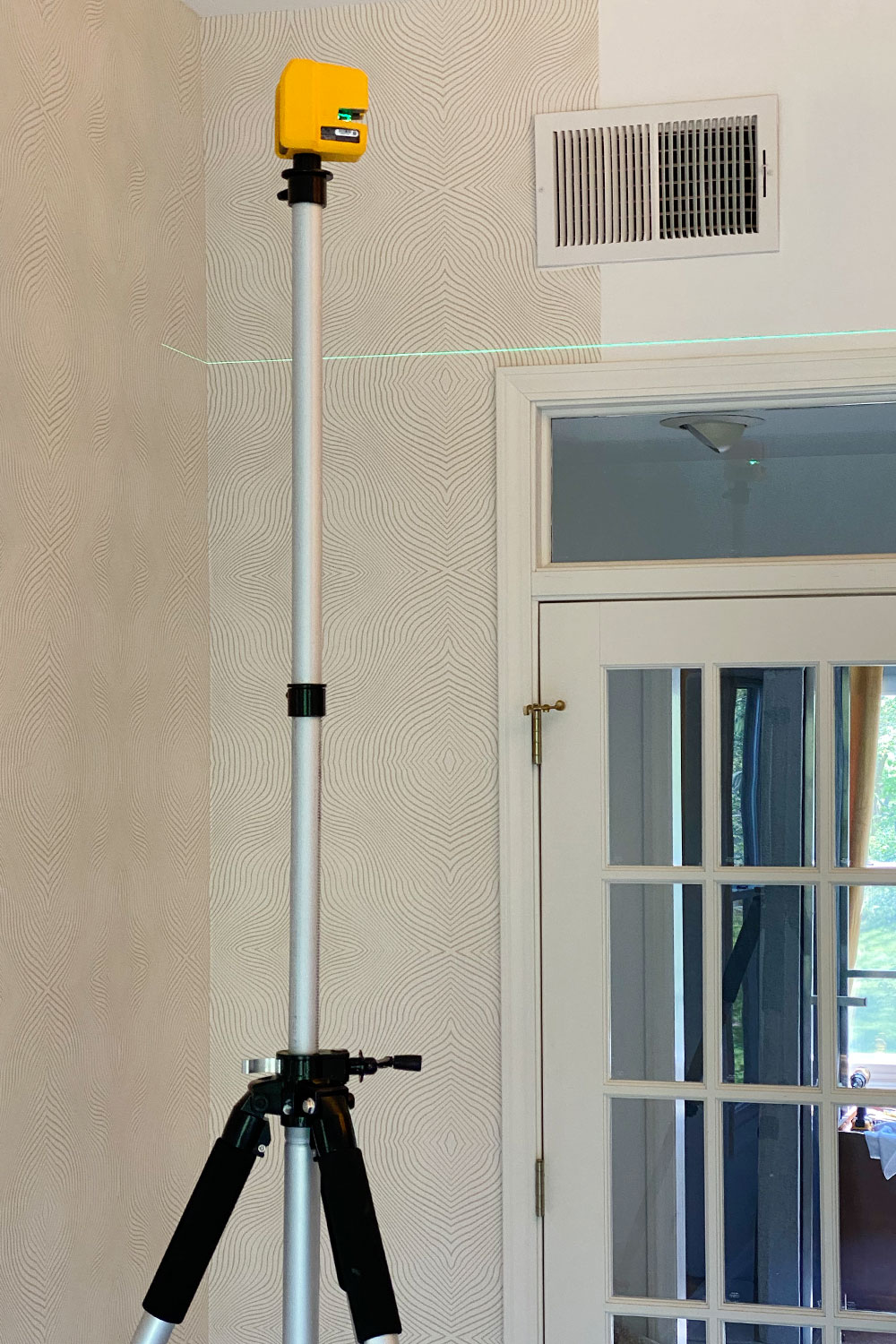 Phew! You still with me? I told you last week was a whirlwind! Things left on the punch list:
The credenza from Apt2B (no longer available) arrived and needs to be assembled.
The sculptural wall sconce needs to be hung.
The marble levers by Emtek are about to ship…I'm freaking out about those…they're fantastic! Which is of course lighting a fire under my buns to paint the doors.
Tony Curry texted me photos of the artwork he's sending, and I'm dying with excitement!
Oh, and I really need to chat with Calico Corners about curtains…I'm really behind there.
Don't forget to check out the rest of my crew! These hella talented designers are killing it, and I am watching with bated breath every step of the way. Also, don't forget to head over to the One Room Challenge guest designers. So much talent in this year's ORC. I've been blown away and can't even believe that I'm part of it!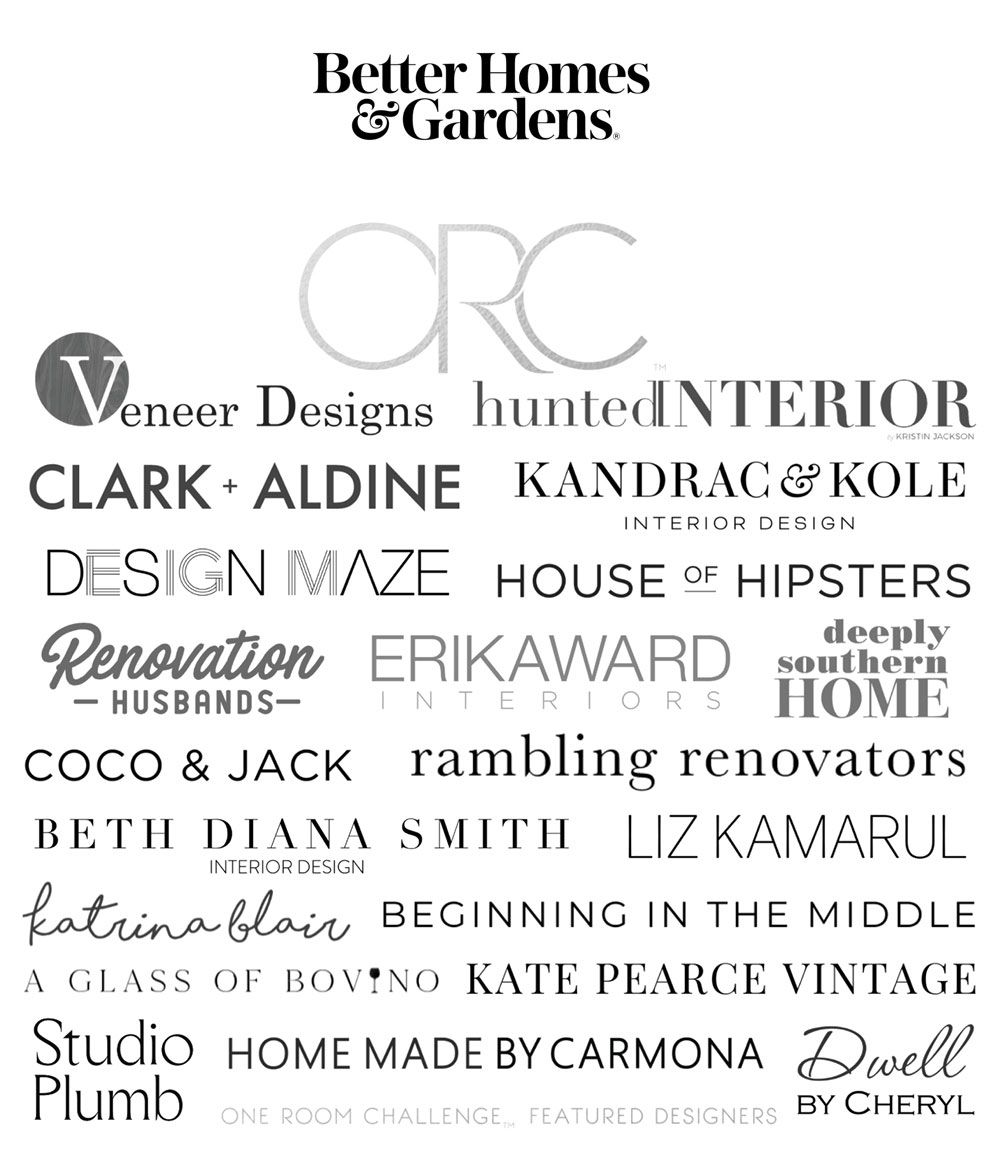 A Glass of Bovino | Beginning in the Middle | Beth Diana Smith | Clark + Aldine | Coco & Jack | Deeply Southern Home | Design Maze | Dwell by Cheryl | Erika Ward | Home Made by Carmona | House of Hipsters | Hunted Interior | Kandrac & Kole | Kate Pearce | Katrina Blair | Liz Kamarul | Veneer Designs | Rambling Renovators | Renovation Husbands | Studio Plumb | Media BH&G



Find More Home Decor Inspiration To DIY
Learn How To Install A Ceiling Medallion and level up your room design.
The ORC Week 5 – Home Office In The Old House creating a working area in the basement.
Playing With Decor – Home Office Workspace see what I'm styling.
Learn How To Shop Online Estate Sales with these simple tips and tricks.
7 Random Things About Kyla Herbes everything you wanted to know about me and more.
Get Your Home Holiday Party Ready getting your home ready for guests is easy. Here are my tips!