Home Office Workspace
Last Updated on June 28, 2023
I spend a lot of time in front of the computer…and I mean a lot. Half of the week, I'm in the city for work. The other half, I'm sitting in my work from home office. Don't be giggling and thinking, "You mean you're sitting on your couch eatin' bonbons with the phone in your hand, right." Ummmm, wrong. Couldn't be further from the truth.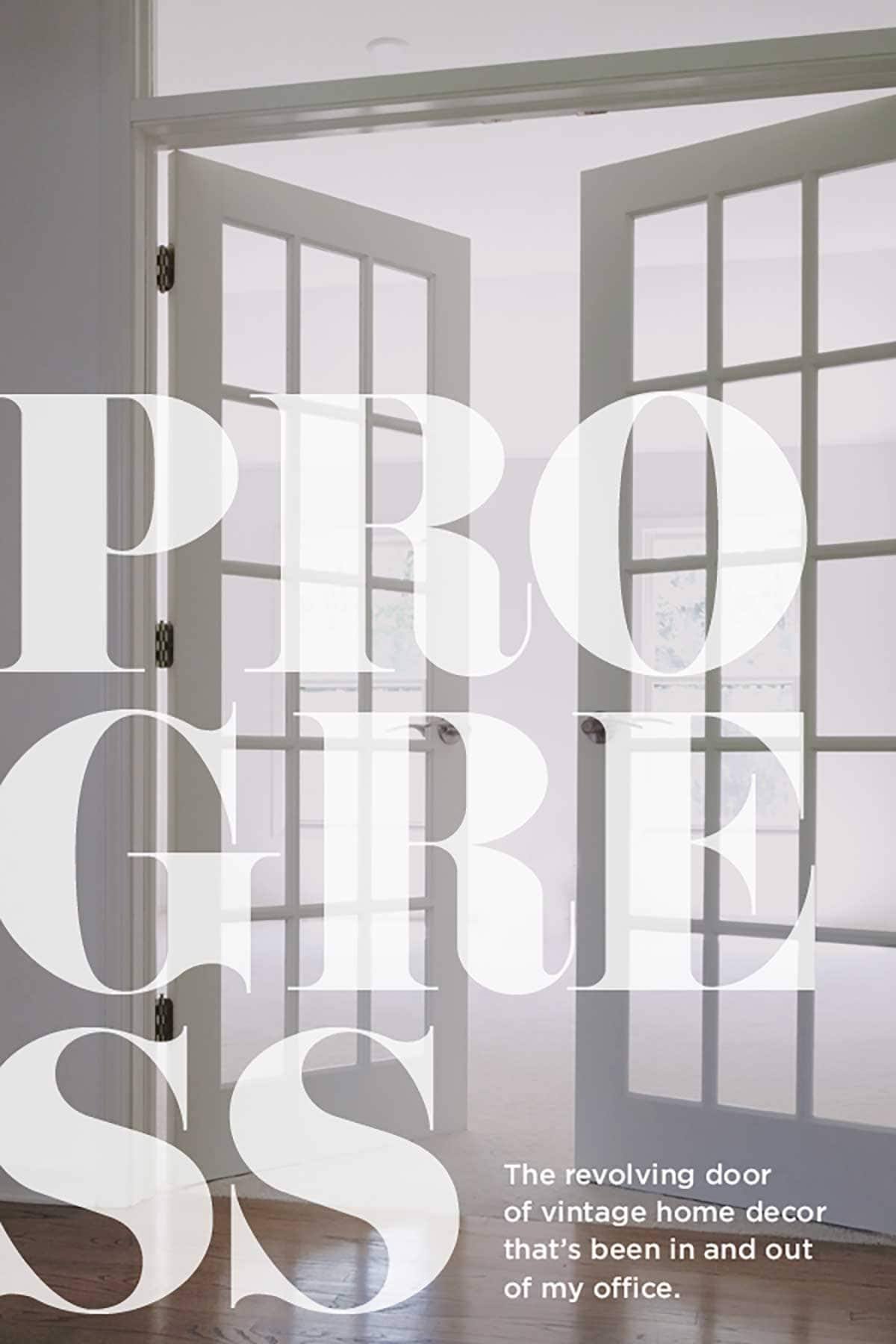 Because I spend so much time in my home office, I want this workspace to be filled with the vintage goodness I love. After the move, this space became a mish-mosh dumping ground for lonely flea finds and junk that didn't have a home. A cluttered, frustrating mess. Slowly but surely it's been transforming, and I've been sharing the evolution on Instagram (mostly Stories), but I haven't shared it here. I know…bloggery failure! But I promise to make it up to you in this post. Buckle down the chin strap because you're in for a year's worth tweaking and rearranging my home office. Let's go!
Trial & Error Decorating The Home Office
Ultimately the goal for this space is casual chic and not cluttered. Remember when we talked about French Girl Decorating… minimally put together perfectly? Like a French girl who #justwokeuplikethis, threw on red lipstick and a black leather jacket, and now looks amazing. After putzing in this space, the Parisian flat became the inspiration.
It all started with a chesterfield sofa, Franco Albini ottoman, a wedding blanket, and some indigo fabric…that look didn't last long. If I've said it once, I've said it a thousand times — boho does not work in my home. I think some people can make bohemian decor look absolutely dreamy. But when I try my hand at boho, it screams, "Dirty college frat house that has bed bugs." Case in point.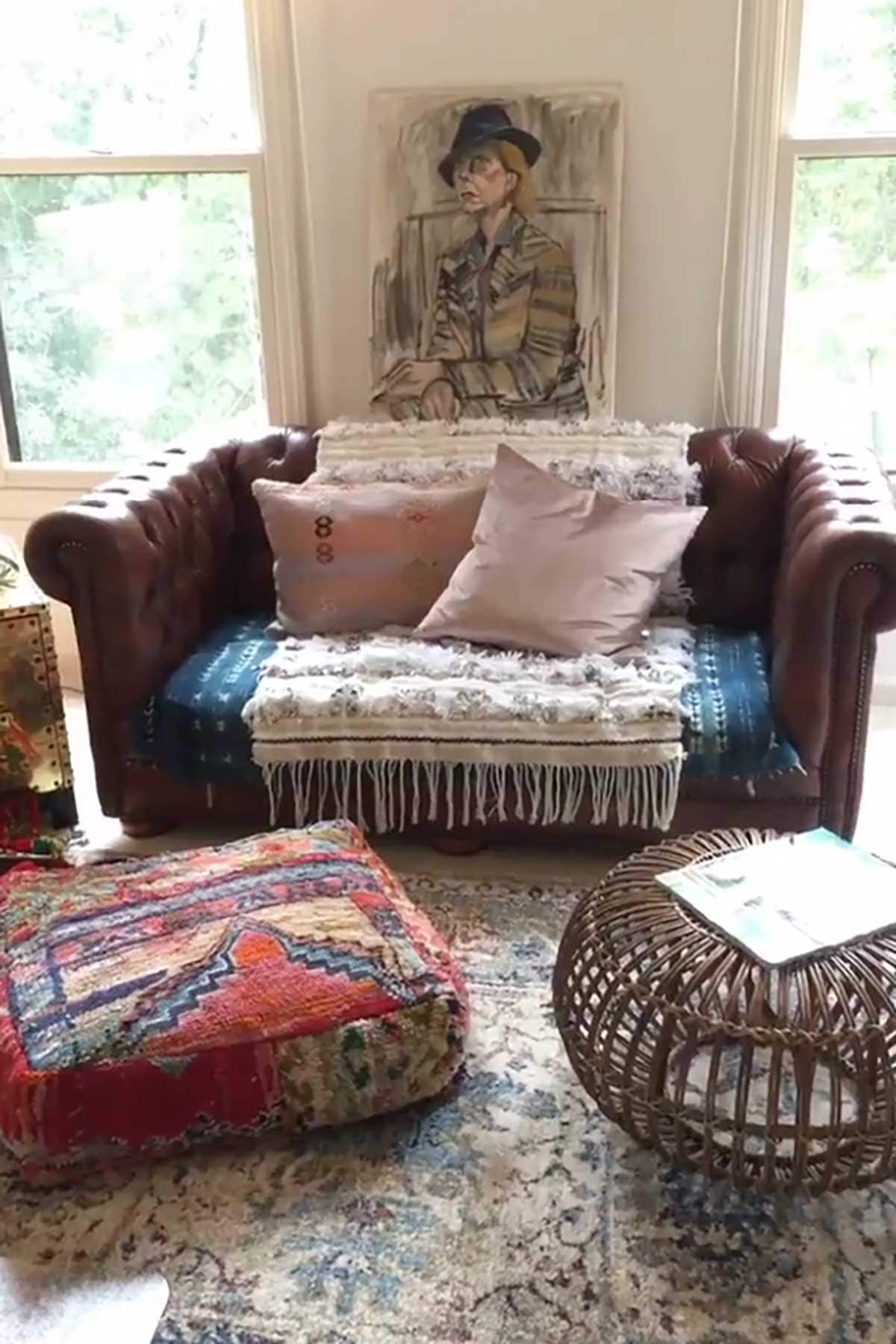 Can you say hawt mess? That look lasted long enough for me to laugh at myself and Snapchat it once. M'kay, bye! Now granted, I was making lemonade outta my vintage lemons. We had just moved and the house was jumbled. As I stood back to admire "my work", my dream of becoming a bohemian queen was officially crushed. I chucked it all in a bin and was left with only Mr. Chester the Love Seat. Oooph! He looked so tiny and awkward in this space.
Fast forward to the Design Off and in came the Interior Define sofa. This meant the Gus Modern mid-century modern Craigslist score was up for grabs. I got Gus, but here's where the shame starts. I rolled out a beni ourain and brass tray table. Unbeknownst to me, the boho express was pulling into the station. Choo! Choo! Trying to balance the obvious, I added in an antique emerald green chair that I found at the flea for $10 and a brass Sarreid trunk. Shiny things…you don't notice the boho in the room, do you? Ummm, yes, yes I do Kyla.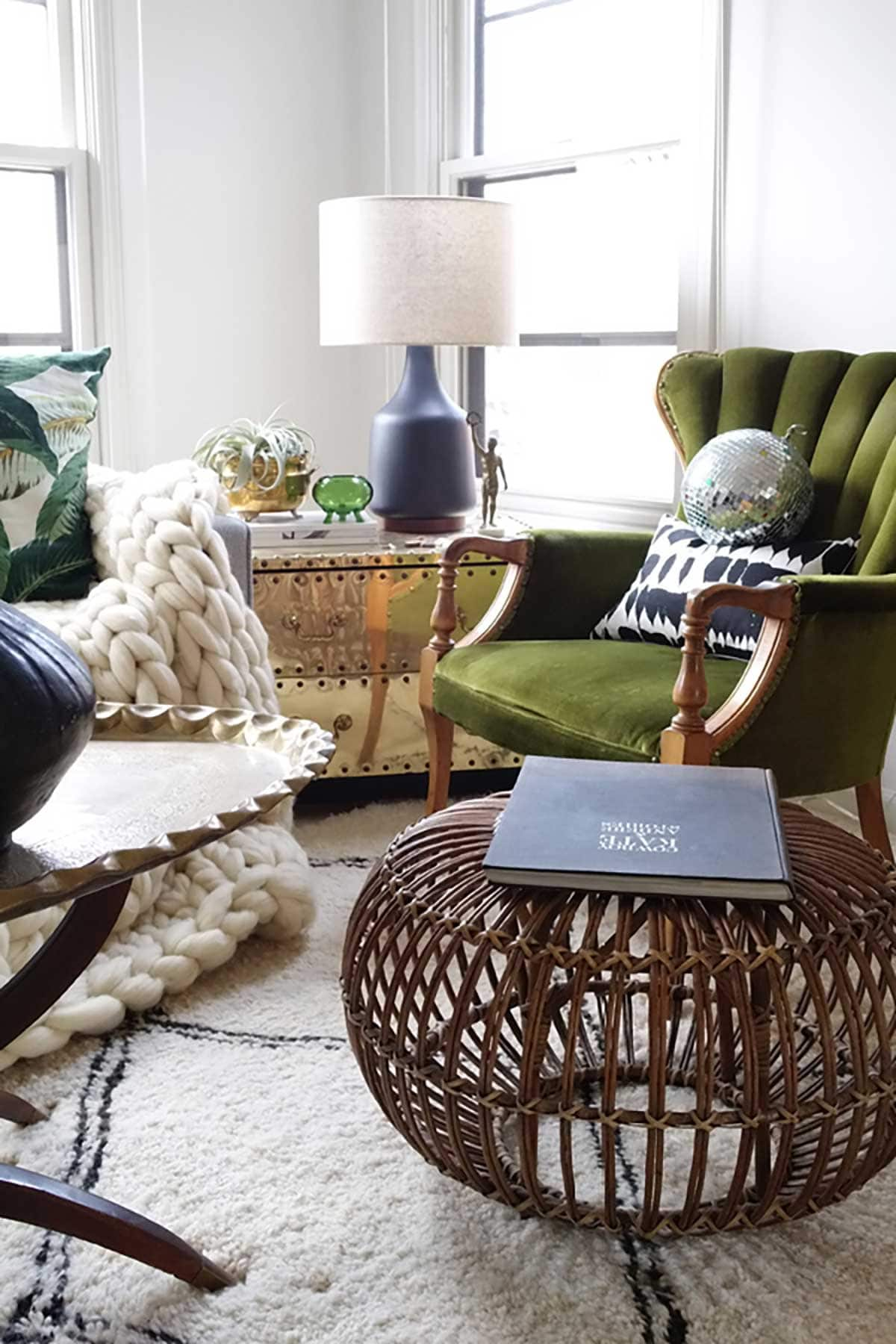 It didn't look hideous by any means, but it also was no French girl. Clunky and busy with a boho twist.

Then there was a random desk decision. A white IKEA monstrosity had been the bane of my existence. A strobe light honey that looked better on Pinterest than in person. And to make matters worse, because my monitor is so heavy, the IKEA top would practically flip over if I stood up the wrong way. On a whim, I waltzed into Steeplechase Antiques in Barrington and fell in love with a rustic pine table. Finger to chin, "That would make a pretty slick desk." Without a plan, I said, "I'll take it!". It was solid, beautiful, had a great patina, and brought some warmth into the space. Plus it really masked the boho…in fact, it screamed, "Looky! Looky! Here's some farmhouse!" Yes, complete and utter denial.
Bye Bye Boho Decor
After fighting the urge to move the sofa away from the windows and swap it with the desk, I finally caved. Much to my surprise, it looks pretty good and the desk is now the focus of my home office. For sh!ts and giggles, I rolled the beni back up and chucked it in my back room. Out of the corner of my eye, I spied the ibex ram's heads I bought in Nashville caught my eye. They are so special and rare. Why hello lovers. You give me all the heart eyes.
Kyla, why on earth aren't you hiding these beauties. Yes, I could sell them for a million dollars, or I could keep them and live in eternal bliss. And yes, I know, they need glass.

When the sofa lived between the windows, it looked sadzies without art or a mirror hung over it, so changing the location to this vaulted wall was a blessing. Cosmic Girl Goes sold me the bomb diggetty of a mirror at the flea market that I swapped out for this art pretty much immediately after The Boy hung it. To say he was a bit tender-hearted when I broke that news is an understatement…but come on, look at that clutch the pearls artwork. Chair Girl gives me such a calm feeling and the colors fit perfectly with the yellows, grays, and hints of pink. The mirror went in and out so fast, it wasn't even photographed. Sorry Robin! Don't worry, it'll find a new home soon. Pinkie swear.

Phew! You still with me? If so, go ahead, loosen the helmet, and wipe the sweat off your brow. This marathon of a post is wrapping, and we successfully navigated through a year's worth of decorating blunders and Instagram Stories! What do you think of the transformation? Obviously, it's nowhere near finished, but it's coming along.
Cha-cha-cha-changes are still happening…like that Sonneman lollipop lamp is getting switched out for a taller black cone lamp…it's more French girl chic.
I love the cabinet, but it's a wee bit too big. But I lurve it. But it's too big. But I lurve it. But I'd have to ask The Boy for help to move it (biggest reason). Anyhoo, would love to know your thoughts! Cheers to Friday Eve! TTFN!



Discover More Eclectic Home Decor Ideas
Holy moly! I was chosen to be one of the One Room Challenge Featured Designers! I'm gearing up to give my home office a makeover, and I'm also going to create a space for a home gym!
I attended High Point Furniture Market to check out all the new furniture that would be debuting. Here are the interior design trends to look for this year.
Looking to decorate on a budget? Check out these clever ideas.
Wanna make your home look expensive when you don't have the luxury of a high budget? Try this!
If you're looking to replace your ceiling lights, here are a few boob light alternatives.
Bobby Berk told me he has always invested in quality bedding. Here's the ultimate guide to the best sheets and bedding.
The Primrose mirror is still trending hard, but the price tag crushes my soul. If you're looking for an Anthropologie mirror dupe that doesn't break the break. This one is for you.
Find affordable velvet curtains to cozy up your space and soften your windows.