Modern Boho Living Room Makeover – Final Reveal
Last Updated on September 27, 2023
Can you feel the excitement in the air today? Today is the modern boho living room makeover final reveal day for the Design Off between myself and Jojotastic. All the hard work has finally come to fruition. In case you're new to this neck of the interwebs woods, Joanna and I got a little crazy and decided to lose all control of our new homes to let you, our reader, vote on which DesignOff project we should move forward with. WHAAA!?!? At first, I thought I was completely insane, and I'll admit to having a couple of nightmares of Hildi Santo Tomas from Trading Spaces, gluing hay to my walls. EEEEP! But when I opened the email and saw the initial mood boards, I breathed the biggest sigh of relief! My interior designer, Ashley Redmond, blew both designs outta the water.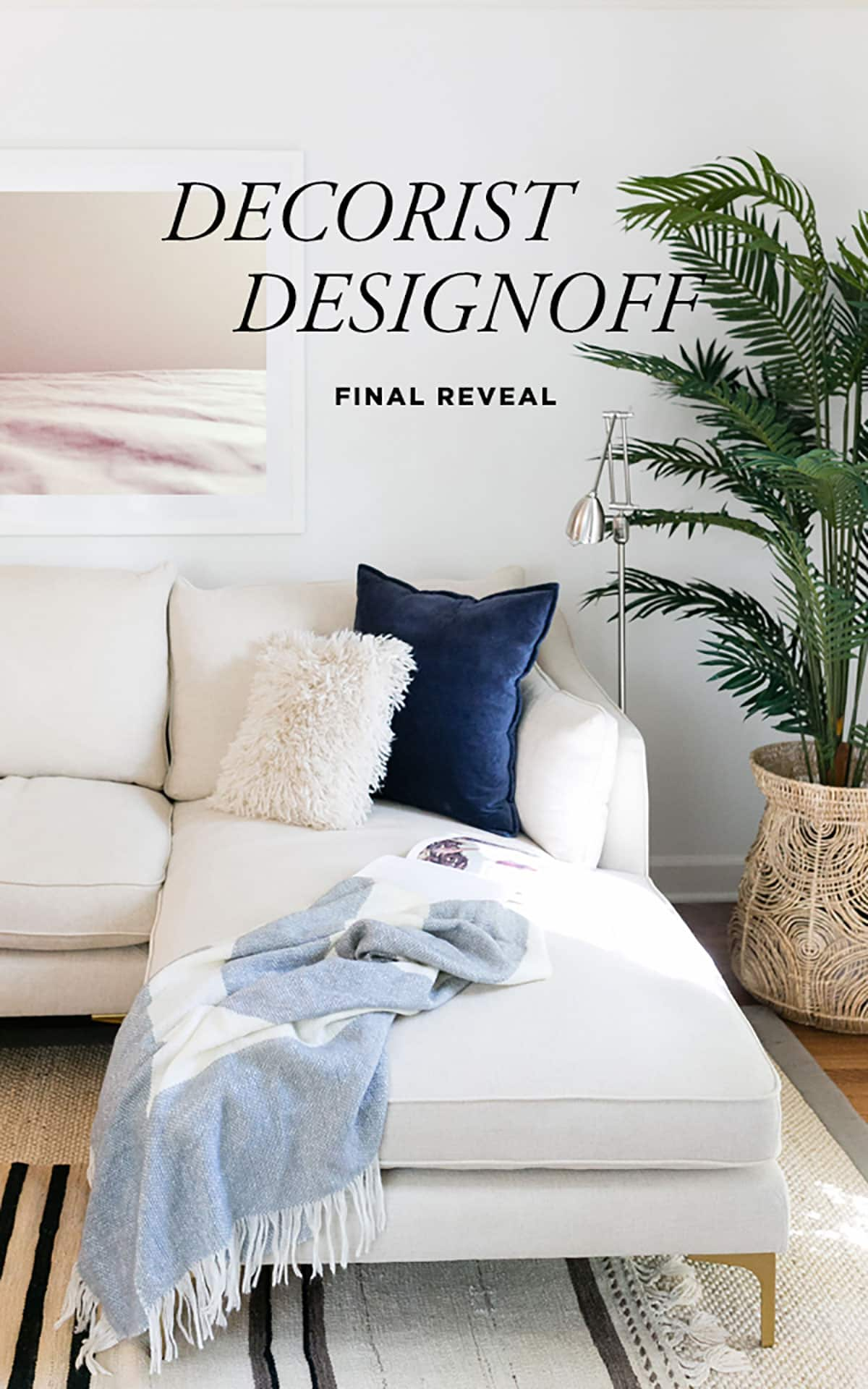 All photos by Emilia Jane Photography
Although I loved both design options, I could only move forward with one look. The overall voters' choice was the Modern Boho Living Room. Slowly but surely, the room started to come together…and well, my mind was blown. I couldn't believe I lived here! First and foremost, I'm giving Ashley and the entire Decorist team the biggest virtual high five! This was possibly the best housewarming gift a gal could ever ask for. Here's another peek at the 3D Virtual Design Decorist sent over…BTDubs, check out my review on this 3D home design software. You can use it even if you're not a pro! Can you believe that's not my room? It's a computer rendering. Holy shmoly.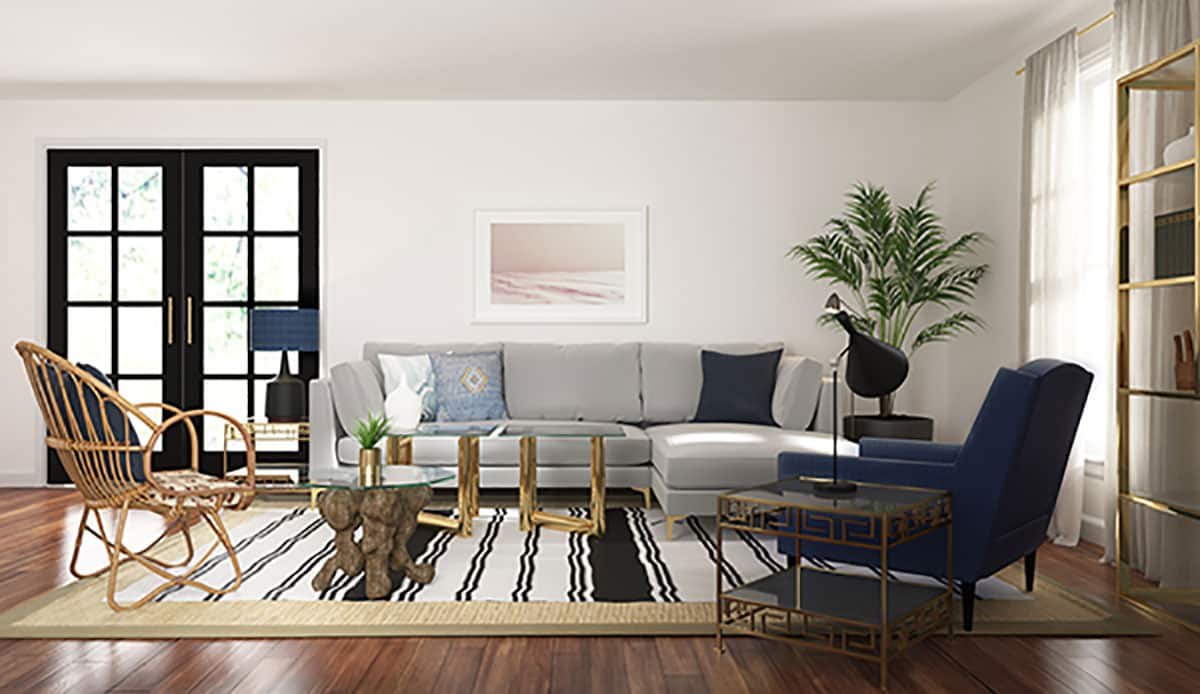 If you saw my Instagram Stories Home Tour a few weeks back, you probably caught a few sneak peeks. Because I've been dying to share the space with you, I broke the reveal rule a couple of times…couldn't help myself. Shhhh, don't tell.
Before we get into all the nitty-gritty deets, let's take a step backward shall we? This is the first room in the new house that I tackled…besides being hit with an unexpected basement renovation…if you haven't heard, The Boy flooded the basement, so I'm knee-deep in wet drywall right now. More on that endeavor in a few days.
We bought the house back in March but didn't officially move in until late June. When we initially toured the house, the living room looked like this:

That's quite the before picture, huh? Not exactly my cuppa tea, but once the former owners moved out, it became a blank slate. We slowly moved some of my favorite things into the room, and I waited like a cat in a bathtub patiently for the UPS man to arrive with the remaining pieces. Are you sick of me blabbering on and on? Ya, me too, let's get to the good stuff…HERE'S THE MODERN BOHO LIVING ROOM MAKEOVER FINAL REVEAL!

Check out that before and after! Can you even believe it's the same room? A few of my favorite pieces are the Interior Define Caitlin sofa designed by The Everygirl, that gorgeous Milo Baughman vintage brass etagere, and that chrome George Kovaks swing arm floor lamp. Wanna take a closer peek? Good, me too!



I was thrilled when Ashley decided to keep my vintage brass side tables. At first, I thought they might be too small to be used as a cocktail table, but when the Interior Define sofa arrived with the chaise, it was obvious that this was not Ashley's first rodeo.
Painting the french doors black was one of the bigger risks she had me take. Quite honestly, I didn't think The Boy would go for it, but we are both head over heels in love with the look. Don't look too close, I'm still missing the doorknobs. Insert monkey covering its eyes emoji here.

Check The Process Of This Modern Boho Living Room Makeover
Design Off Mood Boards | Design Off Living Room Progress Report Part 1 | Design Off Progress Report Part 2
The artwork above the sofa is by Lani Trock, and it's a piece I've coveted for quite some time. I texted Ashley a link to it late one night…bless her heart, she answered immediately, and I think I heard her squeal in delight through my phone. She had just used it in another client's room and loved it just as much as I did. I swear she and I are a match made in heaven.

One of my most favorite things to do is to style a shelf...or as I like to refer to it, style a shelfie. Moving things around from here and there. Shuffling some more until your fingers bleed you get the perfect flow. I really wanted the brass etagere to be full of all the things I loved most…wait Kyla, what about what The Boy wants to see? Honestly, he doesn't much care as long as I'm occupied and happy. What he doesn't understand is how two shelves can take a week to style. Oh dear, don't ask questions. Just accept it for what it is.

I found these paintings on eBay by the late Rich Buchwald, a painter from Santa Monica. They are absolutely gorgeous and a steal for the price. The marble horse head bookend is from another one of my vintage shopping haunts The Savoy Flea in Chicago, IL.

The basket above is another favorite piece. Not only does it bring a bit of the modern boho feel into the space, but the company sourcing the goods has a mission I can stand by. They develop long-lasting relationships with artisans around the globe. By creating steady employment opportunities, they empower their crafters to build a better life within their community. If you're digging that ruffled bowl, it can be found here.

I also adore that throw. The black and white tick design is commonly found in Guatamalan textiles. Paired with neutrals to give it a fresh and clean feel. It's made by artisans and provides fair wages, and develops sustainable skills. Each throw takes one week to make, and the artisan can provide her family one month of electricity. Pretty amazing, huh?

If you ever see me at a flea market or estate sale, you'll find me hoarding navy books. And not Navy books, as in ships and sailors, but rather the color navy. I will knock an old lady down for navy books with gorgeous typography on the spine. The chinoiserie double happiness vase on the bottom right was one of my most recent purchases. If you're looking for one, hop on over to Etsy or wait it out like I did for one to pop up at a local estate sale. I scored this one for $6!!!!! The oversized white vase is by Jonathan Adler. I bought mine secondhand on Chairish. Ashley kept the budget and my wallet in mind when she shopped for this room. Since we just purchased the house, we had to source affordable modern boho decor.

This table was the one piece in the room I was really on the fence about from the get-go, and it took me a while to warm up to it. Honestly, I think she's an acquired taste, like a nice strong coffee. But now that she's been in the room, I know I can't live without her. Ashley managed to find this little lady on Chairish for a fraction of any others I've sourced. And the woman I bought her from supposedly has a matching dining room table, according to her daughter. Hmmmm, might have to stalk them. The brass shell planter is from The Savoy Flea. One of those finds that didn't even hit the store floor. I had to have that bad boy.

I recently met Nicole Cohen aka Sketch42 blog, through Instagram. Can I just say her photography is amazing? She's incredibly talented, and I'm thankful to have met her and call her an InstaBestie. When discussing photography and artwork for the room with Ashley from Decorist, I sent her Nicole's print shop URL, and she went bonkers. I mean, there's so much to choose from. It's virtually impossible to pick just one. If you don't know Nicole, I highly suggest checking her out.

I told you we couldn't pick just one photo! Nicole posted the Adidas print to her Instagram, and I immediately fell in love. Ashley picked the fiddle fig print, and paired together, it was a match made in heaven. That little white alabaster vase is from InstaBestie Rafael of The Beau Ideal. I swear I have the nicest Instagram friends. Raf owns this Chairish shop and sources the best vintage decor. He's one of my secret sources, so shhhh, don't tell anyone else.

A few other favorite details in the room are this elephant hook and tassel. Again from my favorite gal,  The Savoy Flea. If you want to go vintage shopping in Chicago, I highly recommend stopping into Warehouse 55 where she has a booth.

Over in the corner is a brass truck I purchased on sale from Etsy. The entire piece was supposed to be Sarreid style, but when I opened the delivery package, it had a mirrored front. Whomp, whomp. Super stoked turned to super sadzies. But like the driftwood table, I lived with it for a couple of weeks, and my frown turned upside down. Totally digging the mixed metals – definitely hits that modern boho vibe.

Funny blooper, I'll tell only you cuz you're my friend. I can't zoom in on that gold sculpture because I forgot to cut the tag off it. You can see it if you look close at the second disc. Whoopsies. Raise your hand if that's ever happened to you. You may remember that painting from the old house. She used to live in my bedroom. (Check the Fall Home Tour)
RELATED: If you are looking for affordable original art, be sure to click on this link for my secret sources.
Two more pictures, and I swear I'll be done. Sorry, this is the longest post ever, but I just want to show you everything!

Would it creep you out if I told you I like to pull those hands inside my sleeves and chase my kids around the house with them? Yep, this weirdo does that.

Photos by Emilia Jane Photography
Phew! You made it! I'm dying to know what you think of this modern boho living room makeover – did we nail it? Wanna know another secret? No, it's not another blooper…almost all of my plants are faux plants. There, I said it. It's out in the open, much to Ashley's dismay. She told me it was okay as long as she couldn't tell the difference…do you think she knows?



Discover More Eclectic Home Decor Ideas
Every month there are posts that trend a bit higher than others. People are looking for the best interior design books, and I'm sharing my must-reads.
Find affordable tv art for your Samsung Frame TV.
My friend Erica stopped by to share her top 5 small space design rules you need to break.
I'm not a professional interior designer, and chances are, you aren't either. Here are my top tips on how to make your home look more expensive.
Over the last few months, I've been making my home smarter with technology I can control from my phone. Here is a round of the best smart home devices and a few interesting ways to easily add smart lighting to your home.
This is the round-up for you if you're looking for an Anthropologie mirror dupe. I have 15 of my vintage-inspired gold mirror favorites for you.
Rounding up the best faux olive trees that look real. I also have a full post dedicated to faux fiddle leaf fig trees and more faux plants that will fool just about anyone!
I'm at it again! I've created a few mood boards of modern living room ideas for our TV room. Vote on which design you like best!
If you're looking for a new modern sofa for your living room, I have rounded up my 16 favorites!
We bought a new brown leather couch, and The Boy is doing a jig because it has a footrest with motion!