Meet Solace Creek Coffee Roasters
Last Updated on December 21, 2022
I have some really amazing, incredibly talented friends. One person, in particular, is Jayson Moyer of Solace Creek Coffee Roasters. Today we're getting up close and personal with him. I think is pretty damn awesome and someone I think you should know too.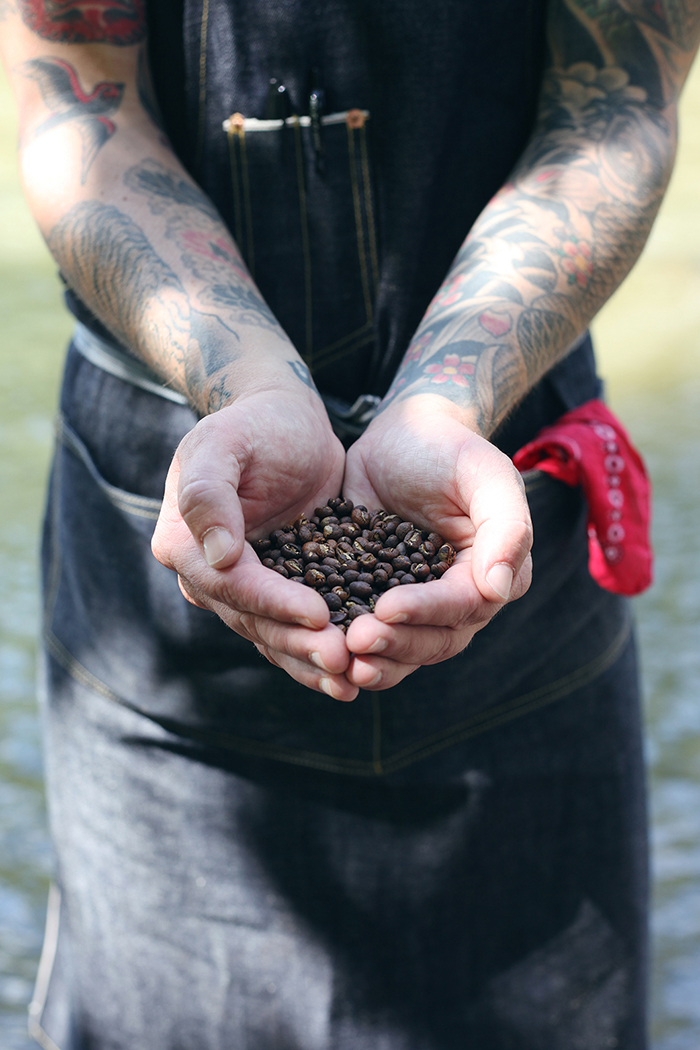 Today I'm featuring Jayson Moyer, the Owner of Solace Creek Coffee Roasters. Enjoying a cup of his coffee is a pure sensory experience. In the past, the norm for me was a bitter taste that would burn my stomach. It never really tasted awesome, I just drank it out of necessity to wake up. A morning jolt. I'm going to be real blunt here, Solace Creek Coffee Roasters has the best damn cuppa jo I've ever had in my life, and The Boy concurs. He is a coffee connoisseur and has been known to have his Oma or mother ship a special Belgian coffee in from Europe. He's a snarky, snarky coffee snob. If he says it's good, trust me, it's really freakin' good.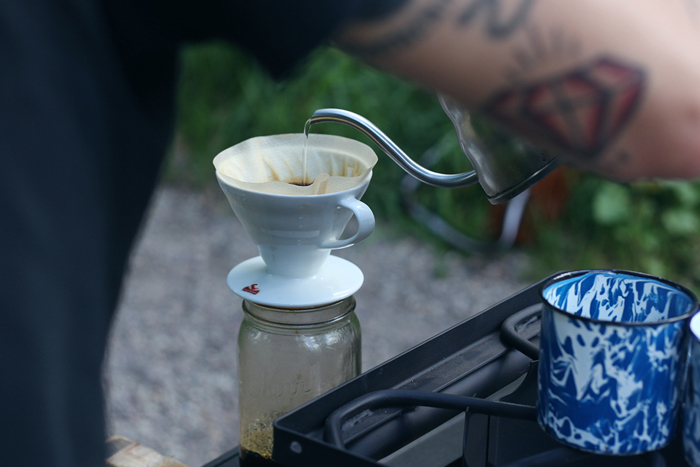 Jayson's process is 100% handcrafted and 100% handmade. There are no dials, no beeps, no programs or heavy machinery. Since the demand for his special brew has risen, he recently opened an online store. Solace Creek Coffee Roasters is presently selling short specialty runs, but plans to have a house roast readily available and in stock shortly.
An Organic Balinese Kintamani was just released today. Notes of orange peel and cedar smoke with a chocolaty finish. Also available is a Guatemala Huehue Tenango Huixo. Right now, once the beans sell out, you have to wait. If you want the inside scoop on availability, just fill out his Contact Us form or subscribe to his email list. You've now entered into The Circle of Coffee Trust. But enough selling, more telling…
Back when permed hair and big bangs were all the rage when girls carried Esprit totes and wore Guess mini skirts, I met Jayson Moyer. He was older than me. We went to middle school together. He wore Vans, rode a skateboard, and listened to Black Flag…a thrasher kinda kid. Sometimes I'd see him at the pool where the all cool (cute) boys would hang out popping ollies in the parking lot. At the time, I was listening to The Cure and threatening to shave my head. The typical teenage angst of the late '80s.
Nowadays Jayson is a fancy LA/NYC film director with a roster of heavy hitter clients (click the link to view his beautiful reel). He's a storyteller, a creative, and he's also one damn good coffee roaster. He invited The Boy and I on what he calls the Explorer Coffee Roasting Adventure. He arrived at my parents' house at 9 AM sharp to pick us up. My children clung to him like newly grown appendages as I quickly shoved a donut in my donut hole. We departed and followed him to a remote location, raw coffee beans and spring water in hand. After parking the cars, we set up shop near a riverbank. A couple of sawhorses, a portable camp stove, and a Whirley Pop. I have to admit, I was a bit skeptical at first, but it turned out to be the best damn cup of coffee I ever had.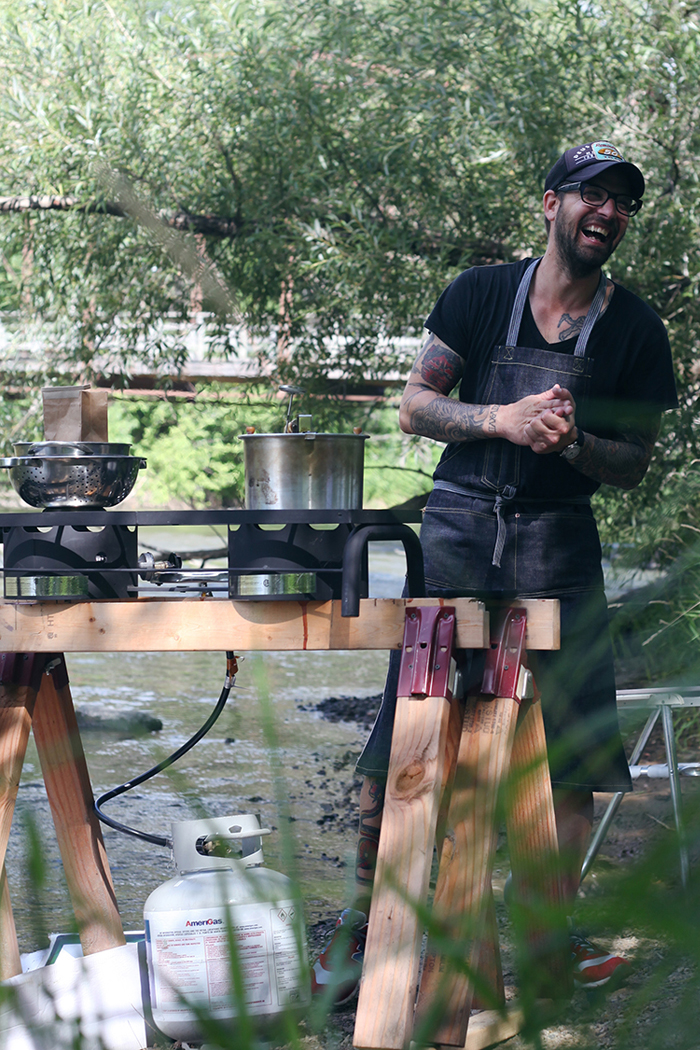 Explorer Coffee Roasting Adventure Step 1. Lots of laughter and silently hope the tank doesn't blow up…kidding!
How did you get interested in roasting coffee?
Initially, I thought I became interested in roasting coffee through pure necessity, just to get a good cup of coffee after moving back to my small midwestern hometown. However, after I returned from my world travels 5 years ago and decided that I really would love to just roast coffee and live a simple life. The universe will provide.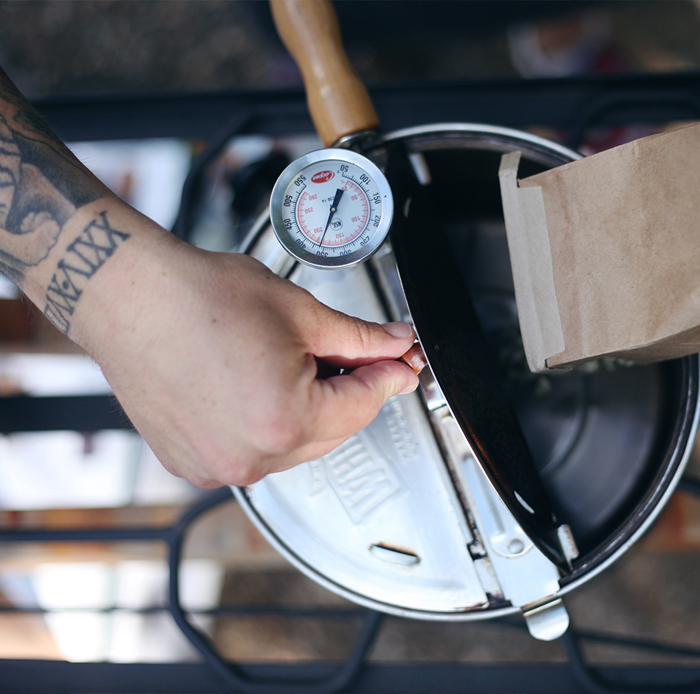 Explorer Coffee Roasting Adventure Step 2. Once the desired temperature is reached, pour green beans in the Explorer roast.
How did you learn to roast coffee?
I am self-taught. I am a research nerd, I researched any methods initially on how to roast your own coffee. I started small with some very bad batches, I would roast .7 lbs on my stove with a Whirley pop. After some trial and error and many notes and studying, I found a happy spot that made a good cup. Then I started to have demand and I built a 5 lbs roaster, now the demand is growing and I am looking to build a 10 lbs roaster.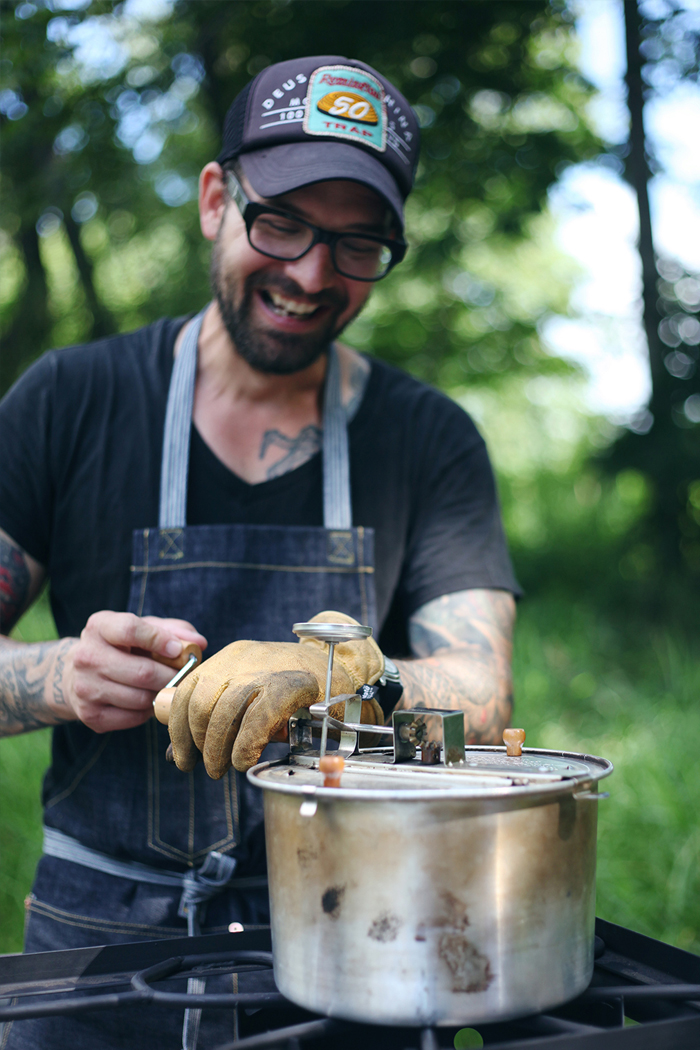 Explorer Coffee Roasting Adventure Step 3. Turn the beans so they don't burn and you get an even roast.
You made us a City Roast. What is your favorite type of roast and can you explain what makes them different.
City roast is a lighter roast, where you can taste the more subtle hints and notes of the coffee. Coffee is in this amazing space in culture similar to the wine craze of the '80s and early '90s. The only difference between then and now is we just have tattoos and beards and don't wear braided leather belts and pleated pants.
People enjoy their coffee now, it is not just a black sludge of a stomach ache and toilet visit. You can actually enjoy the coffee. The Darker the roast the fewer notes and subtle flavors you may taste within the bean. Eventually, it tastes like a shitty cup of coffee that needs a lot of cream and sugar.
Hey now…I have to admit, I do enjoy a bit of cream and sugar in my coffee. Don't you scrunch up your nose at me sir. No judging. However, you did have me try the just roasted, freshly brewed, black, plain…nothing added coffee. I have to say it was amazing. I could taste the citrus notes which hit the back of my throat and almost tasted like hot lemon water. It was fresh. Very clean tasting. My taste buds came alive. Afterward, a sort of smokey taste lingered on my palette.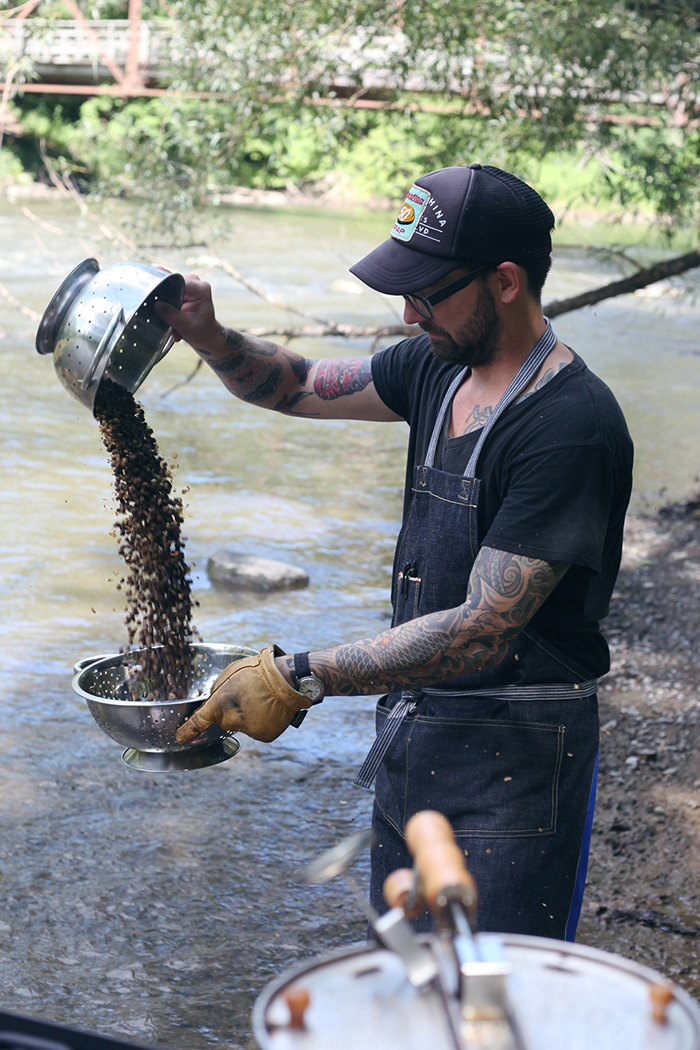 Explorer Coffee Roasting Adventure Step 4. Remove the chaff to obtain the complex, well-balanced flavors.
Besides Lodge Coffee, what's the best cup of jo you've ever had?
The first game-changer cup of coffee was when I was living in Tokyo. There was a little shop in the neighborhood I lived in, and the owner would roast coffee on Sundays. To this day, I can remember that smell and hanging out with my friends on the doorstop drinking his coffee.
Stumptown is the gateway to really appreciating a good cup of coffee. Then there's HandleBar in Santa Barbara, a very cool couple owns and roasts there. Crema in Nashville is awesome. I was recently there visiting some friends. It's a good roast.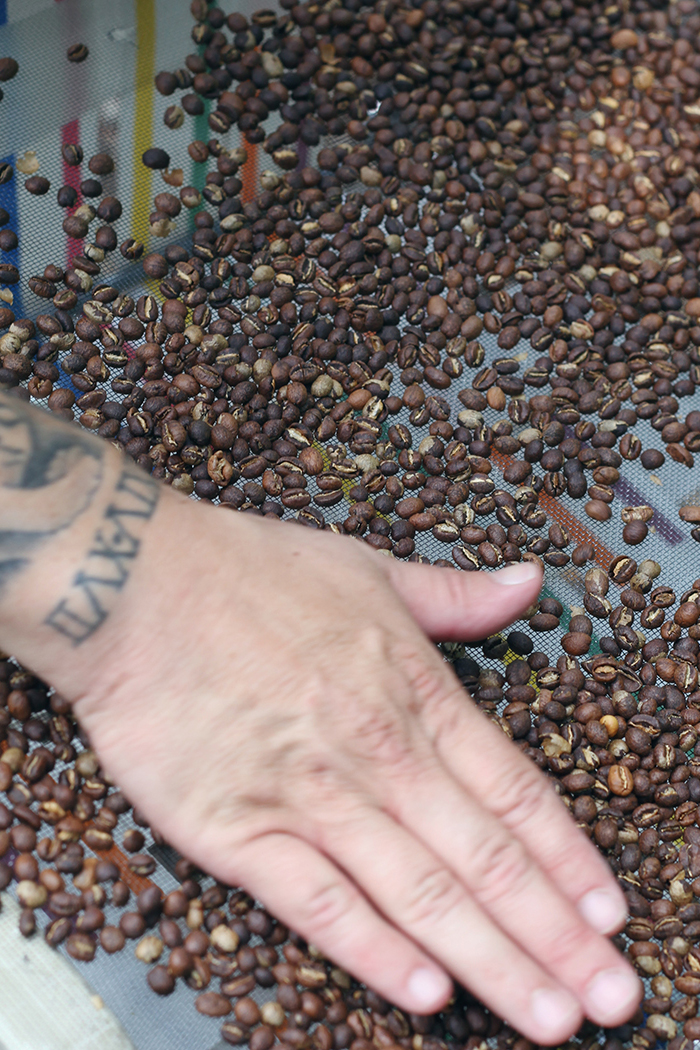 Explorer Coffee Roasting Adventure Step 5. Let the beans cool.
You've had quite a journey in the short time you've lived on this planet. Can you tell me how you got to where you are now?
I will try to create the cliff notes to my journey and connect the dots to how I ended up roasting coffee in the small midwestern town I could not wait to leave.
I was an angst-filled skateboarding teenage misfit trapped in a small midwestern town with a sometimes small-town point-of-view. I moved to California when I was 15 and had some weird jobs. I worked at the library, was a pre-school teacher, even a sushi chef. Then I moved to Tokyo, which on its own is a post.
From there I went to Art Center College of Design in Pasadena and graduated in Film. I was fascinated with advertising, psychology, and the power of suggestion. I traveled the world for 15 years directing commercials, music videos, documentaries and creating a few TV shows that are still running.

Explorer Coffee Roasting Adventure Step 6. Grind beans in a Hario Coffee Grinder
Ohhhhh and then I was totally disappointed in seeing behind the curtain and decided to move to S. E. Asia. During this period I still directed and traveled. I became a Theravada Buddhist monk and was initiated into the Theravada sect. I was given a Vietnamese name and Pali name, which means 'Deep Well of Knowledge'.  The entire community came to see my initiation. It was pretty amazing.
After returning to The States, I was super burnt out and my internal battery was at 3%. My grandfather, who is 95, became ill. I decided I wanted to move back to my small midwestern hometown to help my grandparents change light bulbs and program their VCR.
There I was rescued by Winston, my very peculiar and funny dog from the humane society. I now spend my time hiking, camping, biking, and canoeing when I am not roasting coffee. It's a very pure and simple life.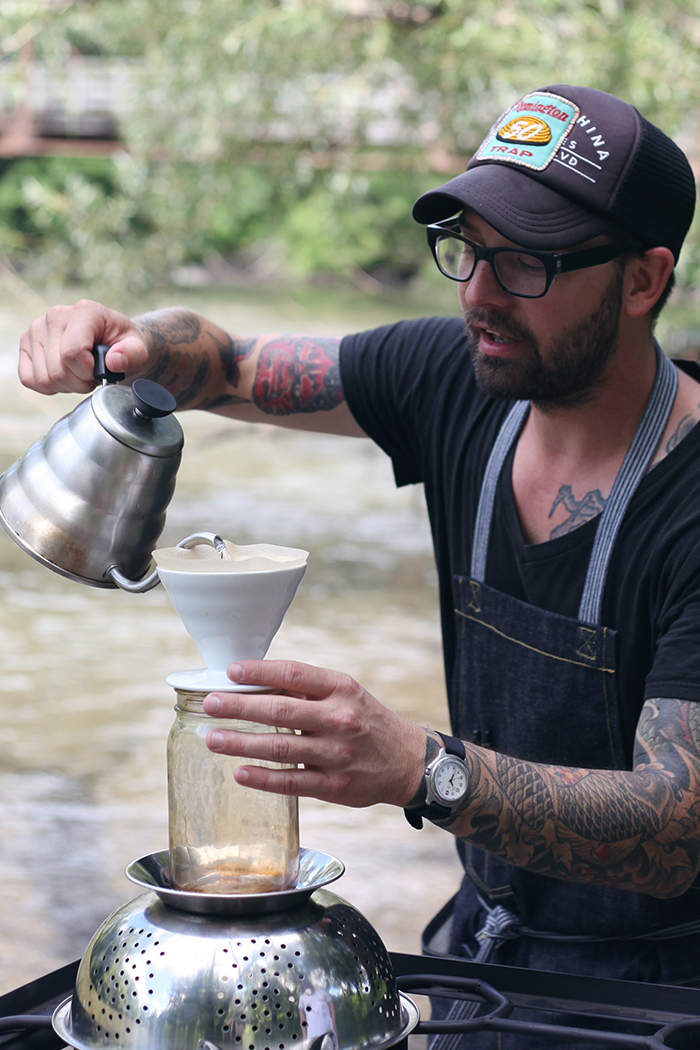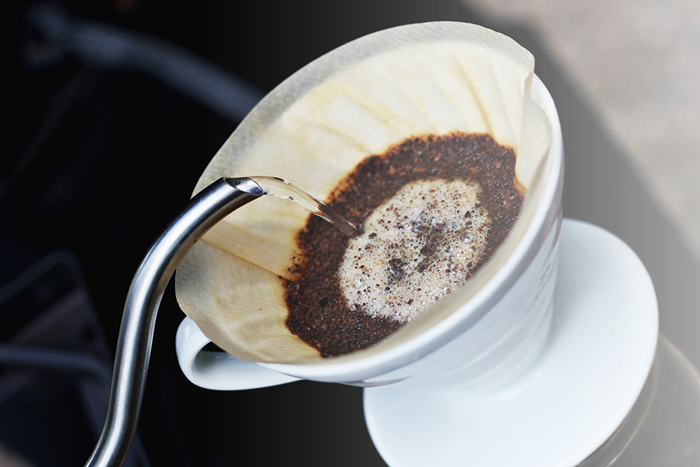 Explorer Coffee Roasting Adventure Step 7. Heat natural spring water from a small town in Wisconsin and brew in homemade pourover.
Your story is absolutely fascinating, and I really appreciate you taking the time to talk to me about you and Lodge Coffee Roasters. Before we wrap things up, I want to do a few rapid fire questions. Questions that are a bit off beat and nutty. Are you down for that?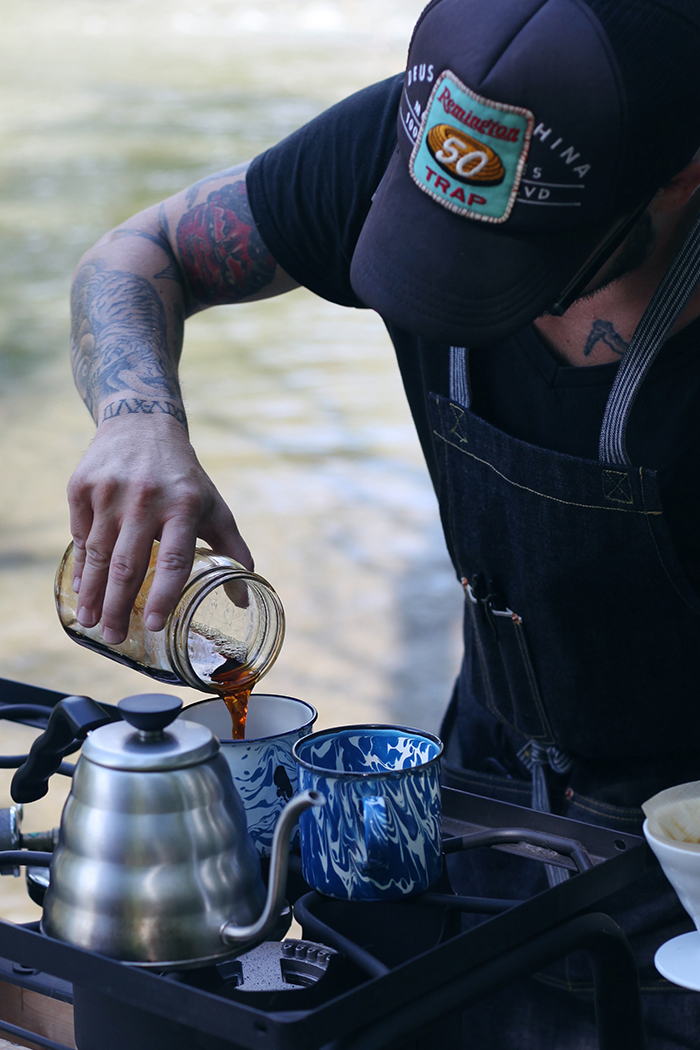 Explorer Coffee Roasting Adventure Step 8. Pour, sip, laugh, enjoy, relax…
Favorite band:
There is an Epic battle between FleetWood Mac and CCR for all time favorite lifetime band.
Favorite color:
I prefer a hue of blue
Favorite food:
Nutella. I love Vietnamese Pho. But since moving back to the midwest I have not had it.
First car you ever owned.
A Toyota Celiac was my first car.
One item and human you'd take with you to a deserted island.
I would take Nutella and whoever the woman is that comes into my life. I figure that would be a good way to see if it will work out.
Wait, what! Nutella before coffee? I'm shocked! And yea, that would be one way to see if you're a match. If it didn't work out, well, that could be awkward. Just make sure you get the side with the good beach.
Over the roll or under the roll?
If this is for toilet paper, over, 100%. If I am at someone's home, and they have the under style, I will change it.
Righty or lefty?
I write with my right hand. I drink with my right hand. I roast with my right hand. Politically, I am on the left.
If you'd like to try Solace Creek Coffee Roasters yourself, head on over to Jayson's online store. He ships all over the U.S. If he happens to be sold out, just fill out the Contact Us form or subscribe to his email list. Ask to be notified of the next roast. You won't regret it, and your taste buds will thank me for it. If you'd like to follow Jayson and the Solace Creek Coffee Roasters, you can find him on Instagram.