Bar Cart Styling with Unison
Last Updated on March 7, 2023
A couple of days ago, Unison stopped over to have a cocktail at a little pillow party I hosted (Part 1 of that to come this Wednesday). But we got a little crazy and played around a bit with my bar cart styling too. After all, the bar cart is an entertaining essential.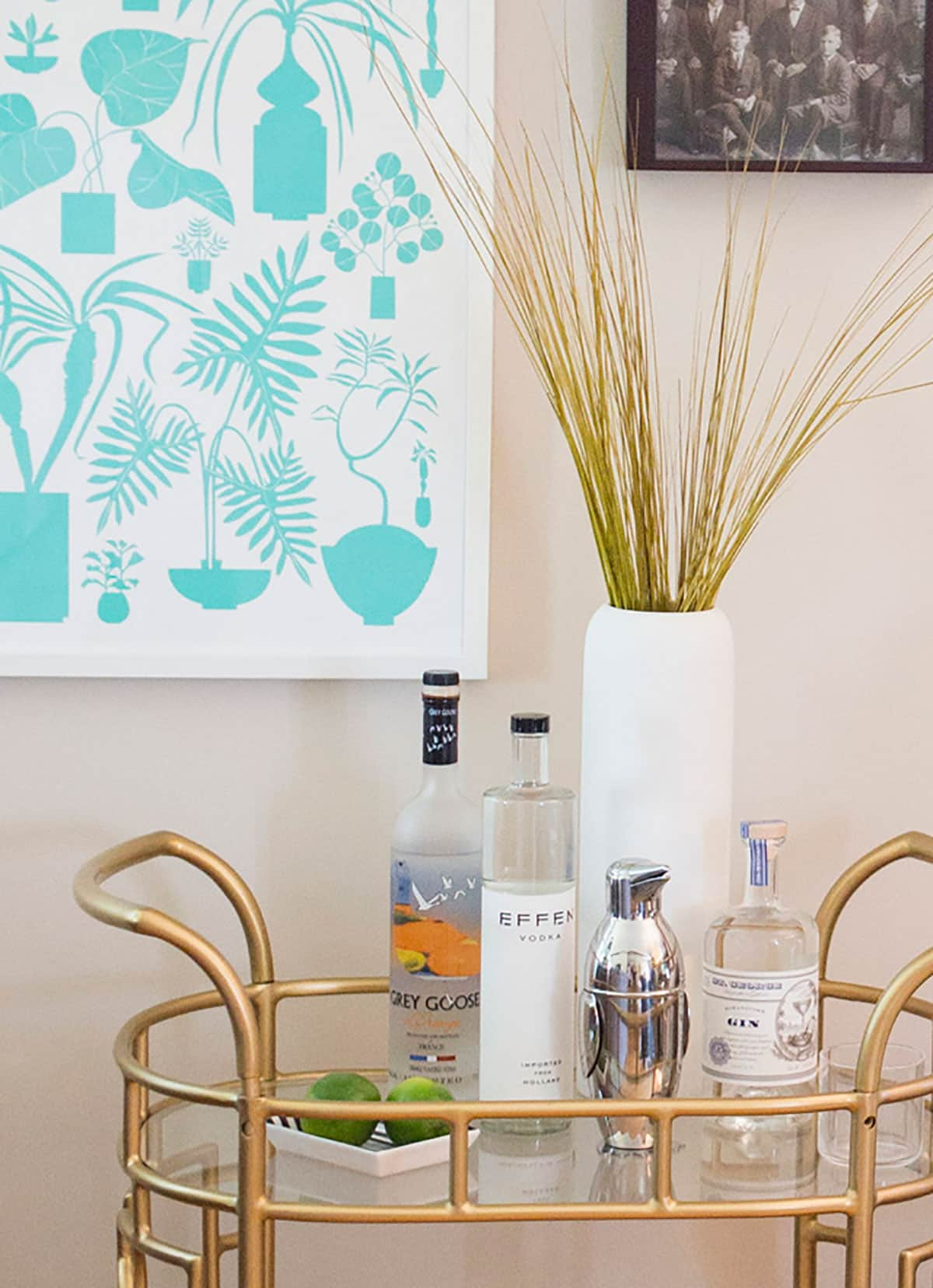 RELATED: Try my favorite vodka and lillet blanc cocktail recipe that I learned during my stay at Maison Souquet in Paris, France.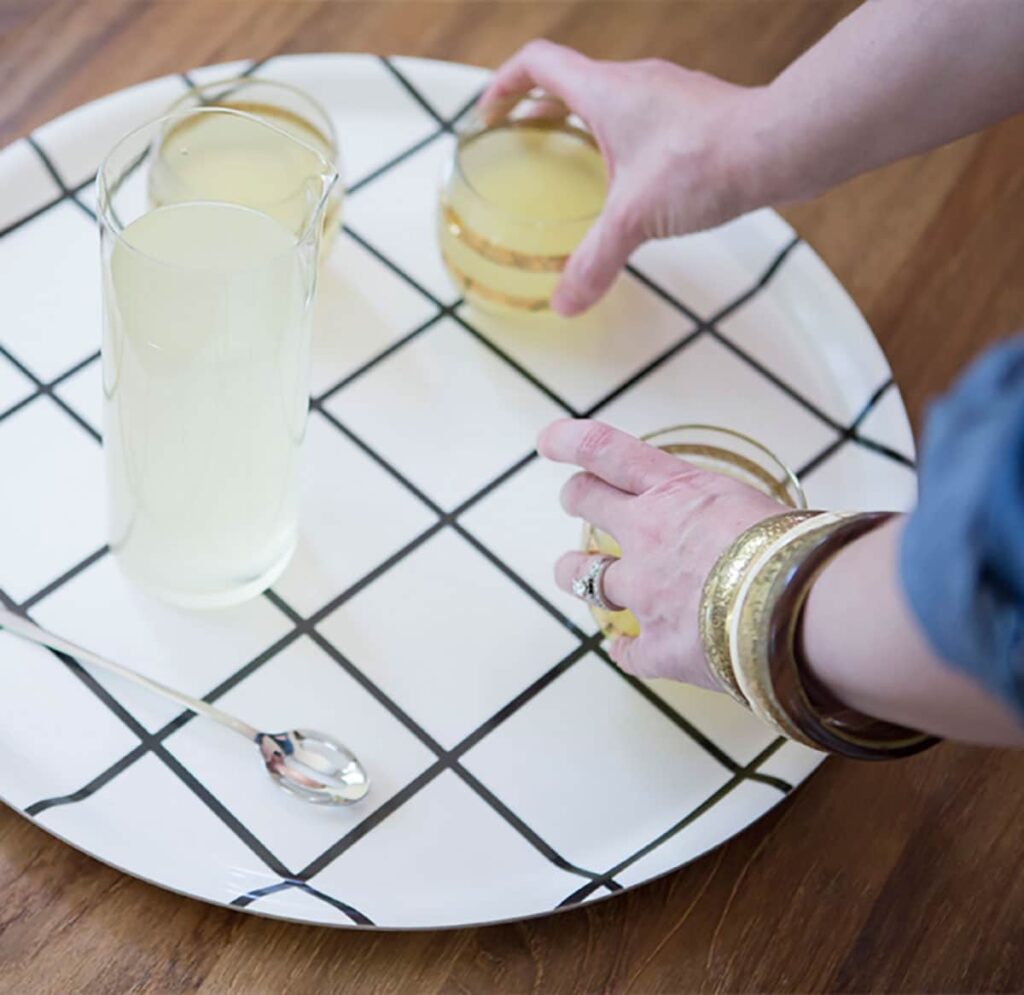 Unison's ultra modern design really jives with my old meets new mix-a-roo vibe that I have going on in the house. It's all about clean lines meet functional objects. They have a real timeless sort of look. This Round Grid Tray looks fantastic with my vintage barware glasses. The gold stripes really pops. I chose to pair them with the Toyo Pitcher.

Hosting this bar cart styling party terrified yet thrilled me all at the same time. These ladies with gorgeous taste and ninja design skillz were coming over to chit-chat about home decor and pillows. The idea was a bit daunting. But all that stress and worry was put aside within 2 point 5 seconds of them walking through the front door. Lisa jumped right in and grabbed the white Capsule Vase. It perfectly complemented my portable boozy trolley.
RELATED: Don't miss the best New Year's Eve cocktail recipe — the Champagne Smash.

Since it's always five o'clock somewhere, I sat back, watched the magic happen, and had a drink. After all, it's kinda what I do best. Now, why didn't I invite that cabana boy?

She replaced a portrait with some original art. I love the added punch of color, and it really brought in the blues and turquoise from the living room. Filling the Orbit Vase with a large air plant gave a quirky finishing touch to the bottom tray. A bit of playfulness that says, ya, I might be glamorous, but I like to shake it up a bit. This bar cart was starting to fit right in with its surroundings. Perfectly put together. Thanks ladies! Cheers!
Find More Eclectic Modern Decor Ideas On House Of Hipsters
Getting rid of the brick fireplace in our living room and jumping into a Modern Fireplace Makeover. Check out the progress, and don't miss these fabulous mantel decor ideas!
If you're looking for a filigree floor mirror, this is the round-up for you. I have 15 of the best Anthropologie floor mirror looks for less for you.
Discover Where To Buy Affordable Curtains online with this awesome round-up of favorites.
Looking for the perfect gift for the decor lover in your life? Check out this round-up of the best home decorating books.
I put together 2 living room virtual design mood boards filled with my favorites from the new Jake Arnold furniture collection.
With spring right around the corner, it's time to spruce up your backyard! Here is a full round-up of the best outdoor patio furniture,
The bedroom closet remodel has wrapped. Check out the before and after.
Did you know you can upload your own tv art for the Samsung Frame TV? Check out my favorites.
Looking for more affordable modern decor? Check out my round-up of small decorative boxes with lids and these 66 modern vases and footed bowls.
If you're looking for Favorite Things gift ideas, I've got a full round-up of goodies under $25.
Ever wonder what the best size rug for a living room? I'm answering all your burning questions.