Visiting Unison Home Store in Chicago
Some of you already know, but I have 99 problems and pillows might be #1. Just call me Aunt Fossi with the coordination of a T-Rex, dancing drunk on the table with hot pink lipstick…read pillow problems, and I swear it'll make sense.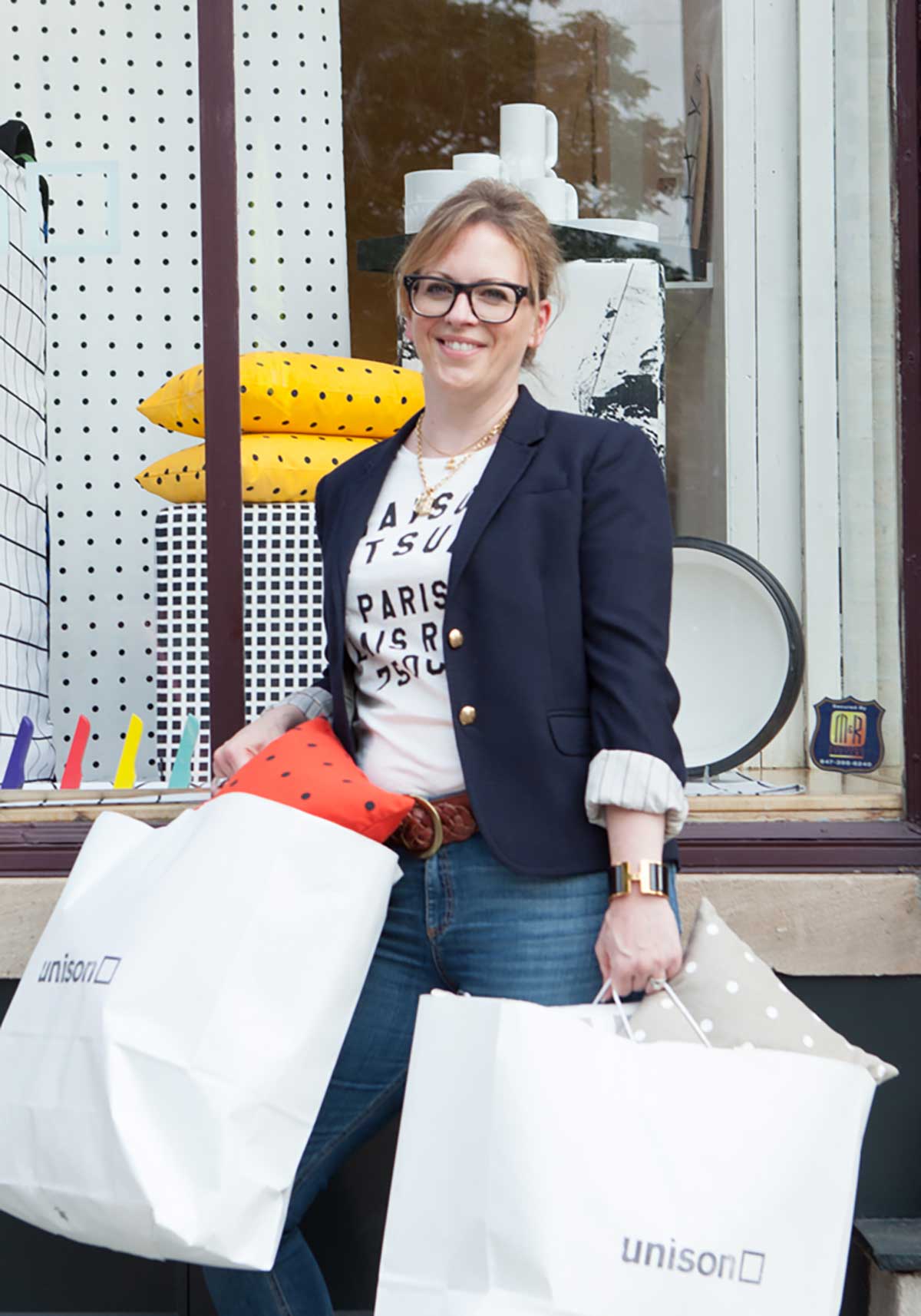 Anyhoo, back to pillows…mixing all the patterns, colors, shapes, sizes… Frankly, it baffles me. Well, the gals over at Unison Home heard my pleas for help after reading one of my latest, "I Make Emily Henderson Cry" posts. They sent me a sweet email saying they'd love to help me out and asked if I could stop over. Are you kidding? I'll be there in 5! TAXI!!!!! Thank gawd for these people! Virtual hugs all around.
Photo by Laura Rose Davis from Everyday Charming
First off I have to say, if you're visiting Chicagoland in the near future, you really need to get your booty into Unison Home. Yes, they DO have a brick and mortar shop (now closed and so is my decor shop). Don't live in Chicago? No sweat. They have a beautiful online store and gorgeous snail mail catalog with incredible home decorating inspiration. They sell beautiful, modern, timeless home goods specializing in textiles and soft goods. Pretty much everything you see has been created by independent artists and designers which gives it a very unique appeal.
My Visit To Unison Home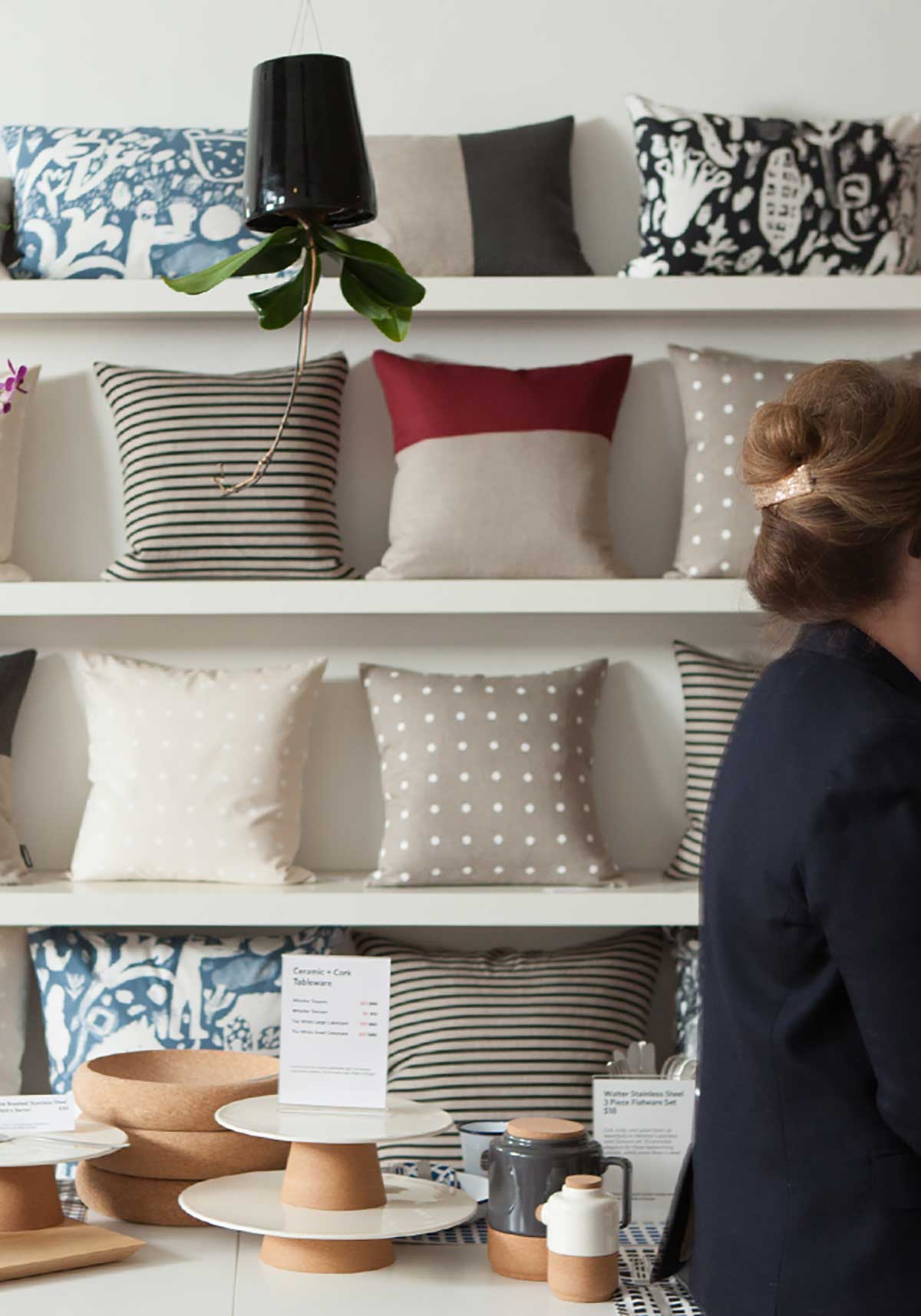 Lucky for me, when I arrived, their fall decor was debuting. I beelined for the wall of pillows. I'm crushing hard the Harvest Denim Throw Pillows. It's abstract yet a bit folksy. The textile is printed with a narrative of a village scene. It also comes in black. We styled it next to the Sailor Charcoal Throw Pillow, and the dark gray stripe was perfect against the blue denim.

Before I left the house, I snapped some pics of the living room to show the team my space and what I had going on. I swear, this room has had more pillows than Taylor Swift has had boyfriends. I needed some serious help. I tried boho textiles in here, but it just wasn't jiving for me. I really wanted something with clean lines to balance out the copious amounts of rattan that seems to be entering the front door lately…BTDubs, don't bring up rattan in front of The Boy. He's slightly touchy on that subject ever since the day bed debacle. Boys, they just don't understand.

What I love about working with Unison Home, is that they'll look at what you have and suggest items based on your needs. Items that work with your home…at no extra charge. Nor will they pressure you to revamp your entire room. I can't tell you how many times I've walked into a big box store with photos of my house and asked, "What do you have that goes with this?" Many times I'm told I can meet with a designer, but that charge is extra. Unison will work with your existing look, within your budget…all you have to do is ask. This little cutie patootie is Lisa. She understood what I wanted and took the time to listen to me whine about my 99 pillow problems.  I wanted to hug her before I left.

Not everything was cookies and sweets though. There was a major problem encountered at the Unison Home store and that was staying focused. I mean yes, the pillows are absolutely gorgeous, but so is everything else! I swear, every time I turned around I was like, "I want that! I want that! And that! And that! And that too! And ooooh, look and that! Shiny!" Vases, kitchenware, bedding, oh my! See that round grid tray behind my head in the picture below…oh ya, that TOTALLY went home with me! You can see it in action here on my bar cart.


Unison Home is sharing more of my visit on their blog, so please go check that out. PLUS, next week I'll be sharing how I invited the Unison gals over to the house for a cocktail and pillow party. Let me tell you, my sofa now looks smashing. I think you're gonna love it. But until then, I'm just going to tease you with me walking out the store, bags in hand. Can you guess what treasures I walked out with?

Last Updated on January 8, 2022 by Kyla Herbes