White Kitchens Are Not Out
Last Updated on July 2, 2023
Yup, I said what I said, and it's not just because my kitchen is white. White kitchens will never go out of style; they're just not trending hard like the beige and green cabinets. So if you're about to jump into a kitchen remodel and you're wondering if you should really purchase those white kitchen cabinets, I got ya! Here are 7 white kitchen ideas that bring in the home decor trends of 2023.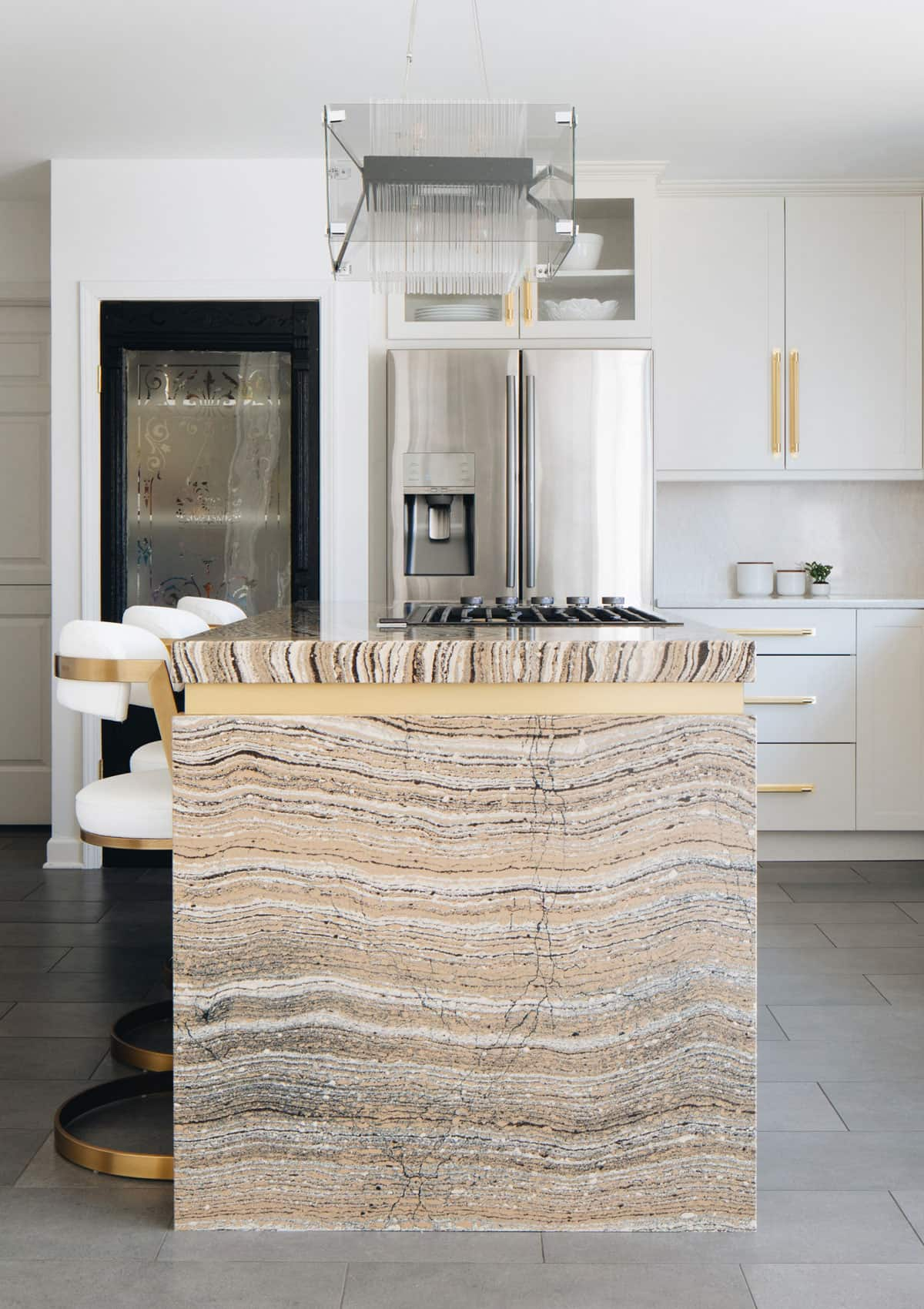 7 White Kitchen Ideas
1. Kitchen Countertops
If you're looking at new countertops and have existing white cabinets, look at quartz (which I'm partial to) in a color or mix it up with a butcher block. I stepped out of my comfort zone with Clairidge quartz from Cambria. The browns and golden veining really warmed up my space the kitchen island is now the statement piece in my all-white kitchen.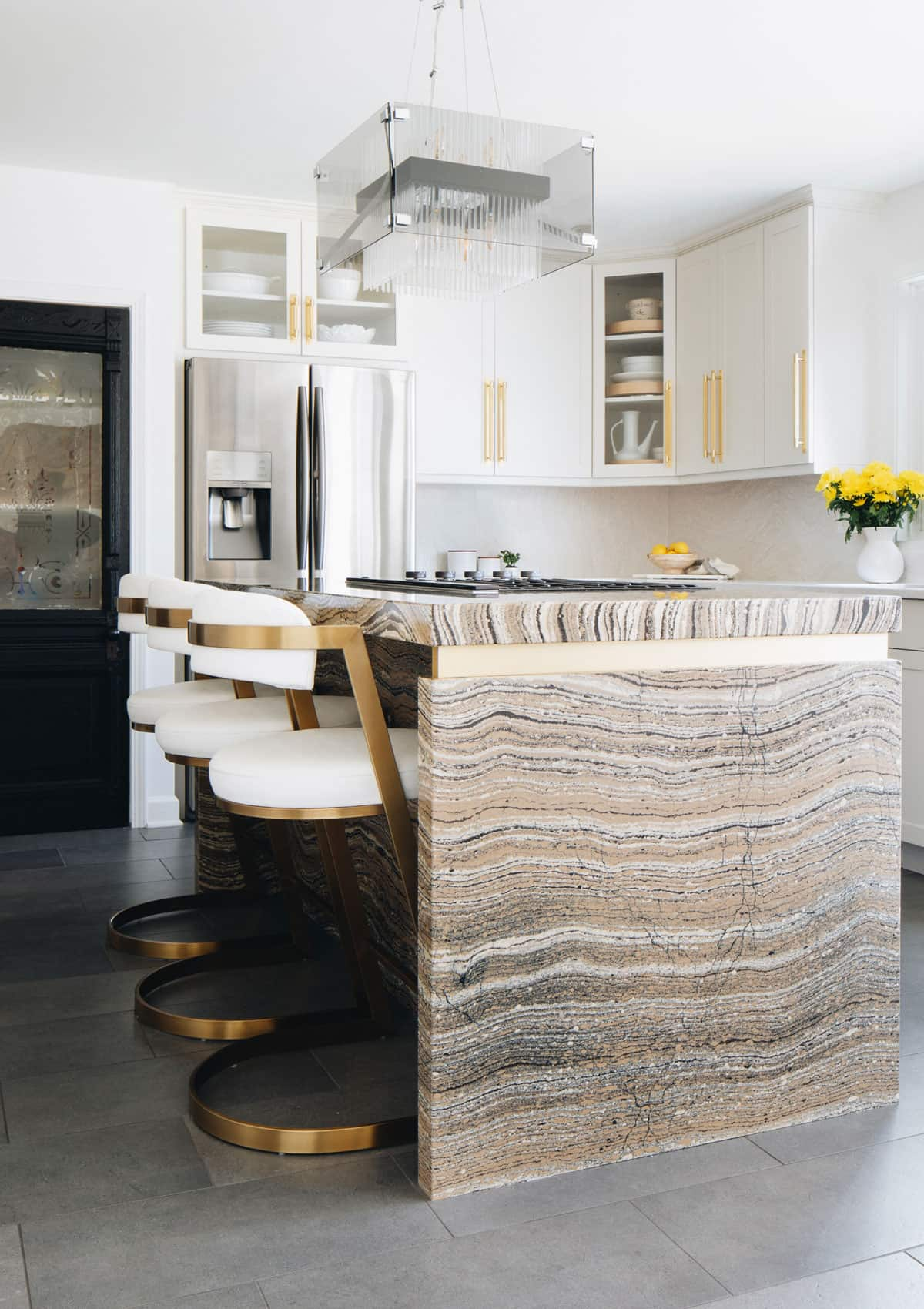 RELATED: Sharing a behind the scenes look at how we built the floating stone shelf. Take a peek!
2. Wood Elements
Wood, wood, and more wood – it was everywhere at High Point Market. To add this trend to my kitchen, I'm thinking about adding fluted wood to a wall in the kitchen. Wood brings warmth to your space and the fluted look also adds a sculptural element. Another way to add in wood is with ceiling beams. Even if they're faux wood beams, the wood will warm up your room and add an architectural element. If you want to dip a toe in the water, try layering antique cutting boards against the backsplash. The more patina and texture it will add. This is the wall I'd like to add fluting to.

3. Unique Hardware – Pulls and Knobs
One thing I'm constantly asked is, "Where did you find the brass pulls?" Buster + Punch was the only hardware company that had a backplate long enough to fully cover the existing holes in my cabinets. After an exhaustive search, we realized that unless we wanted to replace or refinish the existing cabinets, we had no choice but to purchase these. Yes cost a pretty penny, and I had to pull from my flooring budget to get them, but they really added the old razzle-dazzle to my all-white kitchen. I have zero regrets.

4. Reeded Glass In Cabinets
Reeded glass in the cabinet doors is one thing still left on the punch list for our kitchen makeover. We have 3 existing doors with rippled glass that I don't love, but I do like that you can see through to the contents inside. The reeding adds a modern element to the cabinetry and breaks up the white in the kitchen. This is also a way to add color to your kitchen without commitment. Add glasses a pop of color or wooden bowls for warmth. If you really want to get bold, wallpaper or paint the inside of your cabinets. It's a fun surprise for guests, much like my wallpapered closet.

My backlighting is turned off in the photo above, but add some LED light strips to show it off – especially if you create a fun design element.
5. Get Creative With Kitchen Tile
Tile is a great way to bring color and texture into white kitchens. You don't have to use the tile on the entire backsplash either – use a bold graphic tile over a focal point like the oven. If you already have a backsplash, think outside the box and add tile to a wall. Zellige tiles are flattened and shaped by hand, and they come in a multitude of colors. Using tiles like this will not only add color to white kitchens but also texture.
6. Add Statement Lighting In The Kitchen
If you have a white kitchen that you'd like to update but don't want to spend thousands of dollars on, look at swapping out your lighting. Lighting is the jewelry of any room, and a couple of new fixtures can jazz up a space. In my home decor trends for 2022 post, I shared that cane furniture was trending hard at High Point Market. These cane pendants (below) would be gorgeous in any white kitchen.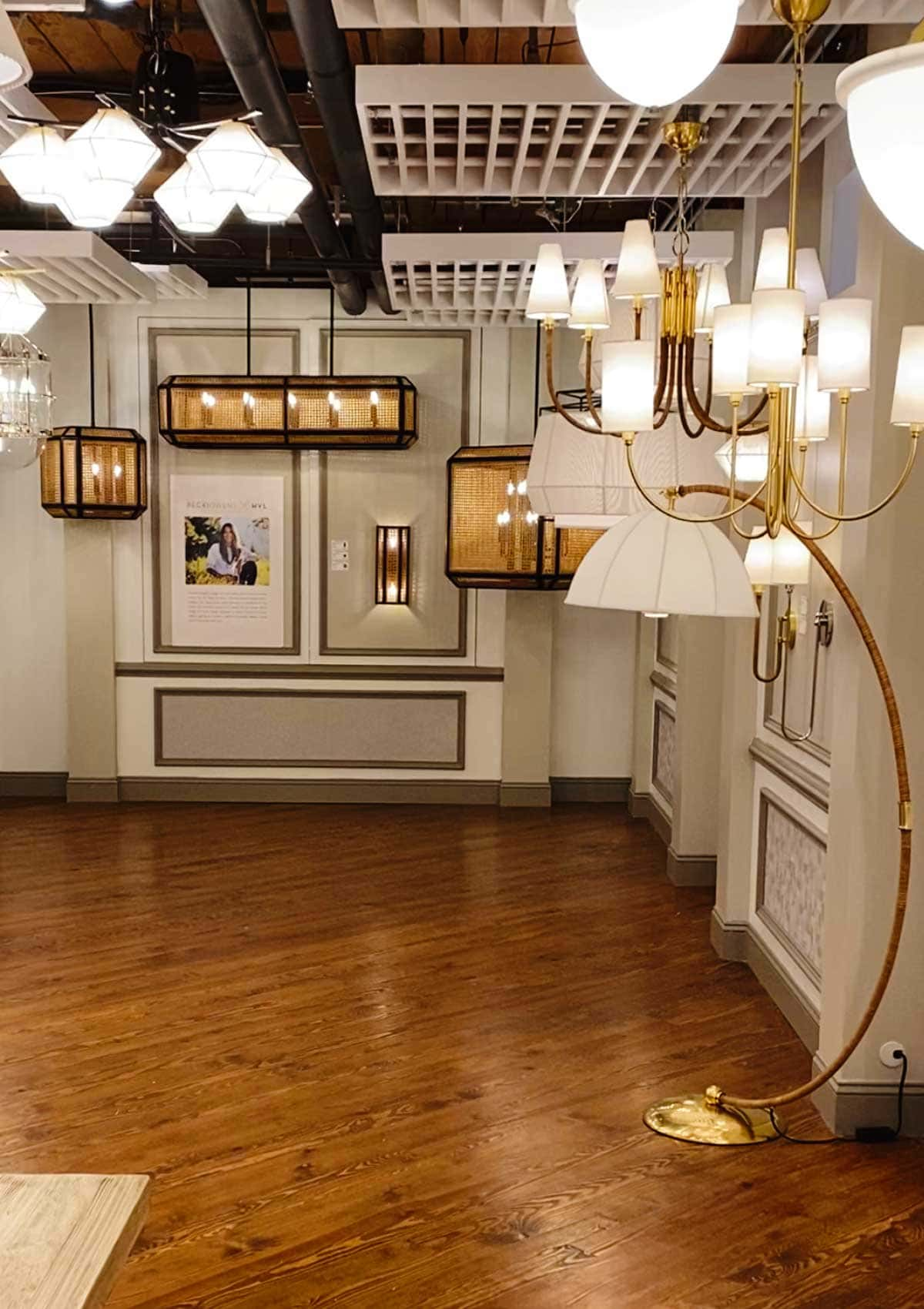 7. Paint Your Kitchen Walls
Don't ever underestimate the power of paint. Whether you're painting the walls or the cabinets, paint is a very simple and affordable way to add color to your kitchen. Originally, I wanted beige/mushroom colored cabinetry, but new cabinets were not in the budget. To stay on budget, I chose to keep my existing cabinets, but now I'm looking to add a beige color paint. This way, my white kitchen cabinets will still pop.
White Kitchens Will Always Be Timeless
Don't let anyone tell you white kitchens are out because they're never going out of style. They're classic and timeless — add too expensive to change once you're sick of the trend. Instead, think of alternative ways to update your space. Let me know in the comments if you have other ideas on how you updated your white kitchen.



Discover More Modern Home Decorating Ideas
Gearing up for another bathroom renovation in the basement, and here are the before photos and the mood board for the black and white modern design I'm looking at designing.
If you're looking for faux plants that look real, you've hit the jackpot. Sharing all of my favorites, and if you stick around, be sure to check out my roundup of faux olive trees and my most recent roundup of faux fiddle leaf fig trees.
If you want to spruce your backyard, check out this round-up of the best outdoor patio furniture.
Ever second guess yourself on what rug size to buy for a living room? Here lie the answers you desire.
Rounding up the best home decorating books – if you're looking for gift idea inspiration for a home decor obsessed loved one, this post is for you!
Learn how to marble dip mugs with nail polish in this easy DIY. They're perfect for holding a gift card or pencils.
Tour my friend Carrie's 80s modern home filled with vintage treasures in Chicago, IL.
Looking to spruce up your backyard for summer? Check out these comfortable outdoor patio furniture top picks.
You don't need a subscription to get beautiful tv art for the Samsung Frame. I've rounded up my favorite affordable downloads here.
Ever second guess yourself on what rug size to buy for a living room? Here lie the answers you desire.
Decorating With Neutrals, it's a beautiful beige world. Discover my favorite black, white, tan, taupe, and brown home decor.