My Favorite Modern Kitchens
In case you haven't noticed, I've been a pinning machine, and the one room that keeps kicking me into high gear is the kitchen. Do you know how many beautiful images there are of kitchens? White kitchens, dark kitchens, gray kitchens, marble countertops, stainless steel, brass pulls, butcher block, oh my. I mean seriously, if I had a Pinterest kitchen, I'd be Betty Freakin' Crocker! So what exactly makes a kitchen a Pinterest-worthy kitchen? Well, let's take a looksy at some of my favorite modern kitchens of 2015 and discuss.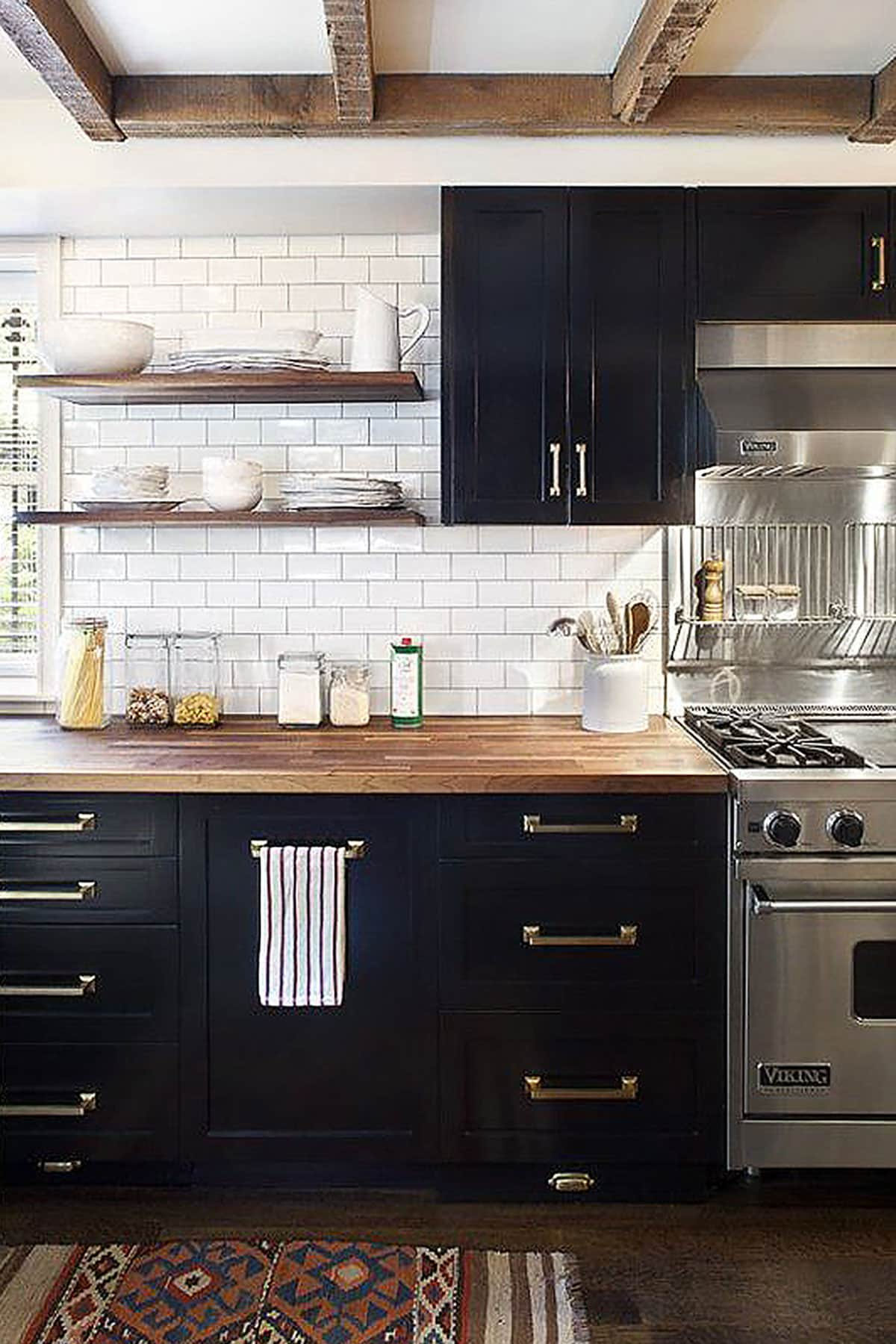 When I posted this inspiring kitchen on my Instagram, the likes went bonkers. Certifiably! This kitchen is the shizzz. The black cabinetry is ultra-modern and uber dramatic. And don't even get me started on those brass pulls. But before we go any further, can we just all pause for just a moment to bask in the glory of that killer Viking range? You have no idea what I would do for one of those bad boys in my home. Now, I'm going to be real here, I love the look of the floating shelves, but I don't think I could ever do that in my own home. The dusting would drive me batty, but here, oh it's Pinterest perfect to look at.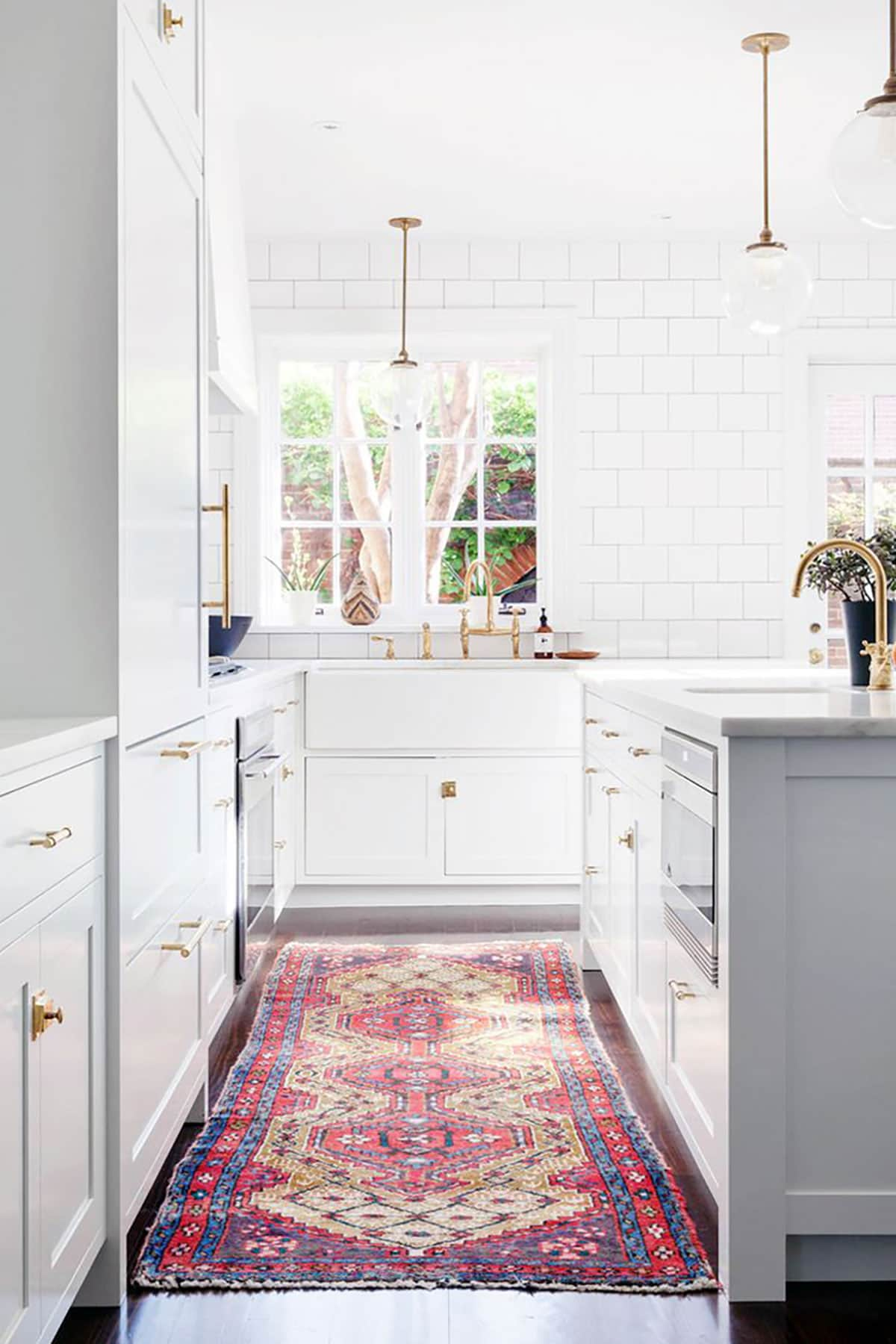 My next home will have multiple kitchens. Sorry kids, you'll have to sleep on this gorgeous vintage persian rug. Your new bedroom is actually a kitchen. #sorryimnotsorry
I never thought I'd be gaga over a white kitchen, but holy wow. Look at the size of that kitchen island. And that white apron sink with (yet another) brass faucet.

When I first saw the black cabinetry, I thought it might be too dramatic. I'm really digging the blue here and combined with the marble countertop, yup, this one here is a winner.

via Design Sponge
This kitchen caught my eye with that incredible lighting. Most of the time when I think chandelier, I think foyer. This is unexpected. The polished concrete is affordable yet chic and the floating shelves…ya, we already chatted about that, but it's so dang purdy! Layered with the vintage silver serving platters, this space is just plain old lovely. no way around it.

If you're looking for high drama, this moody number is just the ticket. Black cabinets, brass pulls, brass faucets (are you sensing a theme here), white apron sink, black subway tiles. This kitchen is a risky move, but I'm giving Catherine Kwong a virtual high five. Nailed it!

via
Homepolish totally nailed this space. Designed by Stefani Stein and photographed by the ever-talented Tessa Neustadt, this fresh, clean, white kitchen has had me drooling for days. It's just rad. And yes…brass pulls. Okay, I'm even started to laugh at myself. I have a problem. Hello, my name is Kyla, and I'm addicted to brass.

Have you had enough or are you thirsty for more? Well, either way, this is the last one. If you can't decide if you like all-white kitchens or all-black kitchens, don't fret. You can have the best of both worlds! This kitchen has a timeless look and feel to it. Depending on your styling and appliances, you could go ultra-modern, uber industrial, or throwback vintage. You decide. All it needs is brass pulls…insert monkey cover its eyes emoji.
More Home Decor Inspiration
I've rounded up the best Rattan And Cane Lighting that fits every budget. Check out the post to shop.
OMG, I painted my living room in DeNimes by Farrow & Ball, and I hate it! I feel like I'm living in a prison.
Best Of Amazon Home Decor sharing affordable decor that will fit any budget.
Last Updated on October 5, 2022 by Kyla Herbes