Demo on the kitchen is almost complete which means I better nail down my decor decisions. So how am I going to dress up this former fast flip from the previous owners? Let's dig into glam kitchen decor with final stone selects and some glammed up decor options.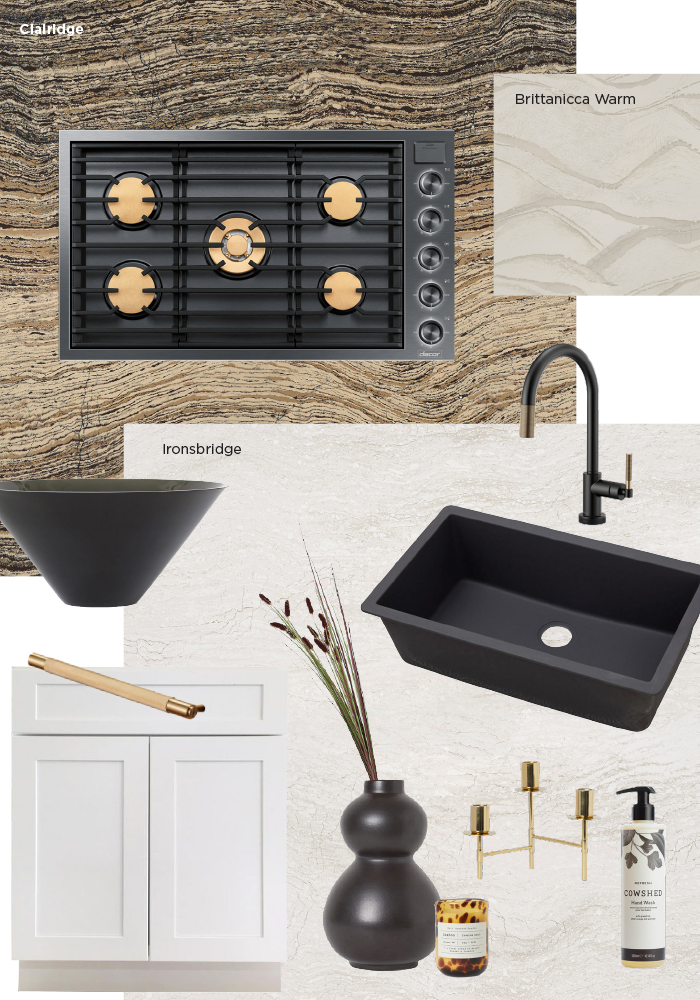 As previously mentioned, to keep this project moving and keep the cost from getting crazy, we're channeling the words "surface makeover". This is not a complete gut. The white perimeter cabinetry will remain intact, and since we've already replaced many of the appliances, we will only purchase a new cooktop. Why keep the cabinets? Mainly because what's existing is virtually brand new, so there's no justifying replacement cabinetry. But there's a nagging voice in my head. Will the difference be noticeable? Yes, the busy backsplash will be removed, but is that enough of a change?
Ever since I became a homeowner, I've dreamed of picking out my own countertops. You know when you watch HGTV and the designs walk by slab after slab after slab? I wanted that. That dream came true when Cambria invited me to tour their facility for their Design Innovation conference. I wasn't properly prepared for my love of stone. Those beautiful slabs grabbed my heart and didn't let go. In short, I traveled to Minnesota thinking, this will be fun, but I'm soooooo not planning a kitchen reno. By the end of day one, I had designed not only my dream kitchen but my neighbor's kitchen and my neighbor's neighbor's kitchen as well. #interiordesignerproblems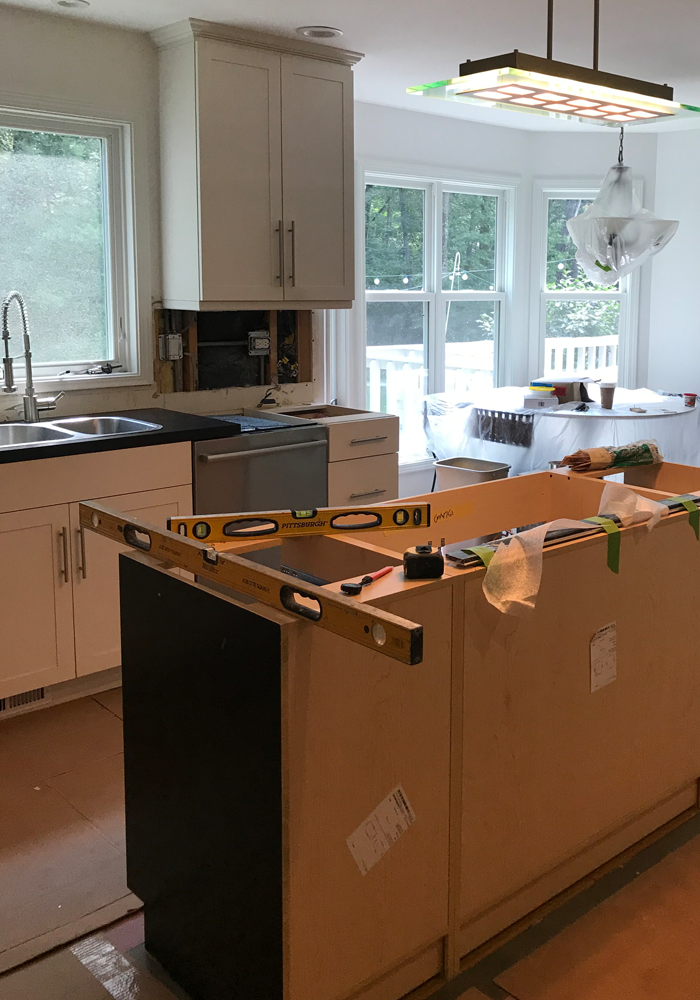 Remember that one slab in particular that our group drooled over. It was a first run, trial design, and we were all told, "You cannot photograph this slab." Waaaahhhh! Sad face. But let me tell you, that design was etched to memory. I think the heavens actually opened up and angels sang. Its soft creamy tones of ivory and browns tugged at my neutral loving heart.
Earlier this year, I again got to hang with Cambria. They invited me to speak about Pinterest at The Frances (which was also designed with Cambria). Of course, they brought along their new stone designs. I was surprised that my eye was drawn to this one — an incredibly bold, almost tiger-striped design. Now THAT would make for one heck of a kitchen island. Could I be that bold in my own home? It looks pretty flashy with that black cabinetry, but wow would it look with white?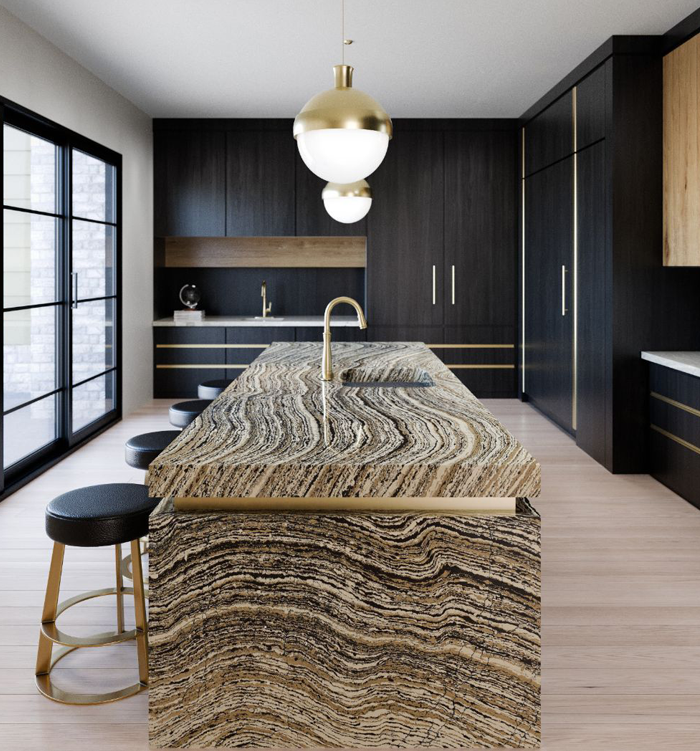 Photo and design by Cambria
When I looked up Clairidge online, there was an island shown with a brass inlay. If there was one thing that I learned at Design Innovation, it was that Cambria can create just about anything out of stone. ANYTHING. The fabrication on the island would be intense, but hot damn it would look ahhhhmazing! It would be my pièce de résistance.
However, there was a slight problem. Putting Clairidge and the super-secret slab, which became Brittanicca Warm, in the same space together might be too intense, so I started playing with other designs to tone down the shazam factor. Ironsbridge is here to save the day. Creamy, soft, and subtle. Ouala!
You might be thinking, "Kyla, you're using three different stone patterns in one room. That is a pretty bold design move." Don't fret. I've got this completely under control. If the end result looks like what's in my head, it's gonna be lit.
Where will Brittanicca Warm, my oooh la-la stone, be used? Who knows, maybe I'll clad the ceiling in quartz. Imma keep you guessing on that one for now, but here's a clue.
Also, notice the steel brackets for the floating shelf? These have been mounted into the studs, and fingers crossed they should be about to hold the hefty weight of the quartz. I've been pushing the team with all of my unique requests, and they haven't thrown their tools at me…yet.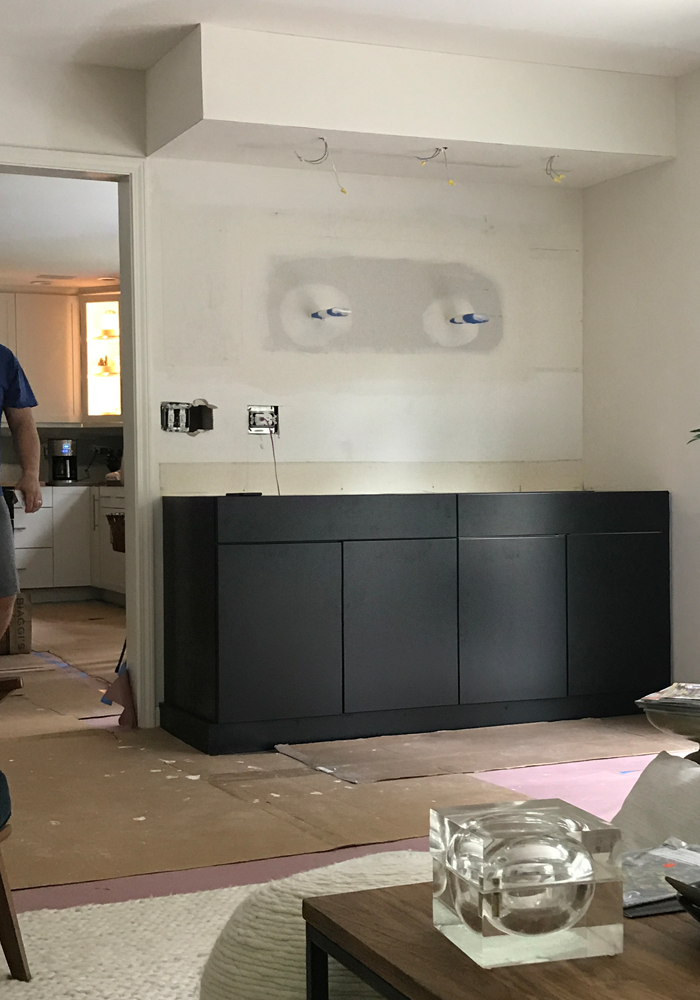 Now if you'll excuse me, I'm headed over to MGT Stone to order the slabs and schedule final measurements. Then I'm headed down south 3 hours to pick up this antique door for the pantry! I think with some elbow grease she'll clean up real good.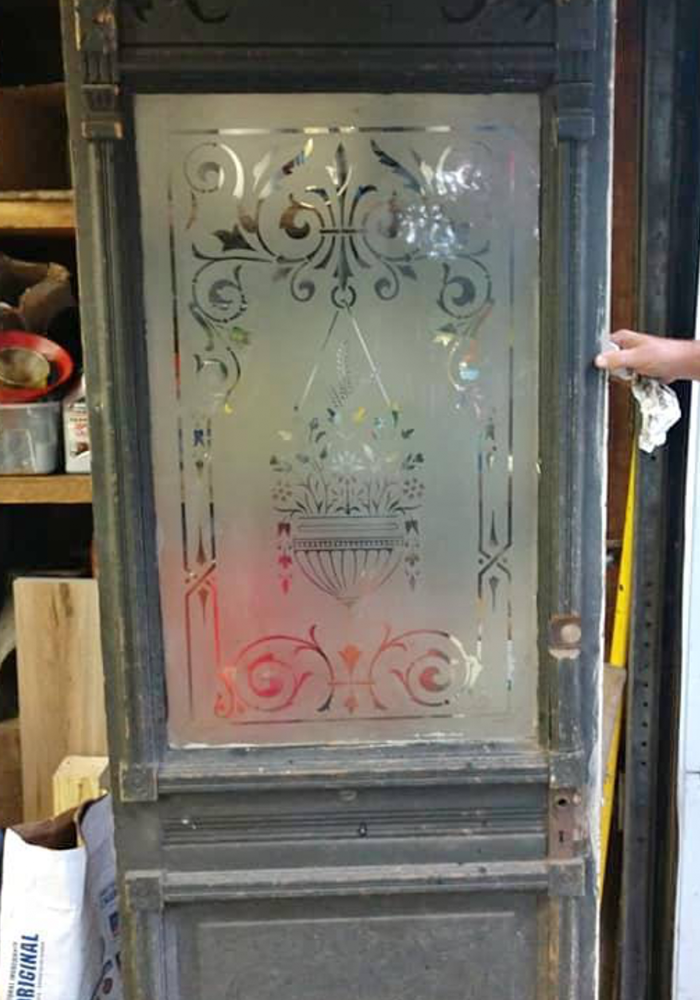 But I best drive fast because this whole surface makeover is definitely proving to be a fast-moving project. Do you think if I kick Mitch in the shin, he'll slow down a bit? Or maybe I just hide his tools.