This week was incredibly exciting. The Cambria quartz was cut and finally installed today! If you didn't catch the play by play, don't fret, it's saved to Instagram in the Kitchen Reno highlight bubble. There were a couple of sketchy moments like, how are we going to install the wet bar backsplash…oh, let's just remove the countertop with the sink and shim and raise the backsplash with crowbars. Ummm, ya, it was some serious Macgyver moves that had me holding my breath, but it looks absolutely amazing! Next up is the lighting, and lemme tell you, this was a really difficult decision! So many options. In case you're in the same design dilemma, here are 11 pendant pairing for all your kitchen island lighting desires.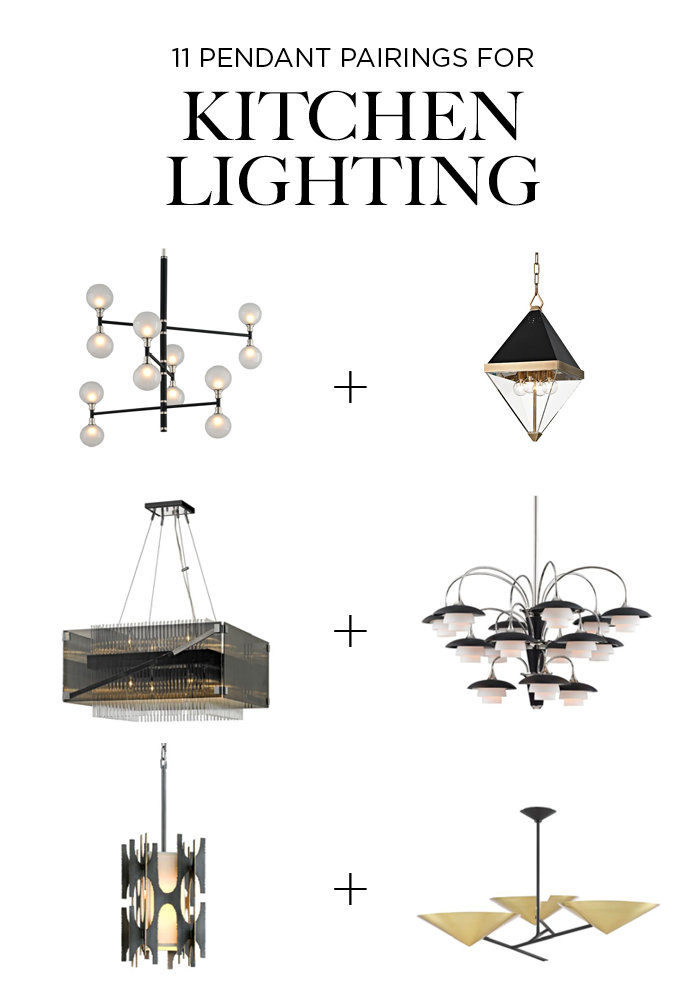 I love the idea of mixing metals. Chrome and brass never looked better.
ANDROMEDA  +  COLTRANE
This black rod chandelier with globes would look awesome over an eat-in kitchen table, and I'd pair it with a couple of these Coltrane pendant lights. 
APOLLO  +  BARRON
This is the pendant combo I chose. Final, final. I love the idea of having a full-on fancy chandelier over the island…although, I may have to nix ever cooking with grease. Totally worth it though, I mean, who likes bacon anyway? I originally was pushing for two of these, but after measuring and chatting with my contractor, we decided on one large chandie. I paired it with Barron, a Mid-Century Modern inspired beauty. The diffused lighting is incredibly beautiful in the evening.
Oh, one thing with the glass rod chandelier, if you want that smokey bronze look, be sure to purchase warm lightbulbs. If you go with more of a white/natural light, the coloration goes cooler and the chrome really stands out.
CONFIDENT  +  EQUILIBRIUM
I totally dig the brutalist look of this pendant paired with the modern cubist look of the chandelier. It has a very space-age meets MCM vibe happening.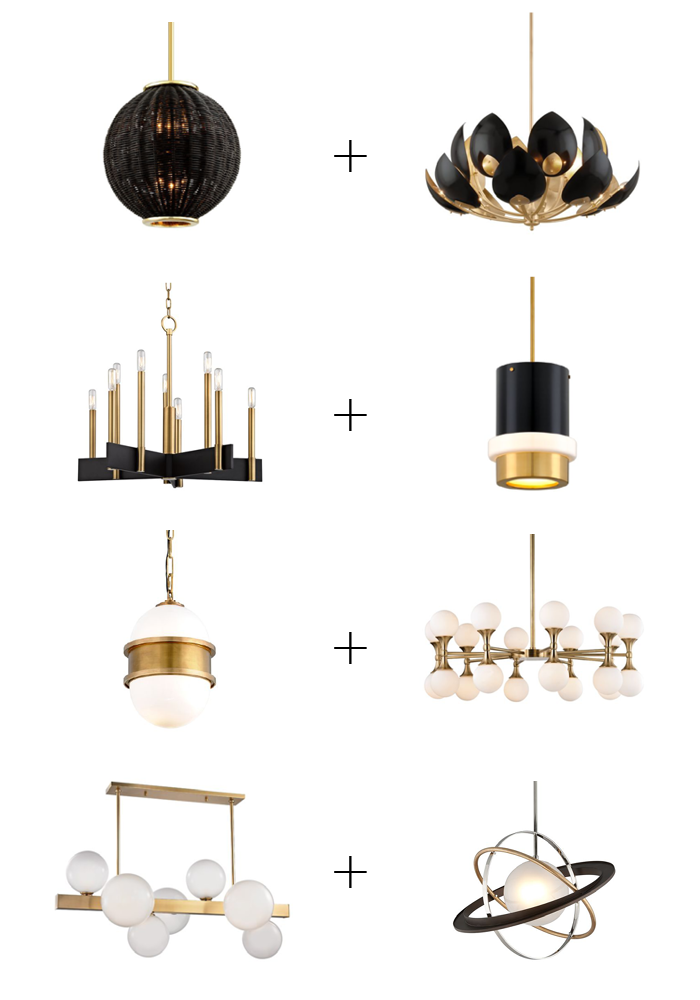 CABA CABA  +  LOTUS
While attending High Point Market, I popped into the Hudson Valley Lighting showroom and drooled. So many sparkly, shiny objects. A piece of advice, when you have made up your mind on lighting…do not go visit a lighting showroom because you will change your mind 62,917 times. Case in point, the Caba Caba and Lotus pendant pairing. Both are brand spankin' new and both are drop-dead gorgeous. Light just twinkles from the rattan weaving and Lotus…well that speaks for itself. Glam AF. Both will be in stock in a couple of months.
ABRAMS  +  BECKENHAM
I'm gaga for matte black right now and pairing it wit brass and white…clutch the pearls and hold me tight. This combo is minimalism at its best.
BROOMLEY  +  ASTORIA
If you like glam and farmhouse mix, then this is your combo right here. The classic pendant has a twist with the brass middle and the chandelier is the perfect mix of minimalism and glam.
HINSDALE  +  APOGEE
Now this one I would mix up a bit. Think about the playful globes over the island while the sphere pendant light hangs over the table. It reminds me of a mini galaxy.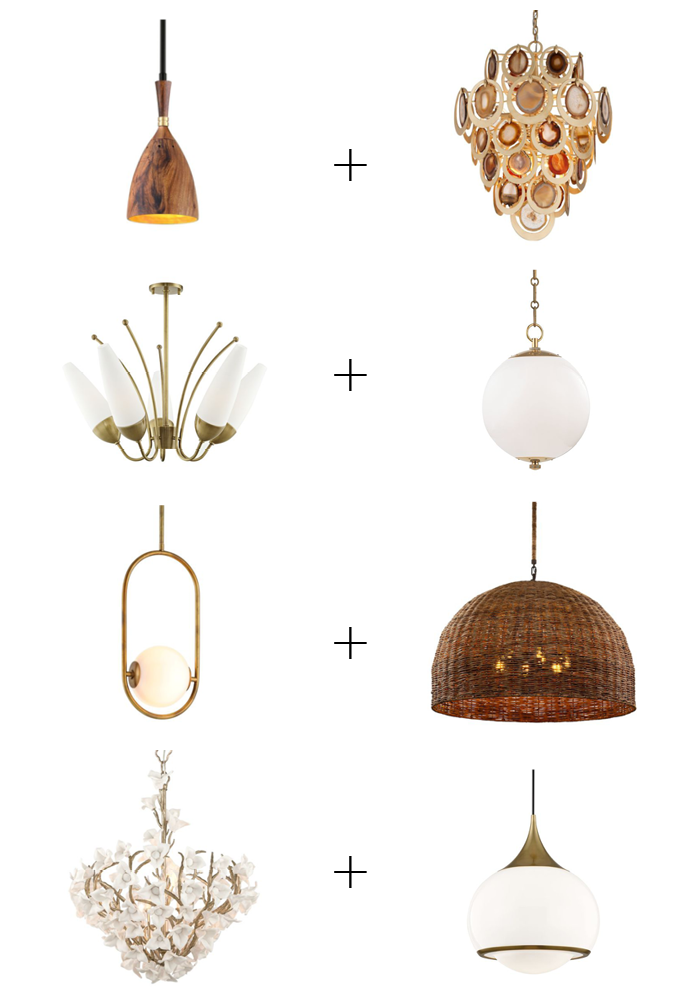 In this grouping, I warmed things up. You'll find no matte black and only warm tones.
UTOPIA  +  ROCKSTAR
This pendant pairing is like the perfect marriage of natural elements. Rockstar is made from natural agate slices, and when I first laid eyes on it, it took my breath away. Coming in at the top price in this round-up, I'd say, "it's choice…I highly recommend if you have the means."
Rockstar paired with the simplistic wood in Utopia…ya, it's a match made in heaven right here.
AMEE  +  SPHERE NO. 1
Amee screams MCM with a pinch of kitsch. Say that ten times fast. Can you even imagine how adorable this would look over a white tulip table? I can totally picture this Hollywood Regency inspired chandie in a Marilyn Monroe or Audrey Hepburn flick. Can't you? But to tone down that retro look and feel, I paired it with a classic to the max sphere pendant light. It evens out that Brady Bunch feel. Don't you think?
EVERLEY  +  HUXLEY
Huxley's woven vines remind me of the pendant light I hung in the foyer of my old house. It's the one and only thing I wish I would have kept…the realtor made me leave it. At night the light would dance around the house almost like a disco ball. It was exquisite. However, I would recommend a half chrome light bulb in a light like this if you can see under it. A plain raw bulb doesn't look as fancy.
LILY  +  REESE
This white floral pendant light has THE feminine touch. White porcelain flowers are attached to brass vines. I paired this with the Mitzi pendant light Reese which again has a very classic teardrop look to it, but it also resembles an upside-down calla lily.
Phew! That's a wrap! So now, I'm super curious to know what you have to say. Did I make the right decision? Would you have chosen another combo? Would you pair anything differently?