Home Decor Trends — High Point Part 2
Last Updated on July 26, 2023
It's been a few weeks since my trip to High Point, and I'm still designing and redesigning my home over and over and over again in my head. If you missed Day 1 of the Design Bloggers Tour, you can catch up using that link. In a nutshell, the biggest interior design trend was texture…it was everywhere, and you'll see even more of it in this post.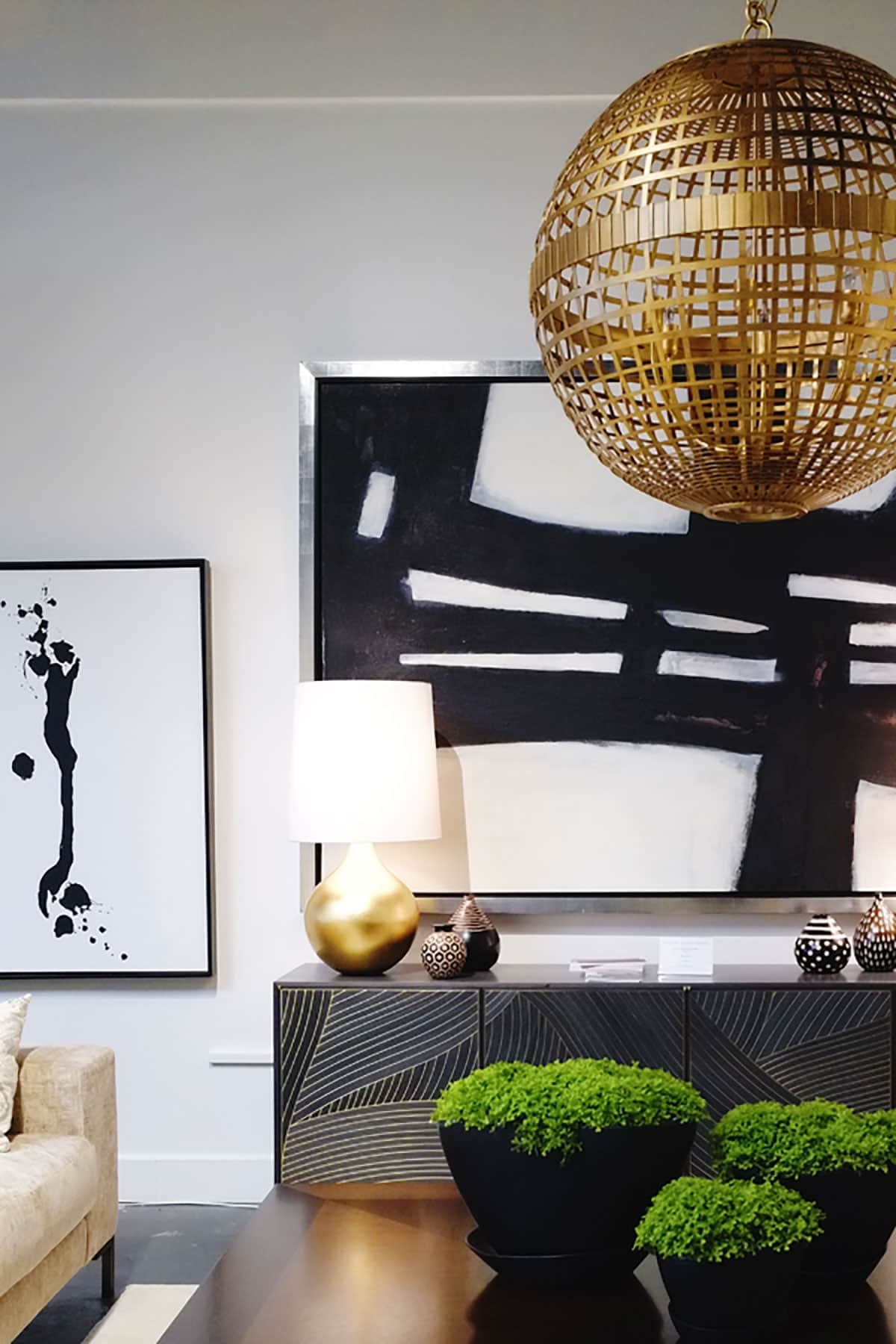 When I woke up on Day 2, I didn't think there was any way it could top Day 1…but let me tell you…when you start off the day at E.J. Victor with Kelly Wearstler…boom mic drop. Had I not been on the tour, I pretty much guarantee that I would not have stumbled upon this showroom. It's here where I fell in love with a white coffee table with beautiful brass inlay by Bethan Gray…you may know her for this little ombré number.
Now, I know it's not like we can all afford to deck out our home with pieces from Kelly Wearstler, but it was still pretty amazing to see it in person. Every table, chair, and ottoman was truly a work of art. It was also interesting to see how many of the designs were also multifunctional. Pretty genius if you ask me.

Ralph Lauren was also located in E.J. Victor and I was floored when one of the employees came up to me and said, "You're from Barrington? I'm from Long Grove!" Turns out he lives like 10 minutes from my house. Anyhoo…Ralph Lauren Home…exquisite…perfect…classic…gorgeous. The woods, the wallpaper, oh, and I found my dream china pattern…although while perusing their site, I found this tortoise shell pattern (no longer available) and I might just need two dining rooms to own them both. Gimme all the pretty things.


Perennials Social was a completely new to me brand. Remember when I talked about performance fabric in my last post? They poured red wine over the white fabric, and it came out! Holy scream face emoji! This fringy ottoman below could find its way to my home and not fear my children. We all went bananas over it.

We moseyed on over to an outdoor patio furniture showroom, Lloyd Flanders. They have a space in The Mart that my friend Kathryn of Studio Cultivate works for. She creates many of their art installations, and I was jazzed to see her work up close and personal. Lloyd Flanders is a family-owned outdoor luxury living company. My favorite collection is Tobago…it has a curvy yet clean design and is incredibly comfy. I can just imagine myself curled up in one of these chairs, enjoying a warm cup of coffee under a blankie.


After hanging out in an entirely too comfortable porch swing, it was time to head over to Littman Brands. You may know them better as Hudson Valley Lighting, Corbett Lighting, Troy Lighting, and Mitzi. Not even one foot in the door, I beelined to these lamps. The poor greeters at the were like, welcome to…and here's me, girl on a mission, can't talk, shiny things.

But can you blame me? Holy Hannah! These table lamps have been molded from real crocodile skin…hello texture! They're called the Keita lamp and were designed by Corey Damen Jenkins, who I was pretty much in awe of meeting. FYI, these lamps are very reasonably priced. The Bowdin table lamp also caught my eye.

Since Littman Brands has four lines to display, the showroom is enormous. The Corbett Lighting line stopped me in my tracks. I walked through wide-eyed and mystified. We're talking next-level chandeliers. If you were watching my Stories on Instagram, you might have caught a glimpse of Dolcetti…it's a stunner. Here are a few others that caught my eye.


Troy Lighting feels a bit more modern to me with maybe an industrial edge? We are presently looking for exterior lighting, so I personally spent more time in this part of the showroom. I was drawn to a couple of incredibly unique sconces; one was called Rexford and the other Magellan, but they may be too modern for my traditional exterior. That's why Smyth also is in the running. It has a fun modern twist on the traditional lantern sconce.

Mitzi has a much younger look to its designs. I'd call it contemporary with a nod to Mid-Century Modern. BTDubs, they have a pink lantern sconce that is too cute and would match my pink front door. If you can't tell, I'm lighting crazy over here.
Okay, let's talk performance fabric. Much of the upholstery in Rowe, Thomasville, Henredon, Drexel, and Rene Cazares showrooms was made with Crypton Fabric, and they gave us a little demo of what to do when you spill on a sofa. First and foremost, DO NOT RUB OR SCRUB! Blot was definitely the keyword. Do not use cleaners. Soap and warm water are your friend.

This woman poured red wine all over the white fabric, and then she let it soak in. She even rubbed it in with her fingers. Warm soapy water took it right out. Let me tell you, if I buy any new furniture in the future, it will be upholstered with performance fabric. Having two small children and light-colored furniture…it's key.

A few more showrooms to go…are you still with me? (I know, this is kinda like touring Europe in 2 days, but bear with me.)
If you're a furniture fan, then you may be familiar with Century. They are an industry design leader and have been around since the 1940s. It's here that I found my dream chair. Behold…


And I met Thomas O'Brien, AND I fell in love with his bench. Also, I tried stuffing this console table in my purse, but it didn't fit.
After visiting Century, we also managed to squeak in 10 minutes at Highland House. This settee stole the show and my heart.

Highland House was also a new to me brand, and I'm smitten with its look. Girlie, whimsical, contemporary…it was just pure fun! In fact, it felt more like fashion than furniture to me.

Rowe was up next, and by this time…let's be honest…we were all getting a little worn out from the last 48 hours. Little did I know, the Rowe showroom was about to become my favorite part of the tour. To start it off, I found out my girl Rachel of Pencil Shavings had put together a few rooms for #myrowedesign. She has great style, so I knew her spaces would be amazing…she didn't disappoint! Check out that pink sofa!

After wandering around, we all made our way to what might possibly be the comfiest sofa on the planet.

While we were hanging out and catching our second wind, we started chatting with this really cool guy named Bob. Come to find out, Bob was Bob Choppa…the president of Rowe. We had about 5 minutes left at the showroom, and Bob says, hey, wanna see the war room? Ummmmmm yes please!

We walked all the way to the back of the showroom, and Bob shared with us a space that was pretty magical. A space full of inspiration and creativity that reenergized us all. Fabric swatches upon fabric swatches were piled onto tables. A choice few pinned to the wall. This was a glimpse into what made High Point tick. It was fascinating to see.

Okay long haulers…you made it thru to the final stop…Modern History. This is where I found my dream credenza…remember that black and white graphic chair up there? How would it look next to this bad boy?

I know, I know, it's hard to see at this angle, and it's not on the website yet because it's a prototype. A recreation of a vintage Christian Dior piece. Everything about it was amazing, and I'm pretty sure I left drool marks all over it.


Can we just state for the record that Modern History makes sexy credenzas? I could handle my television over this PYT.

I'm also digging this cute little tulip table with the rope-like detailing…again…texture!!! It's a fun take on a classic piece.
Phew! You made it! Now I know I've thrown a lot at you, but I'm going to try and throw one more High Point post together showcasing my absolute favorite pieces, and I promise to make it shorter than this novel of a post. Hope you all had a fabulous Mother's Day weekend, and stay tuned for a new fun post coming tomorrow! TTFN!


Discover Interior Design Trends
Take another tour of High Point Furniture Market with me.
These are my favorite home decorating books of 2023.
Check out the latest interior design trends that I'm loving.
I put together some mood board designs for a modern living room. you should steal them.
I'm obsessed with decorative boxes with lids. Here are my favorites.