27 Best Decorative Boxes
When it comes to coffee table decor and styling bookshelves, decorative boxes are my secret weapon. Home decor that serves a purpose? Sign me up! Not only are decorative boxes pretty to look at, but they also keep my surfaces organized and clutter-free. I took notice of boxes when I first visited the Made Goods showroom. I cannot afford that particular brand, it's like the Gucci of home decor, but gawd it's beautiful to look at. My first impression of decorative boxes was, "These are so pretty, but what the heck would I store in them?" Believe me when I say I found all the things. Open my boxes, and you'll find everything from remotes to coasters to pens to hair ties…oh, and one contains a bunch of antique glass eyes. Lessons are learned if you're a guest snooping around my decor. After searching high and low, here are the best decorative boxes I could find.
Best Decorative Boxes With Lids
They come in every shape, size, color, and style. Here are a few of my favorites.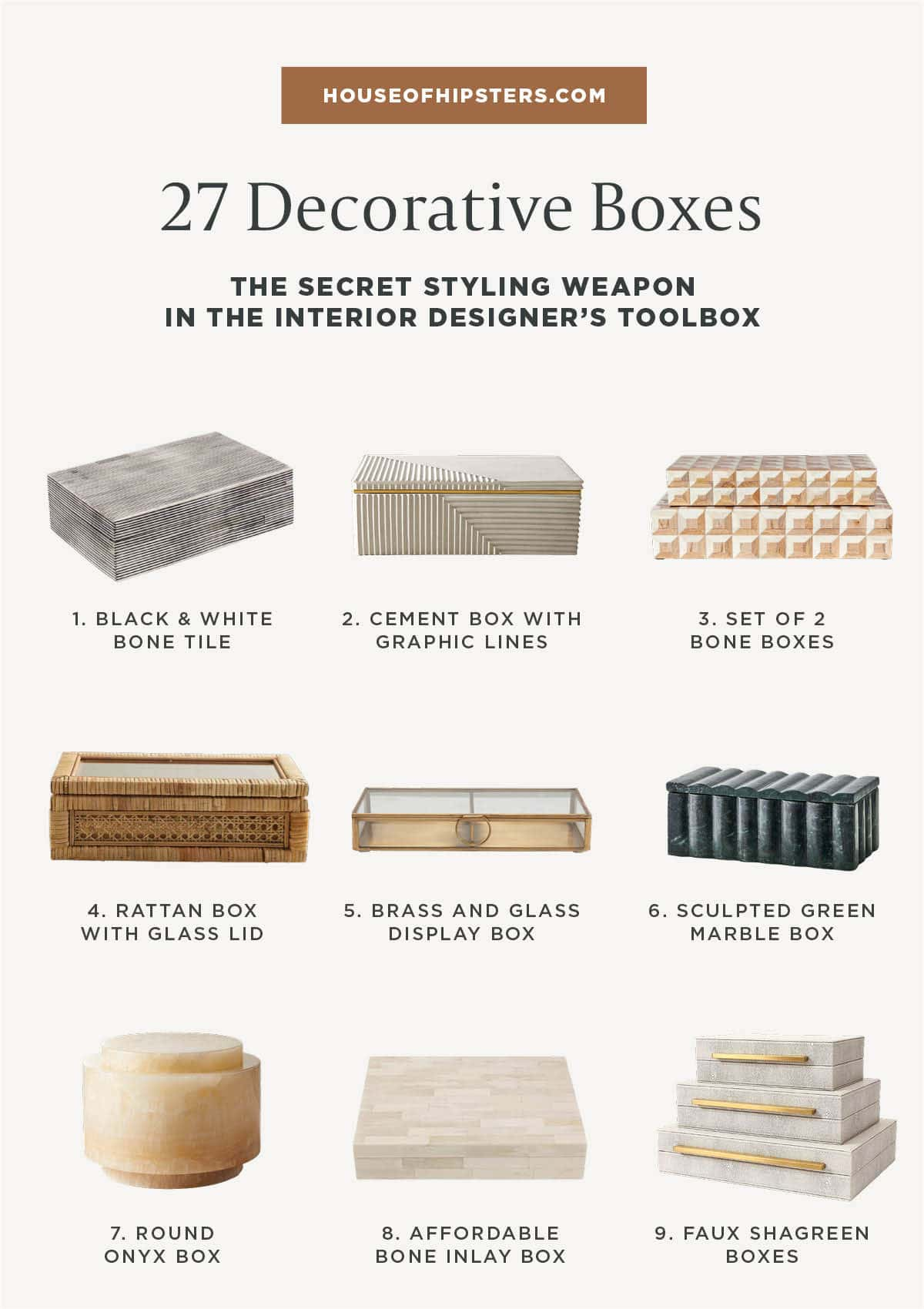 Best Decorative Boxes For Organization
If you have to store something in plain sight, it might as well look beautiful, am I right? Oh, and you can DIY these. All you need is a cardboard box or shoe box and gift wrap. By changing the color and appearance, you just leveled up your decor. You can also wrap your cardboard box in felt and add some leather straps or a fun little tassel with a hot glue gun. If you want to add custom labels, check out Cricut machines. I'm constantly playing around with mine. If you don't want to make your own, here are a few decorative storage boxes you can buy online, and I'm gonna lump baskets in with these boxes as well. My blog, my rules, right?



I love the look of these leather storage bins. They are the perfect size for wrangling all the throws I'm pulling out for fall.

Give Decorative Boxes As A Gift
Gotta a friend who just bought a new home, and you're looking for the perfect hostess gift? Yes, a candle or bottle of wine is a perfectly acceptable gift, but think outside the box…or wait…maybe just think of a box? Giving a decorative box for a gift is a unique idea, and they come in every shape, color, and style. Fill it with your friend's favorite candy, gift card, or maybe just gift them the box.
Look For Vintage Decorative Boxes At Estate Sales
Pretty much every estate sale I attend I come home with a decorative box, so I giggled when Gillian Brice recently posted on Instagram talking about "box wars."
What's box wars? She and another dealer spend months stocking up on vintage decorative boxes and compete to see who can source the most to sell at 214 Modern in High Point. Why do they do this? Because decorative boxes are the first decor item to sell out. They truly are the interior designer's secret weapon when styling a room. If you shop estate sales or vintage shops, you know what to keep your eyes peeled for now.
Discover More Home Decor Inspiration
Holy moly! I was chosen to be one of the One Room Challenge Featured Designers! I'm gearing up to give my home office a makeover, and I'm also going to create a space for a home gym!
I attended High Point Furniture Market to check out all the new furniture that would be debuting. Here are the interior design trends to look for this year.
Looking to decorate on a budget? Check out these clever ideas.
Wanna make your home look expensive when you don't have the luxury of a high budget? Try this!
If you're looking to replace your ceiling lights, here are a few boob light alternatives.
Bobby Berk told me he has always invested in quality bedding. Here's the ultimate guide to the best sheets and bedding.