Meet Anita Of Rodina Botanicals
Last Updated on September 19, 2023
When I joined the business women's group here in Barrington, I met Anita of Rodina Botanicals. She's the modern herbalist who's created a local buzz with her clean skincare line. Anita's small-batch handmade products are made with local ingredients, including beeswax, herbs, and oils. After hearing her story, I knew she needed to be featured in the Makers & Shakers series. If you've missed these posts, check out my morning spent with coffee roaster extraordinaire Solace Creek and the story of a rug collector.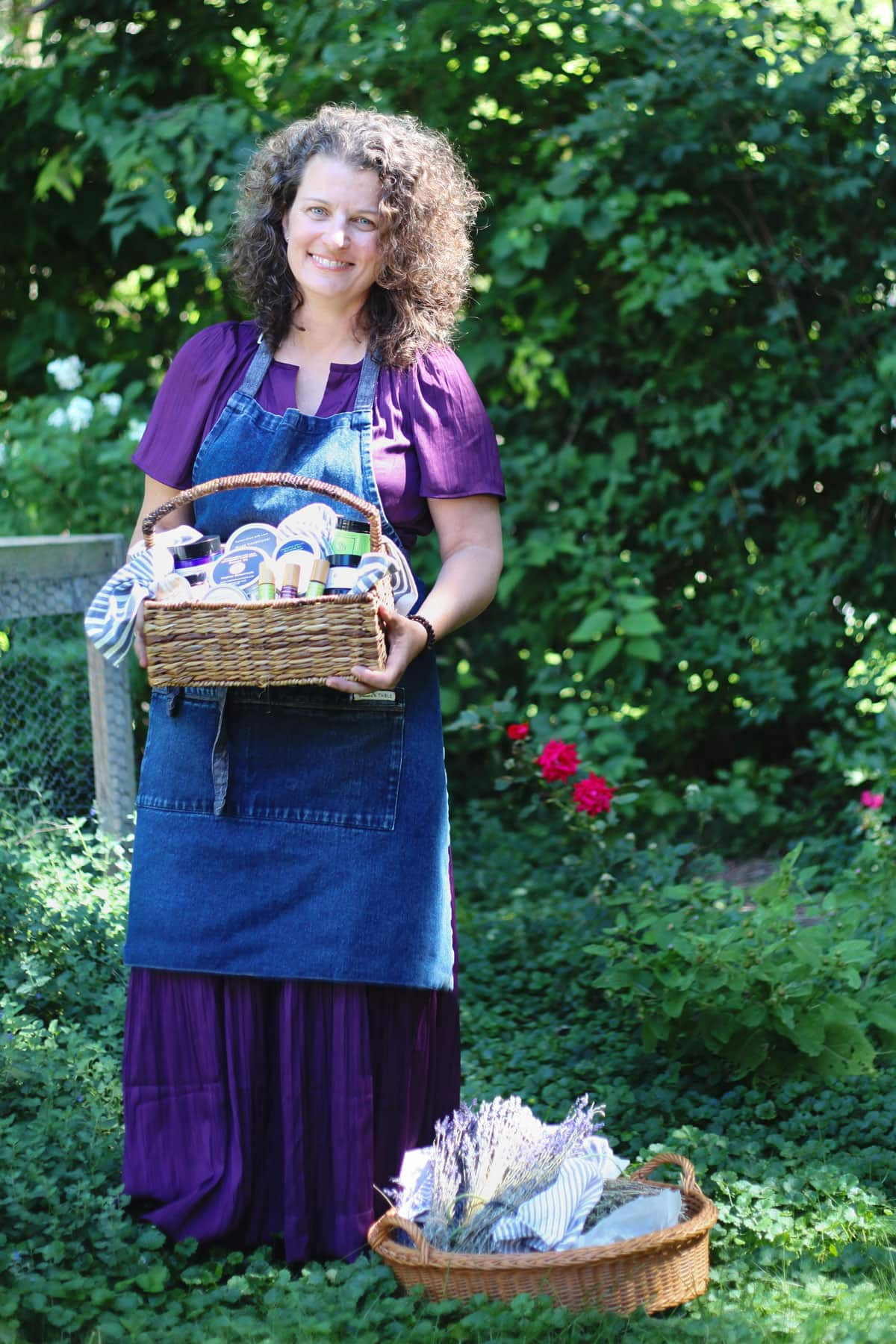 Meet Anita, Modern Herbalist & Creator Of Rodina Botanicals
Kyla: Welcome to the blog Anita! I'm so excited to have you here. Can you tell me a bit about how and when this adventure began?
Anita: Excited and grateful to be here. Thank you for having me. Honestly, I do not even remember when my life-long love affair with herbs, botany, and gardening started. I spent my childhood summers in both my grandmas's gardens and kitchens, and I grew up with my family always turning first to natural remedies. So, when my husband and I started our own family, the first line of defense anytime we got sick with a common cold, sore throat, etc., would be either herbal and/or Ayurvedic remedies. I recognize that herbalism is sometimes associated with lotions and potions. There is certainly some of that, but with modern herbalism, there is plenty of science as well.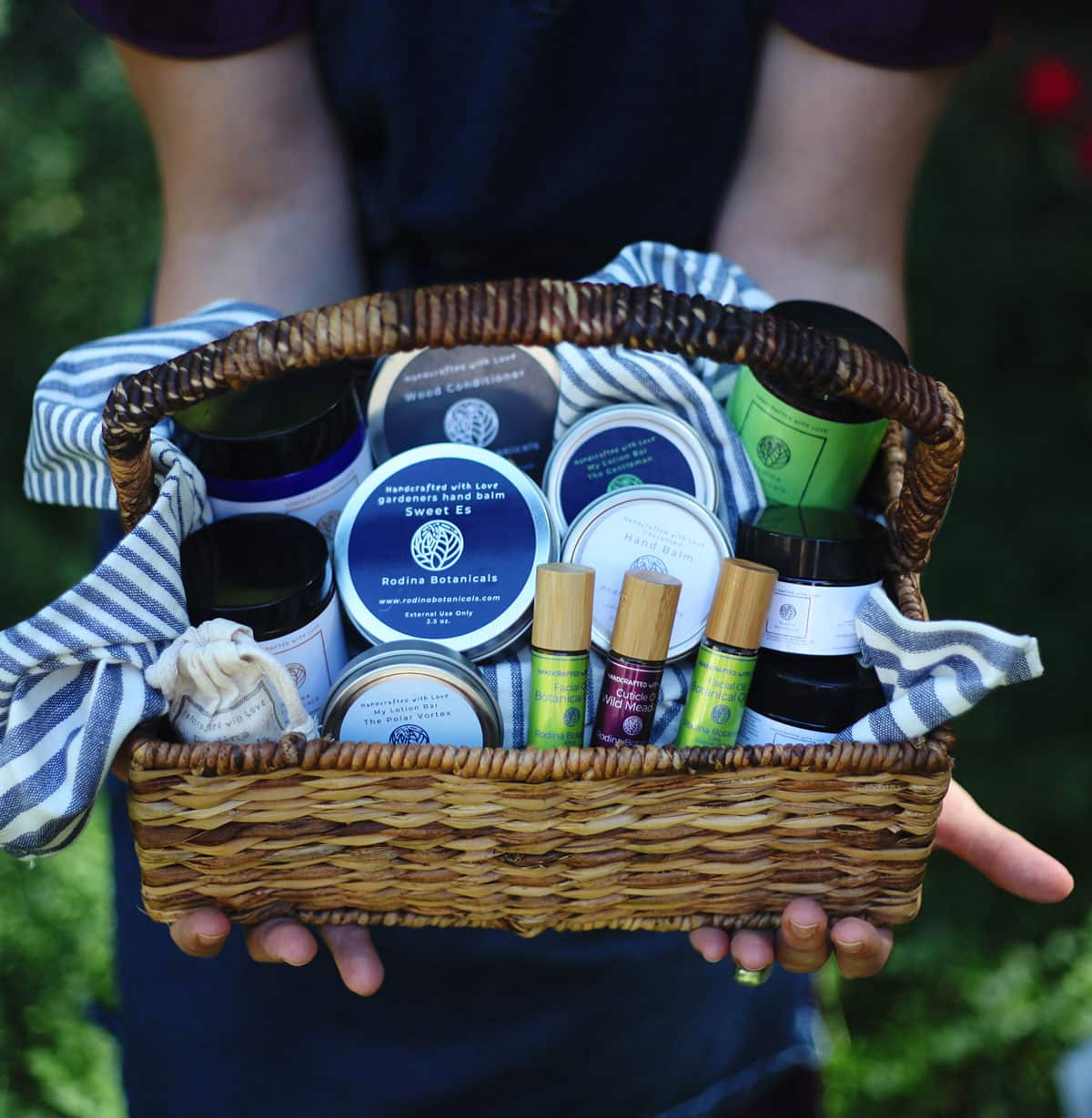 Rodina Botanicals started exactly 3 summers ago when I picked up our two boys from their summer camp. They were peppered with mosquito bites, head to toe. I looked for a natural, clean product on the market to help soothe and calm the itching but to no avail. I became determined to find a solution. After countless hours of research, plenty of trials and errors, and extra gray hair or two that summer, I eventually developed the first version of our current Post Mosquito Bite Salve.
Kyla: Last weekend, I received a few bites around the ankles and tested the salve myself. Storing it in the refrigerator per your suggestion gave it that extra soothing effect. Thanks for sharing that secret with me. And as someone who has a nasty reaction to mosquito bites — literally have scars to prove it — I was pleasantly surprised that the itch time was shortened! What would normally last over a week lasted only 2-3 days.
Can you tell me how you came up with the name Rodina Botanicals?
Anita: All our products are the result of our immediate family or our friends, many like family to us, looking for natural solutions to their skin concerns. "Rodina" means family in my native language, Slovak. It just made sense to incorporate the word into our company's name. Since we as a family love nature and work with different plants, herbs, etc., our two boys suggested we also add Botanicals.
Locally Sourced Ingredients For Small Batch Clean Skincare
Kyla: I love that you source your ingredients locally. Why did you choose to use clean ingredients?
Anita: Yes, we look to source locally as much as possible. Currently, it is our beeswax that we source locally and some herbs. As we continue to grow our product line and company, we look for local partners that share similar values regarding sustainability and the environment. Their ingredients are USDA organic certified. All our products are made, and we source everything from within the United States, including our environmentally friendly packaging.
LESS is MORE! is our company's motto, both as far as how many ingredients are in each of our products and product application. Our products do not contain any fillers and only use high-quality organic and simple ingredients, and tend to be rich in nature, especially our body butters, balms, and MYLotionBars. I suggest that folks start with about 20 percent of what they typically use when applying conventional products. Most of our products currently DO contain tree nuts.
Kyla: I noticed that! When using the salve and cuticle oil, just a little product goes a long way.
The Benefits Of Using Clean Skincare
Anita: Our family uses all our products, so of course, I want only the best for them. I was diagnosed with an autoimmune disease over 2 decades ago. As such, I must be careful what I apply to my skin as we are not only what we eat and think but also what we apply daily to our skin. There are a myriad of endocrine and environmental disruptors around us, so if I can help to mitigate my family's, my, and now our clients' exposure to them, that's exactly what I will do.
My life's mission is to help educate folks, including our clients and their families, about the importance of using products with clean and natural ingredients whether they decide to use our products or someone else's. If I could get people to turn that jar, tin, or bottle around, pay closer attention to what is in the product, and make educated decisions, I did my job.

Kyla: What inspired your next product after you created the mosquito bite salve?
Anita: After I developed the post mosquito bite salve, it was almost 1-1/2 years later that Rodina Botanicals was born, and we launched our website. After I created the salve, I had no intention of creating a company and gave the salve as a gift to our friends and family. I was simply happy that it was helping our family and friends. Once our friends heard that I enjoyed developing natural products, they approached me, asking if I could help them with various skin issues. The inspiration for our next product was not so pleasant either. It was hair full of head lice, so our natural lice treatment was born.
Kyla: Oh, we had that at our home too. Zoe was in Kindergarten, and the entire class just kept passing it back and forth to each other. Literally the worst.
Anita: Closely followed was our first double whipped body butter I developed for a dear friend who complained about dry legs. It took close to one year of development and testing until I got the formula to the point that I was happy with it.
Kyla: I will need that when the cold, dry air hits us in a couple of months.
Let's Talk About Beard Oil
The Boy has had facial hair for as long as I've known him and loves a good beard oil. You have created 3 different beard oil blends. Can you share the differences between them?
Anita: They differ in their respective essential oil blends. The Woodsman has a very earthy and woodsy undertone. The Gentleman has a very subtle yet classy scent of clary sage and sandalwood that is more unisex, while the Polar Vortex provides you with a sense of warmth plus a balanced medley of lavender, rosemary, and clary sage. Additionally, compared to the other two, Polar Vortex is a richer oil blend formulated for colder months and someone with more coarse hair.
What all three have in common, though, is that they are all designed for sensitive skin while none of the scents are overpowering. We designed our beard oils to provide nourishment to hair and skin all year round and assist with any beard dandruff.
A friend of mine approached me on Christmas before we launched our website, asking if I could make clean beard oil. At the time, beard oil was not on top of my list of products, but I texted her back that I would be up for a challenge. After a few months of research, creating numerous versions, and lots of back and forth with our initial group of willing test subjects, including my husband, the three beard oils were created. During testing, we also asked for input from the test subjects' partners to ensure that it was a win-win all around. Like our other products, we also offer an unscented version of the beard oil, Pure and Simple, for those gentlemen that prefer a more neutral scent.
What's Your Favorite Rodina Botanicals Product?
Kyla: Everyone in our women in business group raves about your Wild Meadows Cuticle Oil. It happens to be not only the first Rodina Botanical product I tried but also quite possibly my favorite. No hangnails for this gal. But I'd love to know if you have a favorite product and why.

Anita: I am so happy to hear that you, the ladies from our Barrington business group, and many of our clients truly enjoy our cuticle oil. As far as my favorite, I love them all for different reasons, as all our products are my own formulas, and I still create them in small batches. During the summer months, we use the Post Mosquito Bite Salve the most as we are outdoors a lot. It would be MyLotionBars (Wild Meadows) come autumn since my hands get very dry. Our two unscented double whipped body butters would be my favorites in the winter months. But being the klutz that I am, I always keep our Botanical Goodness (calendula infused) balm for scrapes, cuts, burns, and sunburns in all our first aid kits, including at home and in my car.
Kyla: What is the best-selling Rodina Botanicals product? The one that flies off the shelves as soon as it is restocked?
Anita: Post Mosquito Bite Salve in summer months. Both of our double whipped body butters in winter and your favorite, the Wild Meadows Cuticle Oil, rest of the year.
How To Use Facial Oil
Kyla: Let's talk about your facial oil. With the double cleanse becoming more popular, can you use this oil as such, or is it more of a moisturizer? Also when I first thought of putting oil on my face, I thought of breakouts. How should someone use this product?
Anita: Botanical Glow is a facial oil, so think of it as more like a facial serum rather than a double cleanser. I formulated it about 2 years ago to hydrate my extremely sensitive, dry, and maturing skin and help combat any occasional breakouts, especially around certain times of the month. I know using oil on your face might sound like one is asking for trouble in the form of additional breakouts. However, using the right blend of non-comedogenic oils can help balance and brighten your complexion.
RELATED: Learn my AM skincare routine for women over 40.
I personally use oil cleansing with non-comedogenic oils, an alternative way to cleanse my face to the more common and traditional approach of washing my face with soap. Once my skin is clean, I apply one or two drops of our facial oil, depending on the condition of my skin, and massage it gently into the skin on my face and neck. I usually apply it in the morning as I use another Rodina Botanicals product before bedtime.
Kyla: Wait wut? There's a nighttime product? Why haven't I seen this?
Anita: It was just released! It is the Botanical Glow night cream. I have used it for 2 years, and we have completed our final testing stage. Big thank you to our amazing test group, which is never shy to provide constructive feedback. We are incredibly grateful for them.

Kyla: Oooooh! I can't wait to try that one. Also, for anyone looking for a DIY facial, check out Anita's 5 easy steps.
What's Next for Rodina Botanicals?
Kyla: With your talents in modern herbalism, Ayurveda, and aromatherapy, what can we expect to see next from Rodina Botanicals?
Anita: We at Rodina Botanicals like to help our clients and their families to live their best lives without them being bothered and distracted by skin concerns, whether mosquito bites, eczema, irritated skin, dry cuticles, etc. I like to keep an open mind and see what our clients share with us that they need next. A few new products are already in the queue for release. I would like to bring our community of existing clients together, continue to grow our business locally while helping our community, and take Rodina Botanicals to the next level.
Rapid Fire Questions
Before we wrap up this post, I like to end these interviews with fun, rapid-fire questions. Are you ready? Let's go!
What's your favorite band? Do I have to pick only one? That's a tough one, but it honestly depends on my mood. When working on new products, one of my top three is always playing in the background: The Rolling Stones, U2, and the Gypsy Kings.
Favorite color? My mood sets the tone of what color I gravitate toward any given day and season. I never really follow fashion trends as I like to do my own thing. Navy blue is my black. In autumn and winter, I like to wear earthy tones and especially enjoy wearing burgundy, while in summer and spring, it tends to be the lighter colors. When I create new product formulas and pour new products, I always wear light, happy colors such as light lavender, sunny, mellow yellow, or simply white.
Favorite food? Again, it all depends on the season. In our family, all four of us love to cook. We tend to set our menu around what is in season. I enjoy healthy, well-balanced yet simple dishes from around the world with fresh, preferably home-grown ingredients where you can smell the sunshine and taste the richness of the earth in the dish. And, of course, incorporating fresh or dry herbs is a MUST in any of my favorite dishes.
First car you ever owned. It was a navy-blue Honda Civic.
One item you'd take with you to a deserted island. That's a tough one. Hmm, assuming that I had access to drinking water and the basic survival essentials already, it would be a good book.
When it comes to toilet paper, are you over the roll or under the roll? I am not particular about either as this is not a battle worth getting into… as long as the last person replaces the roll once the roll runs out of paper.
LOL, I hear ya.
Right or lefty? Yet again, it depends on what I am doing. Can you tell I have an economics and underwriting background? In both fields, one pre-qualifies their responses with either "Ceteris paribus" (with other conditions remaining the same) plus clearly outlines the working basic assumptions or for underwriters, "It all depends." I guess I cannot shake those old habits as even though I am in a creative field now, some habits simply stick around.
I am technically a "righty" but like to challenge my brain, so I intentionally use both hands as much as I can. I garden, type, cook, draw, and iron with both hands.




Find For More Beauty Tips and Eclectic Home Decor Ideas House Of Hipsters
Your guide to vintage shopping in Chicago.
Like faux plants? Check out the ultimate round-up of faux fiddle leaf fig trees or this guide to the best faux olive trees.
The story about how I completely freaked out during my first mammogram.
Ever wonder about acupuncture? I shared my first acupuncture session experience here.
My skin is maturing, and this is the best AM skincare routine for women over 40 and my favorite skincare products I use every day.