Fall Fashion Trends 2023 – Items I'm Coveting
Last Updated on September 27, 2023
Ever since I bought that heart sweater, the latest fall fashion trends have been added to my cart. A new quilted bomber jacket, chunky gold hoop earrings, a denim blazer, and a dupe for that gorgeous gold Tiffany's chain necklace. My wallet is slightly paying for it…literally. But my wardrobe needed a refresh in a big way. So, today, I thought I'd share the fall trends I love for 2023.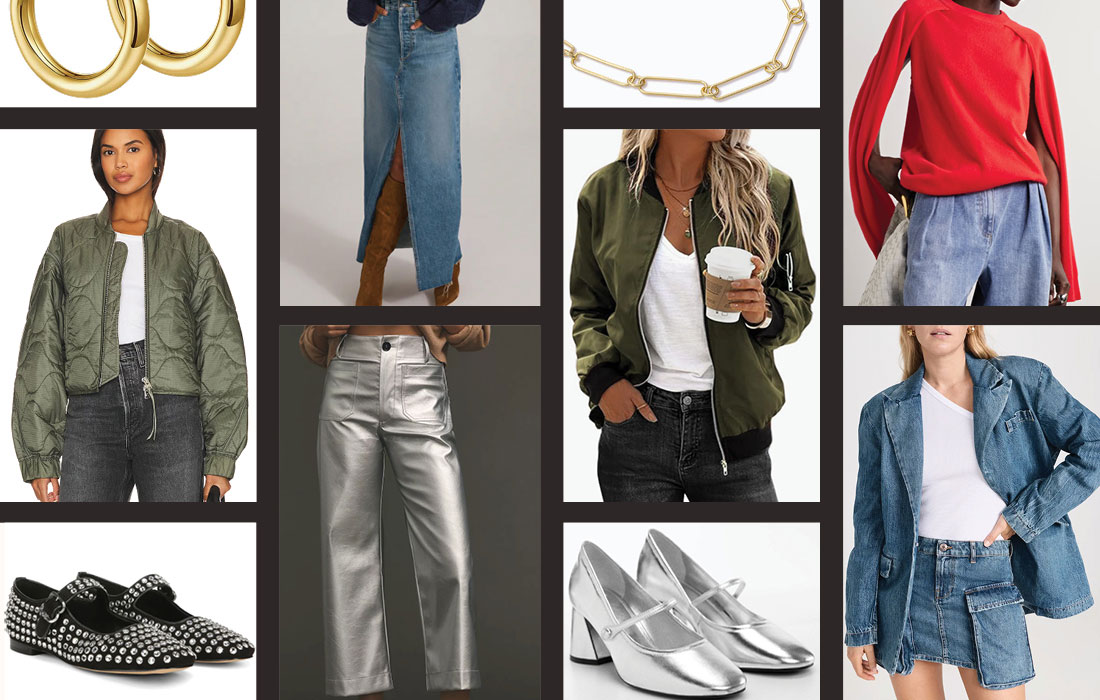 9 Best Fall Fashion Trends 2023 — Get A Head Start
After scrolling Pinterest for OOTD inspo (outfit of the day inspiration), I found nothing but basics. A white tee paired with jeans and sneakers. Over and over and over again. The only difference was ripped jeans versus cropped jeans. Much to my dismay, my closet looked the same. Where did personal style go? I needed to find new fashion ideas to infiltrate my closet of basics for the fall season. Let's begin with the newest trend for the upcoming season: the bomber jacket.
1. Olive Green Bomber Jacket
While shopping for the new season, I found this olive green bomber jacket — a collab by AGOLDE x Shoreditch Ski Club. It's my new favorite thing! This fall jacket runs on the pricy side, but I love the inside straps that allow you to wear it like a backpack if you get too warm. The good news is that with new fall fashions hitting store floors, the quilted bomber jacket is dominating, and so many other affordable options are popping up. Patience is not my virtue.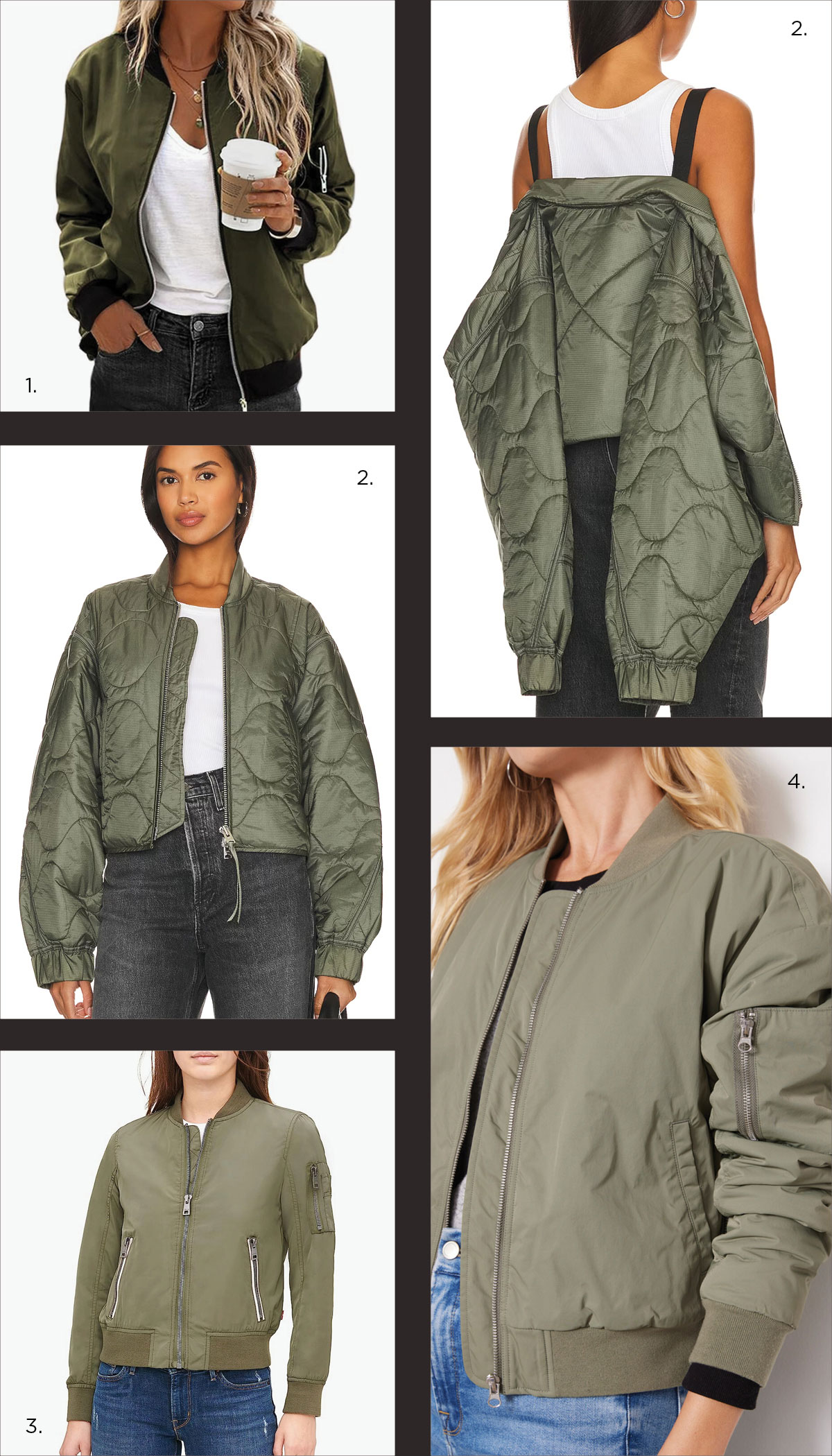 I'll post a round-up of high and low favorites soon. EVEREVE has a non-quilted bomber jacket that is super cute for half the price. If you're on a tighter budget, try this army green jacket from Amazon for under $40 or this one by Levi's for $42. This jacket will be the easiest way to update your closet with the latest fall trends.
SHOP THESE FALL FASHIONS
2 – AGOLDE x Shoreditch Ski Club
4 – Levi's Women's Melanie Bomber Jacket
2. Gold Tube Hoop Earrings
If you caught the latest Only Murders In The Building episode, you may have seen Selena Gomez rocking a pair of gold tube hoops. These timeless classics are back, but these hoop earrings have a bit more heft to them than the old-school ultra-thin hoops. You can find this fall trend everywhere, from fancy jewelry stores to Amazon making it such an easy way to update your fall wardrobe.

And for you clip earring girlies, I found a genius pair of clip-on gold tube hoops here. They have a pull-back clip fastener, so no one has to know they're clips! I purchased them in the larger size, but they also come in a medium hoop and a mini.
SHOP FALL TRENDS IN JEWELRY
1 – Madewell Chunky Large Hoop Earrings
2 – Amazon 14K Gold Plated Hoop Earrings
3 – Revolve Annie Hoop Earrings
4 –Wolf & Badger Gold Large Hoop Clip-On Earrings
RELATED: Find the best anthropologie mirror dupe that fits your budget.
3. Gold Paperclip Chain Necklace
Leave it to Tiffany to make us all lust over the gold paperclip necklace, but spending $10k on the classic or, better yet, $17k on the graduated necklace is not in everyone's wheelhouse. Thank god for a good dupe. Am I right? While walking around the mall, I found this one at Kendra Scott, and this more affordable two strand necklace at EVEREVE. I also included a couple more I found online.

SHOP FALL TRENDS IN JEWELRY
1 – EVEREVE Two Strand Paperclip Tennis Necklace
2 – Kendra Scott 22 Inch Large Paperclip Chain Necklace in 18k Gold Vermeil
3 – Uncommon James Everyday Paper Clip Chain Necklace
4 – Madewell Gold Paperclip Chain Necklace
4. Denim Maxi Skirts
A couple of months ago, I shared a round-up of the best denim skirts, you probably already know they are trending for fall, but if you missed it, now you know. I just ordered the Sadie High Rise Maxi Skirt by Favorite Daughter, and OH EM GEE, it is so cute! The slit up the front is great because you can rock it with sandals on warm weather days and tall boots for chilly nights.

The cargo look is also trending for fall, and this acid-wash denim midi skirt with cargo pockets does not fail on the fall fashion report.

RELATED: Check out these stylish backpacks (most fit a laptop) for back to school, travel, and work.
5. The Denim Blazer
When I popped into FELT Chicago, Cat, the owner, styled me in a few other pieces. She chose a 3X1 denim oversized blazer, and at first, I was like, oh hell no, but dayum, was I wrong! That denim blazer was FIRE! Everyone's head in that store turned and looked at me when I walked out of the dressing room. It's a bit of an oversized blazer but not sloppy with shoulder pads. If you can't get to FELT in person, shop it online at Sak's or here on Shopbop.

If you want the look for less, GAP has a more structured version with a tapered waist, Madewell has a denim blazer cut similar to the one from FELT, and EVEREVE also has its version of this trending fall fashion. I guarantee this blazer will become one of your go-to closet staples.
6. All Things Metallic
All things shiny were trending last year, but fashion designers are taking the metallic trend up a level for fall 2023. Rock silver metallic pants to the grocery store, a sparkly sequin mini skirt for a girls' night out, and this gold drop-shoulder top is giving Studio 54 vibes (I'd wear this top with wide-leg pants).
I'm also loving these cropped silver metallic pants from Anthro, but keep in mind these are by Maeve and ALWAYS run large. Size down at least one size, if not two.
A modern take on metallics is with bold colors like this high-waisted midi shiny green skirt from Wolf & Badger (it also comes in pink and ice blue).

SHOP THESE TRENDING METALLIC PIECES
1 – Anthropologie sequin mini skirt
2. – MANGO silver metallic pants
3 – Wolf & Badger gold drop shoulder top
4. – Wolf & Badger metallic green midi skirt
5 – Anthropologie Maeve Colette Crop Pants in silver (size down at least one size!)
7. Get Edgy With Leather
Be it real or faux, you saw a lot of leather at this season's runways for NYFW, and I'm here for it. Although the classic leather jacket is still on point, as are leather pants, think outside the box with this Adidas faux leather skirt; it's totally giving Y2k Sporty Spice vibes.

This buttery soft leather shirt cut in a t-shirt style also caught my eye. Dress it up with trousers for work, or give it an edgy look with distressed jeans. And yes, definitely pair it with the gold tube hoop earrings!

BTDubs, I know leather can be a touchy subject, so if you want a sustainable faux leather option, always look to Stella McCartney.
RELATED: Whoa! Skinny jeans are out of style, so let's figure out what's in!
8. Mary Janes (one of the best trends IMO)
Shoe trends are always my favorite, and the Mary Jane shoe is on my radar and coming in hot for fall! I'll forever be a Mary Jane girlie, so I'm definitely here for a trend when it's a timeless classic. Not to mention, they are one of the most versatile shoes because they come in every heel size.
These silver chunky heel Mary Jane shoes remind me of the Miu Miu shoes I almost wore to my high school reunion. These shoes also get bonus points for rocking the metallic trend, but if you want a classic look, don't sleep on these classic black shoes from Madewell. Wear them both with a pair of wide-leg jeans (still one of the denim trends that is here to stay).

Throw it back to the Tumblr girl days with these chunky Dr. Martens — I think I still own my Mary Janes from my Shippy Shoes college days, circa 1997, and will be digging mine out and hitting the reset button on them as soon as I hit publish. Because these are a chunkier shoe, I'd pair them with straight-leg jeans.
These rhinestone studded Sam Edelman ballet flats are giving punk rock balletcore and a dead ringer for the Miu Miu satin ballerinas, while these gold mirror slingbacks will go with anything and everything.
PAIR THESE TRENDING MARY JANES WITH YOUR FALL OUTFITS
1 – MANGO block heel metallic shoe
2 – Dr. Martens Crazy Horse Leather Mayr Jane Shoes
3 – J Crew Layla slingback Mary Jane heels
4 – Madewell The Nettie Heeled Mary Jane
5 – Sam Edelman Michaela Rhinestone Mary Jane Flat (dupe for the Miu Miu ballet flat)
Don't be afraid to pair these shoes with fun socks like these lightweight metallic socks. Yeah, I said what I said. Rocking an eye-catching detail for your ankles will give you a downtown edge.
9. Add A Pop Of Red
Tomato girl summer is headed into fall! Forget the traditional earthy fall colors and jazz up your wardrobe with the bold color red, which can be as easy as popping on a cold weather sweater like this one — you probably already own one of these cozy sweaters.

This bold clutch packs a punch, and yes, I know this cashmere number by Tibi is expensive AF, but think of it as an investment piece. This one, in particular, is versatile with its multitude of ways to wear it. Talk about a peak quiet luxury moment. I'm absolutely feral for this sweater.

RELATED: Another great way to add a pop of red is with these trending heart sweater for fall.
Keep This In Mind When Shopping Fall Fashion Trends
Hopefully, this little round-up of fresh takes on fall 2023's trends gave you a ton of ideas for jazzing up your best fall outfit ideas, and be sure to let me know in the comments which fall pieces you love the most. But before you go buy everything on this list, please channel Vivienne Westwood's wise words, "Choose Well. Make it last. Quality, not quantity." Some of the best things you probably already own.



Discover More On House Of Hipsters Interior Design Blog
If you're looking for affordable drapes and curtains, this round-up of window treatments is for you!
Check out this list of Amazon Must Haves that I own, love, and can't live without — want more, check out all my Amazon Finds here.
Headed off to college? Check out these trending dorm room decor ideas.
If you have an awkward living room layout with a fireplace, try these 5 floor plan options out today.
Faux olive trees are trending hard, so I updated this popular post with my top picks that are available and in stock.
Get all my tips on how to declutter your home plus a downloadable checklist to help keep you on track.
Check out Carla Rockmore's kitchen and more with this edition of Beautiful Distractions.