Animal Prints In Home Decor
Last Updated on January 18, 2023
When I started decorating my home, I equated animal prints to Victoria's Secret crossed with Ron Jeremy. Yish. But in case you haven't noticed, leopard and zebra prints have come a long way. While it took me some time to get there, I've fully embraced all the animals – even pythons and have taken a walk on the wild side. While I'm not full-on animal magnetism, I'm digging a bit of ooh la la here and there. Also, be sure to check my latest post about interior design trends here.
My Favorite Home Decor Animal Prints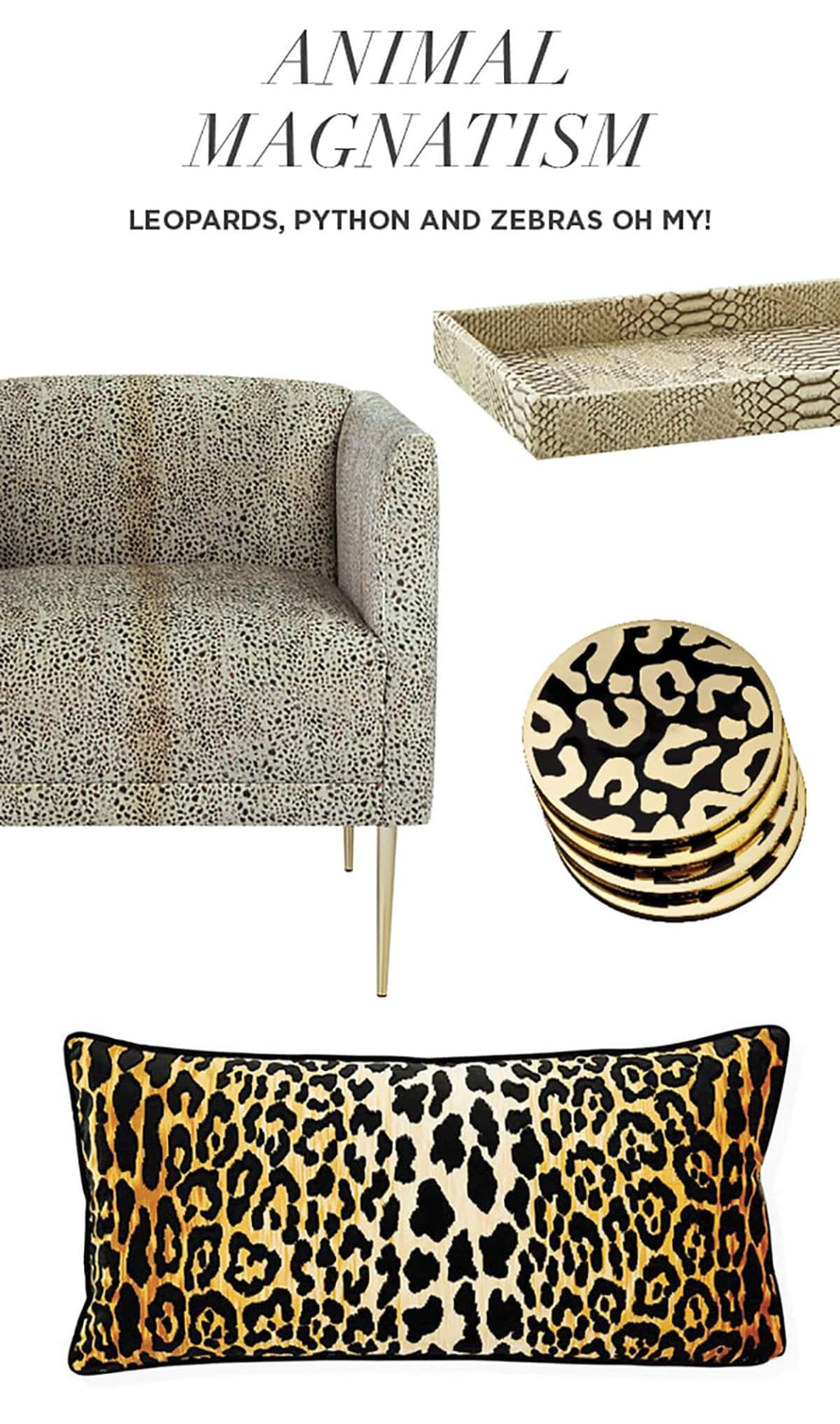 Where To Buy Animal Print Home Decor
Leopard Print Belt
Cheetah Print Chair – no longer available
Python Print Tray
Leopard Coasters
Leopard Print Lumbar Pillow – no longer available
It all began with a leopard print coat that I spied at the flea market a few years back. I tried it on, and that baby fit like a glove. Sadly, it was $100 that I didn't have, and really…could a 40-year-old mom really pull off leopard? Soul crushed, I hung that purrrfectly (sorry, couldn't help myself) vintage Liz Claiborne coat back on the hanger and walked away. It's probably one of my biggest regrets ever. BTDubs, you're NEVER too old for animal prints. In fact, wasn't it Jenna Lyons who said leopard is the new black?
To this day, I go back to the same flea looking for it, but I know in my heart of hearts it's long gone. Ever since that fateful day, I've had animal prints on my mind.
Last summer, I gave in and picked up a few animal ceramics at an estate sale. The little cheetah statue in my dining room always gets rave reviews, and my daughter feeds the tiny tiger in the living room…yes, she srsly gives it goldfish crackers. It's a hoot. Also, the rug in my dining room has an animal print look to it as well.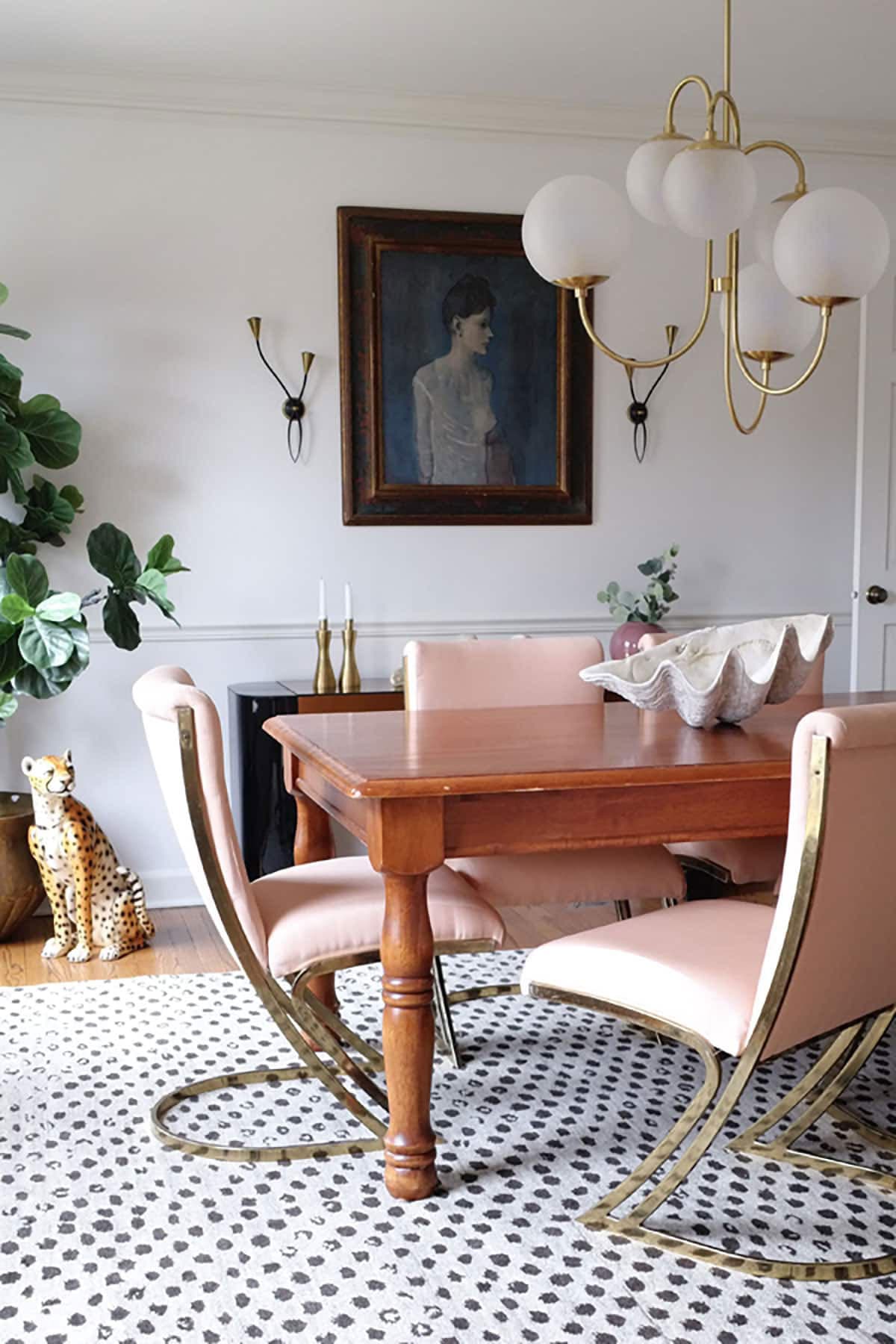 If you're thinking about taking the plunge, here are a few more animal prints I've set my sights on.

Where To Buy Animal Print Home Decor
Leopard Print Coat – no longer available
Ceramic Zebra
Sarreid Zebra Print Box – no longer available
Python Print Purse – no longer available
Zebra Print Rug


More Affordable Home Decor And Budget-Friendly Ideas
Have you seen those artificial flower arrangements in resin – you know, the clear vase that looks like water, but it's not? This easy tutorial teaches you exactly how to make your own for a fraction of the price.
If you're headed into a home renovation, you definitely need my Free Budget Checklist Download
Looking for modern decor that won't break the bank? Check out this round-up of Home Decor Under $100
Here is the final reveal of the Modern Kitchen Makeover On A Budget that I created with Cambria!
I've rounded up my favorite Amazon home decor deals and Smart Gadget Must-Haves
Shop these Amazon Prime Day deals you must have.
Sharing my 5 Ways To Cut The Cost Of Wallpaper with these clever ideas!
Check out this affordable summer table decor – you won't believe where I got it!
If you're looking for Home Decor On A Budget shop these Affordable Decorating Ideas
If you wanna know how to make your home look expensive but decorate on a budget, check out both of those posts! There's some seriously good advice in both.
If you're looking for organizing tips, check out this round-up of the best storage bins and Organization Ideas and then be sure to hop over and then download this declutter your home checklist.
Discover More Modern Decor Ideas
Have you noticed that mushroom decor is trending? Here's what I'm eyeing.
Want to add a little magic to your room? Try adding some disco ball decor with these sparkly ideas.
Add some texture to your room with this rattan and cane lighting round-up.
Wait, skinny jeans are out of style? Yup, and here are the trending jeans I would wear instead.
Do you have a rug that is too small or too big? Not sure? Here's how to choose the best size rug for a living room.
Cane furniture is trending, and so is rattan and cane lighting. If cane isn't your jam but you want more lighting ideas, check out this round-up of boob lighting alternatives.
I've been playing around with some living room design concepts. Check out the latest mood board I came up with.
Wait, skinny jeans are out of style? Yup, and here are the trending jeans I would wear instead.
Nothing elevates a ceiling light like a ceiling medallion. Check out that round-up to shop for the best of the best, and be sure to check out my how to install a ceiling medallion tutorial for some secret tips!
Storage bins and other organization ideas to keep your home clutter-free. From the pantry to the kitchen to the bathroom to drawers, I've got you covered! And check out the decorative boxes post if you're looking for ways to corral your remotes on your coffee table.
Pairing pendant lighting for the kitchen can be a tough design decision. Here are my favorites.
Love the Primrose mirror but hate the price tag? I got you! Here's a full round-up of affordable Anthropologie mirror dupes.
Spruce up your backyard with this outdoor patio furniture and decor round-up.
12 cute, stylish backpacks that fit a laptop and are perfect for work, travel, and back to school!
My brutally honest review on applying for membership at the Biltmore Country Club in Barrington, IL
My best Thrift Store Shopping Tips for newbies and pros!