Marie Kondo and the Konmari Method
Last Updated on June 28, 2023
Have you heard the hype about Marie Kondo and the Konmari Method?  If you say no, I'm assuming you don't watch Netflix or you've boycotted social media altogether. The new show, "Tidying Up", is trending on Google as people look to organize and clean their homes this January…which I'm sure the timing is no coincidence for the show's debut. The interwebs are abuzz, and I'm curious to hear your view.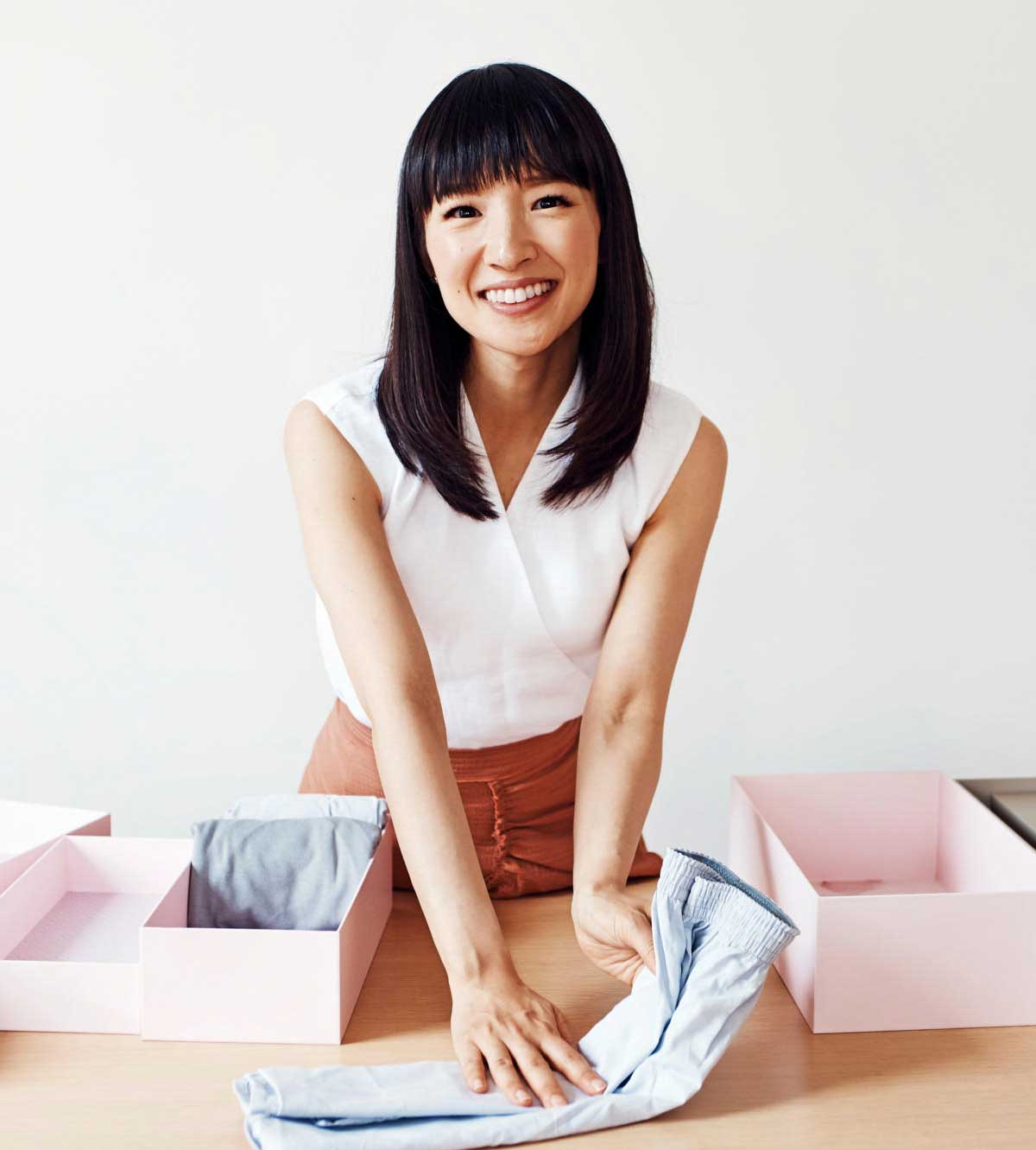 Photo Via Marie Kondo
Last weekend, I binge watched episode after episode. Marie Kondo helping folks "spark joy" and thanking old clothes before sending them off to the trash. The show itself is addictive and charming, yet I couldn't help but wonder why. Was it my hope that the local thrift shops would be overflowing with discarded items from the Konmari Method? LOL possibly, yes. Was it motivating for my own personal decluttering? For sure! The main floor of my home is not rat-packed; however, my office is a complete and utter disaster that could benefit from some #konmari action.
To be expected, the Konmari Method has had some haters in recent days. Book lovers specifically are not sparking joy over her 30 books or less rule. In fact, one Twitter user tweeted, "Do NOT listen to Marie Kondo or Konmari in relation to books. Fill your apartment & world with them. I don't give a shite if you throw out your knickers and Tupperware but the woman is very misguided about BOOKS." Woah.
Funny enough, this was actually the ONE rule thing I did agree on one hundred percent. I mean, how many of you bought a copy of Crazy Rich Asians? Or for that matter, the trilogy? I did. Will I ever read them again? Probably not. Did I thoroughly enjoy them? Yes! Will I donate them? Done and done. They were recently handed off to the Little Free Library down the street from my home and are waiting to spark joy in someone else. Yo, book lovers…calm yourself. But let's be honest, I didn't, "wake them up" by tapping on the covers…unless chucking them on the passenger seat of my car is considered tapping.
It's these tiny nuances that bugged me. Awakening a book's energy, folding clothes and storing them vertically, introducing myself to my home, and mediating in the foyer? No thank you. And no, I will not be thanking any items before tossing them. But the concept of really enjoying something or as she says, "sparks joy", I like them. She doesn't say rid your house of all clutter and live in a minimalist world. Being a collector of vintage and avid flea marketer, I'd never succeed if that were the case…but the idea of keeping only items I truly love…ya, I'm down m'lady.
There is one thing I can't get past…Kondo's sweet demeanor. The way her eyes light up when she opens a junk drawer and she says, "This makes me so happy. I love mess." The skipping from room to room. Her pure delight and giddiness over piles of junk. When I was little, my parents were friends with a couple…the husband was an undercover FBI agent. I remember one cocktail hour spying on the adult conversation from the top of the stairs. He explained serial killer tendencies. A closet color-coded by season and organized sock drawer was right up there. A little voice in my head says, "Hey Marie, you have bodies in your basement, don't you." SRSLY, how can someone be this nice? Is it possible?
As I binge-watched the show, I couldn't help but listen to the homeowners complain explain how there wasn't time to complete simple chores around the house. Kids couldn't find their jeans so they "blew up" mom's phone until she answered. A recent widow wanted to say goodbye to items from her dead husband. Hoarding not saying goodbye to unused items were either making us lazy, miserable or causing marital issues. That struck a chord in me. My sister's clothes have been stashed in drawers and boxes for over 10 years. I'm a horrible, HORRIBLE laundry person. With the vintage shop opening soon, I've been stocking up on merchandise. Yep, I could definitely benefit from the Konmari Method.
Marie Kondo's Rules For Decluttering Are Easy
Commit yourself to tidying up.
Imagine your ideal lifestyle.
Finish discarding first.
Tidy by category, not location.
Follow the right order.
Ask yourself if it sparks joy.
Challenge accepted. When we moved from the old house to the new house, stuff was just chucked into closets. Clothes that will never fit again were moved from old closet to new closet. I may not follow the Konmari Method precisely, but I'm motivated for a good spring cleaning. I'll keep you updated on the progress.
So how about it…have you seen the show? Are you on the Marie Kondo bandwagon? Will you be sparking joy in your home? Maybe you already have. Inquiring minds want to know.