This ultimate guide to my best home cleaning products is LONG overdue. Dealing with vintage pieces and secondhand items has taught me quite a few tricks of the trade. Plus I'm a mom…so one might call me an expert. Do I consider myself a tidy person? Ummmm, no, but I buy house cleaning products that produce results. Today I'm sharing with you some of my favorite home cleaning products I use in my home.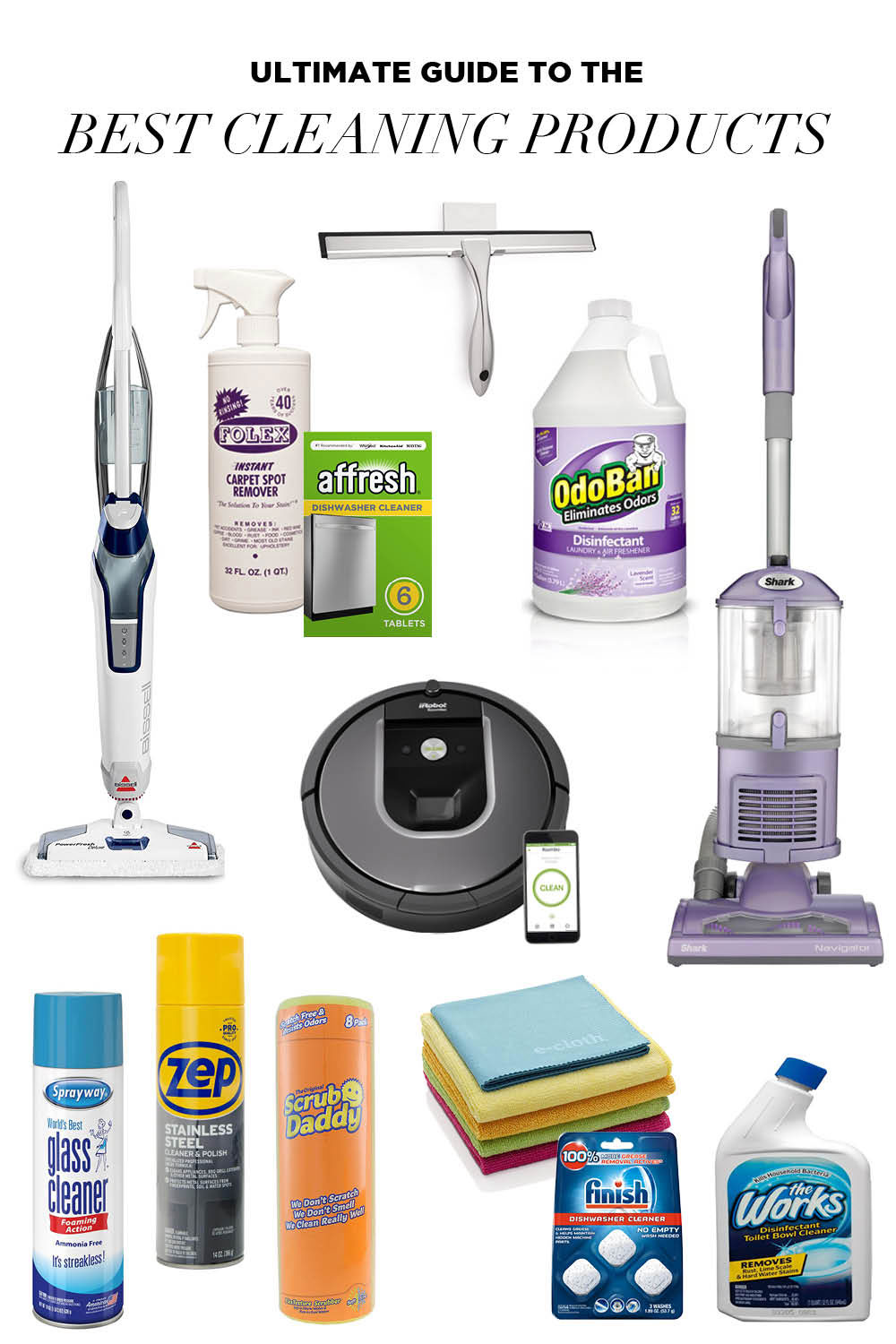 I invested in this robotic vacuum a couple of years ago. She's not perfect, but she sucks up the crumbs that stick to my feet. My son eats like a wolverine and my daughter constantly drops food on the floor. We run Roomba every other day, and she definitely keeps the crumbs away. Does she get trapped on a rug sometimes? Yes. Does she fight with the ceramic tiger? Yes. Does she hate the cantilever chairs? Yes. But she's on a schedule that I set and forget. We also purchased an extra docking station and let her loose in the basement once a week.
There is one no touchy rug, so we use these barriers to keep Roomba out of that space. Works like a charm.


You ask any vintage dealer what their go-to stain remover is for upholstery and 9/10 will tell you it's Folex. This spot remover is bomb AF and not just for carpet. Just spray it on, agitate with your finger, and watch your stain disappear. No residue to vacuum. Just blot with a clean cloth or paper towel. It's my secret weapon when it comes to house cleaning supplies.
I had not heard of Affresh until I purchased a washer with a cleaning cycle. Baking soda, vinegar, bleach…I had tried it all but my washer was still stinky. Incredibly frustrated with the smell, I got crazy and bought a new washer. Now, once a month, I pop one tablet in the machine and run the cleaning cycle. They also make one specifically for dishwashers; however, I use Finish tablets for dishwashers.
Behold the only glass cleaner I've found that does NOT leave streaks. Best I've found…period. Smells a bit medicinal and granny, but it cleans so well, the scent doesn't bother me.
Well, to begin with, the shape of this sponge is an adorable smiley face, but don't be fooled, this little guy works hard and doesn't scratch. Use it on anything from cookware to vinyl to aluminum to plastic to chrome and tile and changes consistency based on water temperature. Use cold water and it hardens for tough scrubbing. Warm water for regular washing.
After buying our first stainless steel appliance, we tried countless sprays and wipes. This is the first one that doesn't show fingerprints. Because it is a polish, it does leave an oily residue behind if you use too much. To avoid getting it on my floors, I like to spray it directly to a clean cloth rather than the appliance itself. Oh, and a little goes a long way.
It wasn't until I moved into the shop that I discovered of this cleaning product. If you have a stinky drain, try this stuff. The floor drain in the bathroom of the shop had this funky, earthy smell to it, so my landlord suggested pouring a bit down the drain. Not only is it a deodorizer, but it also sanitizes, disinfects and is virucidal. I bought a gallon jug before Covid hit and now use it on everything.
This magical concoction is pretty much impossible to find right now because of new EPA regulations. But if you have hard water like me and are constantly trying to rid yourself of the ring in your bowl, this stuff works. Hopefully, their new formula will have the same miracle results because this is one of my favorite cleaning products to date.


If you can't find The Works and still have brown toilet bowls even after trying multiple liters of Coke (yes, that does help), might I suggest Bio Clean. I was at my wit's end with the shop toilet. It was brown, yellow, and embarrassing. No matter how much I scrubbed, I could not get that bowl white. This stuff finally did the trick. I also use it on my shower doors now. It's my top recommended house cleaning supplies for new homeowners.
This guy is on my purchase list. I've been wanting to say goodbye to my Swiffer Wet Jet but hadn't found the perfect replacement. After doing a ton of research, I think this is the one. My son's soccer shoes are a muddy mess, so I'm digging the detachable brush feature. Oh, and I will take the advice about buying a few extra pads as well.
Clean better with just water. Dirt, grease, and grime get trapped in the microfibers. Does it disinfect? No, but if you're looking for a sustainable and chemical-free solution, this cloth will wipe the dirt away.
Friends of ours replaced their exhaust fan in their bathroom because of mold and mildew. I asked if they used a shower squeegee…nope. By removing the excess water from tile and shower doors with a squeegee, you'll eliminate many mold and mildew issues, plus you'll be fighting hard watermarks as well.
Even though our Roomba runs every couple of days, I still need a traditional vacuum. For the last 4 years, I've used the Shark Upright Vacuum, and it's the best $150 I've ever spent. It has a lift-away feature for easy use on stairs (or the car) and works not only on carpet but it's safe on hardwood floors as well. I also like the extended reach for a cobweb in the ceiling corner or recessed lighting.


Phew! So that was my top list of cleaning supplies every house should have. Am I missing any? If there are other cleaning supplies I need for my home, let me know in the comments!