Best Cleaning Products
Last Updated on July 2, 2023
What is it about watching CleanTok? Not only is it motivating, but I've also learned so many tips, tricks, and discovered some of the best cleaning products for my home. When we moved into the new house, the glass shower doors were covered in a film of hard water stains. Thanks to TikTok, they're no longer cloudy! It's now time to pay it forward with a full round-up of the best cleaning products for your home.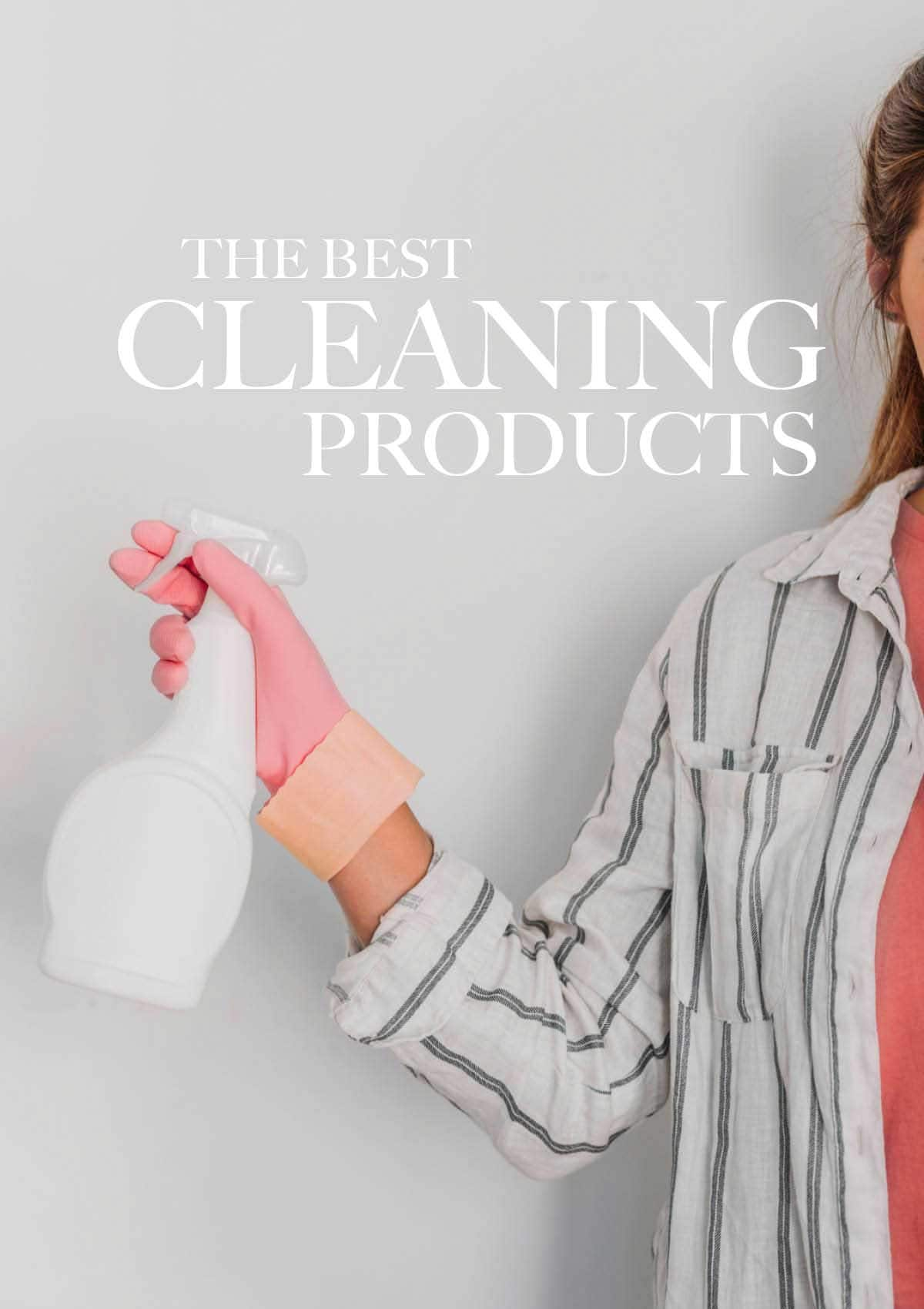 Best Cleaning Products For Glass
Sprayway Glass Cleaner Behold, the only glass cleaner I've found that does NOT leave streaks. Best I've found…period. Smells a bit medicinal with a mix of Aunt Edna's perfume, but it cleans so well that I try not to let the scent bother me.
Bar Keepers Friend First off, I use the powder. Second, this is not just for polishing brass. This multi-purpose cleaner and stain remover works on stainless steel, aluminum, brass, ceramic, porcelain, and more. I originally saw it being used on #CleanTok to remove soap scum. Yup, this is what took off the cloudy hard water film on my shower doors. Just be sure if you're using it on glass to use a non-abrasive sponge and a soft cloth.
If you wanna get really fancy with your cleaning technique, spray the glass with Rain X for Shower Doors after the hard water stains have been removed.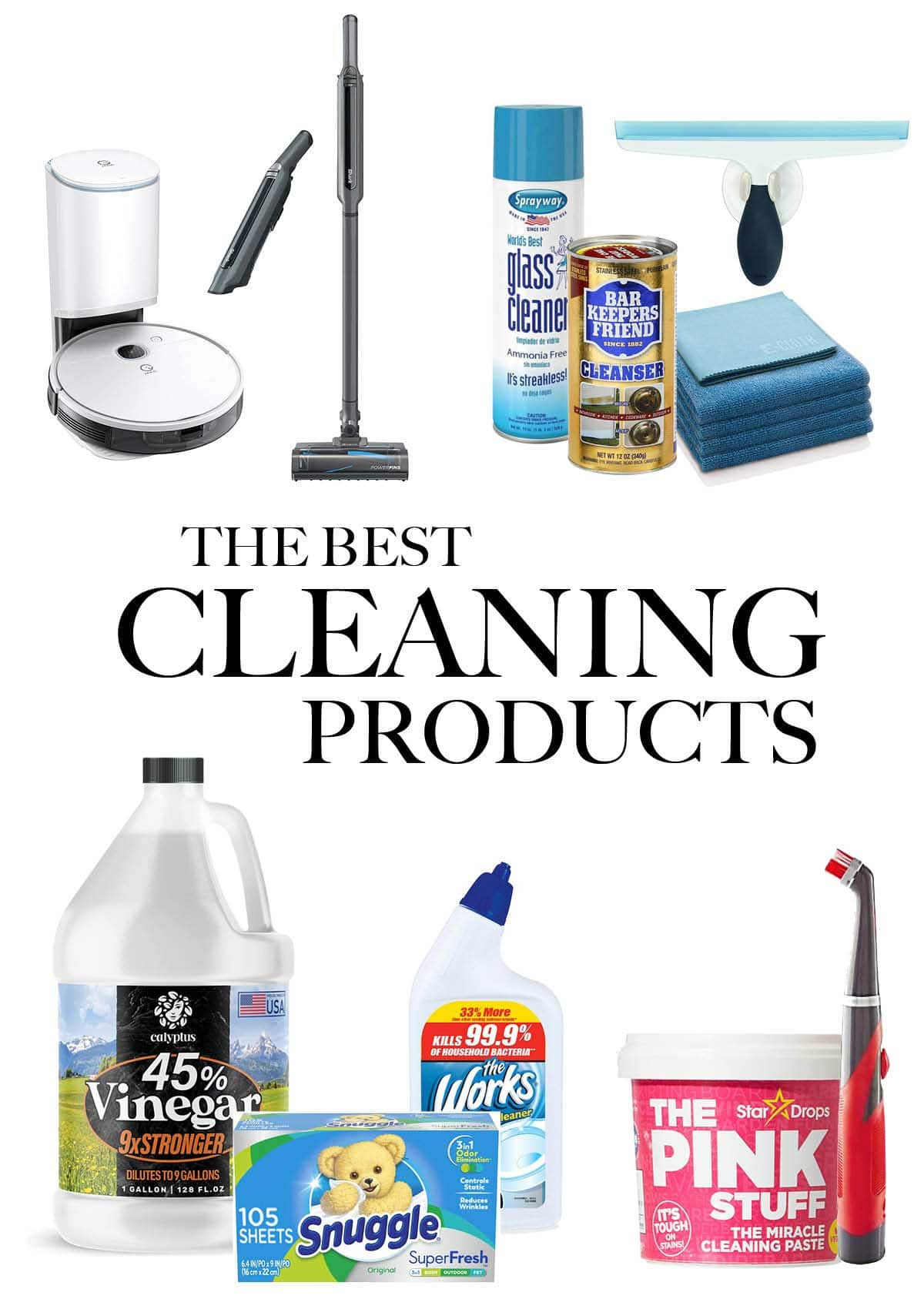 Best Stainless Steel Cleaners
Zep Stainless Steel Cleaner After buying our first stainless steel appliance, we tried countless sprays and wipes. This is the first one that doesn't show fingerprints. Because it is a polish, it does leave an oily residue behind if you use too much. To avoid getting it on my floors, I like to spray it directly with a clean cloth rather than the appliance itself. Oh, and a little goes a long way.
NanoTowels Stainless This magical towel should really be added to the "Best Cleaning Products Without Harsh Chemicals" section below, but since Zep isn't always the easiest to find, I'm going to leave it here. I can't explain how the NanoTowels work, but all you do is add water, wipe, and streaks, smudges, and fingerprints disappear. Side note, some of the reviews say it doesn't work on the first try.


Best Cleaning Products For The Bathroom
The Works Toilet Bowl Cleaner This magical concoction is pretty much impossible to find right now because of new EPA regulations. But if you have hard water like me and are constantly trying to rid yourself of the ring in your bowl, this stuff works. Hopefully, their new formula will have the same miracle results because this is one of my favorite cleaning products to date.
Bio-Clean Hard Water Remover If you can't find The Works and still have brown toilet bowls even after trying multiple liters of Coke (yes, that does help), might I suggest Bio-Clean. I was at my wit's end with the shop toilet. It was brown, yellow, and embarrassing. No matter how much I scrubbed, I could not get that bowl white. This stuff finally did the trick. I also use it on my shower doors now. It's my top recommended house cleaning supplies for new homeowners.
Bio-Clean also works like a charm on the soap scum and hard water stains on shower doors and a glass-top stovetop. Apply the creamy gel with a damp cloth, scrub and rinse.


Best Robotic Vacuums For Cleaning Your Home
I've had the opportunity to test out quite a few robotic vacuums. Here are my top 3 picks and why.
Roomba – this brand name has almost become synonymous with robotic vacuums in general. My Roomba has been roaming our home for over six years, and it's still going strong (we have it scheduled to clean every other day). Pros: it's a workhorse, side brush, self-cleaning option, and wi-fi compatible.
Yeedi – this new to me robotic vacuum has been my go-to daily cleaner since the dog moved into the house. (This vacuum is presently on sale for an additional $125 off.) Pros: large internal dust bin, vacuum and mop in one, longest battery life, adjustable suction, side-brush, self-cleaning option, and wi-fi compatible.
Narwal – robotic mop and vacuum that self-cleans the mop pads in the cleaning station. Pros: vacuum and mop in one, deep cleans floors, self-cleans its mop heads, so it won't drag dirt around the house, side brush, and wi-fi compatibility
Favorite Cordless Vaccum
Shark WandVac System Cordless Vacuum Even though our Roomba runs every couple of days, I still need a traditional vacuum. For the last 4 years, I've used the Shark Upright Vacuum, which was the best $150 I've ever spent, but I recently upgraded to the WandVac system and have been singing its praises ever since. It sits on a docking station in the kitchen for easy access, and I'm not dragging around a cord looking for a plug. It snaps into hand vac mode to pick up small messes and hard-to-reach spots. There are two things I don't like:
There is a second attachment that doesn't fit on the docking station. Like, what do I do with that? It's weird.
The power button and the empty bin buttons are legit right next to each other. When I first bought it, I cleaned it twice until I finally learned.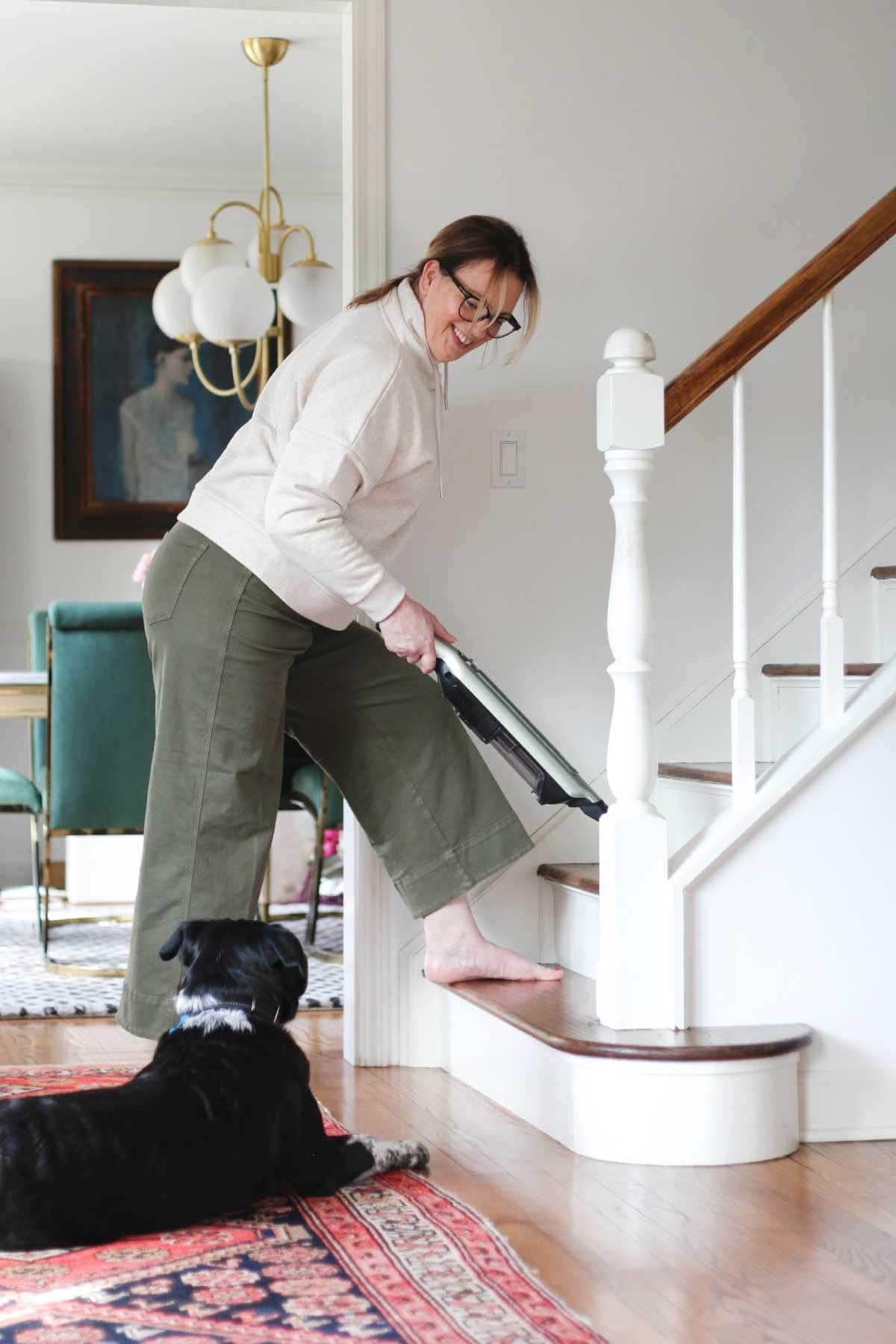 Cleaning Upholstery and Carpet Stains
Folex Ask any vintage dealer their go-to stain remover is for upholstery, and I guarantee they'll say Folex. This spot remover is bomb AF and not just for carpet. Spray it on, agitate with your finger, and watch your stain disappear. No residue to vacuum. Just blot with a clean cloth or paper towel. It's my secret weapon when it comes to the best home cleaning products.
Best Scrubbers
Rubbermaid Reveal Okay, so #CleanTikTok made me buy this little all-purpose scrub brush, and now it is my go-to cleaning tool. It helps you get into all those nooks and crannies where dirt likes to hide. Perfect for cleaning grout, faucets, drains, window sills, you name it. Toss the toothbrush and let this little guy do the work for you.
Scrub Daddy Sponge Well, to begin with, the shape of this sponge is an adorable smiley face, but don't be fooled, this happy guy works hard and doesn't scratch. Use it on anything from cookware to vinyl to aluminum to plastic to chrome and tile and changes consistency based on water temperature. Use cold water and it hardens for tough scrubbing. Warm water for regular washing.
Shower Squeegee Friends of ours replaced the exhaust fan in their bathroom because of mold build-up in the shower. I asked if they used a shower squeegee…nope. Gah! By removing the excess water from tile and shower doors with a squeegee, you'll eliminate many mold and mildew issues, plus you'll be fighting hard water film as well.





Cleaning Products To Clean Your Appliances
Affresh Tablets for Washing Machines Maybe I live under a rock, but I never knew I was supposed to clean my appliances. #CleanTok has had me gagging when I saw what comes out of a front-load washer and dishwasher. I had not heard of Affresh until I purchased a washer with a cleaning cycle. Baking soda, vinegar, bleach…I had tried it all, but my washer was still stinky. Incredibly frustrated with the smell, I got crazy and bought a new washer. Now, once a month, I pop one tablet into the machine and run the cleaning cycle. They also make one specifically for dishwashers; however, I personally use Finish tablets for dishwashers.
Tide Washing Machine Cleaner Our mudroom sometimes has an awful fart smell during the summer when the sun hits that side of the house. Sorry, I have no better way to describe it. We called the plumber, and after the peppermint test, he determined that it was either our washer or the sink we rarely used (turned out to be the sink). He suggested the Tide Washing Machine Cleaner, so I tried it, and I might just like it better than the Affresh. But I say this with a word of caution; this has a stronger scent — not a bad smell, but rather an industrial cleaner smell.
Outstink The Stink
OdoBan It wasn't until I moved into the shop that I discovered this cleaning product. If you have a stinky drain, try this stuff. The floor drain in the bathroom of the shop had this funky, earthy smell to it, so my landlord suggested pouring a bit down the drain. Not only is it a deodorizer, but it also sanitizes, disinfects, and is virucidal. I bought a gallon jug before Covid hit and now use it on everything.
Dryer Sheets This trick I learned from a friend who ran an estate sale company. More often than not, these homes can wreak of smoke, urine, and pets. How do you mask that? Her answer was simple. They stuck a couple of dryer sheets in the air vents. Brilliant! Stinky shoes, vacuum, hamper? Yup, drop a dryer sheet in them to help temporarily deodorize. Even my son's soccer bag has a dryer sheet inside.


Cleaning Products Without Harsh Chemicals
Super Concentrated Vinegar Want to get rid of soap scum? Hard water? Clean a washing machine? White vinegar is all you really need. I always have a spray bottle with a mixture of 1/4 cup vinegar, 1/4 cup Dawn dish soap, and 1 cup water. If I really have something grimy to clean, I'll heat the water and vinegar up (in a glass bowl) in the microwave. If you have a build-up of fabric softener in your washer, heat up the vinegar and let it soak for 30 minutes. Voila! This concoction will also kill your weeds. Perfect for spraying on pavers.
IMPORTANT – Do NOT use vinegar on your stone countertops. It may look good at first, but it will pit it in the long run and permanently ruin them.
The Pink Stuff You can use this miracle paste on tile, glass, stainless, toilets, and more, plus it's safe, non-toxic, and environmentally responsible. It removes all things grease and grime, but I like to use it for limescale on my faucets and sink. It's very similar to Bar Keeper's Friend but isn't toxic AF. It is mildly abrasive, so test it prior to using it on fragile surfaces.
E-Cloth Microfiber Cleaning Cloth Clean better with just water. Dirt, grease, and grime get trapped in the microfibers. Does it disinfect? No, but if you're looking for a sustainable and chemical-free solution, this cloth will wipe the dirt away.
Phew! So that was my top list of cleaning supplies every house should have. Am I missing any? If there are other cleaning supplies I need for my home, let me know in the comments! If you liked this post, check out my best organizing tips for a tidy home and my favorite storage and organization products.





Discover More Organizing and Home Decor Ideas
Is home improvement on the horizon? Check out my free renovation budget checklist to help you stay on time and not overspend.
From the bathroom to the kitchen to the living room, and more, spruce up your rooms, cabinets, and drawers with the free Declutter Your Home Checklist.
Love plants as decor but have a black thumb? No worries! I have a rounds ups of the best faux olive trees, my favorite faux fiddle leaf fig trees, and a huge round-up of faux plants that look real.
Do you have a rug that is too small or too big? Not sure? Here's how to choose the best rug size for a living room.