TikTok Made Me Buy It
Last Updated on October 21, 2022
If you're on TikTok, then you've probably seen the TikTok Made Me Buy It videos. If this hasn't shown up on your For You Page, peep the hashtag #tiktokmademebuyit. Guaranteed to be at least 15 minutes of entertainment but be warned, you may wind up with a few things you never knew you must own. Today I thought I'd share a few things TikTok made me buy and are now my ride or die products.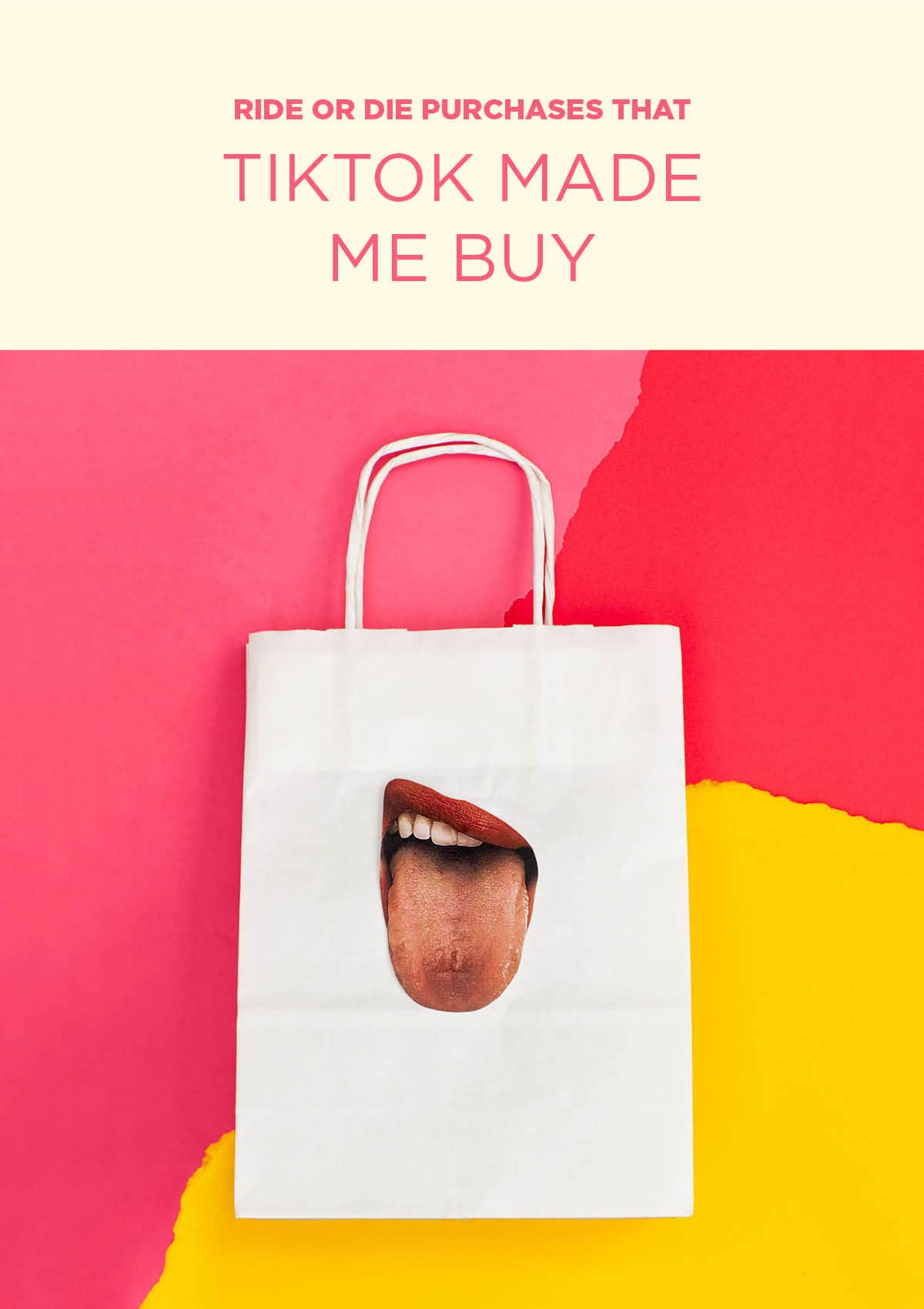 I've often questioned how TikTok can make me part with my money as no other social media platform can. Is it the short-form video? Is it that my FYP is filled with people telling me I need to own *insert item here*? Not sure, maybe it's a combination of all these theories. But there's no denying the 8.1 BILLION views on the hashtag that TikTok is a magical force. Here are some affordable things I just can't live without.
TikTok Made Me Buy It – Cleaning Products
This was my first TikTok made me buy it purchase although I use mine on our kitchen counters. From coffee grounds to crumbs, this cordless mini vacuum cleaner sucks up all the dirt and dust. It's also perfect for your keyboard, desk, vanity, bathroom, and car.  It comes with a built-in rechargeable battery and is small enough that it can sit on a window sill for easy access — or junk drawer if you want it out of sight. I purchased mine in white, but it's available in an assortment of colors.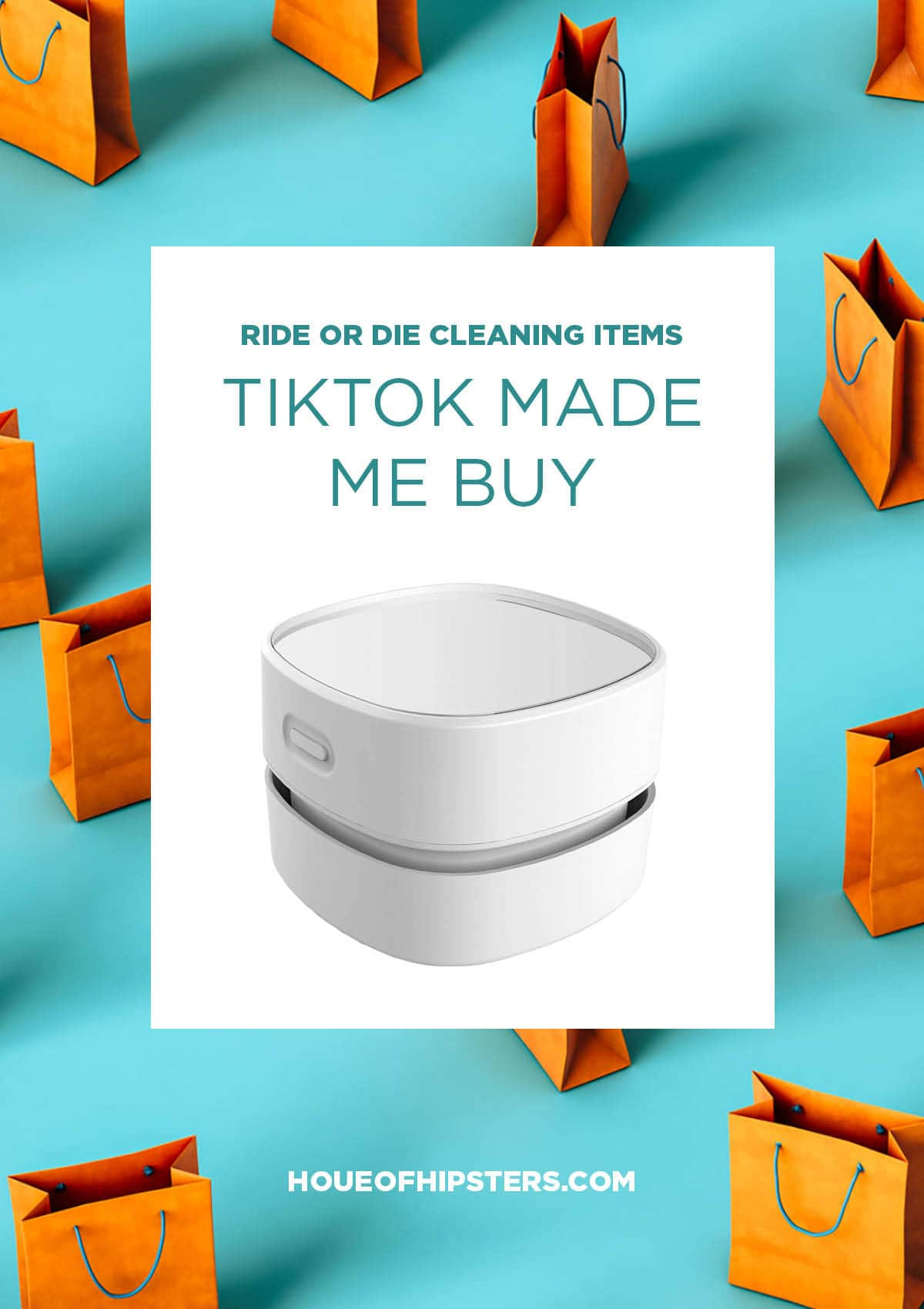 TikTok Made Me Buy The Rubbermaid Reveal Brush
This multi-purpose scrub brush is like an electric toothbrush for cleaning your tub, tile, grout, faucets, and drains. It cleans faster than manual cleaning and gets your chores completed faster. I'm a big fan.
TikTok Made Me Buy A Lint Remover
I'm unsure how exactly this lint remover works, but it does! The wool ottoman in my living room is constantly pilling and covered in dog hair. This is the only remover I've found that will remove it all. I also use it on my pillows – especially the velvet and mohair pillows. No longer do I need a brush, roller, and fabric shaver. However, this little device can snag delicate fabric, so test it first.

TikTok Made Me Buy It – Beauty Products
TikTok Made Me Buy A Shampoo Massage Brush
After hitting 45, my hair began to thin…a lot. So if some little magical silicone hair massager claims to deep clean and exfoliate my scalp, and increase circulation for healthy hair and growth, ya, I'm going to try it out. Especially if it's only $9. BTDubs, my dermatologist also recommended taking Nutrafol, and although it's a pricy supplement, it does seem to be helping more than biotin alone.
TikTok Made Me Buy This Moisturizer
DermTok had doctor after doctor recommending Cera Ve (specifically the PM moisturizer), and I can't complain. It's lightweight, affordable, hypo-allergenic, and works for pretty much all skin types. I tried the AM moisturizer with SPF but it made me break out like a 15-year-old boy. No thank you. The PM had niacinamide (calming) and hyaluronic acid (helps retain moisture). Check out my other favorite skin care products and my AM skin care routine for women over 40.



TikTok Made Me Buy It
TikTok Made Me Buy Museum Wax
If you live in a location where there are earthquakes, you probably already know about Museum Wax. I had seen this sticky putty used on candleholders when taper candles were a bit wobbly, but I'd never seen it used to secure organizing bins in drawers. Basically, if you have an item that you want to stay put on, this is your solution.

TikTok Made Me Buy Command Strips
It wasn't until I watched a TikTok about hanging battery-operated wireless wall sconce for art with command tape that I finally pulled the trigger and bought these. I've always been nervous about glass framed artwork hanging on velcro, but this whole light thing was genius! All you need is this LED wall sconce and Command Strips.
TikTok Made Me Buy This Drywall Repair Kit
This all-in-one spackle kit from 3M is genius. you literally squeeze the spackle into the nail hole in the drywall, smooth with the end of the tube, and sand with the cap. It's quick, easy, and helps you repair nicks and nail holes faster.
TikTok Made Me Buy The Sleek Socket
This outlet cover was actually intended for toddler safety, but I like it because it will cover an outlet and help me hide all those cords. The plate conceals the outlet and provides a 3 outlet power strip that you can hide under your sofa or table.


Art Supplies – TikTok Made Me Buy It
TikTok Made Me Buy Sculpey Clay
This oven bake polymer clay stopped me in my tracks and kept me entertained for hours. You can make jewelry, coasters, sculptures, vases, pretty much anything you can dream up, it can be made with Sculpey Clay. I've got a killer DIY I'm trying to perfect and will be sharing it soon!
TikTok Made Me Buy Resin
It wasn't until I discovered #ArtTok that I really understood what you could create with resin. Yes, I know it's kinda toxic. Yes, I know it's not really environmentally sound. But recently I made these faux flower arrangements in resin that looks like water and I was blown away. Since I've become slightly obsessed with resin and presently working on a DIY project with pressed pedals. Stay tuned!

TikTok Made Me Buy A Cricut Machine
It wasn't until I started watching organization and storage videos on TikTok that I decided I must have a Cricut machine (presently on sale). As a former graphic designer, beautiful, clean, matching labels make my heart sing. I also recently purchased a Cricut Mug Press and I'm now obsessed with personalizing mugs for DIY gifts! Think gift card carrier for Teacher Appreciation Day.
Shop The Post Below