Favorite Skincare Products
Last Updated on December 29, 2022
How amazing would it be if you could hop in your car right now and head off to a spa…slip into a terry cloth robe, done your favorite flip flops, and receive the most luxurious facial? Today I'm sharing some of my favorite skincare products. Not too long ago, I shared my AM skincare routine for women over 40, but now that we are spending way more time at home, I've been practicing self-care and carving out time for my favorite skincare products that have become my ride or die go-to's.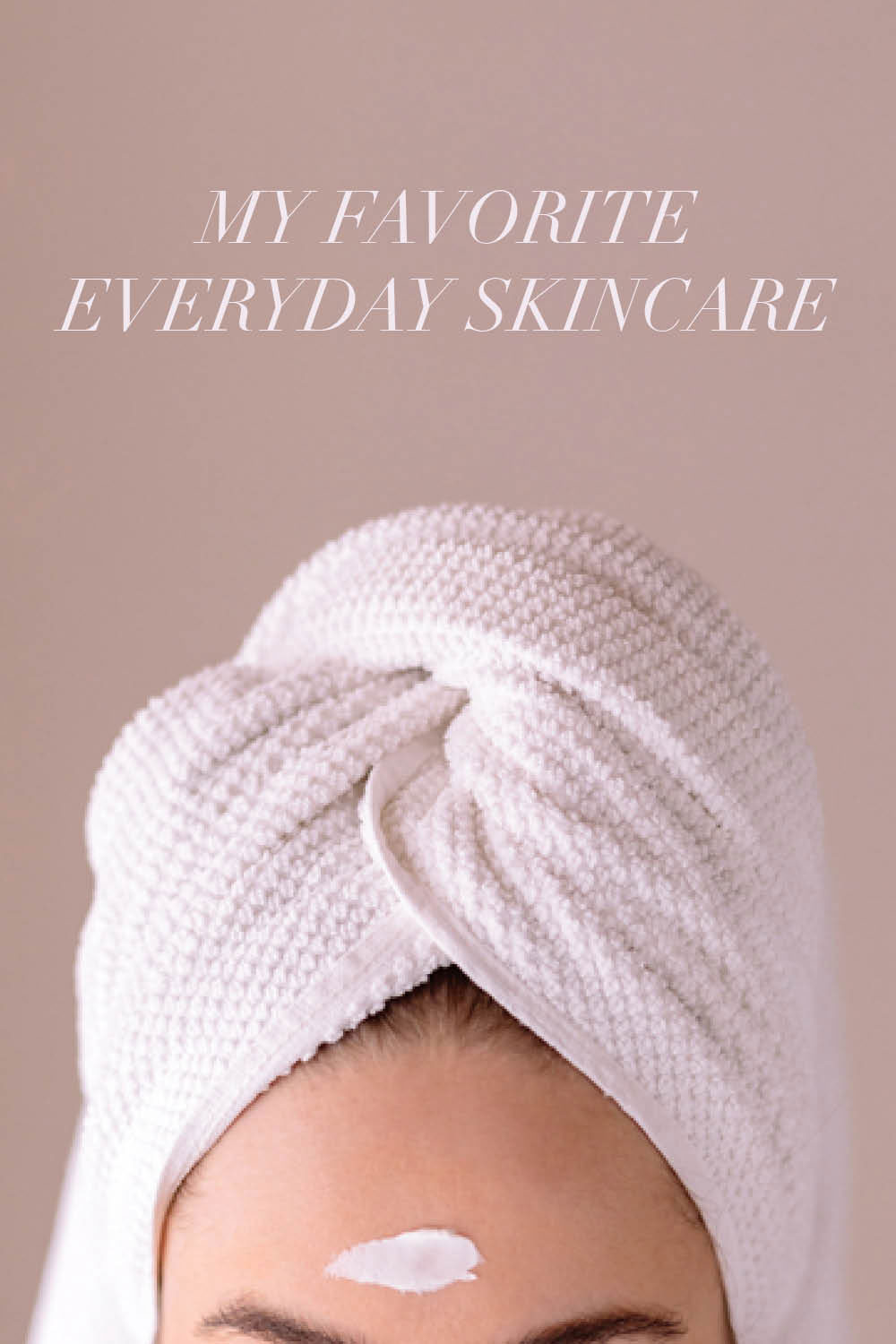 Favorite Skincare Products
First and foremost, let's talk about a cleansing oil. They're way better than the standard cleansing wipe because cleansing oils break down all the makeup and won't strip your skin. If you have acne, you're probably saying, "Oh hell no Kyla, there's no way I'm going to drip even more oil all over my face". Don't worry, we'll be removing the oil with a double cleanse. It's really the only way to get all the makeup and yuck off your face.


I've tried a few cleansing oils, but right now I'm obsessed with this one. I, of course, found it through a TikTok video by an esthetician. In addition to mixing it in my double cleanse process, I use the oil as a slip to relieve tension in my jaw with buccal massage and gua sha and have noticed an immediate lifting and depuffing effect. Buccal massage is Megan Markle's go-to skincare treatment that gets all up in your business.
The second step in my double cleanse is PanOxyl Acne Foaming Wash (it contains benzoyl peroxide) in the morning and CeraVe Foaming Facial Cleanser in the evening (TikTok made me buy the Cera Ve). This is what will remove the oil. I use the PanOxyl because it contains benzoyl peroxide, and my dermatologist prescribed me Clindamycin for acne, Combined with the benzoyl peroxide, the two work hand in hand to eliminate the bacteria that cause acne. The CeraVe cleanser contains hyaluronic acid which helps moisturize and promotes healthier supple skin.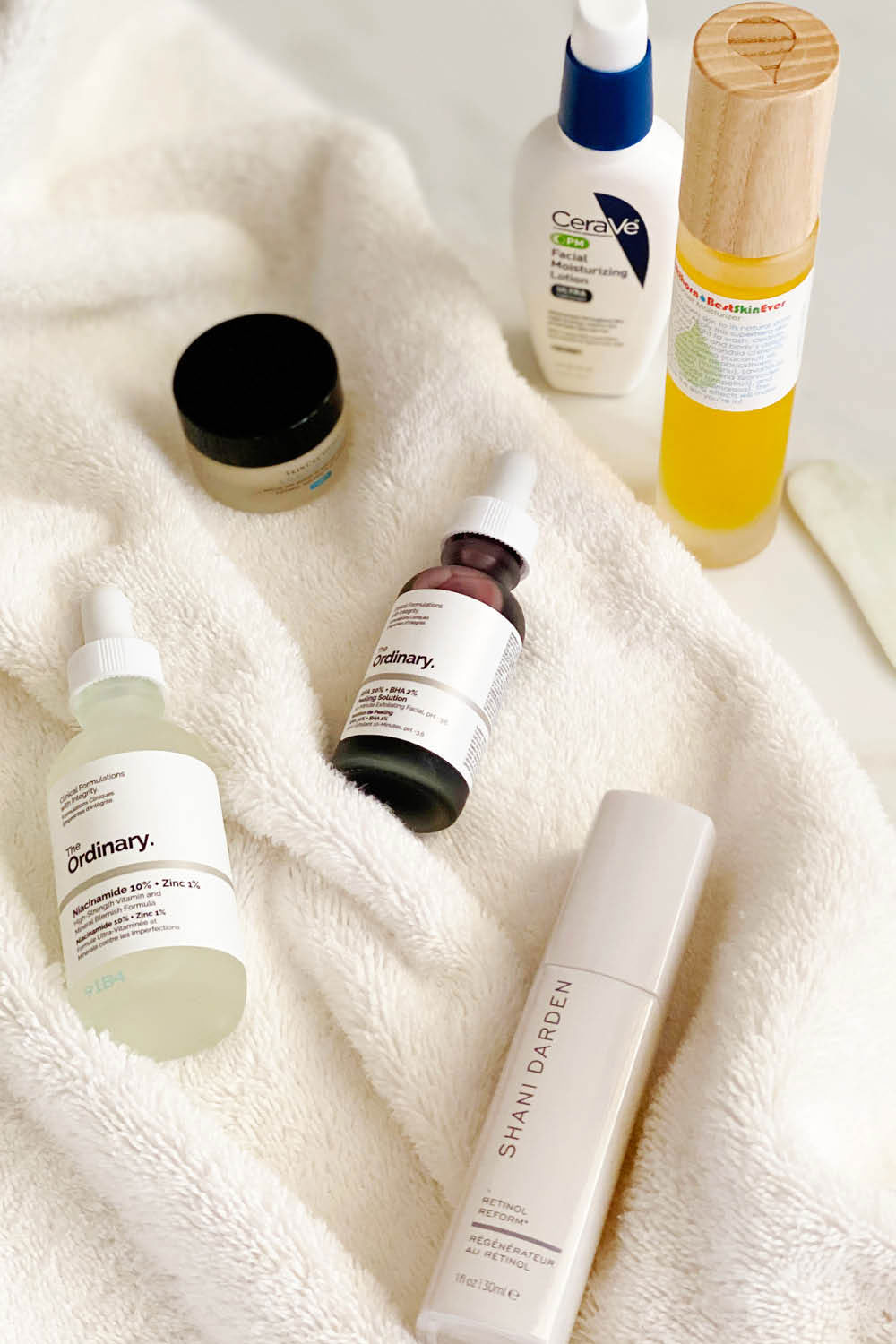 Now let's dig into exfoliation…I prefer chemical exfoliation over physical exfoliation. Scrubs can be abrasive and do more harm than good. I use this cult-favorite skincare product — AHA/BHA multi-acid complex by The Ordinary once a week. This is my chemical of choice when it comes to exfoliation and only costs $7. Simple to use and completely affordable. It offers deeper exfoliation to help fight signs of pore congestion and improve skin radiance, but buyer beware, this red concoction is pretty hardcore. Leave it on for no more than 10 minutes and try it on a small test patch of skin first.


In a nutshell, if you're just starting to dip your toes into the world of chemical exfoliation, I highly recommend trying a salicylic acid or lactic acid to begin with. You want to be gentle with your skin. If it stings or burns, that doesn't mean it's working. It's actually stressing your skin. Oh, and one more thing, this skincare product is beet red. Kinda looks like blood which is slightly gross, but at least you'll know you washed it all off.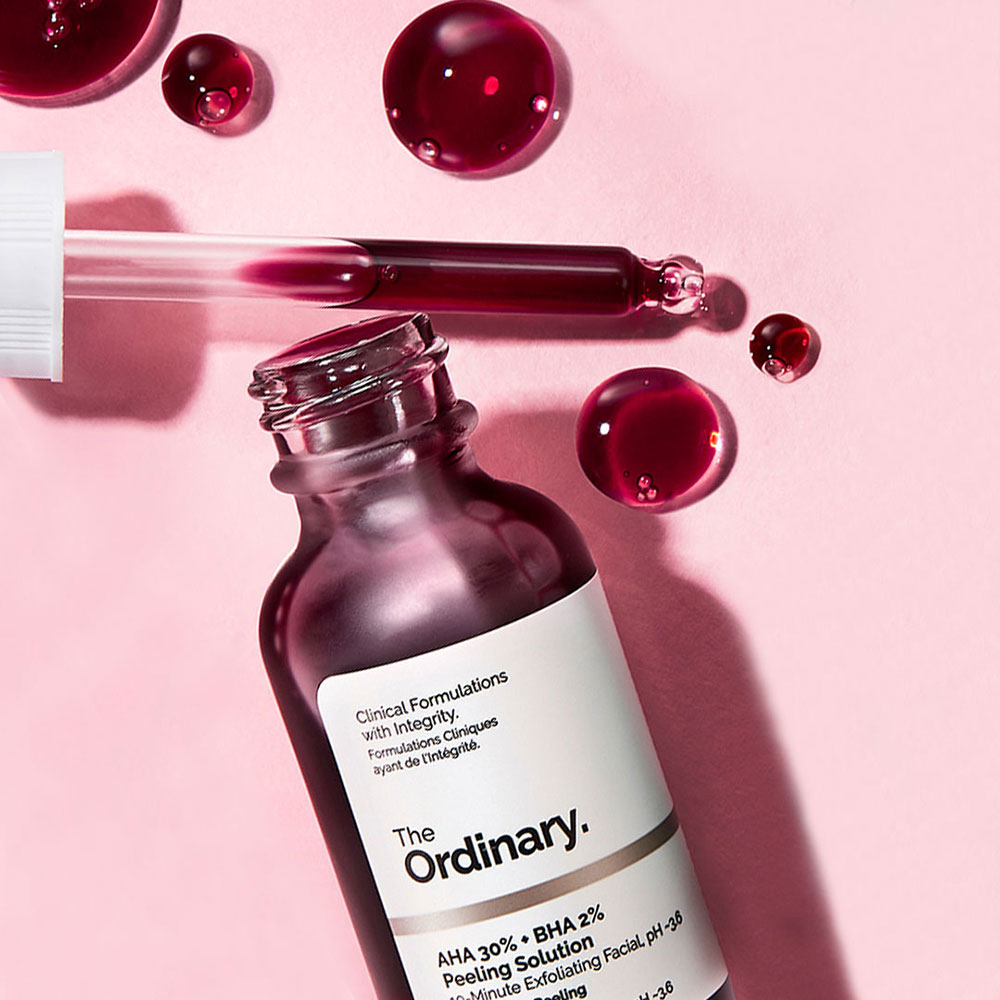 After my cleanse, I always use a toner, and I'm not referring to the alcohol-based stings like hell astringent you used in high school.  Years ago while getting a facial at The Pennisula Hotel, I asked my esthetician, "besides a moisturizer, what is the next must-have in my skincare routine?" Her answer was hands down use a hydrating toner and every time I apply it, I sing "hydrating toner" in her European accent. This is my holy grail toner and yes, it's pricey, but it's super gentle and lightweight on the skin..and most importantly, it really does minimize my pores.
Next up is this eye complex. Again, it's on the pricey side, but this particular eye cream is a permanent must-have that I'm 100% loyal to. If you have dark circles or noticed that crepey-looking skin under your eyes that comes with aging, get yourself a jar of this. FYI, it should last you about 4-5 months.
Before moisturizing, I apply this serum to my nose and chin (the really oily spots on my skin although you can apply it all over your face)…a bottle of this stuff will run about $6. Yes, you read that right…six dollars. I'm making up for the expensive eye cream and toner. The niacinamide reduces blemishes and congestion and the zinc balances the skin's production of sebum…that yellowish, oily substance your skin secretes. This stuff is going to minimize pores, reduce the appearance of blackheads, and lessen breakouts.


My dermatologist recommended CeraVe PM Facial Moisturizer both day and night. Their AM formula with sunscreen tends to make me break out, so I  use this sunscreen or a foundation with SPF 30 included in it. The PM moisturizer is ultra-lightweight and contains Niacinamide (helps calm skin) and hyaluronic acid (retains your skin's moisture). An added benefit is that this moisturizer is easy on the wallet with a price tag of $15.
After turning 40, those fine lines and wrinkles really kicked into high gear, and after doing a lot of research, I added retinol into my skincare routine. It's a Sephora favorite skincare product. I began by using it once a week and have since worked my way up to using it 4-5 times a week. Important side note, only use retinol at night…mainly because it makes your skin sensitive to the sun. Retinol in a nutshell will repair deep damage within the skin, so if you have acne scars, wrinkles, dark spots…all those things can be resolved with retinol. This particular retinol supports natural collagen and has brightened my skin. AGAIN, WEAR A SUNSCREEN WHEN USING THIS! I cannot scream this loud enough.


And that my friend wraps up my favorite skincare products that I routinely use every day. Do you use any of my favorite skincare products in your beauty regime? What do you love when it comes to self care?
Discover More Gift Guides and Gift Giving Ideas
Looking for a gift for her that is more than self-care? Check out these unique gift ideas for women in the Cool Girl Gift Guide. There's also an older gift guide for her here as well.
Ever ask yourself what things hot girls living in LA are obsessed with? Ya, me neither, but I found out!
The Primrose mirror has been a favorite for a while now, but the price tag is extreme. Here are 15 affordable Anthropologie mirror dupes that won't break the bank.
I round up 12 cute backpacks for work, travel, and back to school!
Looking for an affordable stocking stuffer? Check out my favorite things under $25 gift guide.
Check out this new clean skincare line from Rodina Botanicals.