Things Hot Girls Are Obsessed With
Last Updated on July 4, 2023
I'm cackling over Esther Povitsky's new series, "things hot girls living in LA are obsessed with," on TikTok. I like Esther, do not identify as hot or rich, and more often than not, I'm tired and unshowered, but that is beside the point. Esther is the self-proclaimed Jane Goodall of hot girls. She is friends with them, studies them, and stalks them on the internets. Anything can change, but as of right now, this very instant, this is what hot girls living in LA are obsessed with.
RELATED: TikTok is full of interesting purchases. Here is what TikTok Made Me Buy that I can't live without.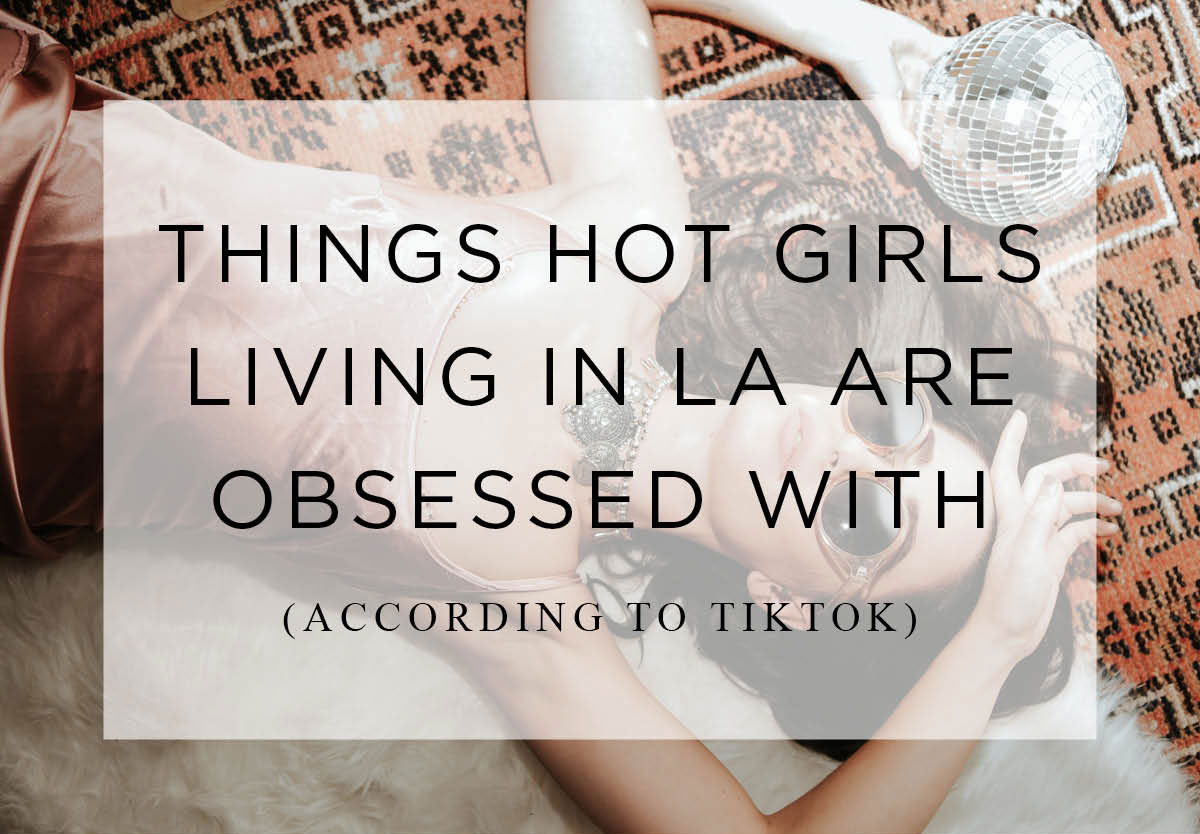 DISCLAIMER: Please read the following in a sarcastic, dry-humor voice. It'll be funnier that way. Just sayin'.
7 Things Hot Girls Living In LA Are Obsessed With
Things Hot Girls Are Obsessed With – Home Decor Edition
Another DecorTok creator was quick to hop on this series and shared what she is buying as an interior designer for hot rich girls living in LA. She states that hot rich girls in LA are no longer obsessed with peonies. She was shocked. I am not. Instead, they are buying sculptural statement branches. I'm kinda sorta on board and kinda sorta over the branch interior design trend. But if they are less minimal and more a la Eyeswoon I'm all in.

The Loewe Liquorice hand soap has replaced the Byredo Suede hand soap. Period. End of story. If you have Byredo Suede in your bathroom, a la poubelle.
They love Pierre Yovanovitch's latest furniture collection. Yes to this, although I'm not patient enough to wait for said bespoke decor to arrive from France, nor can I afford it. It is so purdy.

Hot rich girls living in LA are obsessed with large black olive trees. I'm 100% on board here, but as you already know, I lean toward the faux olive trees because I cannot keep a real plant alive.
Hot rich girls living in LA are also obsessed with putting sheep in their homes.

For the record, I have 3 sheep and have been styling mine in my home since 2018; however, mine are not original François-Xavier Lalanne sheep. One black sheep shown below, one white in my living room, and an Edna Cataldo ram bench.

Don't worry; I'm not letting the sheep thing go to my head. I'm still not a hot girl. Maybe a cool girl, but not a hot girl.



Discover More Eclectic Home Decor
The Primrose mirror has been trending, and finally, I've been able to source some great Anthropologie mirror dupes.
Do you have cheugy home decor? I don't know. What does cheugy even mean? Hop on over and find out.
White kitchens are not out of style. They're classic, but warming them up a bit is trending. Here's how.
If you're looking for faux plants that look real, you've hit the jackpot. Sharing all of my favorites and if you stick around, be sure to check out my roundup of faux olive trees and my most recent roundup of faux fiddle leaf fig trees.
I've rounded up 12 cute backpacks for work, travel, and back to school.
Here are my ride-or-die purchases that TikTok made me buy, and I have zero regrets.
I highly doubt hot girls are rejected when applying to a country club, but I was. Here's my honest review of the Biltmore Country Club.