Things I've Tried And Loved
Last Updated on November 9, 2023
Yesterday, I shared all the things hot girls are obsessed with, according to TikTok, and had a few giggles while writing it. But there are real things I buy and want to share with you, but then I ask myself, is a lettuce crisper and spicy mayo all that interesting? Meh, let's roll the dice and see, shall we? Today I'm throwing caution to the wind and sharing the top 9 things I bought this month and loved the most. Let me know in the comments below if you want more posts like this!
RELATED: I popped into the mall and here are a few more things I bought and loved.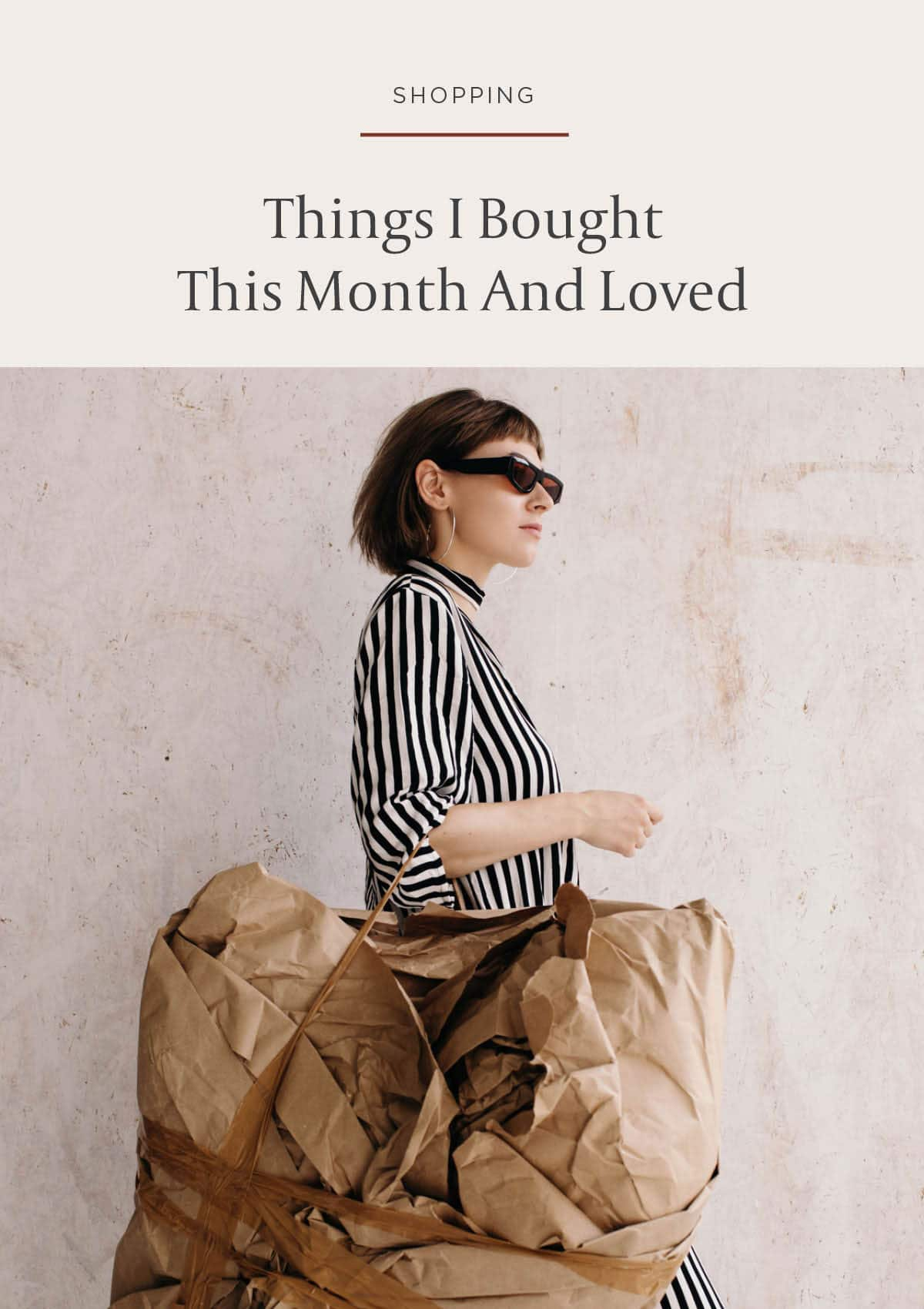 Things I Bought This Month And Loved
Books I've Read This Month
After reading The Darkest Corners by Kara Thomas, I binged The Cheerleaders, That Weekend, and now I'm presently cranking through Little Monsters. They're very much in the young adult niche, crafty, dark, and disturbing. They're all twisty page-turners, and I've been highly entertained. Next on my list is the latest by Lisa Unger, Secluded Cabin Sleeps Six. If you're looking for more book recommendations, check out my round-up of best books to read. If you want to stay on the decor side, I also have a round-up of coffee table books and my favorite interior design books!
Vintage Lamp From France
A couple of weeks ago, I attended the South Loop Loft warehouse sale and practically had to beat down another designer from snatching it outta my hands. It's only been shared on IG stories because I've been frankensteining it to work. The base is filled with water (yes, the yellow rods move around inside) which makes the thought of rewiring a bit tricky. To boot, it has EU electrical and an old EU light socket, so even popping a battery-operated bulb in there is a no-go. Eventually, I'll take it to a lamp shop to get the royal treatment, but for now, I'm having fun futzing with it. If you want more lighting ideas, click on that link.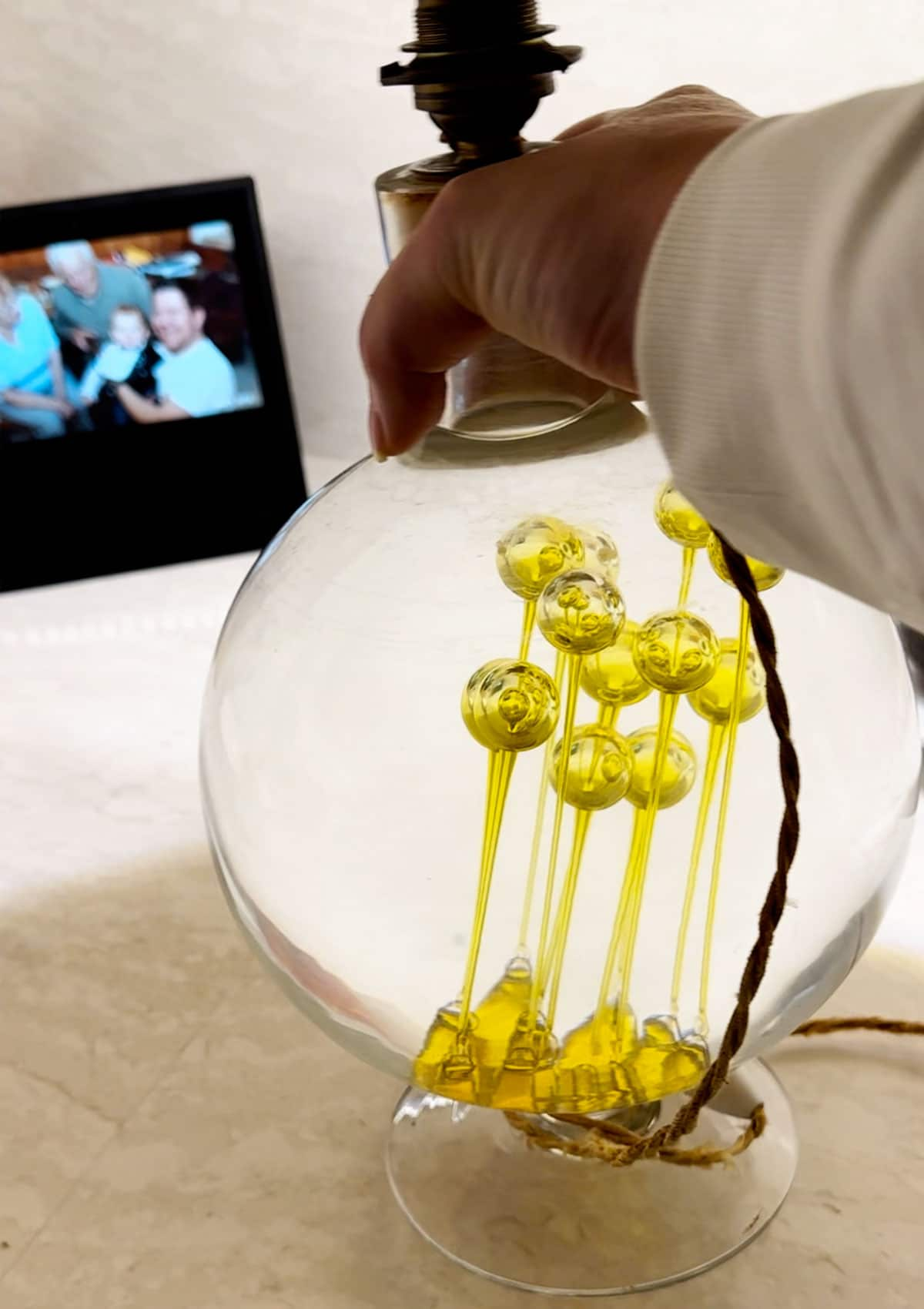 How Bout A Little Bit Of…Spice
My friend Stephanie and I have morning meeting-ups at a local coffee shop, and the other day ordered an egg sandwich. Legit the yummiest breakfast sammy, so of course, I had to recreate it. To make it yourself, you need an English muffin (toasted), 1-2 scrambled eggs, 1 slice of colby jack cheese, arugula, tomato, and avocado if you like, and the key ingredient is this chipotle lime mayo.

Thermal Headband For Winter Walks
The cold air is here to stay, so my ears have been freezing during my morning dog walks, but wearing a pom pom hat makes me overly hot. They trap the sweat and don't breathe well. This little merino wool thermal headband from Amazon has been doing the trick. It's lightweight, comes in 4 different colors, keeps my ears toasty warm, and even though it's wool, it isn't itchy. Oh, and it's machine washable (gentle cycle).

Produce Saver Containers
We've never owned a produce crisper, so our lettuce is always sad and wilted. Usually, it gets chucked in the fridge with the plastic wrap it came in. Please tell me I'm not the only one. Anyhoo, during the latest Amazon Prime Sale, I caved and bought this one. Works like a charm, and now our lettuce now stays crunchy for the full week!

A Fan For The Peloton
This handy dandy fan clips onto my Peloton handlebar and plugs into the back of the monitor for power. I can angle it right at me while I'm doing a spin class and not hop off in the middle of my workout because I forgot to turn the fan on. Although, The Boy said the maker of this company missed the mark because they should have named it The Fandle, and I couldn't agree more. If you own a Peloton bike or treadmill, I highly suggest this purchase. BTDubs, there's a whole round-up of my favorite home gym essentials on the blog.

Super Soft Workout Leggings Under $25
My friend Ashley and I were supposed to drive downtown for a blogger event, but due to the snow, we decided to play it safe, stay in Barrington, and just grab a drink. She texted me asking if it was appropriate to wear yoga pants and an oversized sweatshirt. At 7 pm, after working all day long, and it's snowing outside, yes, Ashley, it's 100% appropriate. She told me about these super soft leggings on Amazon, and for $25, I had to try them. They are just as comfy as my favorite pair of Lululemon's and cost a fraction of the price.



Discover More Modern Home Decor Ideas
Have you seen the TikTok Made Me Buy It videos? That link will take you to a round-up of things TikTok made me buy and that I love. Zero regrets.
I had no idea that sleeping on quality bedding was a real thing. Here are the best sheets for a good night's rest.
After sharing my coffee table decor ideas, I thought I should also round up the best coffee table books.
I've been playing around with some living room design concepts. Check out the latest mood board I came up with.
We adopted a dog about a year ago and have since found the glory of affordable, washable rugs.
Learn to layer lighting like a pro with this guide to the best bedroom lighting.
Love plants as decor but have a black thumb? No worries! I have a rounds ups of the best faux olive trees, my favorite faux fiddle leaf fig trees, and a huge round-up of faux plants that look real.
Want to add a little magic to your room? Try adding some disco ball decor with these sparkly ideas.
Love the Primrose mirror but hate the price tag? I got you! Here's a full round-up of affordable Anthropologie mirror dupes.
Do you have a rug that is too small or too big? Not sure? Here's how to choose the best size rug for a living room.
Cozy up your windows with these affordable velvet curtains – oh, and they're all available online.
If you love wallpaper, but have a fear of commitment, check out this round-up of best peel and stick wallpaper – it even includes a couple of wall murals.
Cane furniture is trending, and so is rattan and cane lighting. If cane isn't your jam but you want more lighting ideas, check out this round-up of boob lighting alternatives.
Thinking about joining a country club? Before doing so, read my review of the Biltmore Country Club. You may rethink that decision.
Learn how to make your own Artificial Flower Arrangements With Resin that looks like water. Such an easy DIY and more affordable than buying retail.
Well, I'm over the brick fireplace and gearing up for a fireplace makeover in the living room. We chose a custom limestone facade, and it's getting delivered!
Storage bins and other organization ideas to keep your home clutter-free. From the pantry to the kitchen to the bathroom to drawers, I've got you covered! And check out the decorative boxes post if you're looking for ways to corral your remotes.