Modern Fireplace Makeover
Last Updated on November 3, 2022
Well, it just so happens that the surround and stone for the modern fireplace makeover arrive at the same time as the One Room Challenge began, You know what that means? I'm jumping in baby! The last time I participated, I was an ORC featured designer and had so much fun. Why not do it again, am I right?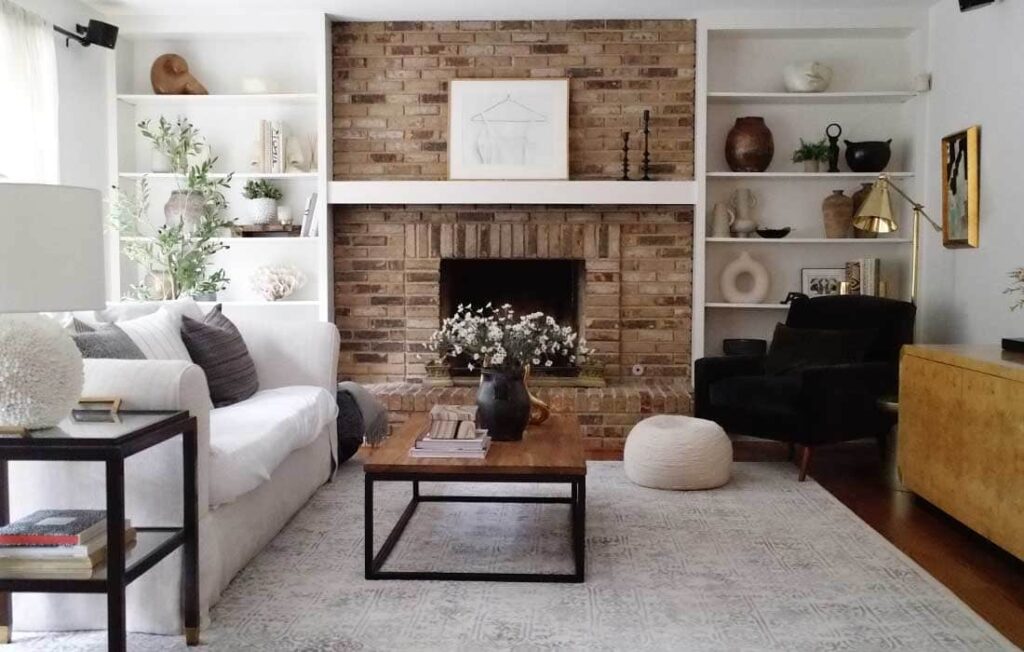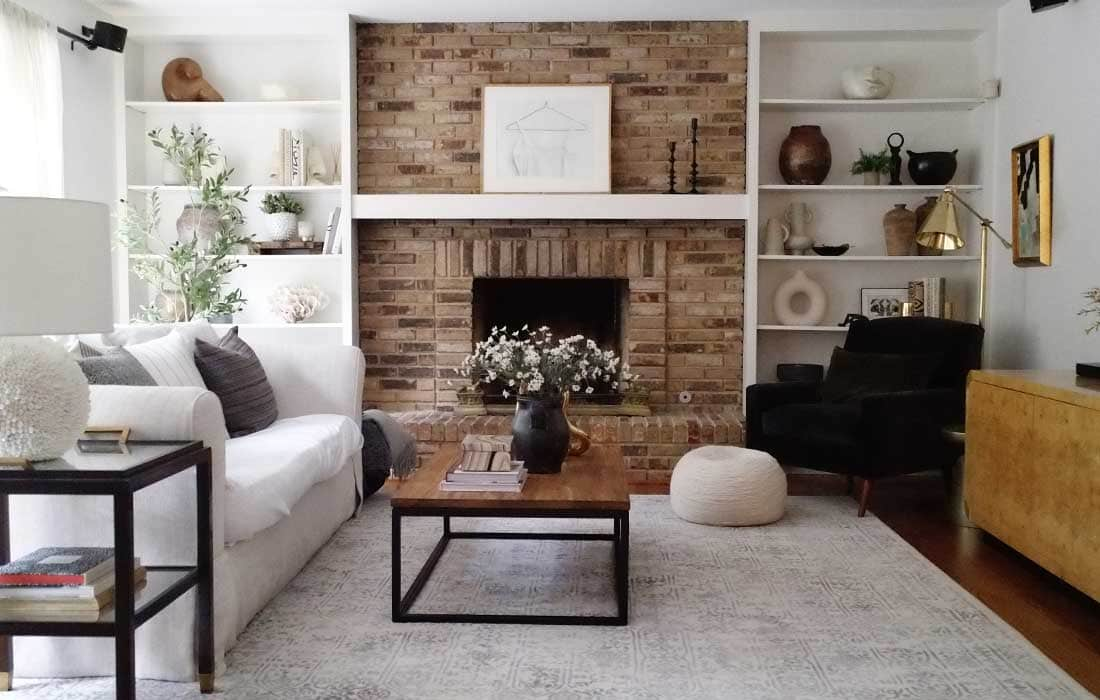 The '80s style brick has always dated this room, but it wasn't completely heinous. If it was red brick, that would have been another story, but fast-forward 6 years and here we are. Anyhoo, I've dragged my feet on a fireplace makeover because I love the built-ins. They are the first thing I styled in the house and what really made me fall in love with our home. I've wanted built-ins for years but after examining the brick and mantle of the existing fireplace, I could foresee possible issues. This was not going to be an easy peasy renovation.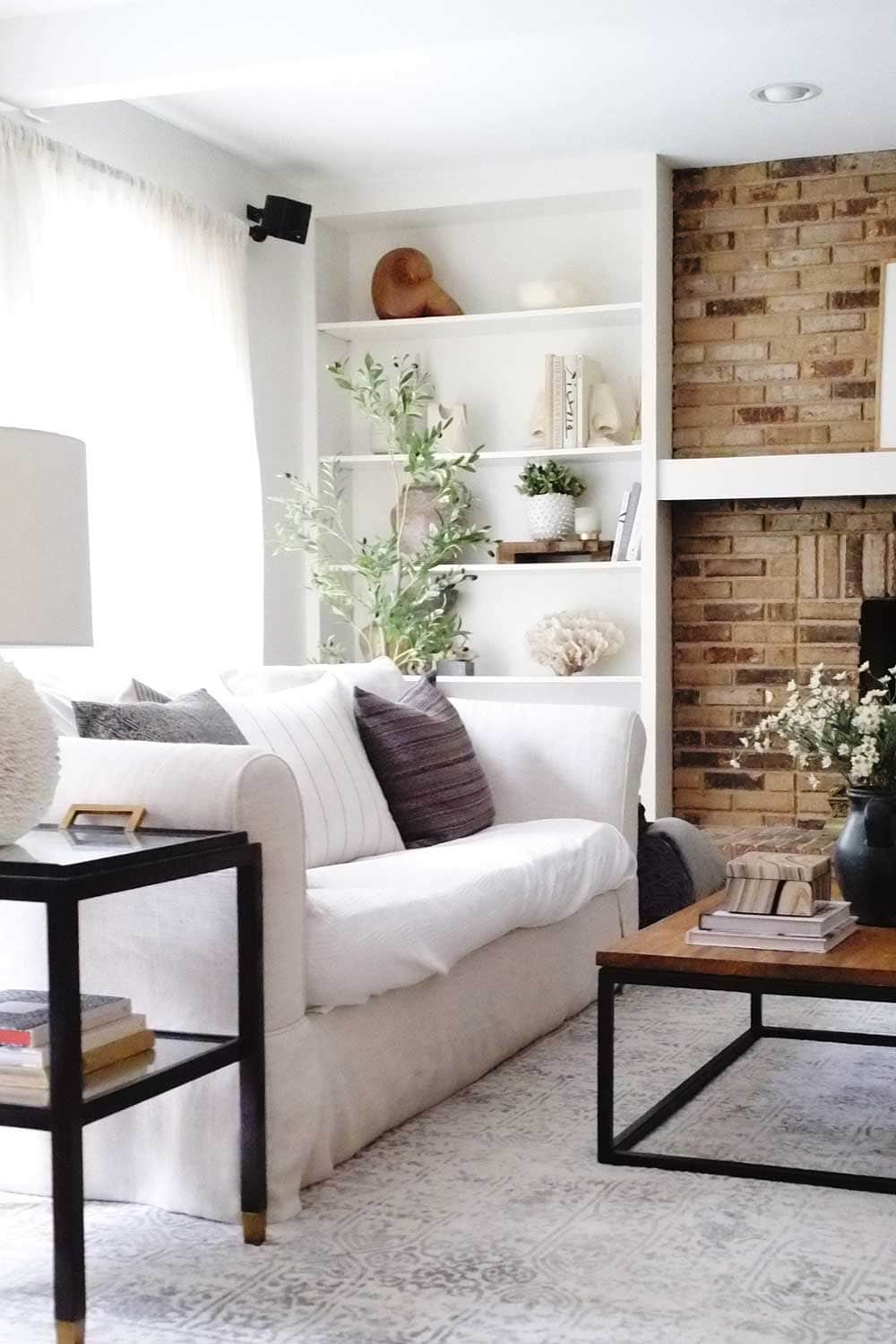 One morning, on a drive into the city, I was listening to the Dear Alice podcast — specifically the episode dedicated to fireplace design. It gave me a lot to think about with materials, combustibles, height, width, mantles, surrounds, encasing, etc…
As you can see in the photos, the side of the wood built-ins butt up against the brick and is built out to create a look of built-ins but it's really just shelving. The normal depth of a built-in should be 8″ – 11″ deep. The brick was under 5″ from the wall. Building it out makes this small room even smaller. Could the brick be removed altogether? I needed to call in a professional.
It just so happened that we got a new neighbor who just so happened to have a daughter in Zoe's grade and they were on the same soccer team. After teaming up for carpooling, we invited the parents over and small talk which led to the question of, "What do you do?". Chuck (the dad) said, "I'm a builder." Good sir, welcome to becoming my new best friend. Please put on a mask and come inside to look at my fireplace. Now, he normally does whole house projects, but being neighbors and bribing him with soccer carpool help, I managed to twist his arm.
Modern Fireplace Makeover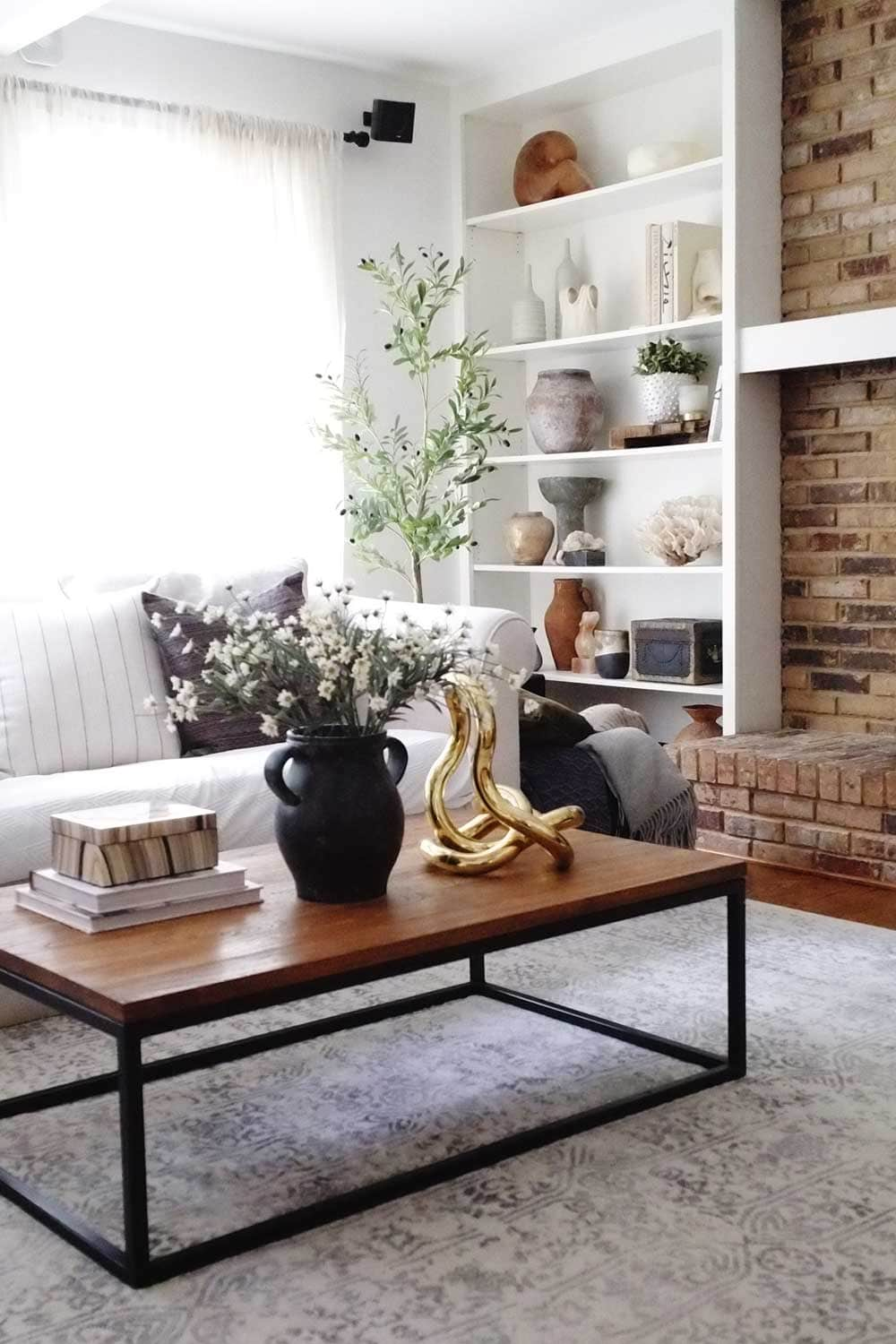 Upon immediate inspection, he noticed things I did not…and this my friend is why you call in a professional when it comes to fireplace makeovers. If we removed all the old brick, we'd be opening a can of worms. The hearth was raised which meant lowering the firebox to floor level was a tricky proposition. Encasing the brick was an option, but there was the valve to the gas and a key that was on the short side. That turned out to be the easiest snafoo to fix. Then there was the depth of the built-ins. Was I stuck with brick forever? I mean, '80s modern decor is making a comeback. Anything is possible.

Chuck suggested I talk to Materials Marketing, an architectural stone and tile company with a showroom is Chicago but they ship stone everywhere. His suggestion was genius because they had templates for fireplaces and hearths. I could go modern with clean lines or super traditional with embellished carvings. I had been eyeing modern fireplaces and pretty much knew that was the direction
I'm going to mull these over, but I'm definitely leaning towards clean lines. Nothing overly fussy – I get enough fuss with my kids and The Boy. But, I have a lot to think about. Weigh in with your thoughts in the comment section below.
Discover More Home Decor Makeovers
Modern Kitchen Makeover Reveal
Skinny Makeover In The Dining Room
Bathroom Makeover – Potty Paradise