Beautiful Distractions No. 33
Last Updated on December 14, 2022
Last weekend we drove to my hometown (Baraboo, WI) to visit my parents and celebrate Zoe's birthday. I'm contemplating sharing a quick recap of what we did and where to find my favorite burrito. Would that be interesting to you? Trying to share a bit more about me personally, but before I write that post, let's discuss what caught my eye recently.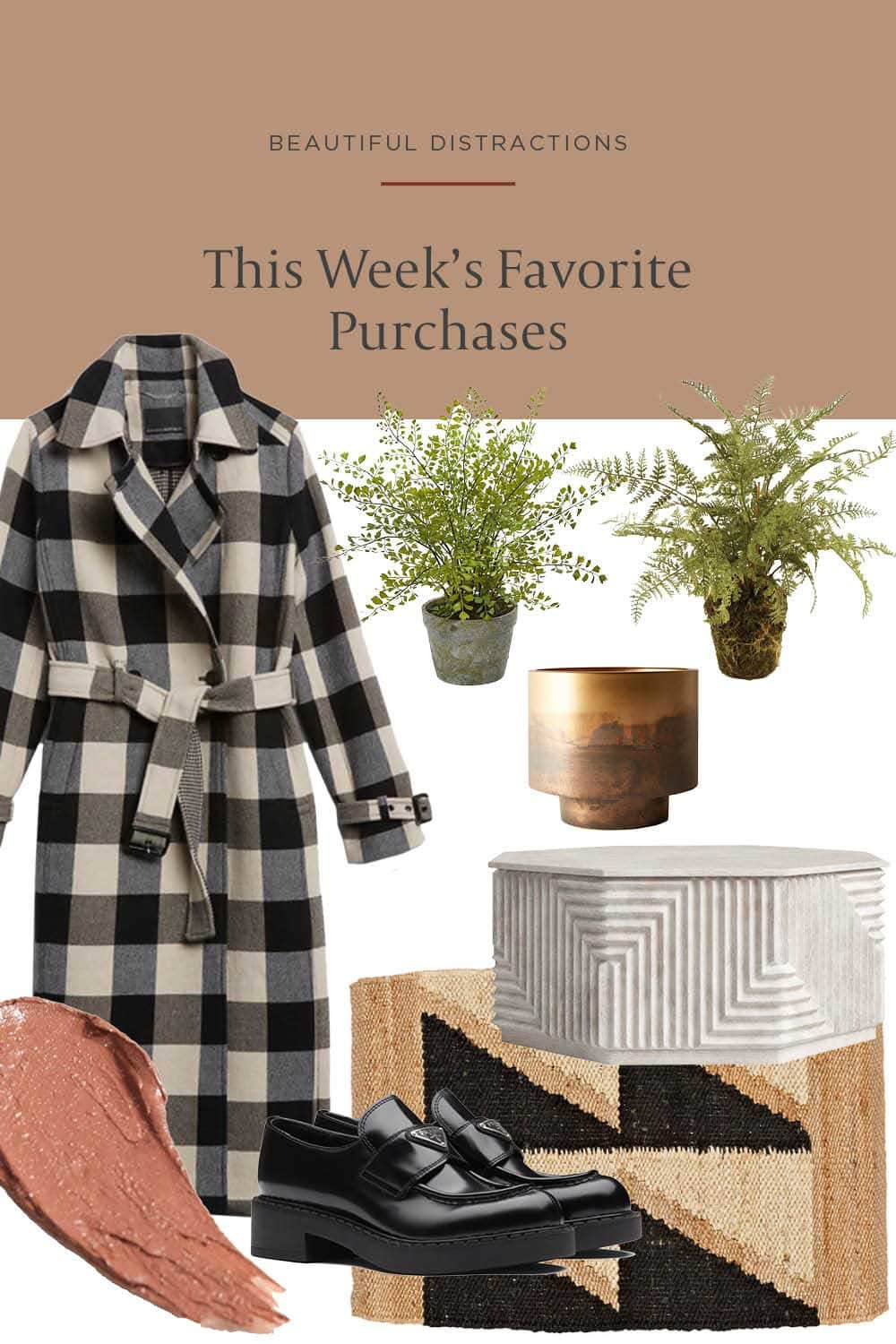 This faux maidenhair fern plant is my new favorite on a shelf or coffee table, and this faux soft fern will be my next purchase. It looks incredibly realistic and comes in 2 different sizes. This modern brass planter also caught my attention. Check these posts if you're on the hunt for the best faux plants or specifically the artificial olive tree.
The other week I shared a guide to trending jeans for fall and these high-rise straight jeans and these vintage wash slim-cut jeans were the most popular out of 60 pairs shared.
With '90s fashion in full effect, it should not surprise you that these lug sole loafers have been trending hard on TikTok ever since fashion week ended. Pair those bad boys, some loose-fit jeans, and Winona Ryder might just ask you to dance in a gas station. Just tell her to keep her embroidered vest.
The plaid trench coat I've been lusting over for months was finally released, but sadly it's way more expensive than I expected. Debating if the juice is worth the squeeze. What do you think?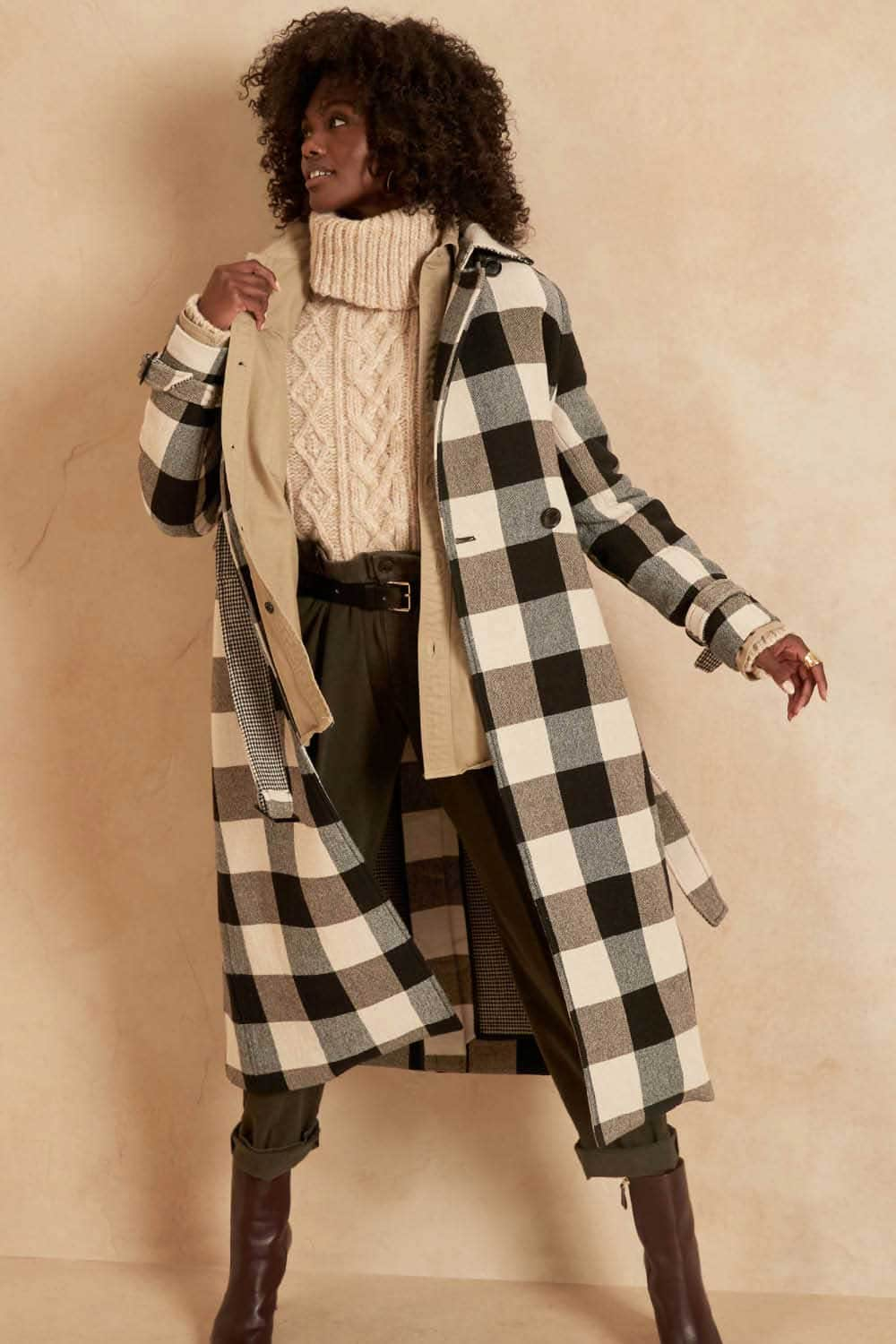 I started reading The Inheritance Games and I legit cannot put it down. The book is the first in a 3 part series and you can bet I'll be jumping into the next one soon.
Joss & Main released their home decor winter edit and this coffee table caught my eye for the living room. BTDubs, I'm installing a new fireplace this week (more to come) and that old brick is going bye bye!
This graphic rug also caught my attention. The design is a look that is not overdone when it comes to floor flair and I'm here for it.
Sherwin Williams announced its 2022 Color Of The Year and Evergreen Fog is the winner winner chicken dinner.
It's a bit lighter than what I was looking for in my dining room. Yes, Snowbound is on its way out! Check out the swatches I'm looking at in this video on TikTok. Dark and moody (I think) but staying earthy — no jewel tones. How do you feel about going dark?
The older I get, the more I watch what I'm putting in and on my body. You've heard me wax poetic about clean beauty winner Henry Rose (Fog quickly became my signature scent), and I recently discovered this sustainable lipstick made from organic ingredients with a cleaner supply chain plus they have a mission to heal the planet. I'm all about not licking toxins off my lips, so I'm all in on this one and will report back with a review.
Another clean beauty line is by Gucci Westman. She only uses synthetic ingredients when necessary and the reviews are off the charts. The Baby Cheeks blush and Vital Skin foundation stick are on my wishlist.
Have you walked around The Etsy House? I just saw this virtual home, and it's filled with all things Etsy that you can purchase.
Everyone is pulling out their spooky decor for October, and I weighed in on Halloween decorating mistakes and what to do instead over on Insider.
To wrap up with Beautiful Distractions, Imma toot my own horn. I now sit on the 2022 Design Influencers Advisory Board. It's one of my favorite conferences for interior designs and home decor bloggers alike, and Cosmopolitan gave me the surprise of a lifetime by naming me one of The Best Interior Designers on TikTok for All Your Home Inspo Needs.