Beautiful Distractions No. 4
Last Updated on January 14, 2022
Dear diary, it's been over a week since my last blog post…ahhh! I'm so sorry because I was smashing that post once a week New Year's Resolution. The job that pays the bills came down on me hard with a crazy deadline for a new client website. Everything needed to be designed and coded in a matter of days for a presentation. And darn it, I broke my streak. But, after pulling a few all-nighters and a couple of glasses of wine, I'm back baby, and ready to share what's been distracting me lately.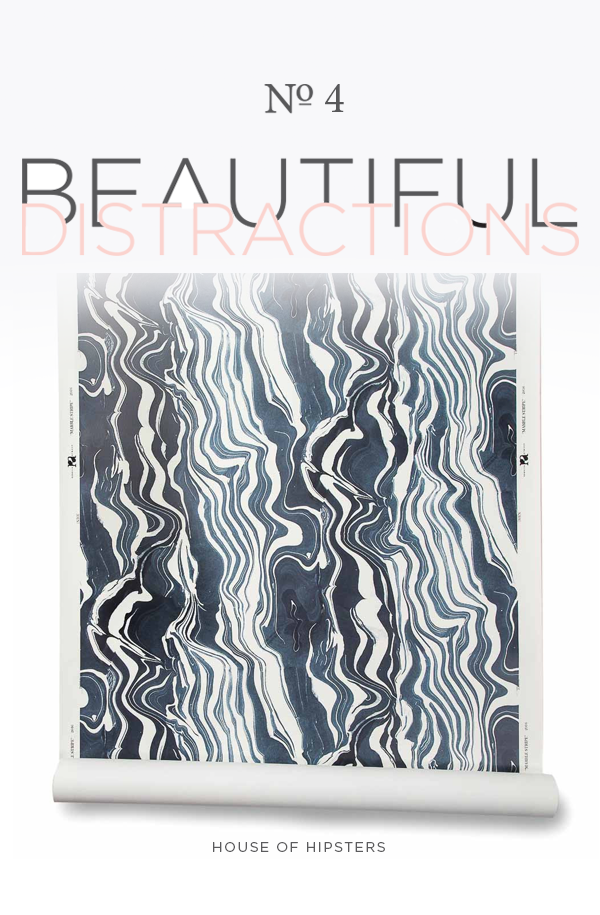 My girl Jojotastic is updating her bedroom and I can't wait to see what she has up her sleeve. That marble wallpaper she chose looks pretty spectacular.
This Hollywood Regency lion's head towel holder has me wanting to reno another bathroom. Seriously it's giving me all the feels.
Today I gave a sneak peek of my office decor process over on Instagram. It's still a hot mess because it's the dumping grounds for vintage treasures without a home, but at least it's starting to get styled.
Meanwhile, I'm loving the new series Two Girls, One Kit (my girls Anne Sage and Caroline Lee). In this post, the duo takes the same camel coat and each girl styles it in their own way. The coat is gorgeous and the series is genius. Check it out if you have a second.
I plan to hang a newly purchased vintage leather brown gym mat on the wall as a headboard in the guest bedroom, and now am on a quest for bed linens. I've been perusing Pinterest for inspo and wow there's a ton of perfectly made beds out there.
With all the political talk that just seems to be growing louder these days, I took a much-needed pause to read my horoscope. February's theme for me is self-care. What's yours?
My fine, thin hair is super sensitive, and this dry winter air is not helping matters. I'm contemplating biting the bullet and finally buying a fancy schmancy brush. Do you have one? tell me, is it really worth the hype?
Did you know this was a thing? Ya, neither did I. You learn something new every day.
The Boy and I have decided to take a vacation. We're gearing up for a trip to The Canary Islands and then jetting off to Paris for a few days. If you've ever been to either destination, please share your favorite haunts. I'm in full-on planning mode, and we are thinking of staying here. 
More Eclectic Home Decor Inspiration And Other Ramblings
Mid-Century Modern Mix & Match