Trending Jeans — Best Denim Styles For Fall
Last Updated on June 16, 2023
There was a kerfluffle in Momlandia when I officially declared skinny jeans out of style last April. Protests and shouting ensued outside my home (kidding – that didn't happen), but the comment section was a scene. Don't blame me — I'm just the messenger. But if those leg-hugging jeans are no longer in fashion, what are the trending jeans of 2021? Girl, I gotchu with an epic round-up. Pour yourself a prosecco, get comfy, and let's try on 65 of the best denim styles for fall.
The Ultimate Guide To Trending Jeans For Fall
Even though skinny jeans were exiting the fashion scene back in 2018, it's been difficult to find a more relaxed silhouette until now. After posting my last denim round-up, moms everywhere screamed, "you shall not take my skinny jeans". Pu-leaze, tell that to Jane Birken.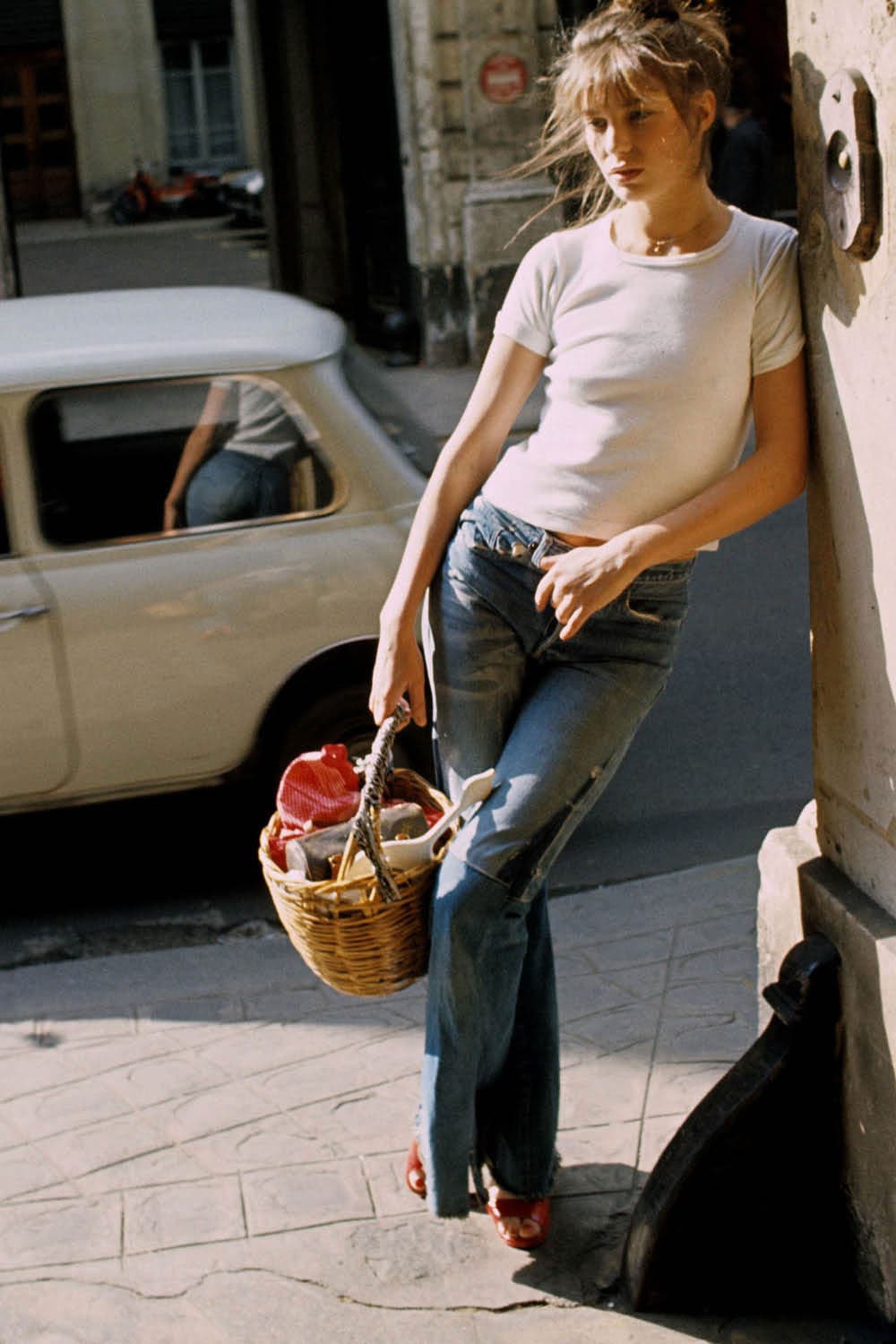 Trending Straight-Leg Jeans
The best denim style for all shapes and sizes is the straight-leg jean. A staple cut out of all the trending jeans and comes in every color, waistline, cropped, and long leg. If you're just hanging up your skinnies for something new, this is the safe style to try out first. Think of them as the cousin to skinnies and a classic style that goes with anything.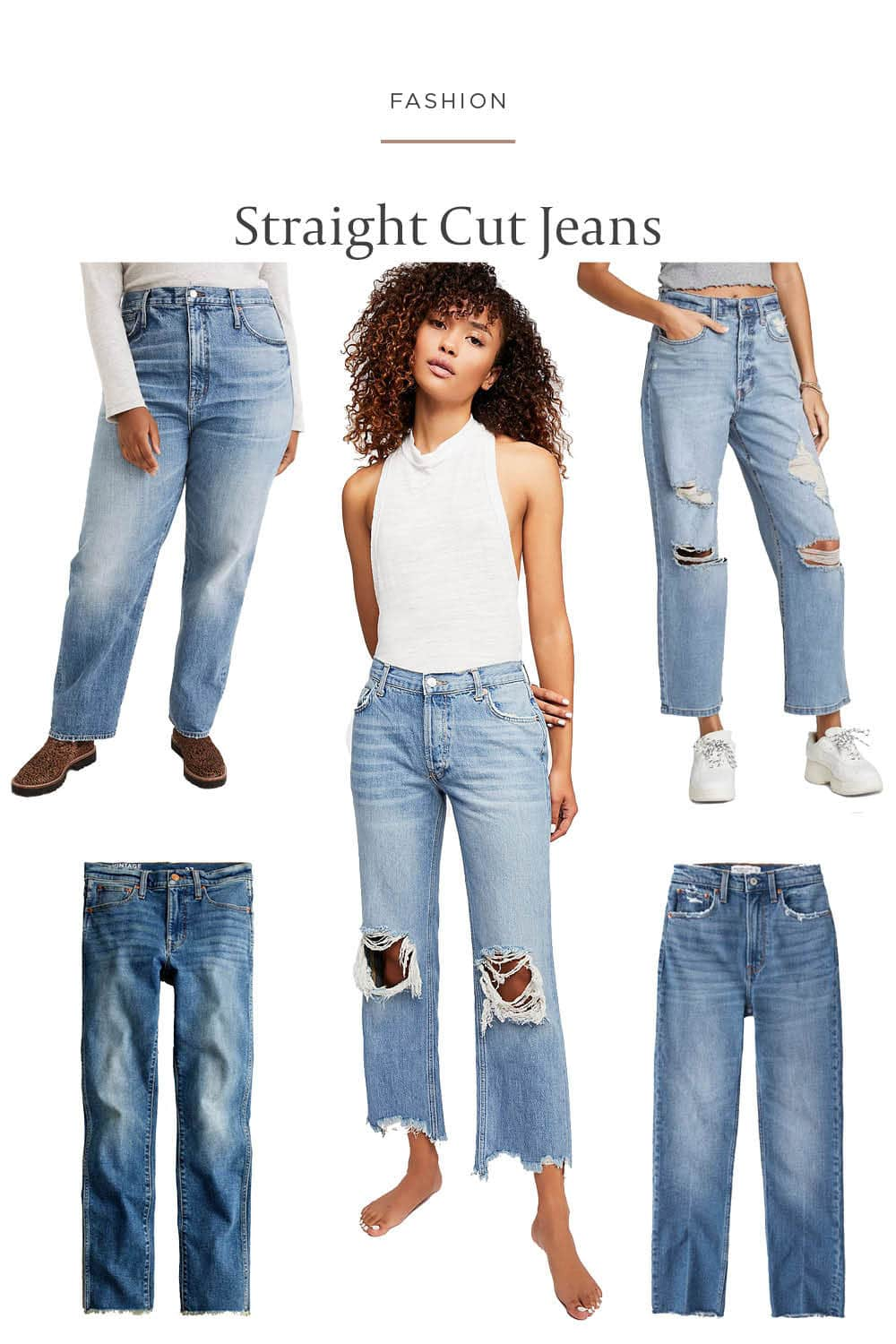 High Rise Straight Full-Length Jeans – higher price point
Mid Rise Ripped Straight Leg Jeans
Super High Rise Distressed Straight Leg Jeans – under $25
Vintage Slim Straight Leg Jeans
Ultra-High Rise Ankle Straight Leg Jeans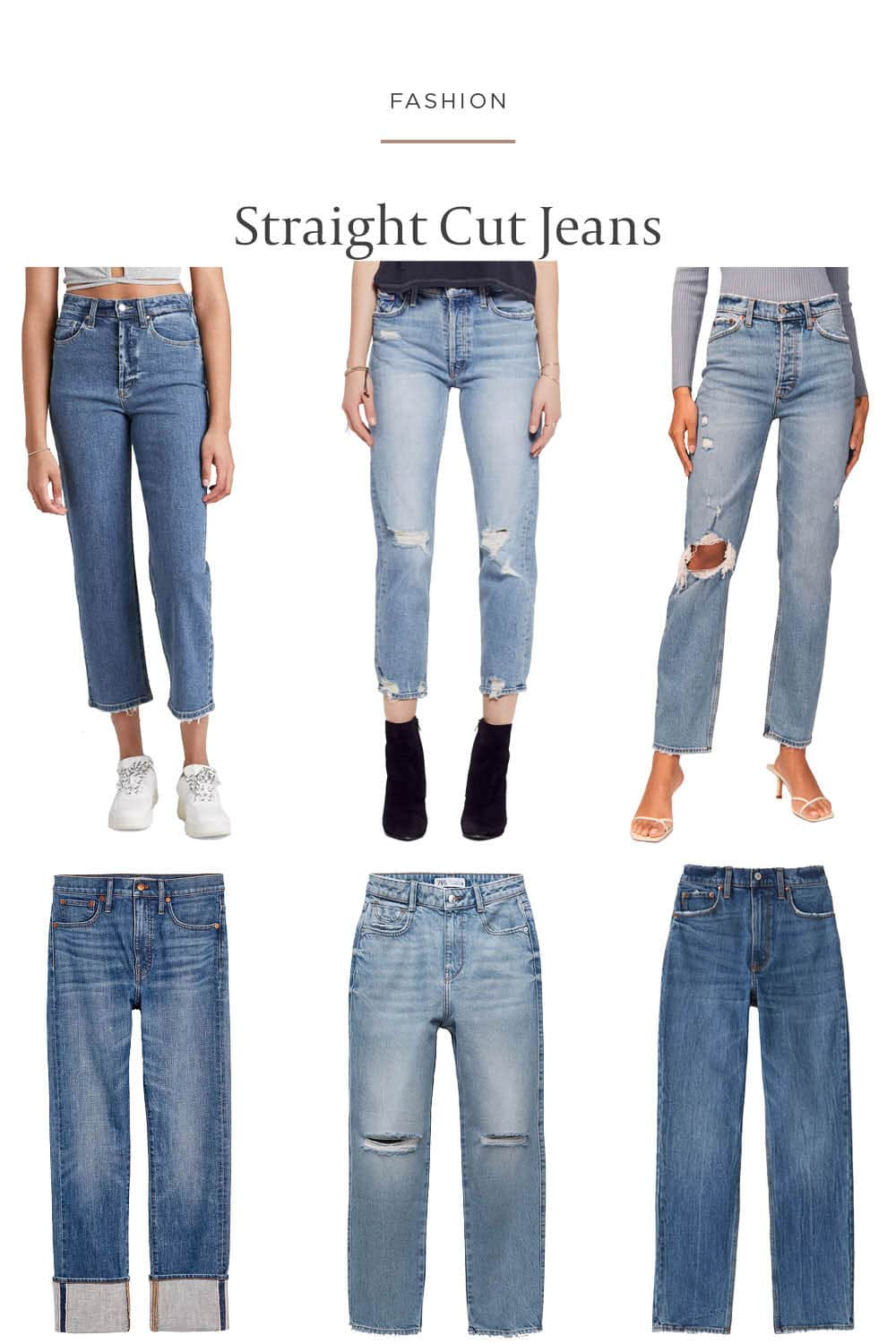 Super High Rise Straight Leg Jeans – under $25
Ripped Cropped Straight-Leg Jeans – higher price point
Classic Straight Leg Jeans With Large Cuff
Mid Rise Ripped Straight Leg Jeans – no longer available
90s Ultra High Rise Straight Leg Jeans
RELATED: Yup, skinny jeans are out of style. Here are more trending jeans to replace them.

High Waisted Button Fly Straight Leg Jeans
High Waisted OG Straight Leg Ripped Jeans
High Right Bootcut Straight Jeans
Twisted Seam Distressed Straight Cut Jeans – higher price point

High Rise Straight Organic Jeans from one of my favorite brands.
Best Relaxed Fit Jeans
I'm going to group mom jeans and boyfriend jeans into the relaxed fit denim style group. Relaxed-fit jeans are a straighter cut but looser in the hiney and the hips. A boyfriend will hit lower on the waist while the mom fit is a higher waist. Comfort reigns supreme in a relaxed fit, and I'm here for it.

Boyfriend Jeans – under $50
Borrowed Boyfriend Jeans – higher price point
High Rise Organic Cotton 90s Loose Fit Jeans
RELATED: The denim maxi skirt is trending. Here are my top picks.

These relaxed-fit jeans look super comfy and I'm oh so tempted to pick up a pair. They come in three colors – this is moss and there's also a creamy neutral and a copper color. I love them paired with those high-top sneakers too. The black is sold out (the low tops in black are available), but check out the khaki.

I'm not sure I can express my love for these distressed selvedged jeans. The discoloration. The patches. The loose fit. They are in my cart and I'm checkin' out baby. Don't care if they're on the pricy side, Imma rock em.
The Distressed Selvedge Borrowed Boyfriend Jeans

High Waisted Girlfriend Jeans – no longer available
Mom Fit Jeans – High Rise Tapered Leg – no longer available
Sky High Rise Mom Fit Jeans – on sale
Best Flared and Bootcut Denim Styles
Because I was blessed with wide childbearing hips, I'm a bit resistant to flared jeans, but a bootcut is primo. They flare but they don't FLARE. A cropped bootcut is perfect for showing off cute footwear.

Button Fly Demi Boot Cropped Jeans
High Rise Button Fly Flared Jeans – higher price point
High Rise Straight Bootcut Cropped Jeans – higher price point
Cropped Bootcut Jeans with Chewed Hem – higher price point
The Tomcat Jeans – higher price point

Relaxed Bootcut Jeans – almost sold out
Cropped Flare Jeans – under $30

The Barrel Leg Denim Style
What the heck are barrel-leg jeans? They're basically a straight cut with a tapered ankle. Six months ago these trending jeans were hard to come by, but there are some rad options for fall. I will fully admit I was not 100% on board with this denim style until these bad boys landed in my inbox. Ummmm, yes please! Super cute! If you're feeling adventurous, here are a few more of my favorites.

High Rise Relaxed Straight – I'm still calling these barrel cut with the tapered ankles
High Rise Barrel Jeans – most clicked on for the last trending jeans post
Curve Jeans – higher price point
High Rise Tapered Jeans – and the cute penny loafers
High Rise Tapered Leg Jeans – high price point

Barrel leg jeans are trending hard and I love them with a little cuff at the ankle and paired with a classic white button-down shirt. BTDubs, they make your buns look great!
High Rise Barrel Leg Jeans – watch for special discounts

Barrel Leg Denim Trousers – higher price point
Trending Wide-Leg Jeans For Fall
When I unboxed my first pair of wide-leg jeans, The Boy exclaimed, "Good grief those are huge! You could make sails outta those legs!"
Ya, totally didn't phase me. I love them. And if your significant other says the same, ignore them. These trending jeans make your legs look super long and give the illusion of a tiny waist — oh and if they're high-waisted, you'll really get that super cinched look.

Wide Leg Jeans – I own 2 pairs of these and have had them for years. Worth every high-priced penny.
High Waisted Wide Leg Jeans – no longer available
Frayed Hem Ankle Wide Leg Jeans
Wide Leg Jeans – higher price point
Wide Leg Boyfriend Jeans – higher price point and this brand runs small

Cropped Wide Leg Jeans – almost sold out
High Rise Slim Wide Leg Cropped Jeans
Frayed Hem Wide Leg – higher price point
High Rise Wide Leg Crop Jeans – under $30
High Waisted Ankle Wide Leg Pants – higher price point

High Rise Wide Leg Jeans – no longer available
The Secret Of The Trending Slim Cut Jeans
I'm in no way shape or form telling you to give up your skinnies nor am I taking them away — and neither are the fashion gods. They are shining down on the holdouts with a stealthy, covert description that they call the slim cut. This trending denim style is still leg-hugging (more so than the straight leg), but it's maybe not as tight around the ankle as your beloved.

Ultra-High Rise Slim Jeans with Raw Hem
Super High Waisted Raw Hem Slim Fit Denim
High Rise Slim Boyfriend Jeans

I just purchased these and have been living in them.
Slim Fit High Rise Ripped Jeans – no longer available

High Rise Slim Fit Jeans – no longer available

Also, how obsessed are we with that trench coat? I've been checking the site every morning waiting for it to be released – I've even messaged them on Instagram. Will definitely keep you posted on this checkered beauty!
Find More Stylish Outfits and Fashion Ideas
Have you noticed the newest trend in denim? Elevate your closet with the best denim skirts.
A round-up of stylish backpacks I'd wear for commuting to work, back to school, and travel backpacks and most will fit a laptop.
I found the best pajamas that are comfy, colorful, and come in bold patterns.
A new fashion line is shaking up Chicago. Check out the latest collection of bags by Neon Fringey.
Skinny jean alternatives to get you out of the old and into the new looks.
My newest trending mom style outfit – ya, it's a thing.
Don't miss this guide to Fall Fashion Must-Haves
Style Post — Dressing For Spring what I'll be wearing on repeat.
15 Camel Coasts I'm Loving For Fall
Ya, I Used To Be Punk Rock – this shirt is proof.
Find Cute Summer To Fall Outfits for a stylish seasonal transition.
If you're looking for Favorite Things gift ideas, I've got a full round-up of goodies under $25 for your next party.