Skinny Jeans Are Out – 9 Alternative Styles 2023
Last Updated on September 19, 2023
Hold up, are skinny jeans out of style? According to TikTok, yes, and Gen Z has drawn a line in the sand with the side part hairstyle, the excessive use of the laughing face emoji, and your beloved skinny jeans are canceled. So if you are presently wearing said skinny jeans with a side part, which is clearly not the superior hairstyle, this post is for you — and be sure to check out my trending jeans for fall post and my trendy mom outfit.
9 Alternatives To Replace Your Skinny Jeans In 2023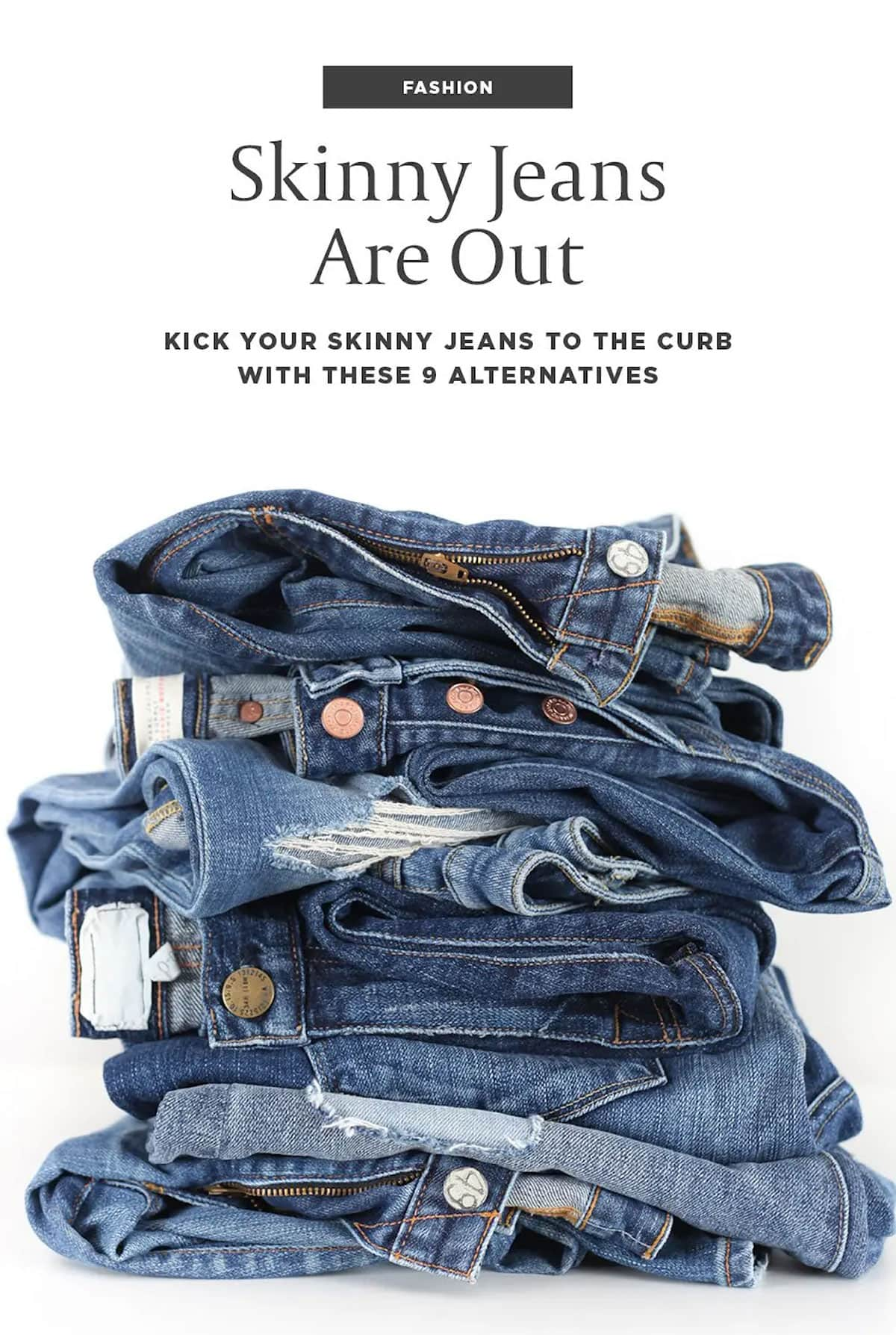 Fashion trends come and go, and while skinny jeans were a revelation in the mid-2000s, I'm here to tell you skinny jeans are out of style and officially dead. If you're over 30, you lived through the rise and fall of baggy jeans and the departure of extra low-rise jeans…which rumor has it, have been threatening to make a comeback. Dear Sweet Baby Jesus, please, for the love of all the fashion gods, never bring back whale tails and jeans. Not even Britney Spears can rock those anymore.
If you're feeling out of the loop, you may be asking yourself, if skinny jeans are out, what's in? Don't worry; I'm here to keep you cool.
If Skinny Jeans Are Out, What's In?
1. Wide-Leg Jeans
My prayers have been heard. Personally, I've always been a fan of wide-leg jeans. The cut of the wide-leg can be high rise, mid-rise, crop, or full, and they are straight through the hip and thigh. I pair mine with a cropped sweater or slim-fit white tee and almost always a belt.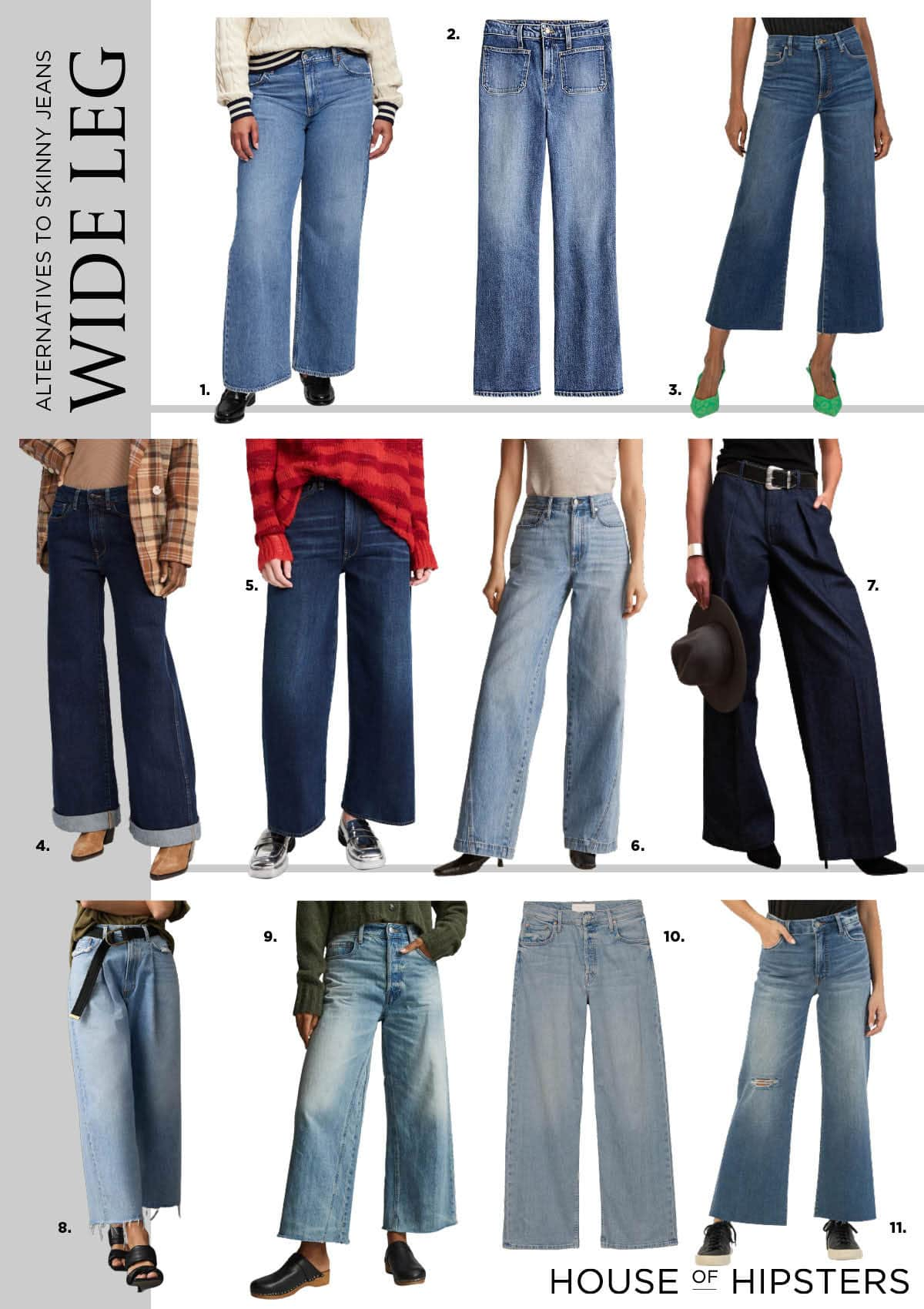 2. Baggy Loose Fit 90's Jeans
Yes, you read that right, those loose-fit 90's jeans are back! All this gal needs is a flannel shirt, Doc Martens, and some Pearl Jam…then all would be right in the world.
RELATED: If you're looking for a new laptop backpack for work, back to school, or travel, I have a great round up for you.
3. Tapered Leg Jeans
If you're not quite ready to burn your skinny jeans (which I'm not saying you should), try on the tapered leg jeans. They gradually narrow towards the ankle and have that same inverted shape. It's kind of a skinny jean and straight-leg two in one.

3. Barrel Leg Jeans
For me to get on board with these, I think I will have to try them in-store. I have big enough hips from having babies that I'm unsure if I want to accentuate that part of my body even more. A barrel cut will be more fitted at the waist but roomy in the hip and thigh with a tapered leg. I'm eyeing these high-rise barrel jeans because they have almost a boyfriend fit to them.

RELATED: The maxi denim skirt is trending! Here's what has caught my eye.
5. Bootcut Jeans
Yes, bootcut jeans are trending, but that does not mean you can dig your old hip-huggers out. The bootcut jeans of 2021 have a higher waistline (again, thank you, Sweet Baby Jesus), a slimmer cut, and less of a flared ankle. Bootcut is definitely a trending denim style you're gonna see a lot of this year. They look super chic paired with a boot.
6. Flare Leg
These are not your 70s-style flare. Slim fit through the thigh with a slight flare at the knee.

7. Boyfriend Jeans
Similar to the straight-leg jeans, but more relaxed through the hip and thigh. I love boyfriend jeans. They are soft, comfy, and the loose fit allows for movement, but buyers beware. Since they are slightly slouchy and oversized, you can quickly go from laid-back cool girl vibes to frumpy and ill-fitting.

8. Straight Leg Jeans
Fitted through the hip and thigh, with a straight leg down to the ankle. Straight-leg jeans hug you in all the right places and give off those old-school vibes. They're a great basic that rarely goes out of style. In fact, I still have my favorite pair tucked away in the maybe they'll fit again drawer. A pair of Chip & Pepper jeans…RIP…make my butt look so good. Because all the celebs wore them, hunting a pair down was a feat. They were harder to find than a Cabbage Patch Kid doll in the 80s. I'm on a quest to find a pair that fit as well, only for my post-baby body.

9. Cropped Jeans
It should be said that almost all of these skinny jeans alternatives can be worn in a cropped style. However, I'm going to throw another curveball at you. Try wearing your cropped jeans with socks and a pair of loafers. And no, I'm not talking about those no-show socks; I'm talking a pop of color or something with a bit of an ankle. Think back to the penny loafers of the late '80s.
In short, skinny jeans are officially the new mom jeans. We hear you loud and clear Gen Z. Personally, I've never been a fan of skinny jeans, so when I discovered they had been declared old and uncool, my breakup with the skin-tight denim was swift and quick. It also might have been easier because I've been wearing sweatpants for the last 365 days. And now that I foresee a post-pandemic return to everyday life sans sweatpants, I promise to rotate a few of these different styles into my wardrobe. Will you?



Discover Modern Home Decor Inspiration
Do you have a rug that is too small or too big? Not sure? Here's how to choose the best size rug for a living room.
Check out the decorative boxes post if you're looking for ways to corral your remotes on your coffee table.
I've been playing around with some living room design concepts. Check out the latest mood board I came up with.
Nothing elevates a ceiling light like a ceiling medallion. Check out that round-up to shop for the best of the best, and be sure to check out my how to install a ceiling medallion tutorial for some secret tips!
Rounding up the best interior design books – if you're looking for gift idea inspiration for a home decor obsessed loved one, this post is for you!
Love plants as decor but have a black thumb? No worries! I have a rounds ups of the best faux olive trees, my favorite faux fiddle leaf fig trees, and a massive round-up of faux plants that look real.