9 Best Faux Olive Trees 2023
This year faux olive trees have surpassed the fiddle leaf fig tree in the interior design world as a favorite home decor plant, but finding the best faux olive trees that look real can be tricky. You don't want to see plastic seams on the olives or droplets of glue "fake water" on the leaves. That will quickly turn your olive tree into a faux pas. My last greenery guide on where to buy the best fake plants has been wildly popular, but there is one artificial plant, in particular, that is clicked on more than all the others —  you guessed it — faux olive tree decor. It's having a moment, so let's break it down with my top picks.
Best Faux Olive Trees 2023
My hands-down favorite olive tree is pictured below, and the olives actually look real!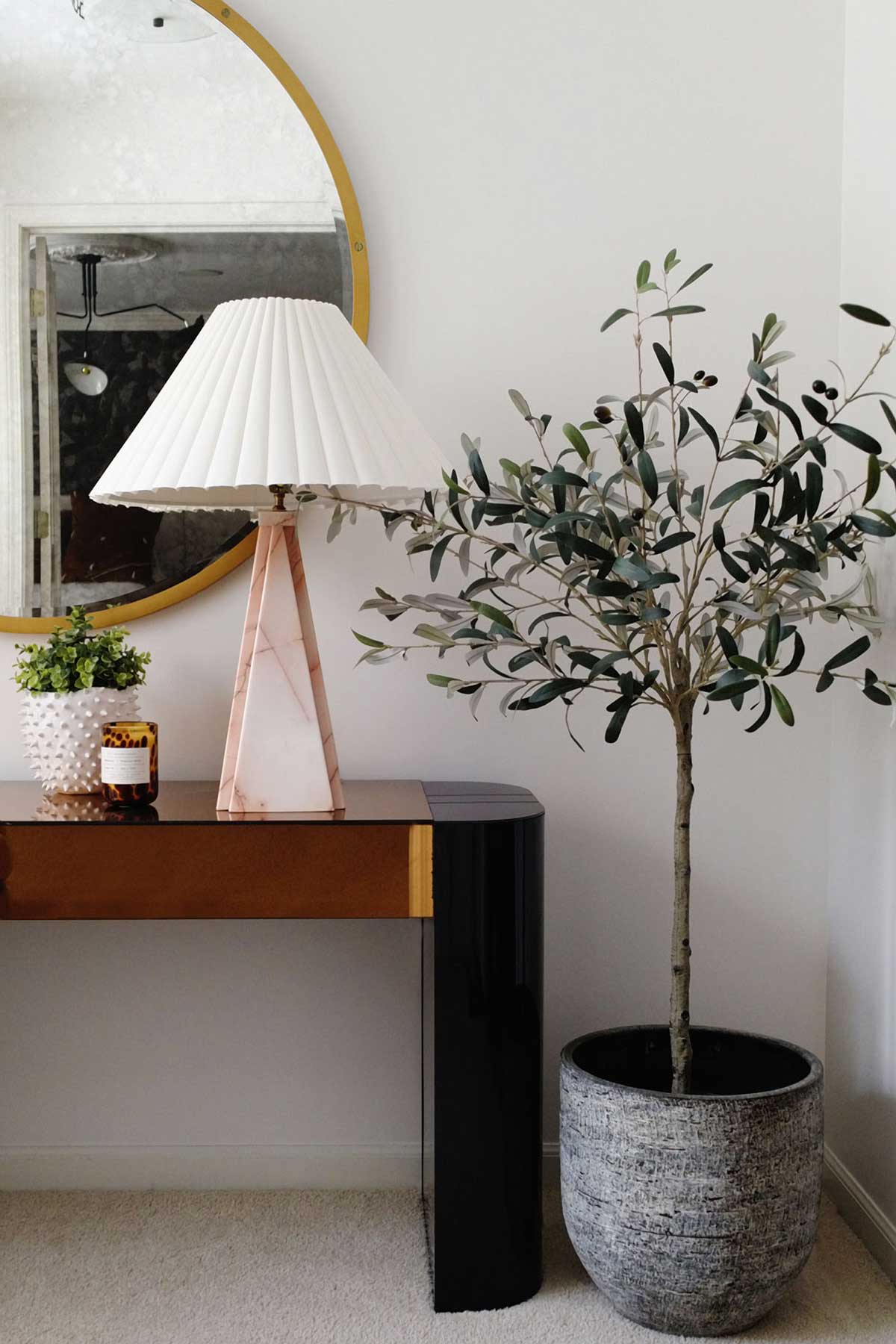 Shop These Top Picks Pictured Below
If you're on the hunt for the best faux olive trees and stumbled upon this post, you've hit the jackpot! Here are quick links to the first top 7 olive trees picked in the image below.
Click on the links above or scroll through thumbnails to shop this post.

Faux olive trees can get pricy based on quality and size, but a 3′-4′ real olive tree will still run you around $100. Because real plants silently scream and fear death when I near them, I might as well flush that $100 down the toilet. Plant maintenance is not my forte…I blame the ADHD. Weekly watering does not fit into my busy routine, so every single plant you find in my home is artificial.
Tall Faux Olive Trees
Over 6′ Tall Artificial Olive Tree pictured above is from Target
Looking back, when I first started sharing home decor, every comment was, "faux plants are tacky". Ummm, rude and completely incorrect. When working with Decorist on the living room makeover, I was told not to use faux trees whatsoever. But I broke that decorating rule immediately, and when the interior designer reviewed the final reveal imagery, she had no idea my plants were fake.
This tall artificial olive tree (pictured above) is available here and is the last one on my list of beautiful faux olive trees.
Wait, no, I lied. If you're looking for fake olive branches to pop into a vase, this set of 3 stems is a steal of a deal.
FAQs – How To Clean Your Artificial Plants and Trees
Where can I find the best artificial plants that look real at an affordable price?
Here are quick links to my faux plant favorite online shops.
How do you keep faux olive trees clean?
Yes, but if you think about it, real plants get dusty too. I try to take my Swiffer Duster to the leaves once every other week, but if there's one that has serious dust, I use Artificial Plant Cleaner. You simply take your plant outside, spray it, and let drip dry. Clean as a whistle. If you don't mind using an aerosol, try using this silk flower and plant spray that is unscented. Both will add an extra level of dust protection to the leaves.


Find More Home Decor Inspiration
Make this artificial flower arrangement in resin DIY with this easy tutorial.
Discover Where To Buy Affordable Curtains online with this awesome round-up of favorites. If you're specifically looking for velvet, I just published a round-up of affordable velvet curtains.
Getting rid of the brick fireplace in our living room and jumping into a Modern Fireplace Makeover. Check out the progress.
Cane and rattan are trending hard in the interior design world. Find the Best Cane Furniture online shopping sources.
Discover the best outdoor rugs for your patio and deck that are also washable.
Have you noticed the cute mushroom decor that is popping up everywhere? Jump on this trend with my top decor picks!
Add a bit of sparkle to your room with this disco ball decor.
Last Updated on January 11, 2023 by Kyla Herbes