18 Best Faux Olive Trees 2023
Last Updated on November 9, 2023
Back in the day, the faux fiddle leaf fig tree was the "it" tree to decorate a room, but these days, the faux olive tree is trending hard in the interior design world. My post about where to buy the best fake plants that look real has been wildly popular, but one faux plant is clicked on more than all the others — yup, you guessed it — the faux olive tree. But where do you find the best artificial olive trees that look real? Congratulations! You've hit the jackpot! Let's take a peek at the best faux olive trees for your living room.
Guide To The Best Faux Olive Trees That Look Real
First things first, I have many fake plants in my house, but out of all of them, I gravitate towards the olive tree when styling my home. It moves from room to room, and I should probably order a second one. That's why it's #1 on this list and one of my favorite faux olive trees to fill an empty corner when styling a living room.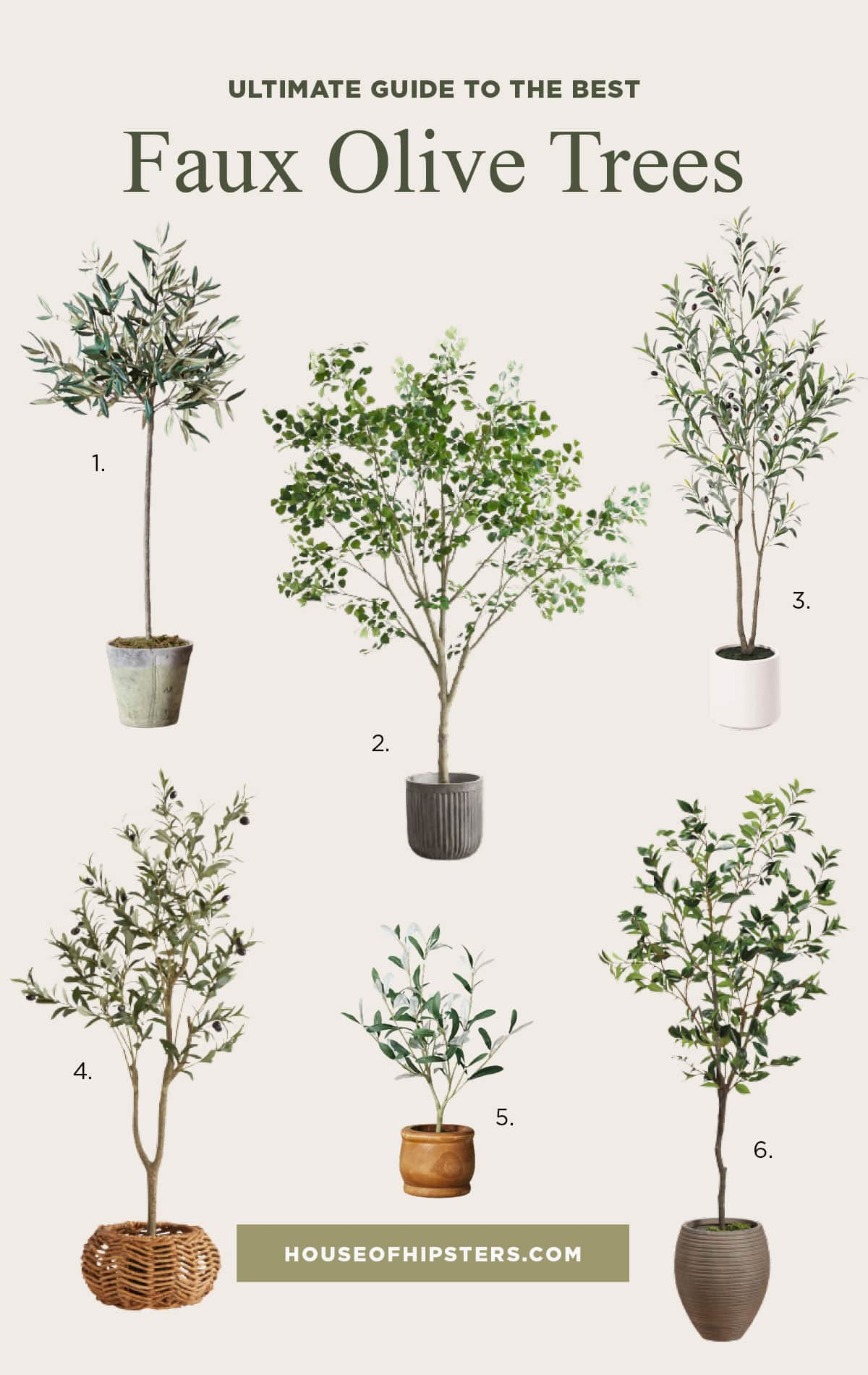 1. McGee & Co. — Faux Potted Tuscan Olive Tree
This is the exact faux olive tree pictured below in the sitting room outside my bedroom. It's incredibly realistic, and the small pot fits perfectly in a basket. This one stands only 46″ high, but I added height to mine by popping a few old books under it. Leave it to Shea McGee to stock the perfect decor piece to fill the empty corner of your room. There are also two larger sizes: a 72-inch tree and a 96″-inch tree.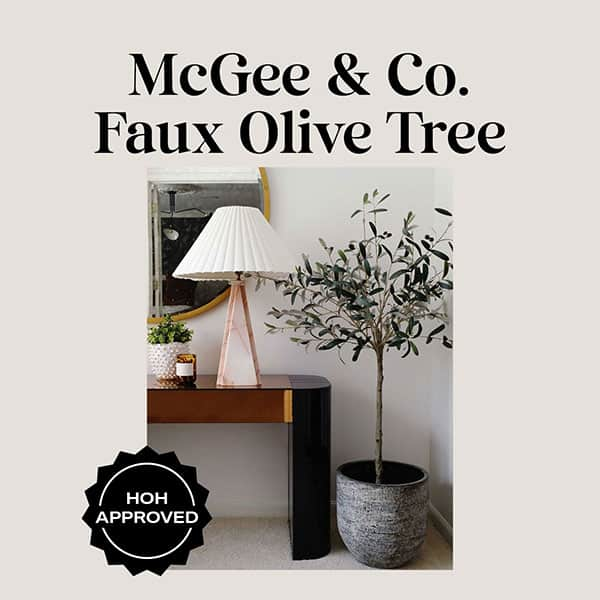 2. Pottery Barn — Shady Lady Faux Olive Tree
There's a reason why this beauty is a best seller on this list. She's a freaking beauty, perfect if you have vaulted or tall ceilings. You can purchase her with or without the planter.

3. Walmart — 5-Foot Tall Faux Olive Tree In Planter
Walmart might not be the first place that comes to mind when shopping for faux plants, but let me tell you, there are some gems over there! This 5-foot artificial tree is easy to maintain because no watering or pruning is required — that's my kinda plant.

This affordable 48″ tall faux olive tree (basket not included) is currently on sale. I like the split trunk with the thin, lifelike branches and leaves. If you look closely, you'll notice this tree has olive fruit but don't worry, you can't see plastic seams, so you still get a realistic look.  

5. Target — Small Faux Olive Tree in a Wooden Pot
At $25, the price is right for this affordable faux olive tree from Target. This faux olive tree sapling is the perfect size for a countertop; yes, the wooden pot comes with it. I love it when they make it easy to display! Bring a touch of nature to your coffee table, console table, or that arched cabinet! I own this little greenie, which sits on a small table in my hallway.

6. West Elm — Artificial Potted Laurel Tree
Here's a random history tidbit you did not ask for: did you know laurel wreathes were made from wild olive trees known as kotinos in ancient Greece? Anyhoo, this is a great option if you want a touch of nature in a low-light area.

RELATED: Get my expert design tips on decorating with artificial plants to help make them look and feel more realistic.
Find The Best Fake Olive Tree For A Living Room
When I started sharing home decor, every comment was, "faux plants are tacky." Ummm, rude and completely incorrect. When working on the living room makeover, my interior designer friend told me never to style a room with faux trees, but I broke that decorating rule immediately, and when I showed her the final reveal photos, she had no idea my plants were fake.

7. Amazon — 10-Foot Tall Artificial Olive Tree
If you have vaulted ceilings, this tall tree might be the one for you. The faux olives look fairly realistic, but if you're not a fan, simply clip them off the branches. It has one single trunk and comes potted in a belly basket; however, my personal preference would be to remove it from the basket and replace it with this larger fiberglass decorative planter if you want that interior designer (eh emmmm Studio McGee look).

8. Nearly Natural — Set Of 2 Faux Olive Trees
Get more bang for your buck with these small but mighty potted faux olive trees. This set of 2 has a real-life look and fits perfectly in tight spaces like a bookshelf. They also get really good reviews.

9. Pottery Barn — 9-Foot Tall Faux Olive Tree
This 9-foot tall olive tree is glorious and almost gives Nate Berkus' living room olive tree a run for its money! This one comes in a plastic pot, so you'll need to purchase a planter in addition to the tree, but this beauty makes a statement! If you look closely, the underside of the leaves has a dull, silvery coloration, which gives it a more realistic look and feel. If 9 feet is too high, there are 3 small-sized faux olive trees to choose from. This one in particular is a bit pricy, but dang I love the airy look and feel to it!

10. Home Depot — 5-Foot Tall Artificial Olive Tree
This affordable faux olive tree is 5 feet tall and under $100. It has long leaves, fake olives, and slender branches, making it feel lifelike. If the olives aren't your jam, again, simply clip them off.

11. Afloral — Artificial Potted Olive Tree Plant
You can always count on Afloral to have the best realistic fake plants. It's one of those brands with high quality artifical plants that can fool almost every interior designer. This is a shorter tree, but I love the realistic-looking trunk on this one.

12. Target — Faux Potted Olive Tree
This 6-foot tall artificial olive tree is from Target and is under $200. It's a best seller and often out of stock. Ya, there's a reason for all those great reviews. However, if it happens to be out, you can sign up to be notified by email for restock.

RELATED: Get my expert design tips on how to decorate with artificial plants to help make them look and feel more realistic.
Tall Faux Olive Trees For Your Living Room
Faux olive trees can get pricy based on quality and size, but a 3′-4′ real olive tree will still run you around $100. Because real plants silently scream and fear death when I near them, I might as well flush that $100 down the toilet. Real plant maintenance is not my forte…I blame my ADHD. Weekly watering does not fit into my busy routine, so every single plant you find in my home is artificial.

13. Amazon — Tall Faux Olive Tree
This tree is available in 3 different sizes. I love how this tree trunk looks like natural wood with its organic shape. The best part is it's under $100. I own this tree, and it's presently in my living room, shown here.

14. Amazon — 82-Inch Tall Artificial Olive Tree
This large faux tree is another one with a realistic trunk. It's sold with the seagrass belly basket, although I personally would replace that with a large ceramic planter.

15. Amazon — 6-Foot Tall Artificial Olive Tree
If you want a good bang for your buck, this cheap fake tree is for you. It's under $100 and is 70 inches in height.

The single trunk on this tree splits into several stems giving it a more realistic, organic look and feel. It's a great budget friendl;y option if you're looking for an olive tree under $100.

17. Afloral — Fake Olive Tree Branches in Vase
That's not real water in that glass vase. That fake water is actually resin. Like I stated above, Afloral is a favorite brand amongst interior designers, but this arrangement is pricey. So, if you want an affordable option, hop on over to my DIY artificial flower arrangement tutorial and learn how to make your own. It'll give you the same look but save you a pretty penny.

18. Crate & Barrel — 9-Foot Potted Faux Olive Tree
This 9-foot tall fake olive tree is from Crate & Barrel and yes, it does come with the planter which is an added bonus. I love the light and airy look of this tall tree.

RELATED: If you love faux plants like I do, be sure to hop over to my faux fiddle leaf fig tree round-up. I have a giant one in my dining room and LOVE IT because it fills an empty corner without feeling overwhelming
Tips For Cleaning and Styling Your Artificial Trees & Plants
Keeping Your Faux Olive Trees Dust Free
Jeremiah Brent recently told House Beautiful that faux plants are dust traps. Yes, but isn't everything in your home a dust trap if you don't clean it? And if you think about it, real plants get dusty, too. Jeremiah, we're going to have to agree to disagree here.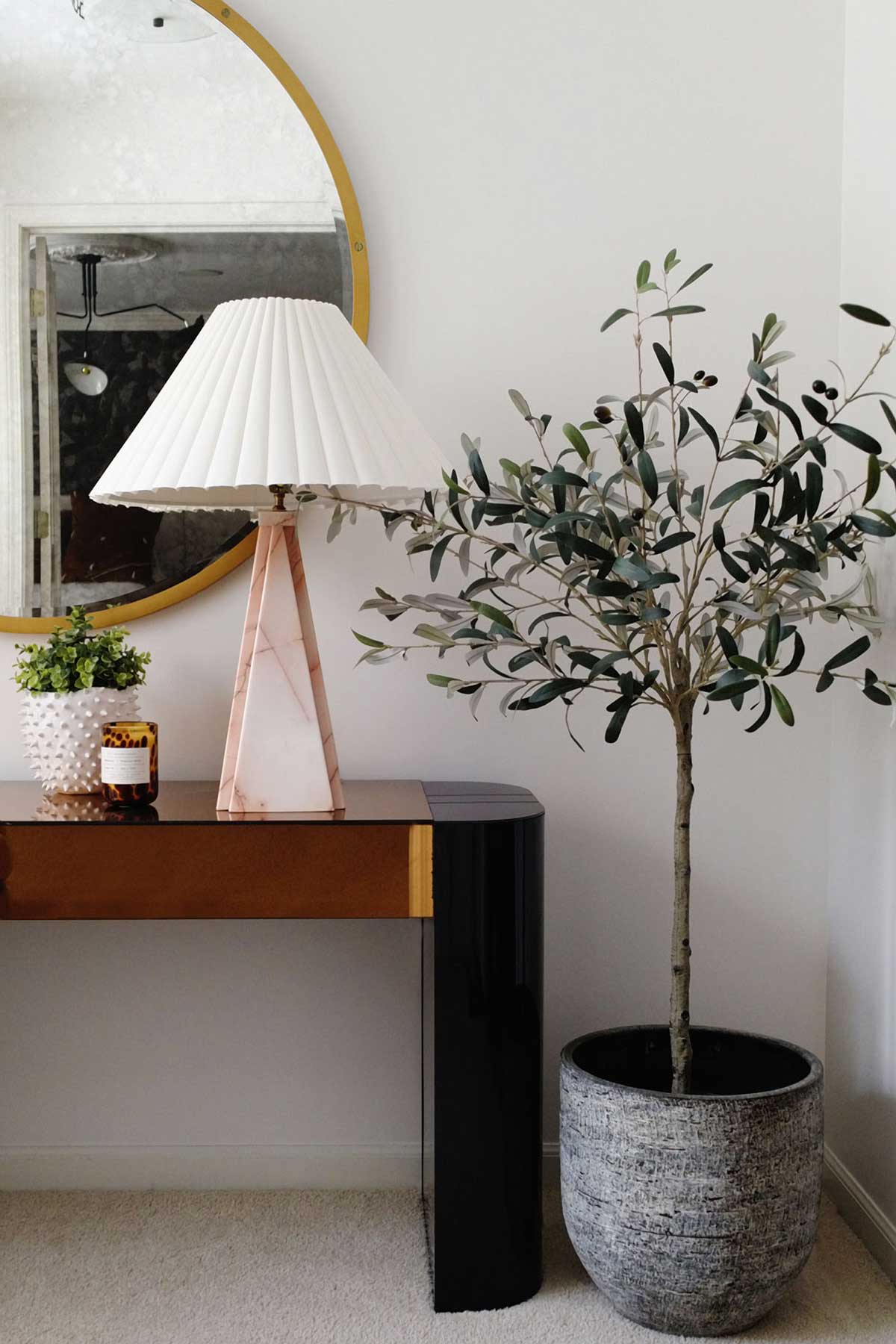 There's nothing tacky or gross about decorating with a fake plant unless it's full of dust. To keep them clean, I take a fresh Swiffer Duster to the leaves once every other week, but if there's serious dust, use this Artificial Plant Cleaner. Take your plant outside, spray it, and let it drip dry. Not only does it clean your faux plant, but it will also add an extra level of dust protection to the leaves, making it easier to clean next time. If you have a small arrangement of silk flowers, pop them in a baggie, fill it with table salt, seal the bag, and shake. Remove the flowers from the bag over the sink or trash can and give them another shake to ensure all the salt has been removed. Voila! Your "dust trap" is clean as a whistle. 
Making Your Faux Olive Tree Look Real
There are ways to make your artificial trees look more real. First things first, you want to fluff it after removing it from the box. The branches are all squooshed in there, so separate, bend, and twist those straight branches for a more natural look.

BTDubs, reshaping will help give any fake plant a more realistic look. If you do not love the olives, but you love the tree, remember what I told ya…cut 'em off! And lastly, pop that faux tree into a cute planter or basket to make your tree look more real.
Why Not Grow A Real Olive Tree?
I hear ya. The best olive trees and real olive trees, but if you want instant gratification with a 10-foot tall artificial olive tree, a fake tree is the only way…that is, unless you have the budget. I'm looking at your Nate Berkus. Real life olive trees cost a small fortune. For me and my non green thumb, that's wasted money.
Like This Post? Pin it for later and share it with others!

RELATED: Add a pop of green decor to your room with these favorites.


Past Faux Olive Trees Top Picks
Sadly, these are no longer available, but I like to keep the imagery around for reference, especially if you came here from Pinterest.

Find More Home Decor Ideas On House of Hipsters Interior Design Blog
Discover where to buy affordable curtains and drapes online with this awesome round-up of favorites. I also just published a round-up of affordable velvet curtains.
We are jumping into a brick fireplace makeover. Check out the progress and then hop over for some mantel decor ideas.
Looking for something out of the ordinary to style your bookshelf? Here's a round-up of unique vases to add something special to your home decor.
Discover my favorite washable outdoor rugs from Ruggable for your patio and deck. Looking for an indoor rug? Before you buy, get my tips on calculating the right rug size for a living room.
Learn my genius ways on how to hang art and nail the height like a pro.
Check out these top 9 fall fashion trends I'm coveting these days. That quilted army green jacket has been on heavy rotation since the cool weather moved in.