The New Nate Berkus Home Collection On Amazon!
Last Updated on July 11, 2023
Nate Berkus is the darling of home decor and has been since his appearance on Oprah. His use of neutral colors makes my heart sing, so of course, when the new Nate Berkus Home Collection dropped on Amazon I knew it would be amazing. The collection is small but mighty. Classic elevated basics and the color palette is to die for. Let's dig into what's on my wishlist! See the full collection here.
RELATED: I just put together the Amazon must haves 2023 list and let me tell you, it is filled with favorites for the the home that you do not want to miss!
New Nate Berkus Bedding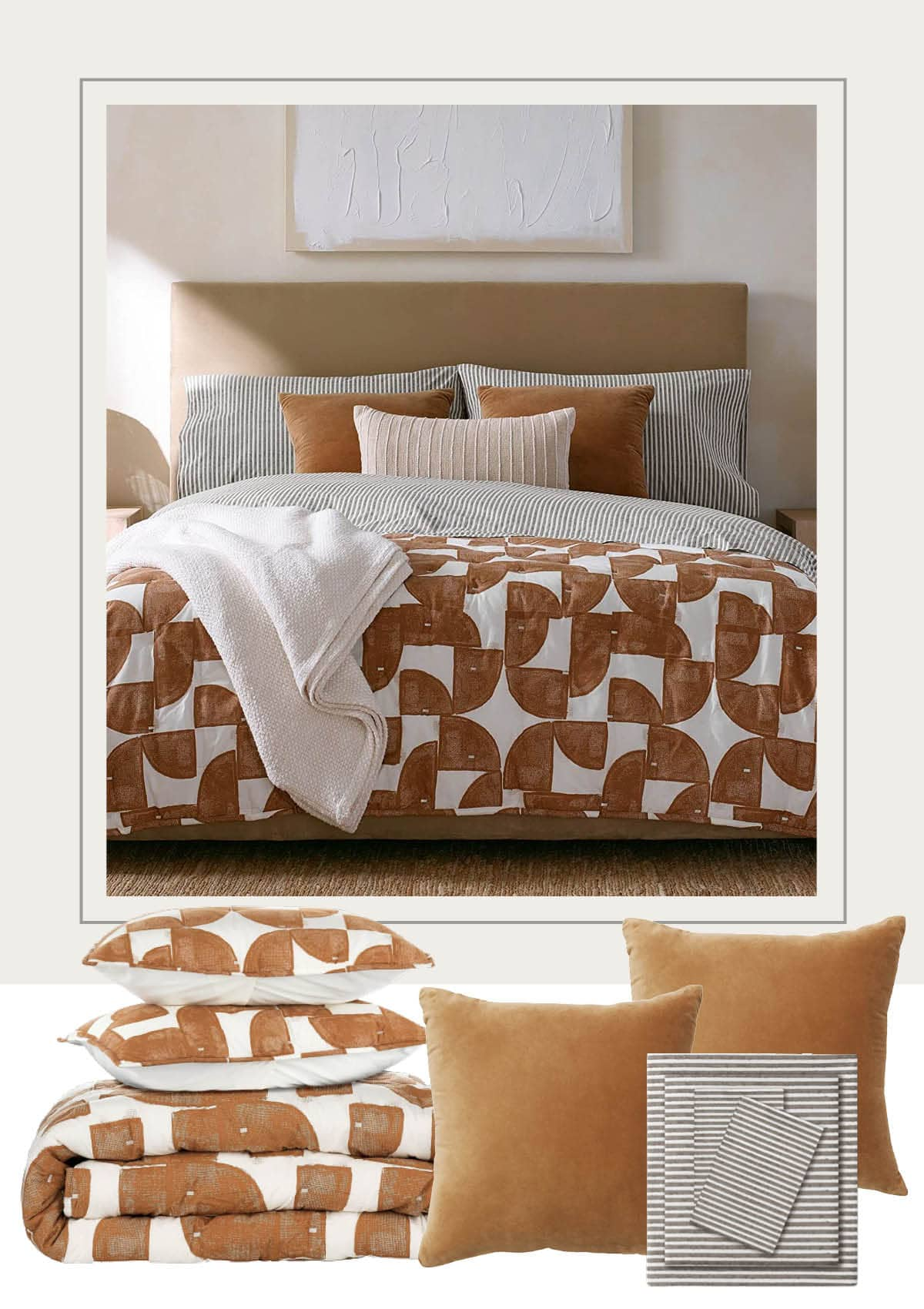 Shop This Bedding
3-Piece Graphic Print Quilt Set
Gray and White Cotton Percale Striped Sheets


The Nate Home by Nate Berkus collection consists of a neutral color palette with accents of rust and mossy green for the bedroom and bathroom decor and home organization. In the bedroom, he has sheets, duvet covers, throw blankets, and accent pillows. There's a small striped pillow in particular that I'm eyeing. The bathroom has these adorable checker pattern towels that would look so good in my guest bath. The checkered towels are a bit pricey, so I'd mix and match them with the solid rust-textured towels.
Nate Berkus Just Dropped A Bedding Collection On Amazon
The quilt sets in this collection caught my attention immediately. Not only do I love the terra cotta and mossy green color palette, but I'm also loving the patterns—simple stripes with that bold graphic. My heart is going pitter-patter. This subtle stripe coverlet might be perfect in bedroom with the bold black luxury wallpaper. And a 3-piece king set for under $140 is a bargain. Not shown is this bolster — it's gorgeous in the mossy green.

Shop This Bedding
Lightweight Cotton Washed Terra Cotta Throw


RELATED: See my full round up of the best sheets and bedding including my favorite sheets for hot sleepers.
Bathroom Decor I Love By Nate Home On Amazon
The checker box pattern was all the rage last year, and I wondered if it would trickle into 2023. I loved this green checkered rug but wasn't willing to commit to the trend. The Nate Home checkered towels are the perfect way to incorporate a trend without going check overboard and investing a boatload of money into a trend that will eventually fade.

Shop These Bath Towels
Rust and Cream Checkered Towels


Home Organization By Nate Berkus
Nate partnered with M Design home storage, and I've been a long-time fan of their clear plastic storage bins. I've used this brand in the bathroom and kitchen pantry. The thing I like most is that I can see into the bin without having to pull it out and dig through it. Anything chucked into a bin I can't see through will never be seen again.
RELATED: Don't miss my Amazon Prime Day 2023 top sale picks.

Shop The Storage & Organization
Air Tight Food Canisters – personally I love the OXO bins, but I'd like to check these out
2 Tier Lazy Susan – perfect for the pantry of holding medicine in the bathroom
Wood Riser – I'd use this in the pantry for cans or baking ingredients
18″ Large Lazy Suzan – perfect for the pantry
2 Tier Sliding Plastic Drawers – love this for under the sink storage





Discover More Eclectic Home Decor Ideas
Here are seven genius ways to hang a picture, including hanging art with two hooks, hanging a gallery wall with no tools, and hanging a picture without damaging wallpaper.
Looking to spruce up your backyard for summer? Check out these comfortable modern outdoor patio furniture top picks.
Rounding up my favorite home decor books – if you're looking for gift idea inspiration for a home decor obsessed loved one, this post is for you!
Discover the best outdoor rugs for your patio and deck that are also washable. Looking for an indoor rug? Before you buy, get my tips on calculating the right rug size for a living room.
Learn how to make your home look expensive without spending a lot of money.
Looking for something out of the ordinary? Check out these unique modern vases that add a touch of artistry and elegance to your home decor.
Rounding up 27 decorative boxes with lids to help elevate your coffee table decor.
Download the free home decluttering checklist and get my easy tips to declutter your home.
Rounding up the best faux olive trees that look real. I also have a full post dedicated to faux fiddle leaf fig trees and more faux plants that will fool just about anyone!