Unique Modern Vases – Stand Out in Style
Last Updated on February 17, 2023
When it comes to home decor, the right vase can make all the difference. A unique modern vase adds that little something special to your mantel decor, coffee table decor, or bookshelf. Yes, there are a ton of beautiful vases out there, but the truly extraordinary ones stand out for their unconventional design, like how a French girl has an effortlessly chic look. Today I've rounded up some unique modern vases that redefine design and are sure to add a touch of je n'est sais quoi to your home.
66 Unique Modern Vases and Bowls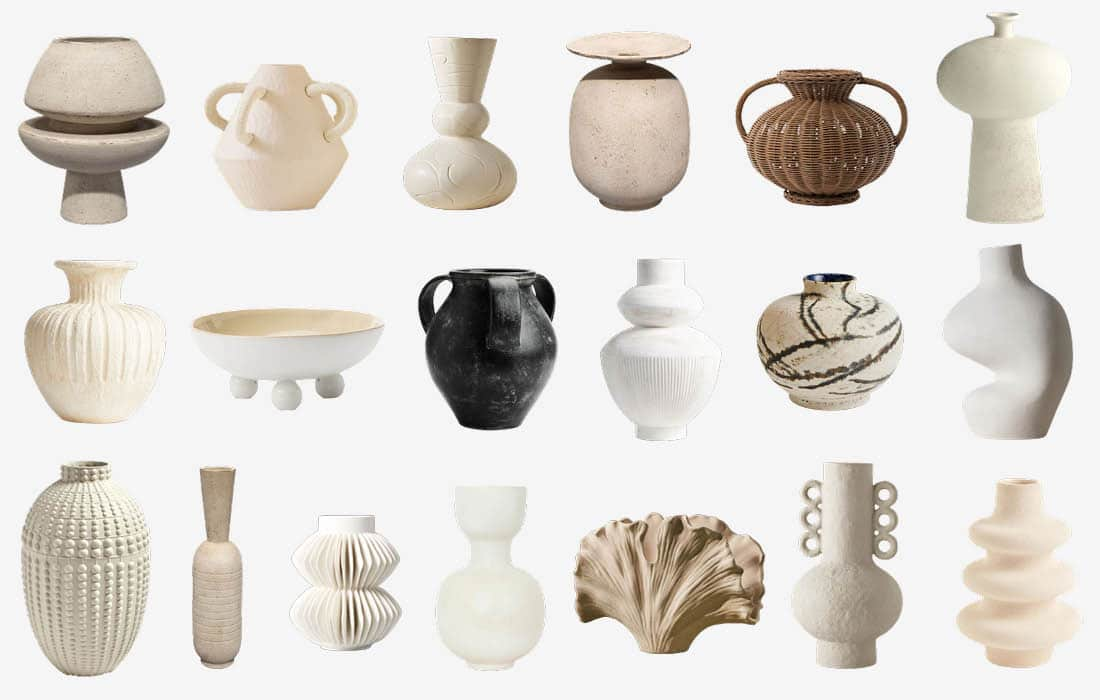 Black Modern Vases With Unique Details
Add a bit of personality and quirk to your home with these unique, modern black vases. I searched the interwebs high and low to find some showstopper vessels. As you may have noticed, these vases aren't necessarily budget-friendly. In fact, I had a difficult time finding any under $25, and when I tell you I searched, I legit scoured Traget, Amazon, and Walmart. But this is where my tips for decorating on a budget come in handy. Find your investment pieces – the ones with shazam – and decorate the rest with affordable decor.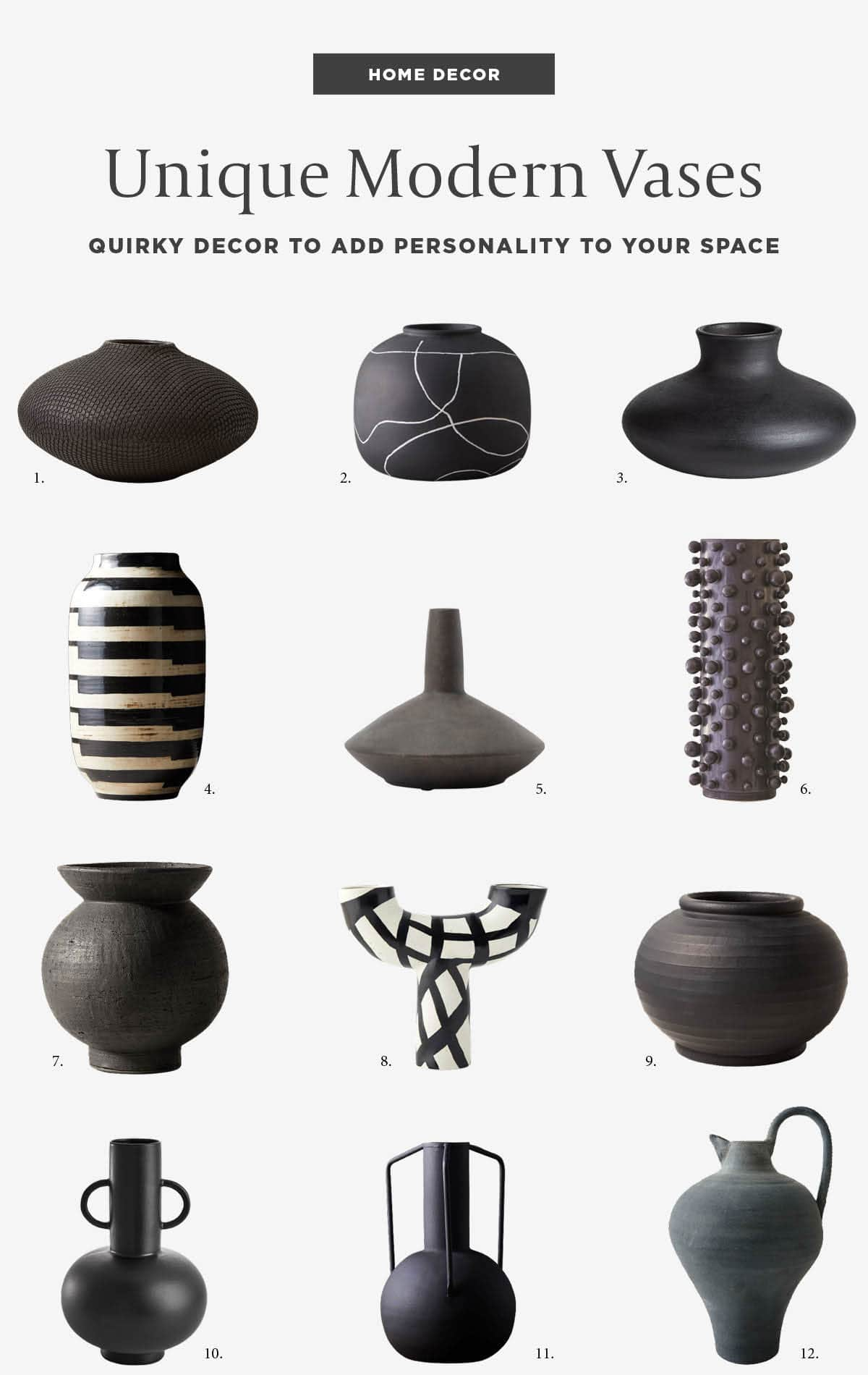 Unique Sculptural Vases With A Neutral Palette
These unique modern vases are designed with an artistic flair, making them look more like sculptures than functional vessels giving them a one-of-a-kind look. Their intricate shapes are sure to catch the eye of any guest who enters the room.

15. Terranova Vase
17. Champignon Handcrafted Ceramic Vase
18. Caverns Vase
19. Terranova Vase
22. Roman Bowl
23. Large Ceramic Modern Malin Vase
24. Spike Pot
25. Albayzin Vase
26. Ginkgo Leaf Vase
27. Areaware Tall Stacking Planter
28. Rib Vase

Modern Footed Vases And Bowls
Never underestimate the traditionally designed footed compote bowl. Their low profile is perfect on a kitchen countertop or a coffee table, or pop one on a small stack of books. This black-footed bowl is one of my absolute favorites, and I know this because it's never rotated to another spot in the house. Sometimes it sits empty as a statement piece, but lately, this faux plant has made a home nestled inside.

29. Rune Bowl -pretty but on the pricy side.
30.Black Pedestal Bowl – this is the hardworking bowl that I LOVE. See it styled in my living room below.
31. Mend Metallic Black Serving Bowl
34. Ridged Mango Wood Footed Bowl
35. Sawtooth Bowl – this has been on my wishlist for a while now, but the price tag has been holding me back.
36. Tulsi Marble Bowl – I own this bowl, and it's a stunner. Literally carved out of marble.
37. Orion Handcrafted Terracotta Bowls – this white bowl makes for a perfect centerpiece on a dining room table.
38. Form Studies Ceramic Bowls
39. Sailor White Footed Bowl by Leanne Ford
40. Stoneware Bowl

Vintage Inspired Urns Are Trending
These vintage-inspired urns have a classic look that never go out of style, and over the last couple of years, they have been trending hard in the world of interior design. I managed to snag mine at an estate sale a few years ago, but now you can find them in retail stores. Style them empty on a shelfie, or fill them with a few faux olive branches to add decorative flair to the kitchen.

41. Large Decorative Montecito Jug
44. Joshua Handcrafted Ceramics Collection – you've probably seen this urn on Instagram. It's been trending for a while now with the home decor influencers. It also comes in multiple sizes.
46. Mainstays Classic Black Ceramic Vase With Ribbing – an affordable option to the Joshua vase.
47. Umbria Low Urn
48. Ophelia Matte White Round Vase 10″
49. Artisan Handcrafted Terracotta Vases – this vase is definitely larger than I expected it to be, but it's gorgeous.
52. Small Handwoven Seagrass Vase 13″ – there is a more affordable version of this vase here, but it's not


Unique Modern Vases With Personality
One design lesson I've learned over the years is to edit. You don't need floor-to-ceiling bookshelves, nor do you need a lot of knick-knacks. Edit (a nicer word for declutter) and curate your vignettes with fewer things. Add statement pieces like these unique modern vases I've rounded up, and add a couple of decorative boxes to hide the necessary items like remote controls.

53. Reign Modern Golden Marble Vase
54. Chelly Modern Round Brown Vase
55. Celia Modern White Porcelain Vase – this is another favorite hardworking unique modern vase. I love it so much that I actually bought 2.
56. Tour Handcrafted Ceramic Vase
57. Full Moon Clay Vase by Leanne Ford
58. Bow Vases – I bought this simple yet unique vase at the Jayson Home outlet sale. The size is perfect for a small faux plant.
59. Diego Olivero Terracotta Chulucanas Rope Vases
61. Énorme Cannelée White Textured Vase 15″
64. Ipanema Reactive Glazed Vase
65. Les Crêtes White Textured Vase 18″ by Athena Calderone
66. Kadoma Vase

This wouldn't be a comprehensive list if I didn't mention shopping vintage and thrift stores. Even though vintage is technically old, it can be modern. Dream up the weirdest-looking vase, and there is probably a similar one out there somewhere. If you have the luxury of time to decorate your home, try shopping at an estate sale near you or a flea market. I've found so many bonkers good statement vases when shopping secondhand.

RELATED: If you're visiting the Chicago area, be sure to peruse my ultimate guide of vintage shopping in Chicago.



Discover More Eclectic Home Decor Ideas
If you want to make your home a bit smarter, check out the best smart home devices I've tested and my post about smart lighting for your home.
Here are seven genius ways to hang a picture, including hanging art with two hooks, hanging a gallery wall with no tools, and hanging a picture without damaging wallpaper.
If you want to spruce your backyard, check out this round-up of the best outdoor patio furniture.
Ever second guess yourself on what rug size to buy for a living room? Here lie the answers you desire.
Rounding up the best home decorating books – if you're looking for gift idea inspiration for a home decor obsessed loved one, this post is for you!
If you love wallpaper but fear commitment, check out this round-up of best peel and stick wallpaper – it even includes a couple of modern murals.
Learn how to marble dip mugs with nail polish in this easy DIY. They're perfect for holding a gift card or pencils.
Tour my friend Carrie's 80s modern home filled with vintage treasures in Chicago, IL.
From bland to bold! Check out this eclectic modern home office and home gym transformation.
Looking to spruce up your backyard for summer? Check out these comfortable outdoor patio furniture top picks.
You don't need a subscription to get beautiful tv art for the Samsung Frame. I've rounded up my favorite affordable downloads here.
Honest review of Jonathan Louis furniture. Want more? Read my honest review of Karndeen luxury vinyl flooring.
Melted disco balls are all the rage. Check out the round-up of the best disco ball decor for your home and tips on decorating with them.
I recently gave my 80s brick fireplace a makeover, and now that we've finished the renovation, I've whipped up a few mantel decor ideas you can try.