Disco Ball Decor Ideas Hop On This New Home Trend
Last Updated on July 4, 2023
Disco balls are no longer strictly dancing; adding one to the corner of a room adds a bit of whimsy. While disco ball decor is not a new idea, the crowd goes wild every time I post one on social media. I popped a few in the old shop's window — like a moth to the flame. Every customer gravitated toward these magical art objects. Maybe 2023 will be the year disco mirror ball home decor becomes the new live, laugh, love trend, but until then, I'm going to embrace the sparkle they bring to a room. Here are six ideas for decorating with disco balls, and if you need some added ambiance, check out this 70s disco vibe playlist. Oh, and at the very bottom, I included a free download of disco ball art for your gallery wall because I love ya!
Best Disco Ball Decor Ideas For Your Home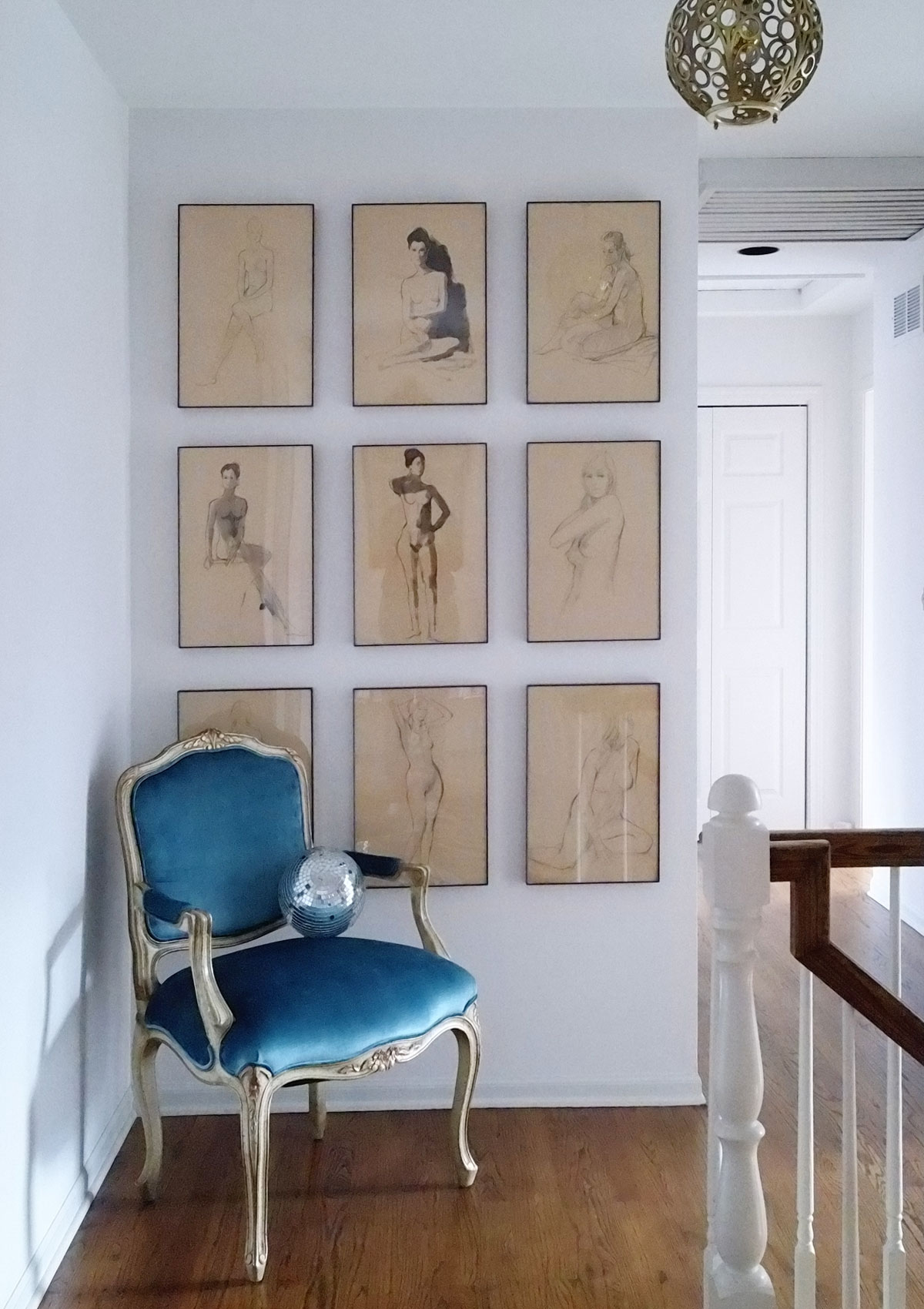 1. Pop A Mirror Disco Ball On A Chair
Have an accent chair that isn't used daily; pop a smaller disco ball on it. It's like a dance floor in your living room. This one is 8″ in diameter and sits in my upstairs hallway.
2. Make An Entire Room Sparkle
This one requires chasing light, but trust me; it's worth the wait. I have a medium-sized disco ball sitting in the corner of my office, and every afternoon my office has a moment—the golden hour of the sun setting and hitting that mirror ball just right…yahtzee.
If I had high ceilings, I would totally hang this 24″ disco ball from the ceiling and let it be the center of attention.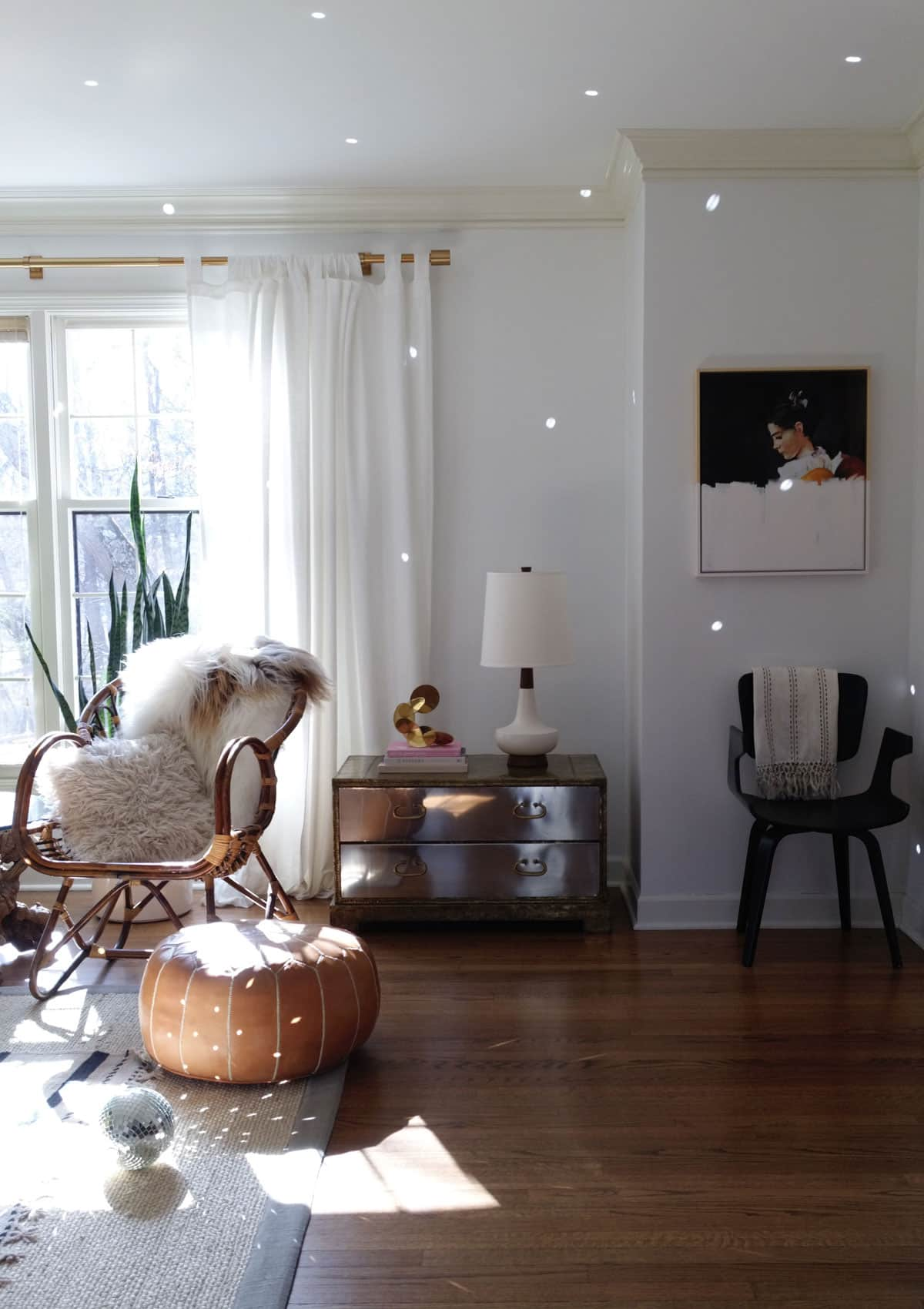 SHOP THE POST


3. The Melted Disco Ball
The priciest option of all my disco ball decor, but the melted mirror ball is a showstopper. I'm a bit more protective of this one because it needs to sit on the edge of a 90° corner putting it in prime position for a Humpty Dumpty moment. I've moved it around a few times, but currently, its home is on the new custom limestone fireplace. I will warn you, if you put this melted disco ball in your home, every guest will want to touch it. If you're looking for a conversation starter, this is the perfect addition.


This melted version is not cheap, but it is more affordable than the Kelly Wearstler originals. (BTDubs, have you seen the coffee table version? I'm obsessed with this chair by Rachel Shillander…not so much with the price.) You can shop them all here:
SHOP THE POST


4. A Flash Of Fun With Tiny Mirror Balls
So you don't want balls tripping you up and lying on the floor, but you still want a pop of magic? Easy peasy. Remember my round-up of cute mushroom decor? A tiny mushroom disco ball would look adorable on a kitchen window sill or desk. I have a couple of disco ball ornaments on my Christmas tree, but you could also use them as filler in a pretty bowl.

SHOP THE POST


5. Use As Centerpiece Decor Or On A Coffee Table
Throw a Studio 54 themed disco party and use a few mirror disco balls as decor in the centerpiece of the appetizer table, or pop them on a bar cart. They make for the perfect party decor. Oh, and please don't forget to invite me because this soiree sounds spectacular!
6. Download Free Disco Ball Printable Wall Art
So maybe you already have a disco ball in your living space, so how about adding some disco ball decor to a wall gallery? I took this photo at the Chicago 29 Rooms event and recently found it again on my phone. Why have this gem hiding? Sign up for the weekly email below, and this digital disco ball art download will be sent straight to your email address. If you decide to print and hang it on your walls, I'd love to see how you styled it. Post it on Instagram or TikTok and use the hashtag #houseofhipsters.




More Modern Home Decorating Ideas
Rounding up the best home design books – if you're looking for gift idea inspiration for a home decor obsessed loved one, this post is for you!
Love plants as decor but have a black thumb? No worries! I have a rounds ups of the best faux olive trees, my favorite faux fiddle leaf fig trees, and a huge round-up of faux plants that look real.
Love the Primrose mirror but hate the price tag? I got you! Here's a full round-up of affordable Anthropologie mirror dupes.
Do you have a rug that is too small or too big? Not sure? Here's how to choose the best size rug for a living room.
Cozy up your windows with these affordable velvet curtains – oh, and they're all available online.
If you love wallpaper, but have a fear of commitment, check out this round-up of best peel and stick wallpaper – it even includes a couple of wall murals.
Cane furniture is trending, and so is rattan and cane lighting. If cane isn't your jam but you want more lighting ideas, check out this round-up of boob lighting alternatives.
Thinking about joining a country club? Before doing so, read my review of the Biltmore Country Club. You may rethink that decision.