How To Arrange A Living Room With A Fireplace
Last Updated on September 26, 2023
It's no secret that the living room in my home has been a challenge to decorate. This awkward living room layout has frustrated me between the wall of sliding glass doors leading out to the patio, the French doors, and the fireplace. Yes, I can style it for photos, but it just feels off when you're standing in the space. If you want to learn how to arrange a living room with a fireplace and tv on an opposite wall, let's sit down together and problem-solve some layout options,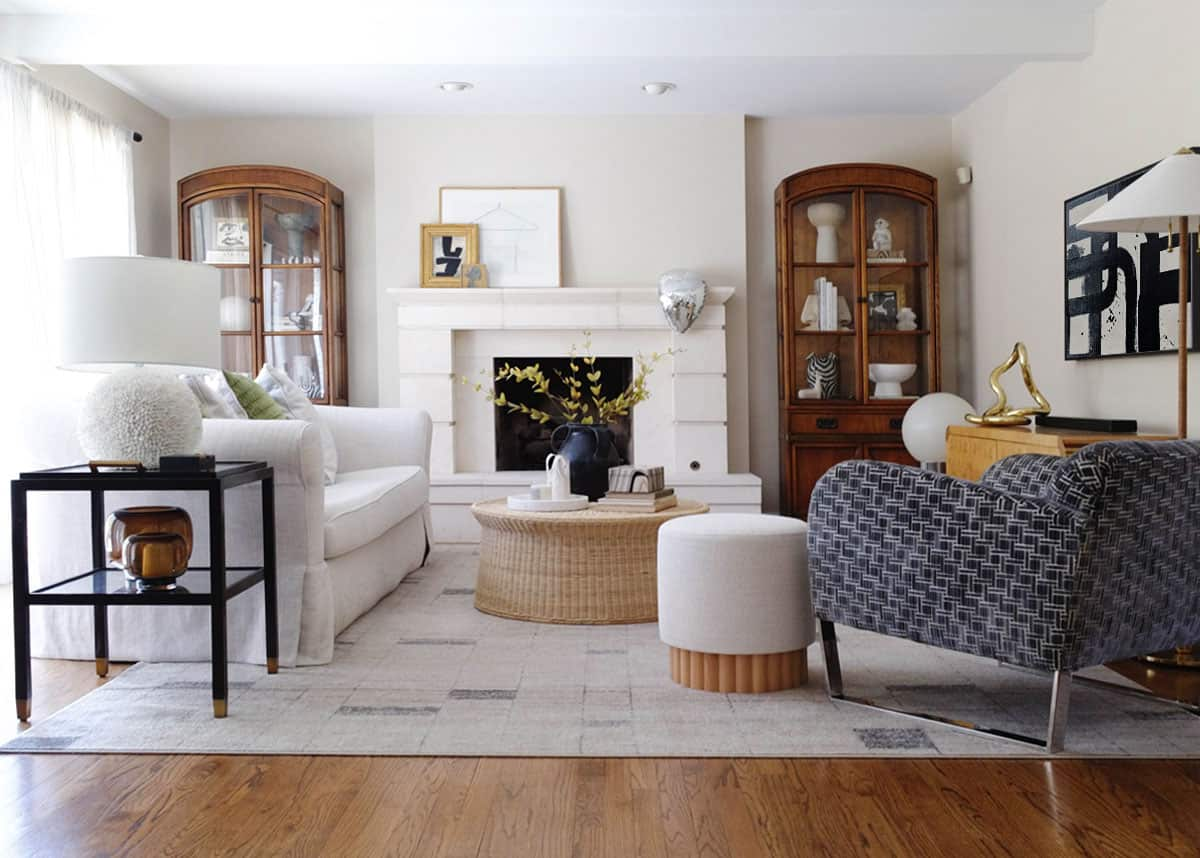 RELATED: See the brick fireplace makeover before and after. The transformation witll blow your mind!
5 Furniture Layouts To Arrange A Living Room With A Fireplace And TV On The Opposite Wall
This happens to be the current seating arrangement in my living room. The sofa faces the TV, while the stone fireplace remains the room's focal point. I love how this statement maker welcomes you when entering.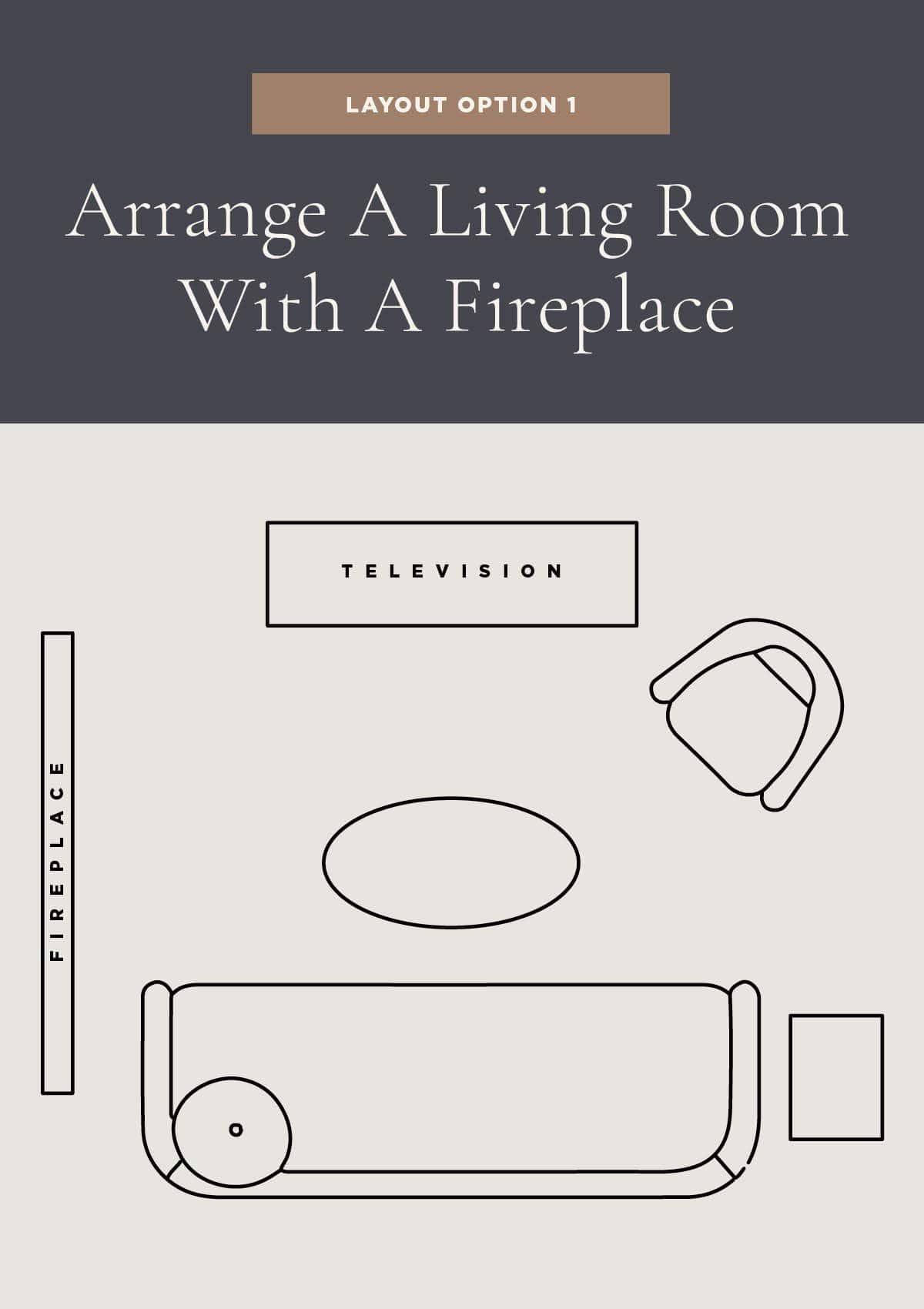 Although this layout works best for us, I don't love the sofa placement in front of the sliding glass doors during summer. We entertain outside, and when guests walk in and out, they often run their hands along the back side of the white couch or brace themselves on it while removing their sandals. To protect it, I have been known to drape a towel over the backside of the couch.

Is that seasonal traffic flow worth moving the sofa and changing my TV-watching location? Probably not. You must arrange a living room to work for you and make compromises when necessary. Make it function for your every day, not for every occasion.

This furniture arrangement is a great way to keep your room formal yet cozy. The sofa is in front of the fireplace with side tables, and the TV is still on the opposite wall. The two accent chairs float near the sliding glass doors, keeping the traffic flow free from obstructions. It's a great option if you have an open-concept home.
However, my awkward living room layout won't allow for this with French doors and wet bar with floating shelf. Since the walkway on either side of the sofa is a high-traffic area, I would need to push the sofa closer to the fireplace, which could make my conversation area smaller. This furniture arrangement may work for you, but sadly, it's a no-go for me.

RELATED: Don't miss these fireplace mantel decor ideas. Once you have the right design ingredients, you'll be styling your fireplace like an expert.

The idea of two sofas facing each other in a living room has always intrigued me. It would work great in a large living room or an open floor plan. It won't work in my living room, but hear me out on small space living. Maybe instead of couches, you have two loveseats facing each other. Can you squeeze an accent chair or two in for extra seating? How about two ottomans instead?
Notice how the fireplace is still the focal point in the room? But what about the TV? Well, this wild card could be placed in 3 different locations.
Mount the TV above the fireplace.
Mount the TV behind one of the sofas, and if you're crafty, make it a Frame TV so it's disguised as art.
Mount the TV on the opposite wall of the fireplace.
DESIGN TIP: If you are arranging your living room with 3 chairs and two are side by side, make sure those two chairs match, but the third accent chair should have a fun shape. It'll keep your space looking cohesive and interesting.

If you have a smaller living room and the living room layouts above feel like you don't have enough floor space, the best way to fix it is to edit. Remove one accent chair. If that's not enough, remove an end table. This less formal layout will give your living room space an airy, modern design feel.
I may play around with this layout and remove an arched cabinet to give myself some extra space because there's no hard-set rule that states a fireplace must be flanked symmetrically…although I do love these cabinets.

Will a sofa sectional work in your space? We had an Interior Define sofa with a chaise and two vintage chairs in the family room. This furniture layout was the perfect sitting area for lounging, napping, and reading. Plus, the entire room still functioned as a seating area for guests.
RELATED: If you're wondering what size rug to buy for a living room, this post will help you nail it like a pro.
Analyzing Your Living Room And Positioning Furniture
Now that we have a bunch of living room layouts, let's measure your living area and note the architectural features, such as windows, doors, and the fireplace. This will help you determine what furniture will fit in the space and how to arrange it. I like to begin with a rough sketch with exact measurements. I then dust off my graphic design skills, creating a to-scale sketch where 1 foot equals 1 inch (graph paper works too.)
Measure all the existing furniture arranged in the room as well. If you're using a graph paper sketch, use construction paper cutouts to mock up your scaled furniture pieces. This makes it easier to move them about the room. Think of arranging your living room furniture as a puzzle. Each piece should fit just right and work together in the room. You can skip this part if you'd like, but it is extremely helpful.

My living room is not necessarily small, but the lack of blank wall space forces the issue of floating the furniture pieces. This, in turn, makes the seating area tighter. I must be intentional about sourcing the size of my furniture pieces. BTDubs, scale is always the most challenging part of any furniture layout design.
DESIGN TIP: If you arrange the room with all small-scale pieces, your living room may feel smaller than it is. You must find a good balance.
Defining The Traffic Flow

When you initially begin placing the furniture, think about the traffic flow. How do people walk into the room, and what path do they take? Is there a chair your husband beelines for? Is there a toybox for your child? You do not want an obstacle course of tables, chairs, and ottomans. Also, leave enough room around the furniture to allow people to move freely. A comfortable pathway is about 3 feet wide.
Don't miss this epic list of Amazon must haves 2023 and get prepped for the next Prime Day Sale.
Making The Fireplace The Focal Point
After renovating the 80 brick fireplace, I want to arrange the living room so the fireplace is the focal point, but I also need to remember that this room's primary function is watching the TV. You'll notice I did not hang the TV over the fireplace. Instead, I placed it on the opposite wall. Why did I do this?

A large firebox with a black rectangle television stacked above it can cause the eye to get stuck in all those black boxes. By hanging the TV on the adjacent wall, the eye moves more freely around the space — and yes, I also used a Frame TV. Interior designers love the Frame because it disguises itself as art when unused.
My friend Ashley wrote a great article on how to style around a wall-mounted TV on her blog, Bigger Than The Three of Us.
RELATED: Did you know that I painted my living room DeNimes by Farrow & Ball? I hated it. Here's why this moody blue was not for me.
Position Your Large Furniture First
The sofa in the living room will probably fit in only a couple of places, so be sure to place it first. Before arranging more furniture, refer back to your sketch and sit on the couch before continuing to rearrange. Look around the space. Does it feel right? If the TV is mounted to the wall, can you see it comfortably? If it feels good, grab some chairs already! Keep crackin'!
Get inspired by these gallery wall ideas and get some art on the blank wall in your home.
Creating The Conversation Area
Now that your sofa has been placed, how would it feel if more people sat in the room with you? Place the chair(s) and coffee table in the room, and be sure any side tables are within reach to create a comfortable conversation area. Sit in the chairs. Can you easily place a drink on a table?

RELATED: If you're looking for coffee table decor ideas, check out these 5 expert styling tips.
Getting Creative With Storage
All living rooms need storage, so if you're short on it, let's get clever. The two cabinets flanking each side of the fireplace help style the space with unique modern vases and decorative boxes, but the lower doors are perfect for hiding things like throws, my extra interior design books, and the kids' toys.
If you don't have room for arched cabinets, look for ottomans with lids that double as storage or a coffee table with drawers.

My media console is a vintage Henrendon sideboard. TV components like the amp, cable box, gaming system, and controllers are hidden inside. Modern consoles usually come with holes for venting and cord management, but since this furniture piece is vintage, we had to cut holes in the backside. It works like a charm!
You're Ready To Style Your Living Room Like A Pro
Now that you have the furniture placement figured out, you're ready to style your living room with a rug, lamps, pillows, and more. If you need help finding the best size rug for your living room, that link has all your answers.
I know arranging a living room with a fireplace and TV on the opposite wall can be tricky. It requires planning, patience, and creativity — and after all that, you still may not nail it the first time. But remember, you can always move your furniture arrangement if it doesn't feel right. Heck, it's been eight years, and I'm still trying to transform my living room into a modern, cozy, inviting space. Practice makes perfect. Just keep trying, and if you have questions, pop them into the comment section below.
RELATED: This fireplace remodel hit Apartment Therapy's homepage! See what they had to say about the 80's brick to modern limestone fireplace transformation.



More Eclectic Home Decor Ideas and Interior Design Tips
Wanna make your home look expensive when you don't have the luxury of a high budget? Get my expert tips!
Tidy up with the declutter your home checklist and get my easy tips to spruce up every room.
If you want to jazz up those old hallway ceiling lights, here are a few boob light replacements.
Are you looking to decorate on a budget? Check out these clever ideas that won't break the bank.
If you're looking to spruce your backyard for summer, don't miss this round-up of modern outdoor patio furniture, and if you're on a tight budget, check out this round-up of affordable outdoor furniture.
Guess what? Faux plants are not longer a faux pas. Check out my round-ups of the best faux olive trees (the interior designer's decorating plant of choice) and my favorite faux fiddle leaf fig trees.
Here are seven genius ways to hang a picture, including hanging art with two hooks, hanging a gallery wall with no tools, and hanging a picture without damaging wallpaper.