Living Room Makeover Mood Board
Last Updated on July 3, 2023
The latest upholstery project really pushed me out of my comfort zone, especially the bold rust fabric on the vintage Alky chair. Although all that color and pattern was nerve-racking, I was so happy with how the chairs transformed the room. Keeping that same frame of mind for the modern fireplace makeover, I've decided that since this is the One Room Challenge, I'll push right into a full living room makeover. I mean why not, right? There are only a couple of weeks left, so why not add more pressure by redesigning the entire room. To create even more pressure, I'm launching a major color bomb. Check it out.
Eclectic Living Room Makeover Mood Board
For this highly dedicated Snowbound gal, color on the walls makes me hyperventilate, but I pulled out some paint swatches, held my breath, and decided to go bold and moody with Farrow & Ball's De Nimes (color matched by Benjamin Moore). Everything that is shown in the mood board above I own (thanks to the old shop, RIP) except for the rug. I spied this beauty at High Point Market last weekend. It's incredibly soft and completely affordable. We're talking under $500 for a 9′ X 12′ rug. DAYUM! I'll do that all day son! BTDubs, since I shelled out some coin on the fireplace, I've got a next-to-nothing budget for decor. Let's shop the house.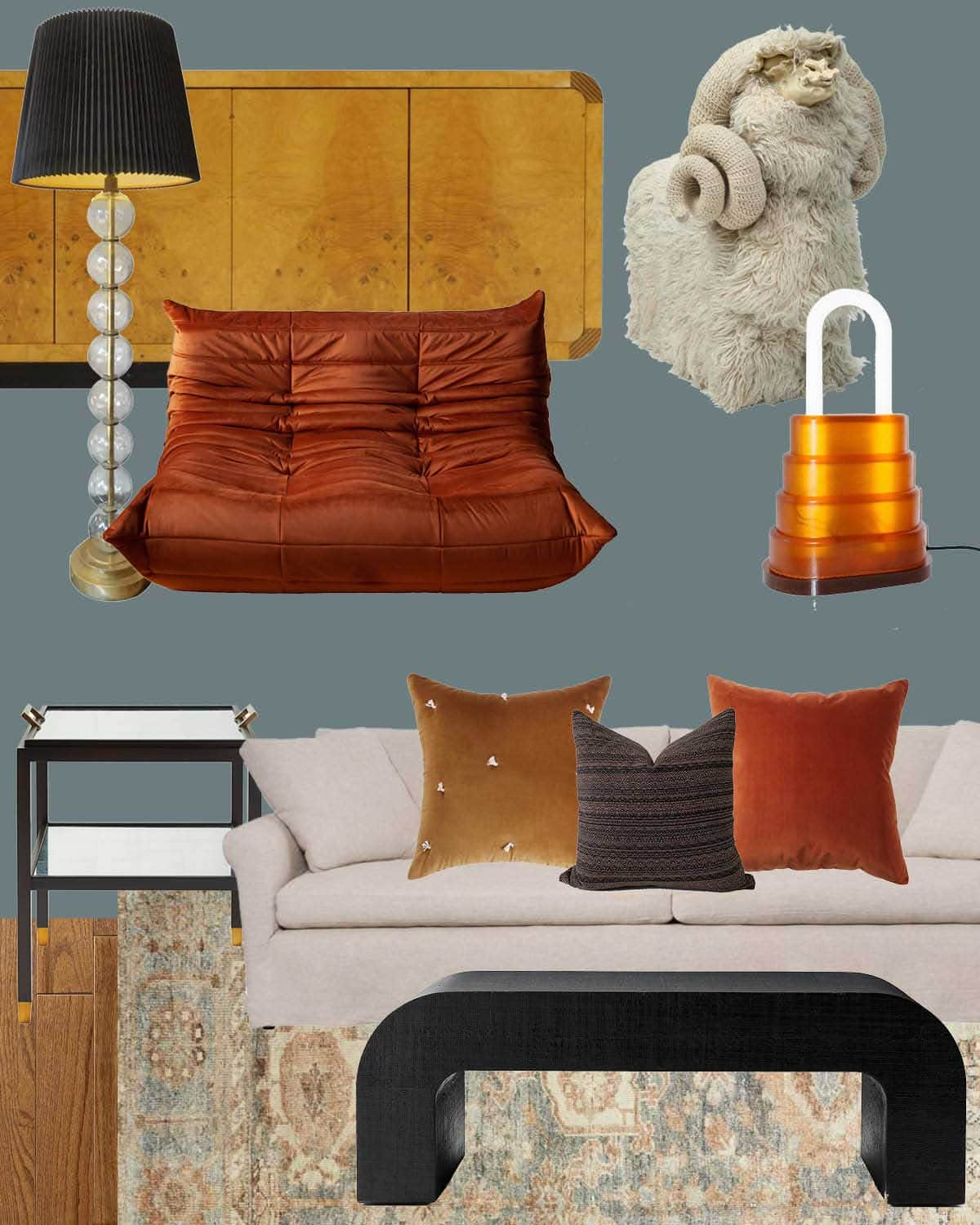 Henrendon Olive Burl Wood Console
Blenko Stacked Glass Ball Floor Lamp
Vintage Ligne Roset Togo Lounge Chair (shown, mine is a Roche Bobois lounger)
Black Lacquered Linen Coffee Table
Ocean Spice Cloud Pile Printed Rug
Now let's take a peek at this color bomb of a living room with the new limestone custom fireplace design, shall we?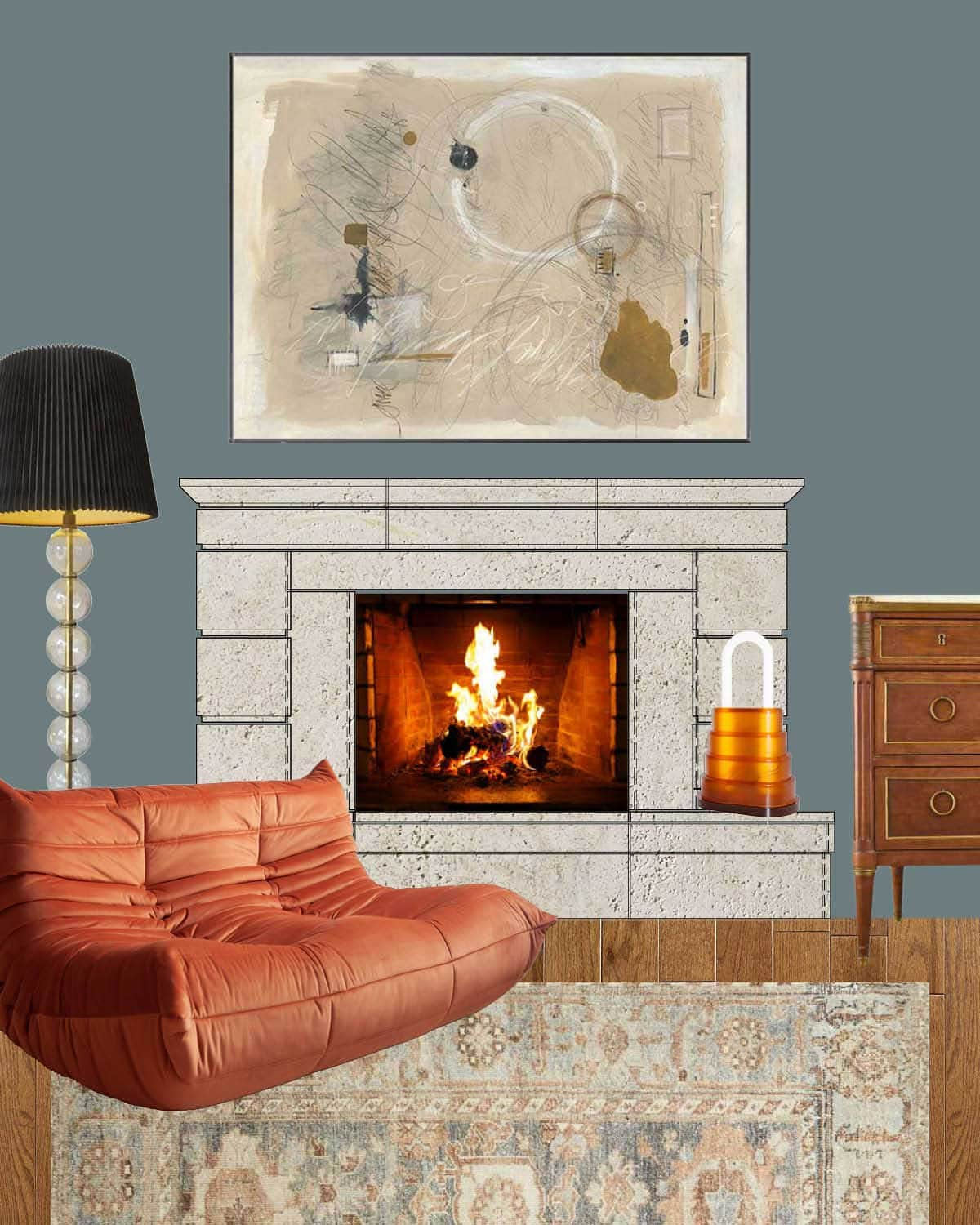 The built-ins are permanently gone, dunzo. The shelf lines fought with the coining every time I mocked it up, so I've got my eyes peeled for a decent-priced commode (if you see one, gimme a heads up!). IN the meantime, I'll be perusing Facebook Marketplace.
The abstract art above the fireplace is from my friend Ines' affordable art shop, but I turned it sideways here because the height was a bit too tall. I need to keep looking for the right piece, but this is what I'm looking for. I might just have to paint something myself. (BTDubs, if you like anything in the art shop, use the promo code KYLA10 for 10% off your purchase – even more affordable.)
RELATED: This living room had some ups and downs, but it's finally finished! However, the 80s brick fireplace remodel has been a bit controvertial. Hop on over and see why.
State Of The Living Room Fireplace
Before I sign off, in case you missed my Instagram Stories, here's a quick peek at the action. Chuck (contractor in Barrington, IL) has the demo, drywall, and the stone for the fireplace install going strong. It's so nice to wake up and see these guys in my driveway at 7 am – right on time.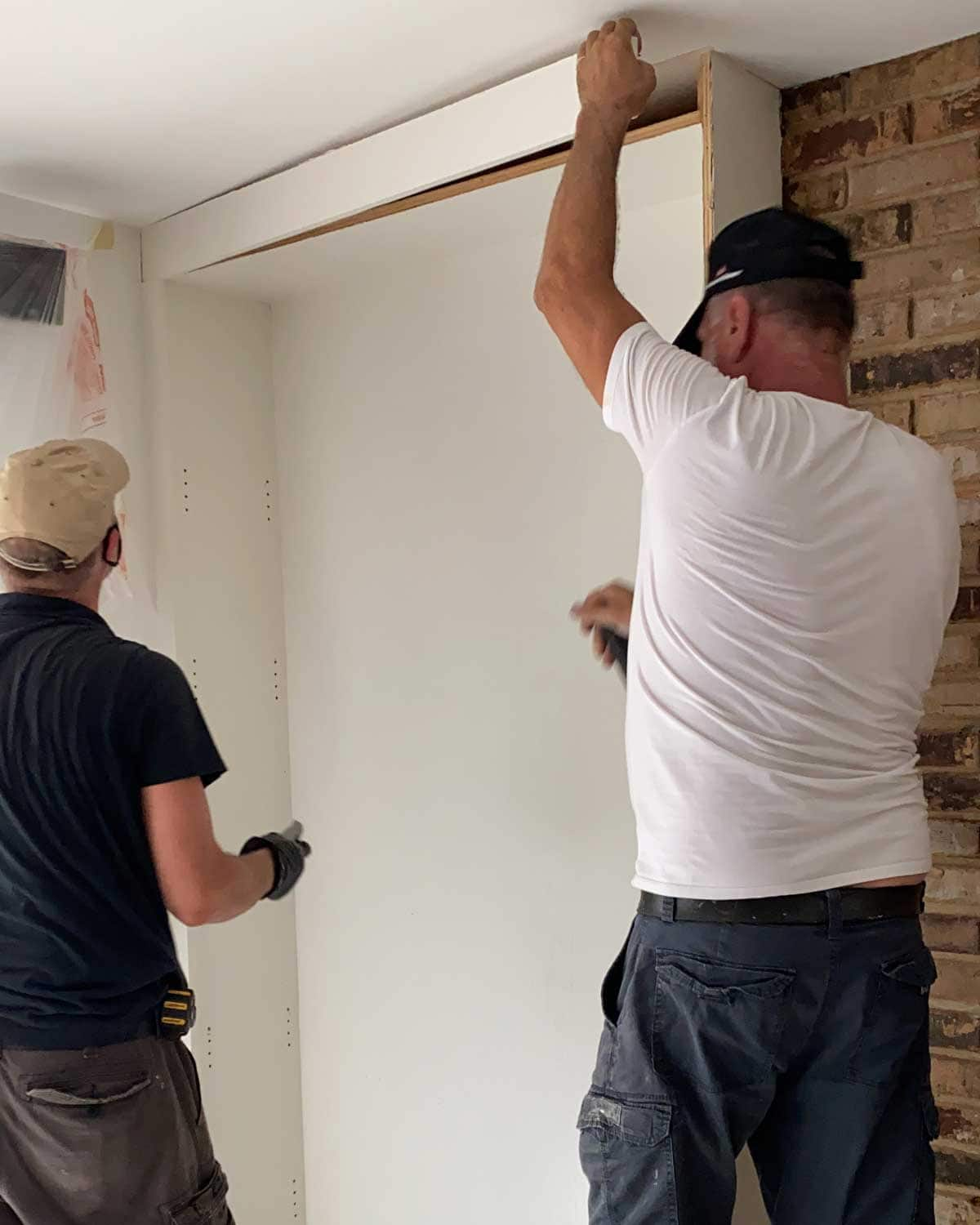 Chuck and Joseph tore out the built-ins and cursed the previous builder for using so many nails. Lemme tell you, it was a lot.

We were hoping to find hardwood flooring under the old built-ins. No such luck, so I'm trying to figure out a fix right now. All suggestions are welcome in the comments. Kinda sorta thinking benches for extra seating and storage?

The jigsaw puzzle of limestone needs to be put together. Each piece of stone is numbered and comes with exact instructions on how to assemble it. The guys are handling it all with care. Stay tuned for more fireplace and now living room makeover fun!



Find More On House Of Hipsters Interior Design Blog
Check out these affordable home decor finds from Amazon, Target, and Walmart.
If you love decorating with fake plants be sure to check out these expert design tips.
If you're looking for the best Anthropologie mirror dupe, I've got some killer ornate gold mirrors rounded up.