12 Best Affordable Rugs That Are Washable
Last Updated on July 3, 2023
Every time I see a beautiful rug in a kitchen or with a dog, I can't help but question the homeowner's sanity. Why ruin an expensive rug? I mean, we spill…a lot…especially now that my kiddos are learning to cook. Zoe dropped a pot of spaghetti sauce the other day. My son spilled melted butter all over the floor (and the dog). But I get it, a rug grounds your space, adds a pop of color, and gives the room an extra layer of texture and warmth. Enter my quest to find the best affordable rugs that are washable. Do they exist? You betcha they do! Walmart Home is my secret squirrel destination for stylish, budget-friendly home decor you'll want to show off — of course, they had a huge selection in every decor style…jackpot.
Best Affordable Rugs That Are Washable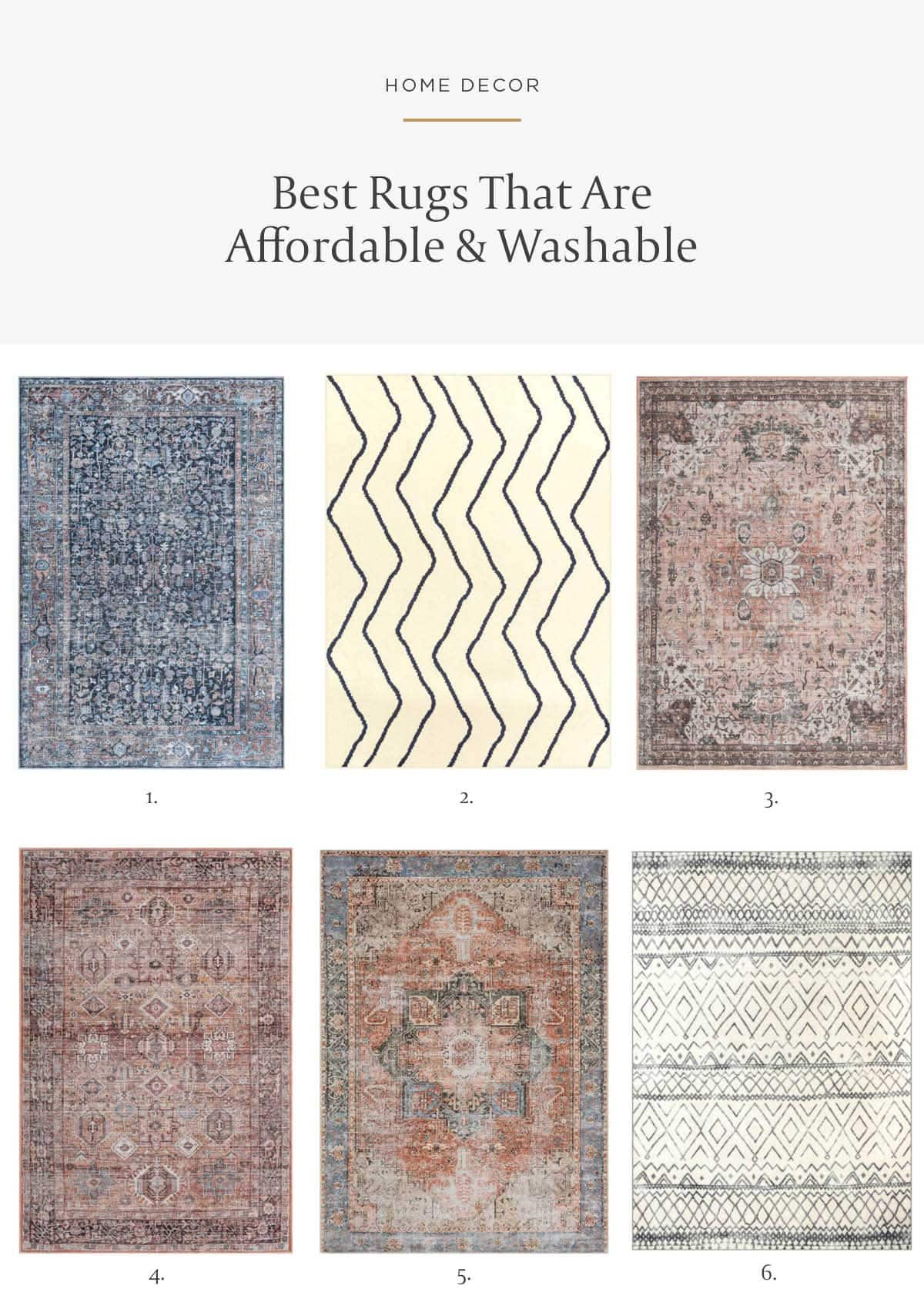 1. Edith Distressed Vintage Style Rug – also available in gray and rust
2. Cream Wandering Lines Rug – also available in blue and gray
3. Esther Bohemian Medallion Rug – also available in gray
4. Eve Southwestern Geometric Rug – also available in blue and red
5. Karolin Coral Traditional Vintage Style Rug
6. Distressed Boho Diamond Rug
Back in 2019, I was scrolling through Pinterest and spied these hawt brass and velvet rose dining room chairs. Hey there Walmart. Your new home decor collection is lit! Every year they keep managing to top themselves. Drew Barrymore dropped her Flowers Home, and I even managed to recreate my living room with only pieces from Walmart Home — and that's impressive because many were hard to find vintage items. Ya, I'm a fan.
RELATED: If you're looking to spruce up your outdoor patio furniture, be sure to check out this round up of washable outdoor rugs!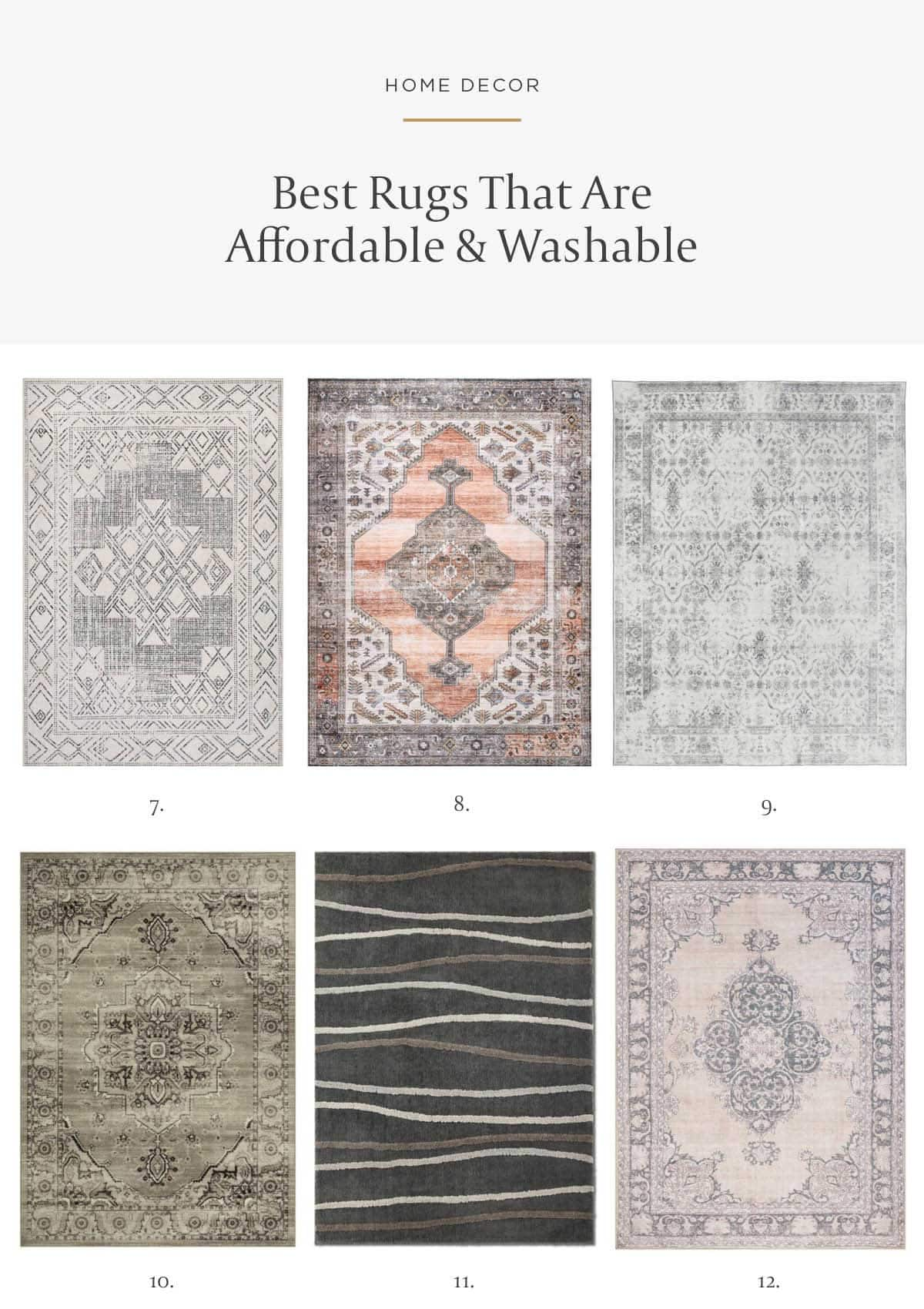 7. Mia Machine Washable Geometric Area Rug
8. Gracie Machine Washable Medallion Rug
9. Printed Vintage Distressed Trellis Rug
10. Vintage Floral Living Room Rug
12. Nile Tarifa Vintage Bohemian Floral
These affordable rugs are great options to get the look for less. Plus, spending less on floor flair, might give you the needed wiggle room in your budget for that extra table lamp or end table.
RELATED: If you've struggled to calculate the perfect rug size for a living room, go to this bookmark immediately and be sure to bookpark or Pin it.
So Why Buy A Washable Rug?
Now that we own a dog, owning a washable rug is a dream come true. I never want a guest to walk into my home and silently think, "ewe, it smells like dog in here". When Comet visits doggie daycare, I pop the sheets he chills on, the blankie he cuddles with, and sometimes this rug into the washing machine. A quick spin on gentle with cold water and detergent keeps all his smells at bay.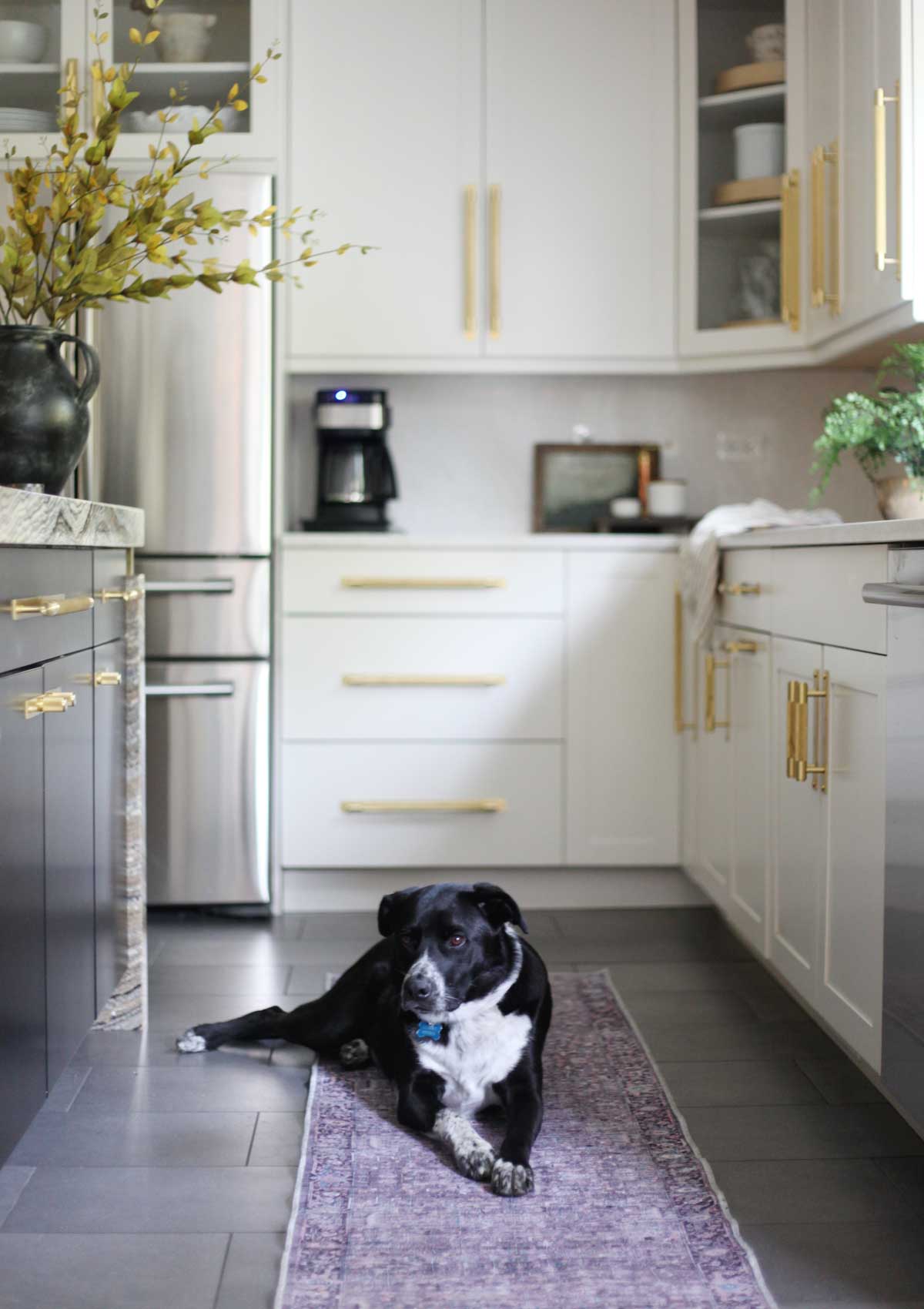 RELATED: Find more home decor at Walmart here.
Shown Edith Distressed Rug – has a subtle hint of lavender. Mark my words, purple is going to peak in decor very soon.
So the next time Zozo spills pancake batter? Meh, no worries, just pop that sucka in the washer. Washing our rugs also helps The Boy with his allergies — I get to keep my pretty floor flair because a washable rug keeps the dust bunnies away. BTDubs, this runner Comet has made himself at home on is approximately 2′ x 7′ and it's under $50. Ya, you read that right, five, zero for a stylish runner, and most of the giant area rugs are under $200. Yes, really. I'm not kidding when I say I've found the best affordable rugs online and washable to boot!

This post is sponsored by Walmart. All words, thoughts, and photos are my own.



Discover More Eclectic Home Decor Ideas
I'm at it again with a few modern living room decor ideas, but this time on a zero budget. Yup, that's right, I'm only using what I have in the house to refresh this space.
The Boy is doing a jig because we got a new brown leather couch with motion footrests!
If you're looking for an area rug, read my guide on how to choose the best size rug for the living room.