New Brown Leather Couch
Last Updated on February 18, 2023
Remember when I said I had a sofa debacle? Well, it's fixed because a new brown leather couch just arrived, and I couldn't be happier. To refresh your memory, while The Boy and I moved the Interior Define sofa to storage, one of the back cushions flew out of the truck and was hit multiple times by semis and cars going 45 mph. I legit ran out in the middle of a highway to save it. The cushion was covered in rips and black tire marks, but the worst part was that the replacement didn't work out. To boot, the original Interior Define fabric had been discontinued. No fix was affordable, so the search was on to find a new couch.
Modern Brown Leather Couch From Joybird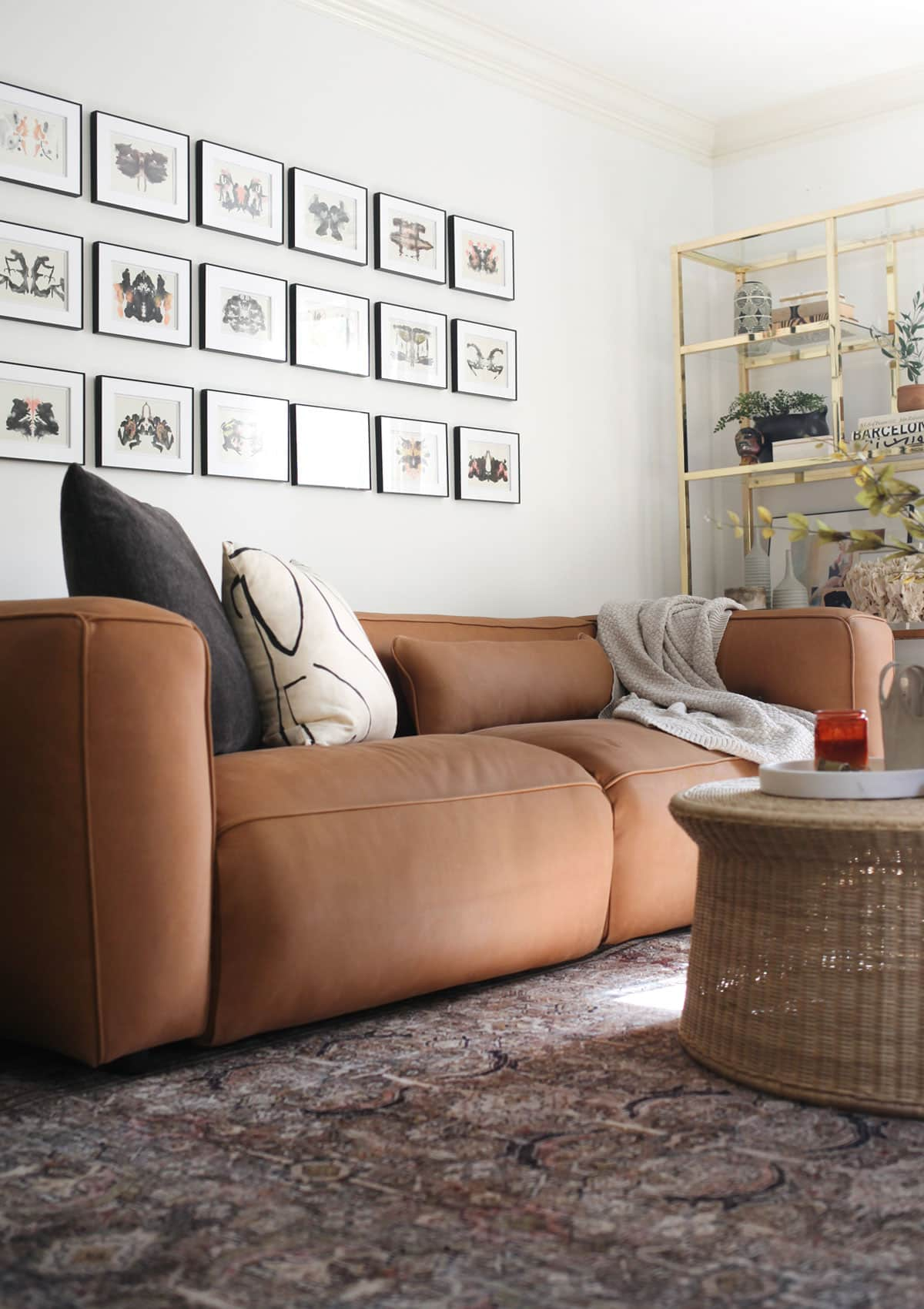 RELATED: Want the perfect gallery wall. Check out my How To Hang A Picture 7 Ways post.
The one I wound up choosing – Brock from Joybird. A daybed with a secret. It has motion. Yes, that means there's an electric footrest on this modern brown leather couch! And even though it's a place to kick up your heels, it's still sleek and so good-looking. Here's how I styled it in the living room.
FAQs – Tips For Caring for a Leather Couch
A leather couch is an investment piece, so you want to ensure you care for it properly. Don't use oil soaps like saddle soap because it will stain and darken your brown leather sofa. The same goes for mild detergents. Do not use them on your brown leather couch, or you will strip it of its natural oils, leaving it brittle and dry.
If you have a brand-spankin' new brown leather couch like me, you'll want to protect it immediately, but please check the manufacturer tag for specific care instructions and look to see if there is already a layer of protective coating. Layering one chemical protectant over a different chemical could cause a reaction and discolor the leather. There are plenty of protective coatings you can DIY, or if your leather sofa is older, you can hire a professional to do it for you.
If a spill does happen, be sure to blot the stain immediately with a terry cloth towel or paper towel. Whatever you do, do not rub the spillage. Doing so will push the stain further into the surface of the leather, making it worse. If you feel like it's necessary, you can wipe the leather with a barely damp cloth. I'm talking about the smallest amount of plain tap water!
Vacuum your leather couch once every few weeks to remove crumbs and dust. You'll want to vacuum because wiping a sharp edge crumb could cause it to scratch your beautiful new leather couch. No bueno. Use a soft brush attachment on your handheld vacuum in slow sweeping motions and if you need suggestions, check out my ultimate guide to the best cleaning products that are tried and true in my home.
Speaking of scratches – this leather care tip comes courtesy of my mother – don't sit on it wearing jeans with grommets. She learned this the hard way. Grommets, zippers, and buttons will scratch the heck out of your new leather couch. If you have guests, check out their hineys before allowing them to sit. I have no issues being asked, "Hey, do you have grommets on those jeans?" and, if yes, being asked to sit in a fabric upholstered chair.
Be conscious of light and temperature. Just like anything else, leather will fade in the sun, so be sure that your new brown leather couch does not sit in direct sunlight. Mine catches some, but we try to close the blinds in the afternoon to protect it. If you keep your leather couch in a cold temperature, the leather will dry and crack over time.
Yes, this list of care instructions may seem daunting, but one huge advantage to leather is that it only gets better with age. The patina on older leather couches is absolutely stunning when they've been cared for properly.
Closer Look At The New Brown Leather Couch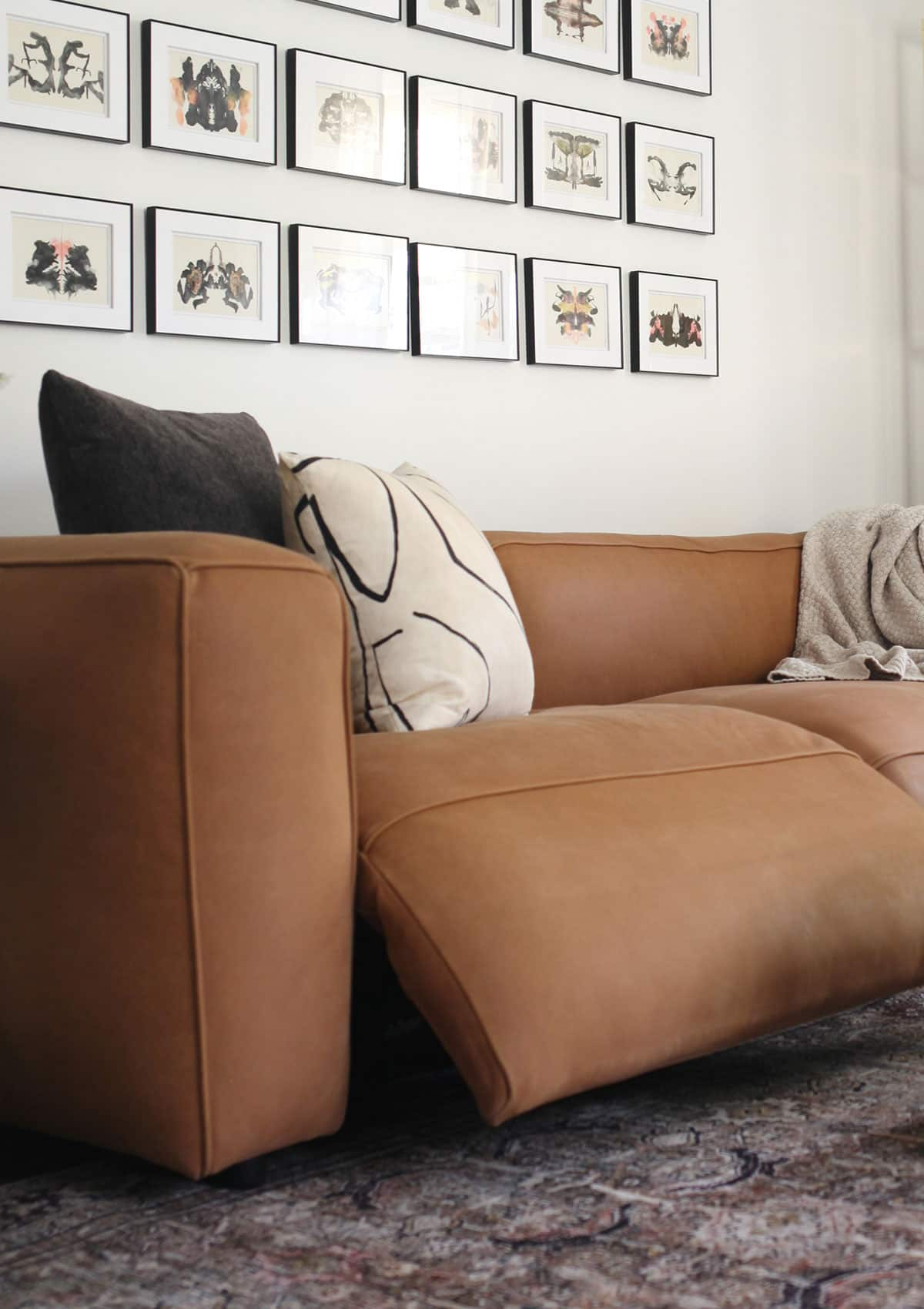 By pushing one of two silver buttons on the inside-facing arm, the footrest will either raise or lower, and for a deeper seat, you can remove the lumbar pillows.
Be aware that this is not a sofa you will sink into. It is more on the firm side, which my back appreciates. Also, the motion is for the footrests only – it does not recline. It also does not have cup holders or a hidden cooler. So if that is what you're looking for, this is not the couch for you.
Here is a closer look at the footrest buttons.

Want one more look? I sure do! I'm still playing with the placement and artwork overhead, but so far, I love it, and The Boy is thrilled that he has a footrest. It's something he never thought I'd allow in the house.
Final Look – Eclectic Living Room With New Leather Couch

Shop This Eclectic Living Room
Affordable Traditional Area Rug – be sure to check out my Outdoor Rugs round-up oh, and they're all washable.
Round Wicker Coffee Table – Also on the blog, a how-to post of coffee table decor ideas, a full round-up of the best cane furniture, and the best coffee table decor books that I love.
The faux flower arrangement in resin how-to tutorial can be found by clicking on that link.
Kelly Wearstler Graffito Pillow
Vintage Brass Etagere – find similar to mine here
Soft Knitted Throw – feels like the weight of a sweater and is one of my favorites.
Round Carrera Marble Tray on the coffee table
Marble Side Table – mine is old from Crate and Barrel, this links to one that has a similar shape, but it is black.


Discover More Home Decorating Ideas On The Blog
DIY your home decor and learn how to decorate on a budget with these clever ideas.
Learn how to make your home look expensive without spending much money using these easy tips and tricks.
Level up your ceiling lights with these boob light alternatives.
I'm sharing my secret source – where to buy affordable curtains online.
Learn what to know when buying vintage home decor.
If you're looking for an area rug, read my guide on how to choose the best size rug for the living room.