Buying Vintage Home Decor – What To Know
Last Updated on June 28, 2023
A good portion of the decor in my home is vintage. Guests that visit often ask me where I got this vase, that painting, or fancy rattan lounger. Much to their surprise, I know where each piece was purchased, who I purchased it from, and more often than not, I have a story to go along with that particular piece. But there are a few things to know when buying vintage home decor. Here are my best tips.
via DesignSponge (photo by Honey Lake Studio)
Not only do I want my home to be functional and comfortable with affordable home decor, but I also want it to be unique. Buying vintage tends to satisfy that individuality. By mixing old and new I can repurpose vintage items that are found, flea, or salvaged pieces. My decor always has a story to tell and my guests usually walk away talking about my home to others.
One might call me an estate sale and flea market junkie. The Boy calls it obsessed. Every weekend I'm out there, sometimes in the rain, usually in the scorching sun and humidity. I hit early buyer hours to beat the heat and to score the best treasures. It's such a great way to stretch your budget and find those one-of-a-kind elements that no one else has.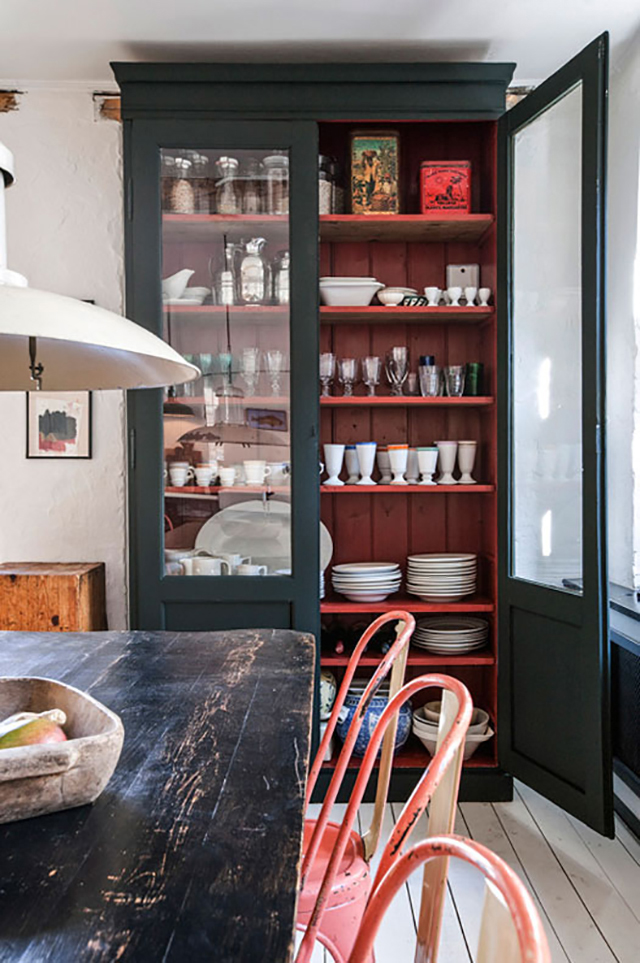 via Patrik Hagborg Photography
You may be asking yourself when is buying vintage home decor a good idea and when should you just buy new. Well, let's set a few ground rules.
Affordable Original Artwork
If it speaks to you, snap it up! Vintage original artwork is usually fairly inexpensive, funky, and unique. I wouldn't expect that you're going to be finding a hidden Jackson Pollack, but you never know. Stranger things have happened. I personally like the vintage paint by numbers, portraits, and abstracts. When I shop thrift stores, I usually hit the artwork section first. Don't forget to check out the frame as well. Sometimes a horrendous piece is harbored in a beautiful frame.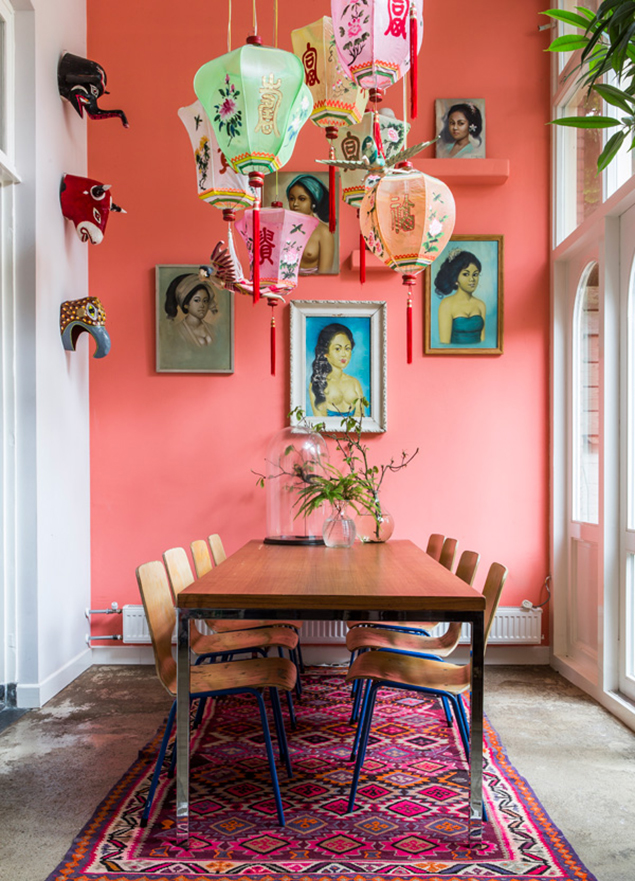 via anthology magazine
Reupholstering Vintage Furniture: Pros and Cons
Furniture from back in the day was well made. Very sturdy. More often than not, the bones of a vintage sofa will outlast a new couch any day. Deciding whether to reupholster an old sofa really comes down to quality and how much money you're willing to invest. Personally, I'm in love with any vintage Chesterfield, but reupholstery can cost more than a new piece of furniture. Between fabric, re-stuffing, repairing springs, cording, tufting, and labor, you could be well over the $1000 mark. Ask yourself, "is this piece worth the investment, or should I buy a new modern sofa?"

via anthropologie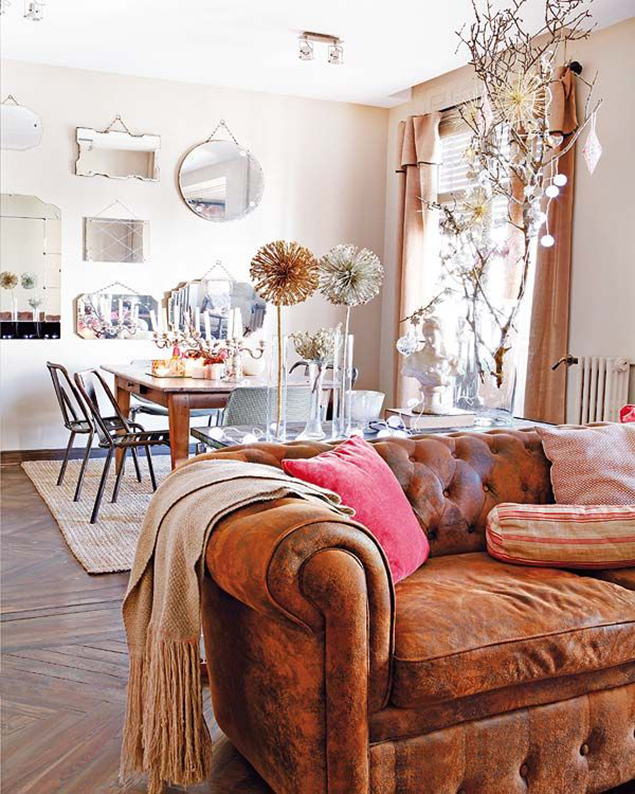 via eighthundredquareft
Now if you see a fabulous piece on the side of the road, please think real good and hard about it. It may have an interesting funk when you bring it home or worse yet…bed bugs. No one wants any part of that. Free vintage upholstered furniture should be approached with extreme caution…be prepared for the worse. There's a reason it's sitting on the side of the road with a "TAKE ME I'M FREE" sign. You may not want that reason in your home.
Quality Of Vintage Furniture: Dovetailing and Material
Over the course of the last 25 years, the wood used in furniture making has succumbed to lower standards. Gone are the days of dovetailed corners. Instead, frames are glued with epoxy or stapled. If you find a piece that has great bones but is missing hardware or a knob or two, just replace them. I can't tell you how many knobs and pulls I've replaced with something funkier. It's a great way to update a piece and make it unique. Easy peasy lemon squeazy.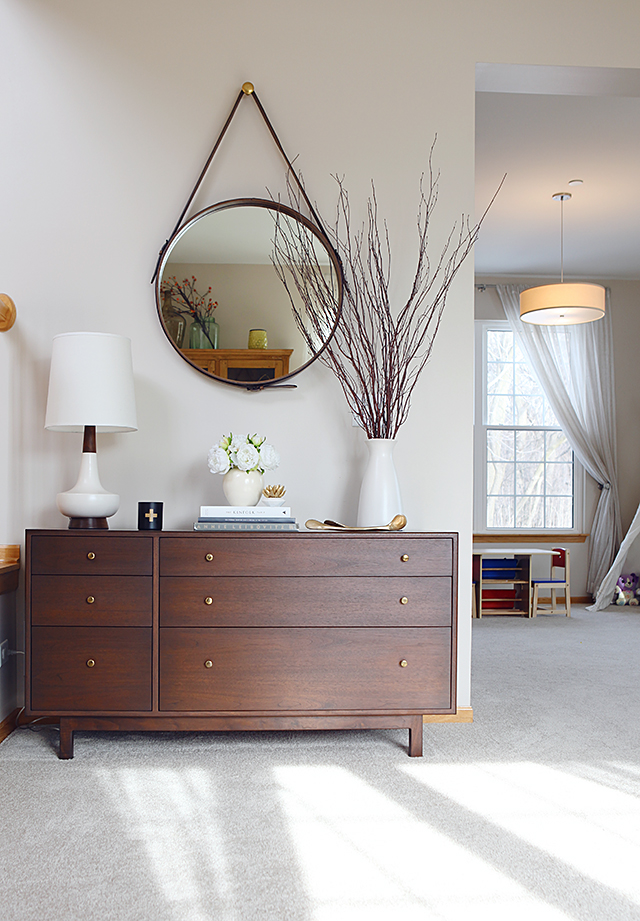 Buying Vintage Barware, Dishes, and Serveware
Vintage barware is a statement maker when it comes to entertaining. Glasses are adorned with interesting designs, patterns, and colors. I've actually had really good luck on Etsy. Since I began sharing unique cocktail recipes for HOH, I especially love to use vintage barware. The gold rims, metal ombré, and funky designs make for memorable moments that your guests will not forget. Don't be afraid to mix and match because if one breaks, well, c'est la vie. The only thing to be wary of is the dishwasher. They need extra TLC and you'll want to wash your vintage glasses and dishes by hand.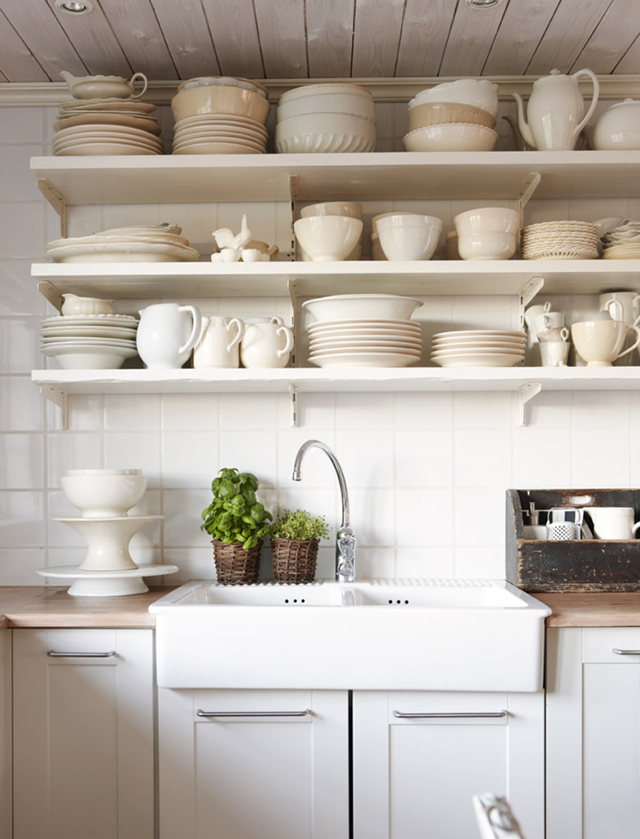 via
Also, all my fine china is mix and match. I have one full set of antique china from a friend of my mother's (her husband brought it back from the Korean War.) that I'm petrified to use it. If that gravy bowl shatters, I'm screwed. Opt for mismatched teacups and neutral mismatched plates. Vintage Pyrex is another flea market find I'm drawn to. If you're at an estate sale, standing between me and pink Pyrex, we might have to throw down. I will not hesitate to push you out of the way.

As far as silverware goes, definitely go for the mix and match as well. I've seen complete sets as the flea market, but I just think it's more interesting when a table setting is not so matchy-matchy. Check all pieces for chips and cracks. Pass those by if they will be used to serve food. No one wants broken glass in their mouth.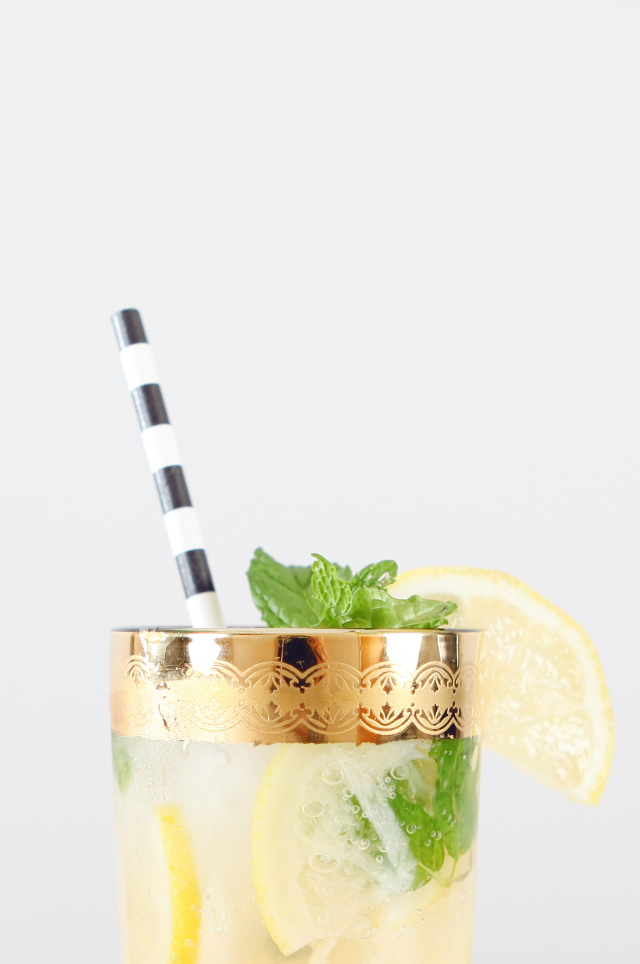 Champagne Smash Cocktail Recipe
Can You Repurpose Vintage Decor? Think Outside The Box
When you are on a budget, repurposing items can be a genius way to bring style into your home. It's also a great way to create artful vignettes with quirky and personal objects. Just because a vintage ladder was once used by a carpenter doesn't mean it can't be used as a shelf, towel rack, or hung horizontally and used as a potholder in your home. A small vintage step ladder can become a side table. Look at shutters or a solid old door as a headboard for your bed. By repurposing vintage finds, it's easy to tell your story and create one-of-a-kind decor.
Have a beautiful table with only three legs? Don't fret, Cut it in half, and secure it to a wall to create a half table console in your entryway. Add casters to an oversized picnic basket and create a unique and functioning side table with storage. Convert an old typewriter table to a nightstand.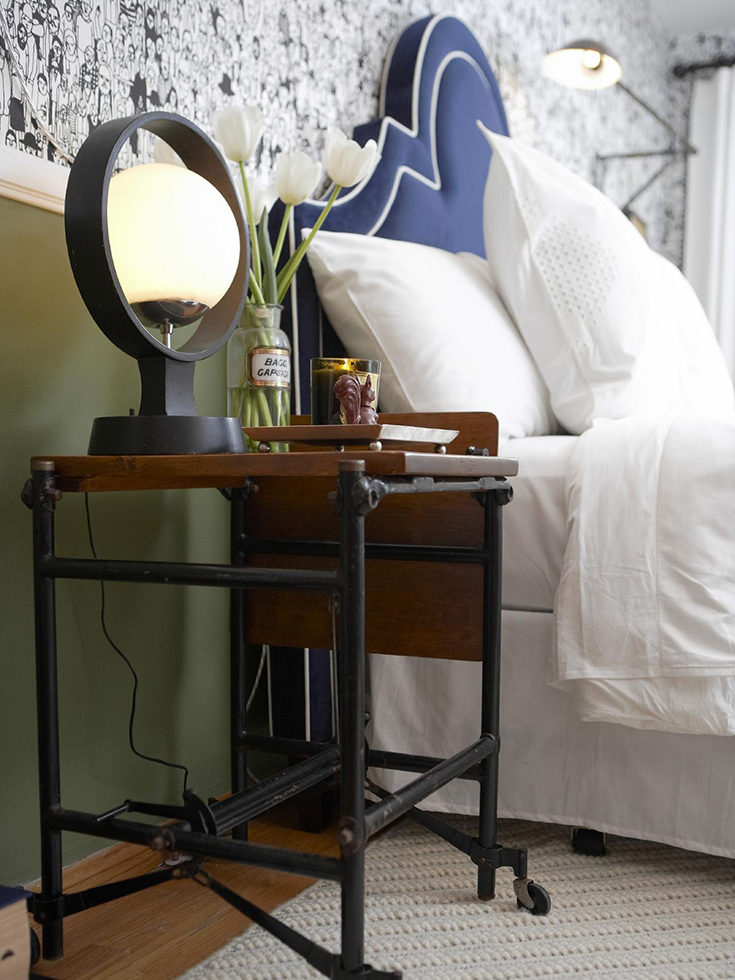 via emily henderson
Old Wiring and Vintage Electrical
I go back and forth on this one. Don't get me wrong, I love a vintage lamp, but I've also been zapped a few times. My advice, proceed with caution. Watch for things like frayed wiring and mangled plugs. Before buying, ask if it works. As far as vintage kitchen appliances, me personally, I tend to leave them alone. Yes, I still use my mom's hand mixer from 1964, but I'm familiar with that old beast (the mixer, not my mom). As a vintage find, there can be safety issues. If you absolutely love it and must have it, buy it. It can always be used as decoration.

Vintage Linens and Tablecloths
I recently went to an estate sale where there were literally 2 tables stacked with old hankies, doilies, napkins, and tablecloths oh my! Now I don't know when they stopped selling table linens, but they seem to be a dying breed. I sometimes find them new at Anthropologie. When flea-ing, I snap these suckas up like it's going out of style. Vintage patterns can be really bold and unique. Personally, I like to layer and mismatch…much as I do with my vintage dishes.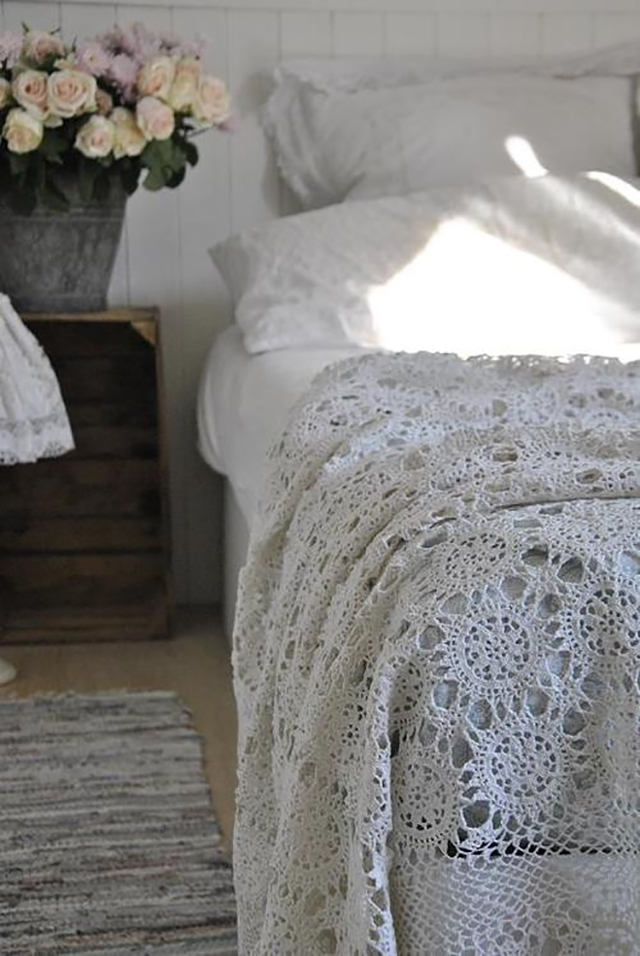 via
What rules do you keep in mind when buying vintage home decor? If you like these buying vintage home decor tips, be sure to check out these posts:
5 Small Space Rules You Should Ignore