Estate Sales
Last Updated on September 19, 2023
This past weekend for me was really weird. The boy goes on a duck hunting adventure in Wisconsin every year. Normally that means he drives the kiddos up a day early, drops them at grandpa and grandma's house, and I follow Friday night after work. Well, this year was different. He kept saying to me, "Wow momma! You get 4 days off to yourself! What are you going to do with all that quiet time?" Huh, umm, well, I have to work and then I'll be at my parents, with the kids, and you'll be at some cabin. I don't get it.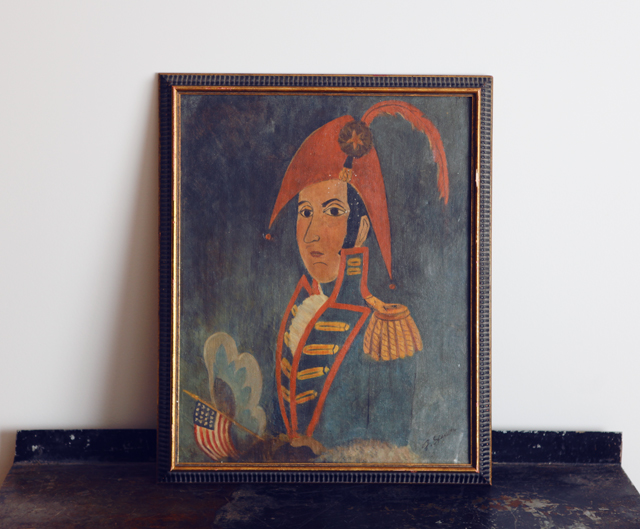 Surprise! Surprise! Somehow my parents were finagled into watching the critters from Wednesday to Sunday, and I got to stay home! BY MYSELF! IN COMPLETE AND UTTER SILENCE! TO DO WHATEVER I WANTED TO DO! OMG! What the heck was I going to do with myself? Well, first I made a hair appointment. Then I perused the estate sales. Have you ever been to one?
I'm not going to lie. I was really weirded out on my first time…ok, so probably the second and third time as well. Opening the door to a stranger's home. Letting yourself in. Walking around. Looking at their treasures. Opening doors, cabinets, drawers. Going into their bedrooms. Intimidating to say the least.
Then I learned about numbers. About 30 minutes beforehand they give out numbers and that determines who is the first to enter the house. But don't be mistaken. Get there earlier than 30 minutes prior if you want to be first in line. These estate sale hounds mean serious business! They get their butts out of bed HOURS beforehand to get their mitts on the best stuff. And there are gems to be had. Deals to be scooped up! I remember one of the first sales I attended with a friend of mine.  He found a pair of DUX Mid Century Modern chairs and got them both for $50! $50!!!!!!! Yes, they needed new upholstery, but $50!!!! Well, I believe the final deal was $50 and a hug. I mean, who can resist that negotiating?
My very first sale could not have been better, although it really set me up for disappointment on my next few weekend adventures. The house belonged to a woman who had just passed. She was an artist and lived in the most beautiful home (sadly, it was being torn down to build a McMansion). Upstairs was a spacious studio, completely white with tons of natural light. To this day I still use her cutting mat and think of her. Hoping some of her artistry has brushed off on me.
This morning, I did not attend as hardcore as I use to.  The sales had already started Friday, and the first one I hit was on its last day, but the ad said "eclectic estates sale". You guys are speakin' my language! The home was in a beautiful town filled with horse farms set way back in the woods. Last home on the road. I even had to cross a one-lane bridge! Sooooo quaint. I parked on the street and walked up to the front porch. It had been a long time since attending a sale like this. Deep breath, open the screen door.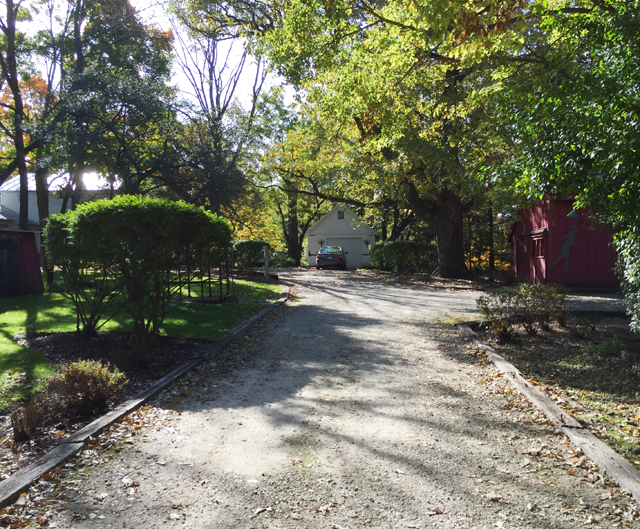 There's really no greeting upon arrival. You just dig in. Walking through the foyer I entered what I thought must be the living room. There was a large table set up with little knick-knacks set about, but nothing that really caught my fancy until I found these guys. Yes, this woman too was an artist, and she had painted Columbus and Napoleon. Awesome. The tag said $125 for the pair. WAAAAAAY too high for my blood, so I walked past them. I circled the table a couple of times more, eyeing Columbus like a vulture. Man would he be cool in my basement bathroom. Here's a shot of Napoleon. Handsome little devil.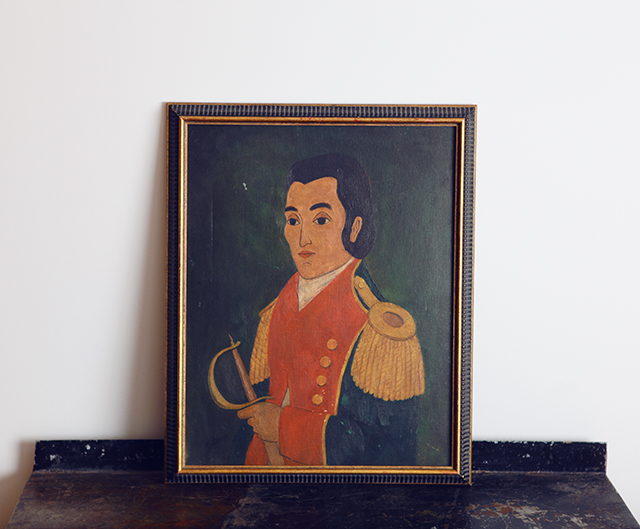 I made my way upstairs and found a sweet little quilt for $15. That would become mine. Found a lot of other bizarre items I didn't expect to find like vintage bras, a yellow burka, and a fur stole with the fox head still attached. Hmmmm. I like to imagine the type of person to buy this stuff. Back downstairs, quilt in hand, I eyed Columbus again. I like him more than Napoleon but they came as a set. $125 for the pair. Yikes. I mean, it's not like I'm a Napoleon or Columbus fan. They were just very quirky. I slowly made my way to the basement. Everything was pretty picked over. On my way back up, this little vintage wooden step stool caught my eye. $10? SOLD! You're coming home with me you sweet thing. You might even be spray painted neon pink if you're lucky!
So I had a quilt and a step stool. Hmmm. Okay, one more look at Columbus. If he was still there, I was going to snatch him up. I'll ask for her best price. I had a couple of other items, let's use the bundling technique. I walked back into the main room and there they were. A patch of sunlight beaming down on the two of them from above. AHHHHHH. The heavens opened up and sang. Another lady started to make her way over to my boys! STOP THE LADY! I raced over and grabbed them as fast as I could. I think she was a bit miffed, but you snooze, you loose lady! These guys are mine! Well, they are if the nice woman upfront will give me a deal that is.
A word of advice. If you ever attend an estates sale, the prices are never really firm…usually, that is. Always ask if they can give you a better price especially if you are purchasing more than one item. Bundling is the best way to get yourself a deal. I laid my items down on her folding table and held up the dudes. They were clearly marked, but I asked, "How much for the pair?" She looked at the $125 price tag, looked at me, looked at the quilt and wooden stool, and said, "$75". SOLD! You got yourself a deal lady! I almost hugged her, but instead, I politely thanked her, paid her, and was on my merry way.
Mind you, it was the last day of her sale. It was pushing noon, and by this time, most things go half price. Either way, I walked away a happy camper and she received a decent sale.
I was off to the salon to get my hair did, and then I was going to try to hit two more houses. The first was a bust, although there was a cuckoo clock I really wanted, but alas it was the only thing in the house NOT for sale. Figures. I'm thinking I want about 5 cuckoo clocks to hang in little Maus' room for her bedroom makeover. They don't have to be in working order…in fact, I think I prefer them NOT to be in working order. The last thing I want is Little Miss to be woken by a jacked-up bird at 3 AM. So if you know of any that are for sale, email me =)
The second and last house of the day was incredibly beautiful. It too was in a fancy town, set back in the woods. (I swear, if you live in a house like this you must be an artist and have fabulous taste.) This person was a photographer and his house had the best natural light. I swear, I had the space redesigned in my head so fast. I want to somehow make it mine! But first, I got a bit lost though and was stuck in crazy traffic for some October Fest with police and thousands of people milling about, so I arrived at 3:59 PM. The sale ended at 4 PM. I said hello and asked if it was okay to have a peek. The two sweet ladies said of course as long as I didn't mind them packing up their belongings. Nope, not at all! Pack away!
Now, in this situation, because I was making them stay, I knew I HAD to buy something. Anything. The house was pretty bare by this time. It too was the last day of the sale. I found a group picture of a football team (which I love with all my heart!), a small Rollie pocket camera, a couple of old baskets, a blue jar, and an "R" from a letterman's jacket all in under 10 mins and only $27. SCORE! Now baskets are usually pretty girly for me, but something about this one, and its mate that is in need of a serious dusting and is still residing in the garage, appealed to me.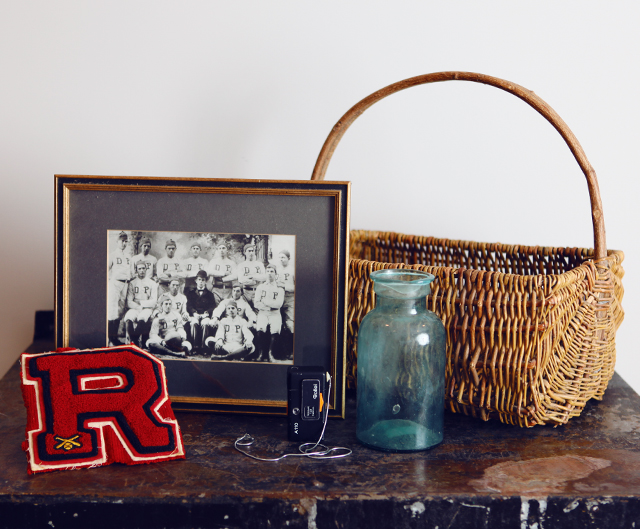 So, that was my Saturday. A bit girly with the hair (BTDubs, I went dark again! No more blondie highlights for this gal!) and a bit thrifty with the sales. Not everyone's cup of tea, but man did I have fun, although I really need gas in my car now! I swear I drove all over timbuktu!
Here's another shot of the football guys…just a bit closer. Their uniforms are pretty rad. At least I think that's a football? Or maybe it's rugby?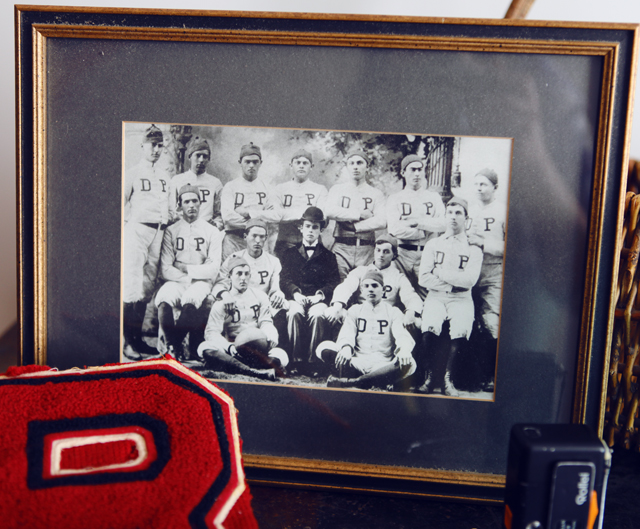 Before I leave you for the day, I thought I'd share a couple of tips with you newbie estate salers:
1. Don't be scared. Just walk right in. Open anything you'd like except for doors marked, "DO NOT ENTER". They let you know and make it fairly obvious where you can and cannot go.
2. Take cash and a checkbook and a credit card. They will happily accept one of these three forms of payment.
3. Bundle, bundle, bundle whenever possible.
4. If you want a better price, ask for it. What's the worst they can say? No? If they do say no, accept their answer and politely thank them.
5. Always be nice, gracious, and respectful. This was someone's home. These items are pieces they loved and treasured. Sometimes the family attends, other times they don't. But these people have usually gone through a death. Be nice.
6. Do NOT call anything junk. If it's not your taste, just walk away. Again, see #5.
7. Ask to be added to the email list. Most of the time, it's a company running the sale, and more often than not, they host one, sometimes two a weekend. This way you don't miss a sale and by becoming a familiar face, it gets you in the know and sometimes a better deal.
Vintage Shopping Tips
Let's Shop The Elkhorn Flea Market
How To Shop An Online Estate Sale
The Marvelous Mrs. Maisel And Her Mid-Century Modern Style
How To Find Beautiful Original Art