Mrs. Maisel And Her Mid-Century Modern Decor
Last Updated on May 9, 2022
Now that I own the Frame TV and can easily stream from the internet, I've been bingeing The Marvelous Mrs. Maisel and am presently obsessed with her Mid-Century Modern decor style…so bewitched, that sometimes I forget about the storyline and just nerded out over the furniture. If you're a lover of 1950's interiors and fashion, read on.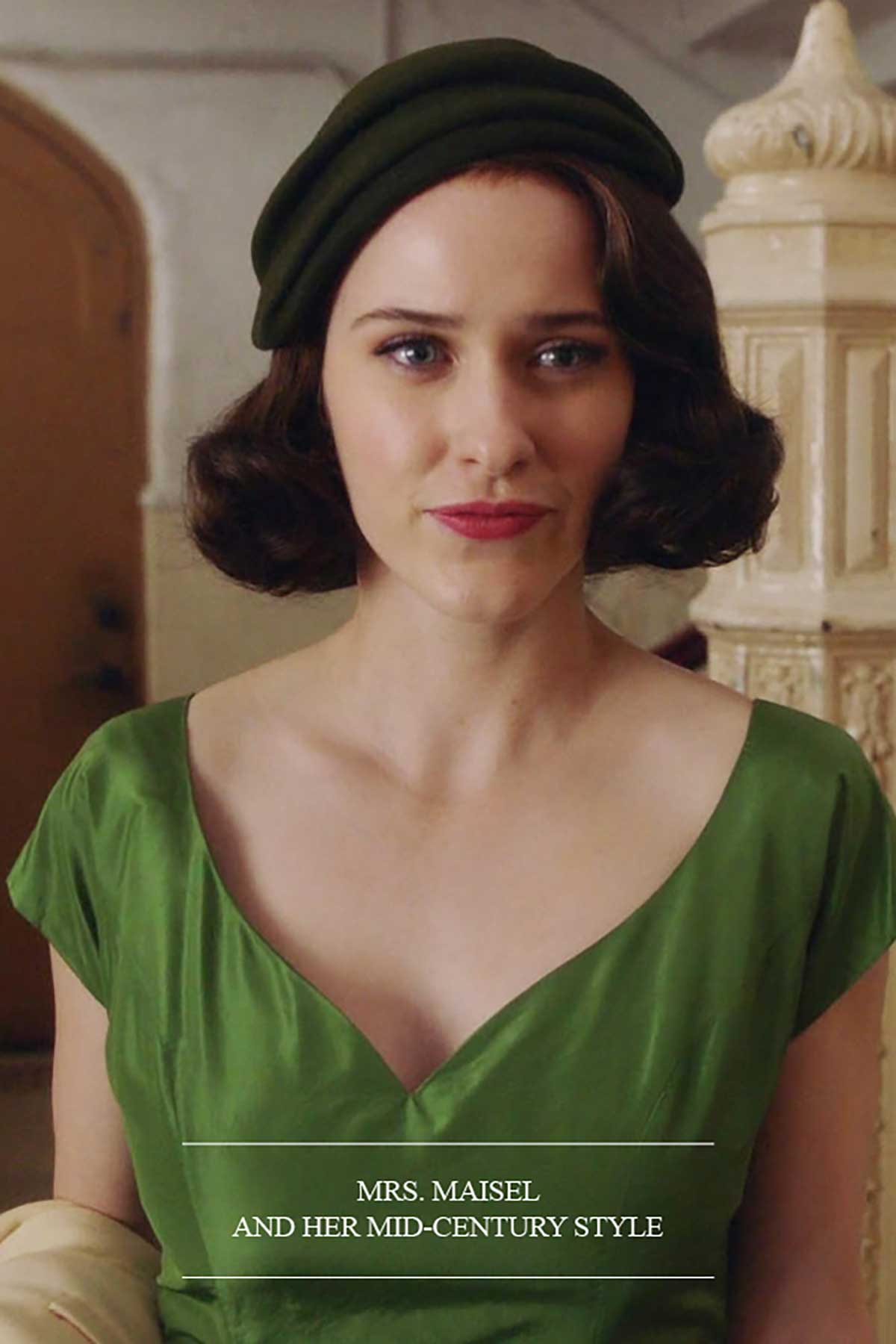 If you're unfamiliar with the show, the well-to-do Mrs. Maisel lives on the Upper West Side in an incredible apartment with her husband Joel…Mr. Maisel…obvs. During the first few episodes I sat on my sofa, phone in hand, snapping photos of her living room sofa, dining room lamps, shell side tables, and the chairs in her bedroom…clutch the pearls! The set designer paid meticulous attention to detail. Every corner was styled to perfection.
Mixing Mid-Century Modern and Hollywood Regency Home Decor
So why the photos Kyla…stalk much? I claim research….wanting to know who made each and every piece of exquisite furniture, and more importantly, how could I get it in my own home. As an avid shopper of estate sales, I want to be on the lookout for Mrs. Maisel's Mid-Century Modern decor style. Are you on board with the Hollywood Regency glam train? Hop on, let's explore.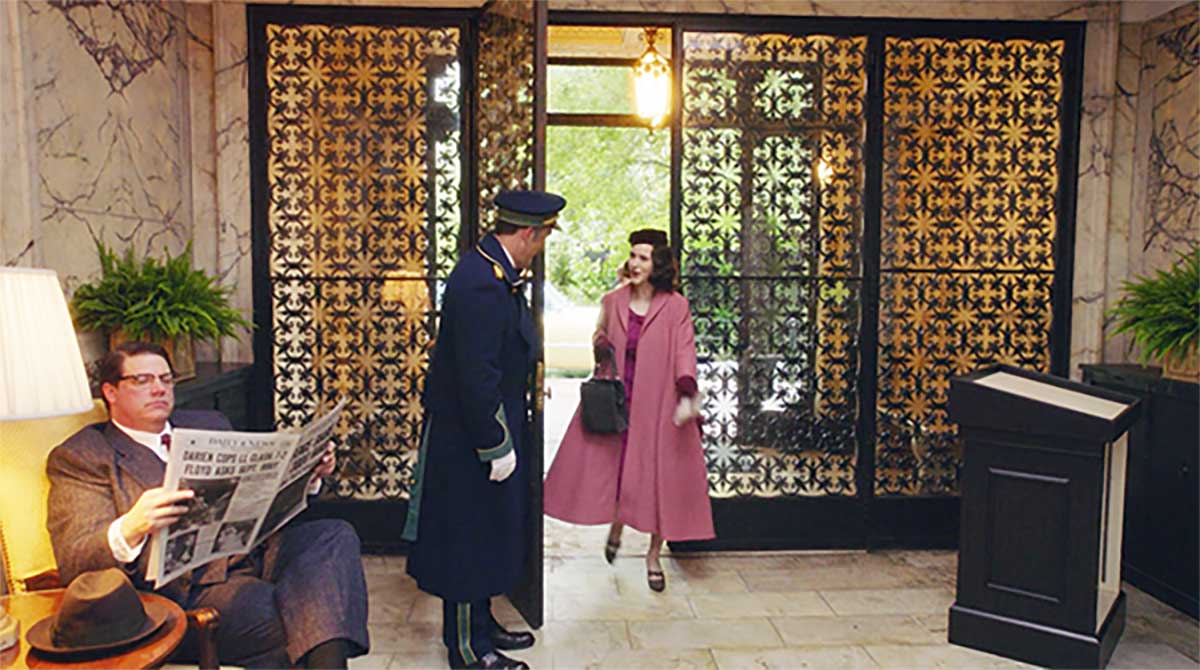 Examining Mrs. Maisel's Mid-Century Home Decor Style
If you travel back in time or are lucky enough to visit a time capsule home, you'll notice decorative concrete block walls on the exterior and pattern screens like this one here in Mrs. Maisel's apartment building lobby. The screen breaks up the cold marble and softens the light shining in from the outside.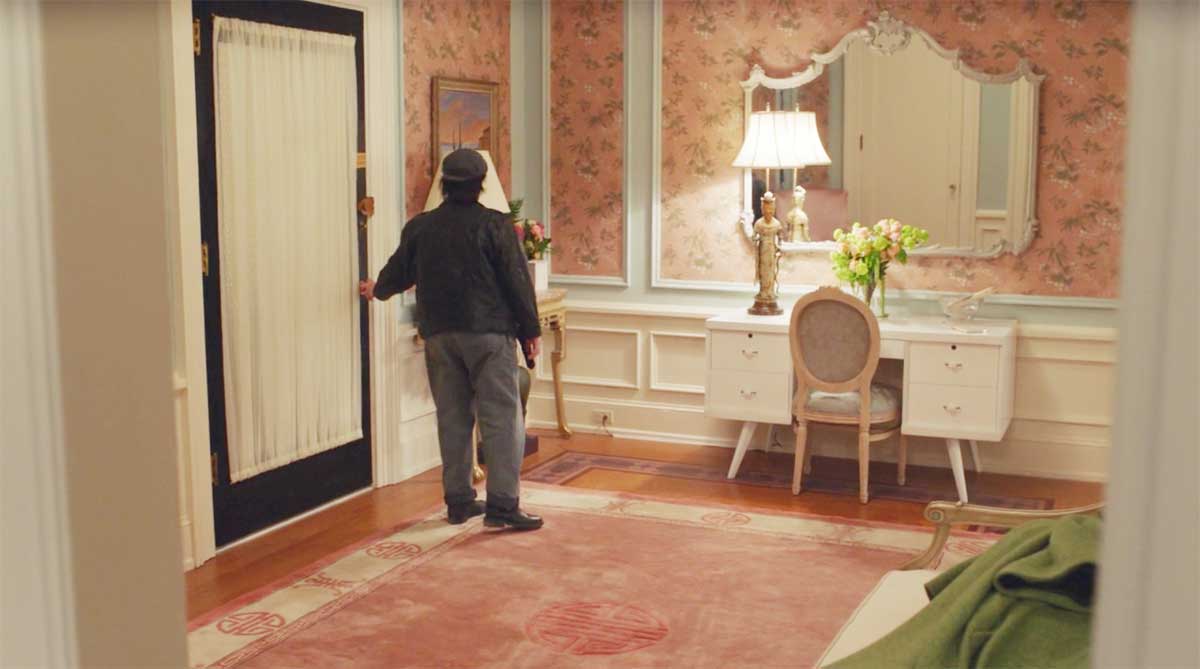 Check out this foyer. I mean her love of pink might be more intense than mine. That floral pink wallpaper reminds me of this House Of Hackney wallpaper. The mix of ornate and clean lines is on point with that mirror and desk.

As far as sofas go, the sectional in her living room is truly fantastic. A classic mid-century curved sectional design with tapered legs minus the normal heavy patterned upholstery (which resides in the pillows only).
I think what I love most about Mrs. Maisel's home, is that it's void of anything kitsch or atomic. Her space feels more mature and sophisticated because of it. An elevated look that you don't get with swanky kitsch starburst clocks. Atomic age home decor can turn cartoon-like very quickly…suddenly you start singing, "Meet George Jetson.." If you start to collect pieces for this look, always asked yourself, "is this marble or is it melamine?"

I'm also eyeing the wallpaper in her built-ins, brass and glass side table, and decorative screen. Don't even let me get started on that white Dorothy Draper. Do you see it peeking out on the right (below photo) with the Greek key style lamp resting on top of it?

In the first few episodes, a lot happens in the dining room. They're setting up to host Yom Kippur, and this year…they got the rabbi! Apparently, that is a big damn deal…no spoilers. Anyhoo, getting back to Mid-Century Modern decor, the lamps below stopped me dead in my tracks. Seriously, there was an audible gasp and lots of picture taking.
Sexy, curvaceous, and sculptural all at the same time. I haven't figured out the maker as of yet, but I swear on my dead cat's grave, I will own these vintage beauties someday.

It's like they're wearing cute little prom dresses, am I right? I digress, as the camera pans 90°, you see the Grosfeld shell tables…yes, that's right…plural…flanking either side of the entrance to the formal dining room. (Left side of the below photo is the most visible.) If you're looking for the real deal in an antique store, you could drop over $3,000 each on those suckas. Not, I'm not joking.

The bedroom decor was kept quite simple. But there is this sweet little chair that sits next to the bedroom door. There's another by the vanity. Alas, after scouring the interwebs for hours, I cannot find a photo. Trust me, it's to die for. If you watch Mrs. Maisel, it's in the first few episodes.

The lamps on either nightstand are adorable too. Seriously, the lighting in this show is on fleek. Check out that cute gold bow detailing. Eeeeep!
Discover More Vintage Decor Inspiration
Tips For Buying Vintage Home Decor
Guide To Vintage Shopping In Chicago