Cole & Sons — Woods Wallpaper
Last Updated on June 28, 2023
Patterns, patterns, patterns…there are so many to choose from! How do you narrow it down to just one? Or to make the decision more difficult, how do you pick more than one pattern that doesn't make your home look like a crazy fruit bowl? How do you make them mesh…be fluid? If I thought picking a paint pallet was tough, adding in patterns and multiple colors can make my head spin. And I thought I had pillows problems. Srsly, how do interior designers do it? oh ya, that's right, they go to school for that stuff.
Cole & Sons Wallpaper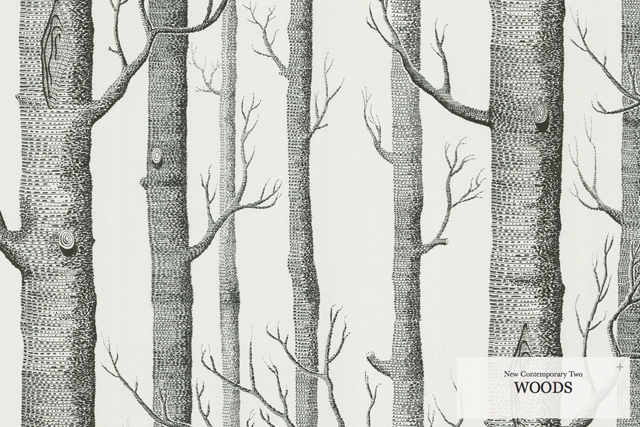 Since we moved to the new house, I've been contemplating wallpaper much to the boy's dismay…but (I think) the reasoning behind it is because neither of us has ever plastered it to walls—wallpaper newbies. I always thought wallpaper was too much of a commitment, too 70's and too much of a pain in the ass, but these days the patterns and designs are quite spectacular. Recently, I dipped my toes into wall decals in my daughter's bedroom. We, and when I say we, I mean The Boy, stuck a tree decal into the corner of the room and love it. It's soft and subtle; however, I have not clue as to how to remove it…I guess I will learn years down the road when she is 15 and deal with it then…or maybe buy a new house. I digress.
While perusing Design Sponge, I came across a post and fell in love with Cole & Sons new contemporary two woods wallpaper. All I could think while viewing Sonja Rasula's dining room was was, "Hey there pretty little birch trees. You guys need to be living in my foyer alongside the barrister shelving and the Haywood Wakefield chair". OMG, this pattern might just change my life. Dramatic, maybe a touch, but seriously crushing on it all the same. the wallpaper pattern, designed by Michael Clark in 1959, features bold sketches of trees making a unique forest repeat. it would look fabu in my MCM cookie-cutter home.
My love for birch trees stems from my childhood. my parents had this beautiful white paper birch in their front yard. I can remember sitting next to it, running my fingers over the trunk. the paperbark peeling off and feeling silky soft. the pattern Clark created just makes me think warm and cozy thoughts. it brings the outside into the home which is the main idea I've tried to convey in the interior of our home. I guess all I have to say now is, "get on my walls!" Let's do this!
Find Wallpaper Ideas For Your Home
5 Ways To Cut The Cost Of Wallpaper
The Best Peel And Stick Wallpaper