Meet Potty Paradise – A Bathroom Makeover
Last Updated on November 29, 2022
With all the Cubs hoopla, my Week 5 One Room Challenge post got a bit lost in the shuffle. But don't you worry that pretty little head of yours; we are on schedule and feeling fly y'all. Potty Paradise is almost complete, and Gerry and I are snoopy dancing on the Clé Tiles…okay, Gerry's technically not dancing like this, but I'm all…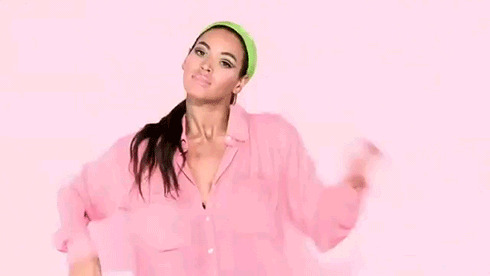 In Week 4, I left you with a cliffhanger when we converted the antique dresser into a sink…the excitement in the air was electric. Renee was here hanging the first few panels of wallpaper, and I couldn't help but share the, "Oh my God I can't believe I live here!" moment with you. Once those panels went up the whole space just transformed. Even The Boy's mouth was on the floor…and it takes a lot to impress him.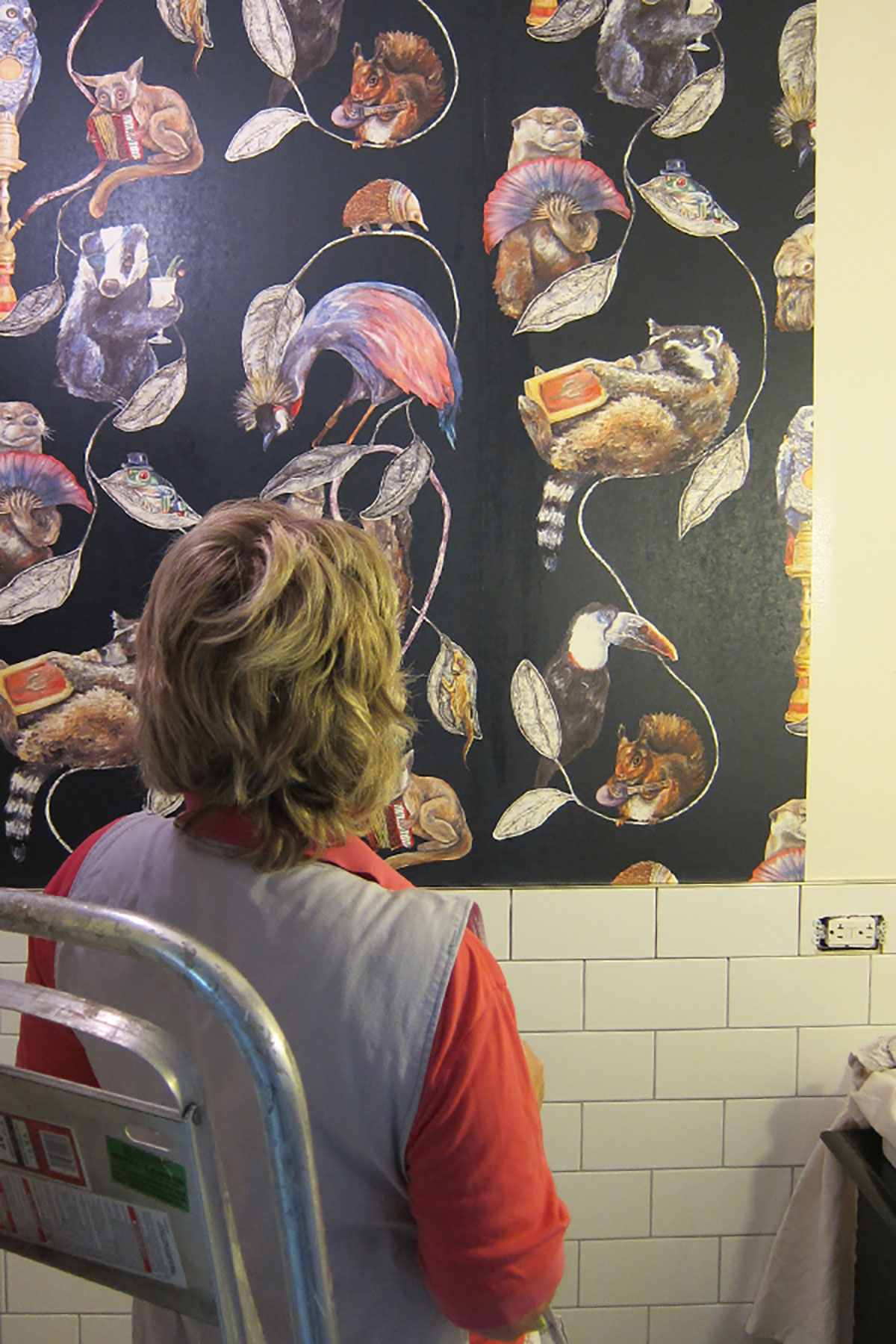 Remember this? We all kept changing our minds on which animal we loved the most. I'm still stickin' with the sloth with the hookah. A bit of advice for those who are thinking, hot damn I'm buying that wallpaper for my own home…if this is your first time, let a professional hang it…especially if you're doing a half wall like me. The repeat is tricky. Basically, you need a full roll for four panels on a wall. So for a job like mine, there's a ton of waste. Sadsies.
But once Renee figured the repeat out, she was off to the races. I was so excited to be working from home that day watching the progress. Gerry stopped by to check-in, and I about had to pick his jaw up from the floor. It's so much fun to make up a crazy whack-a-doo design in your head and watch it come to life. Especially when the others around you don't see its awesomeness right away. It's just so fun to see their reaction.
Gerry, just you wait until that sexy chandie goes up. You ain't seen nuthin' yet.

Speaking of which, I met up with my girl Marianne from The Savoy Flea to pick up that lucite lighting…and in case you're wondering, she just posted a couple more pretties in her fall collection. Here's the latest I've been drooling over…7 tiers of awesome.
I needed to find a canopy box for the chandelier and didn't want anything from a normal store…who'da thunk that, right? In my search for a "modern brass canopy box," Google led me straight to this great shop. The owner Hilary was super nice, and since I was running a bit behind on orders, was kind enough to rush my order. Hilary, in case you are reading this, I can't thank you enough.

Since finding the canopy box kit was entirely too easy, so I decided to complicate things by adding installing a ceiling medallion to the mix. I mean, if I were ever going to own one, it would be in this space that was fancy pants enough to handle it.
There was still one thing that needed to be remedied. The snafoo of my wall lighting. They were still on backorder. When I ordered them, the site said in stock. Two weeks after ordering, the site said back ordered until October. Now it says December 30. Well, boo! Ya, that's not going to work.
Marianne remembered Circa Lighting had similar black and brass cone lights, but of course, being curious, I kept scrolling and found these babes. Come to momma! The cone lighting…yes, it's gorgeous, but totally expected. I wanted more. Push the envelope. Remember in Week 1 and Week 2 when I said this bathroom makeover was going to slay like Bey? This was the ORC, and I needed the mother of all sconces. Not sure if a credit card has ever been whipped out so fast. Kardashian speed.

In the meantime, Renee finished up her paper party, and Gerry stepped back in to install the ceiling medallion and chandie. It looked easy enough but that little bugger gave him a run for his money. It wasn't the medallion though, it was the framework on the ceiling was crooked, and after a long battle, we decided to cut our losses and leave a slight gap on the side facing the wall. Weird, confusing, random shit Kyla buys trumps Gerry this time. He may have lost that battle of wills here, but he still won the bathroom makeover war. And that says a lot because I really through this man for a loop.
Thankfully the antique mirror from the Elkhorn Flea adventure went up licketty split. I was contemplating taking the harsh golden tone of the frame down a bit, but now that it's up, I kinda like it, and I'm thinking don't touch it. What do you think? Dull it down or no? I'm also debating if I should shine the lion heads…yay? nay? The one thing I'm sure of is I totally dig the wallpaper and tile mix. It's just so kapow!
Are you ready for the reveal??? Well, I'm sorry to say you have to wait another 24 hours. Blerg, I'm so sorry. I'm such a tease…but Gerry and I are doing some last-minute tweaks on Potty Paradise. Tomorrow morning…pinky swear! But to tide you over, you can always check out last year's One Room Challenge final reveal…the before and after are pretty mind-blowing.
Discover More Home Decor Inspiration
Check out the final reveal of this black and white bathroom makeover.
The basement bathroom makeover has been progressing. Check out the latest update.
I just hung black wallpaper in my bedroom, and I LOVE it!